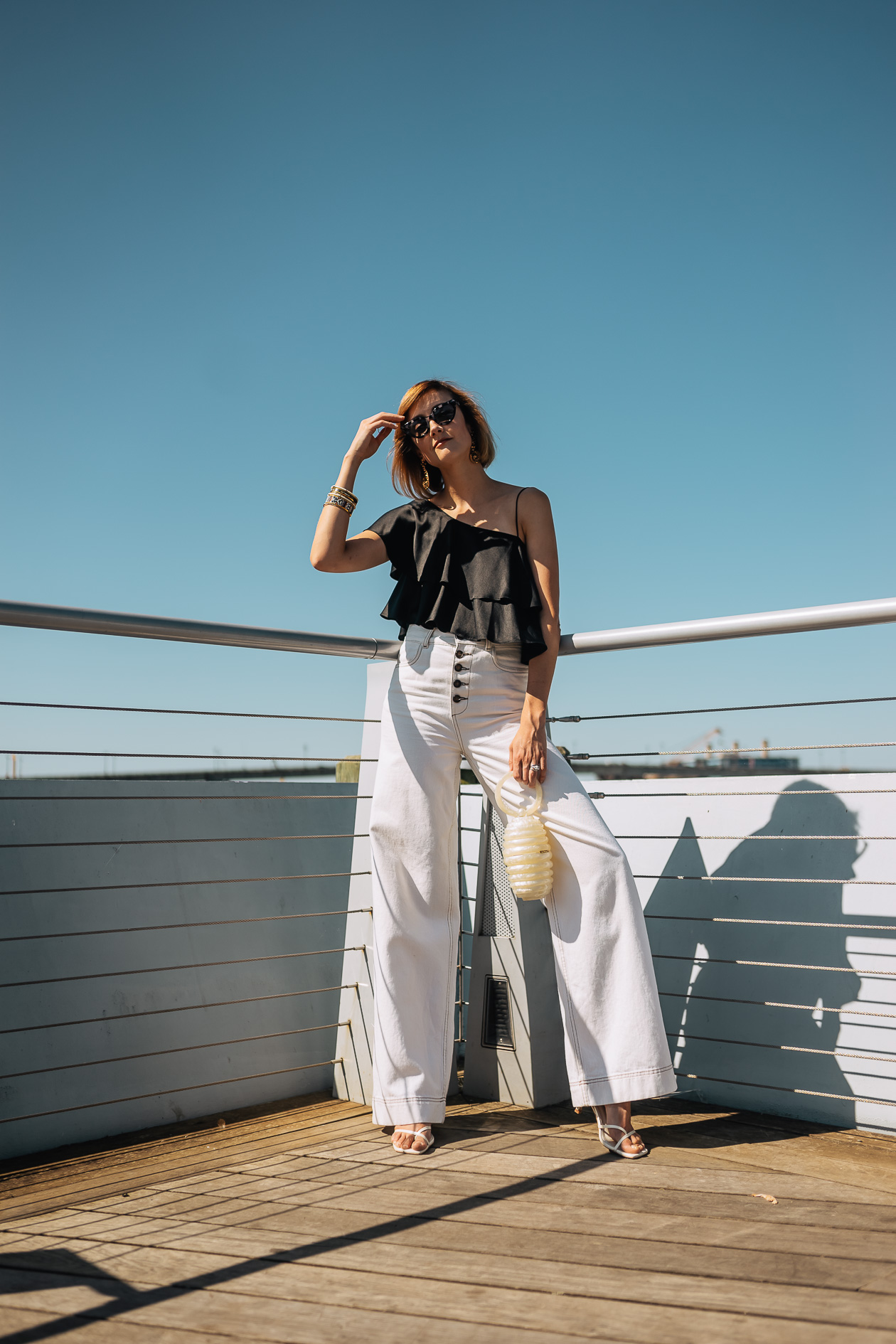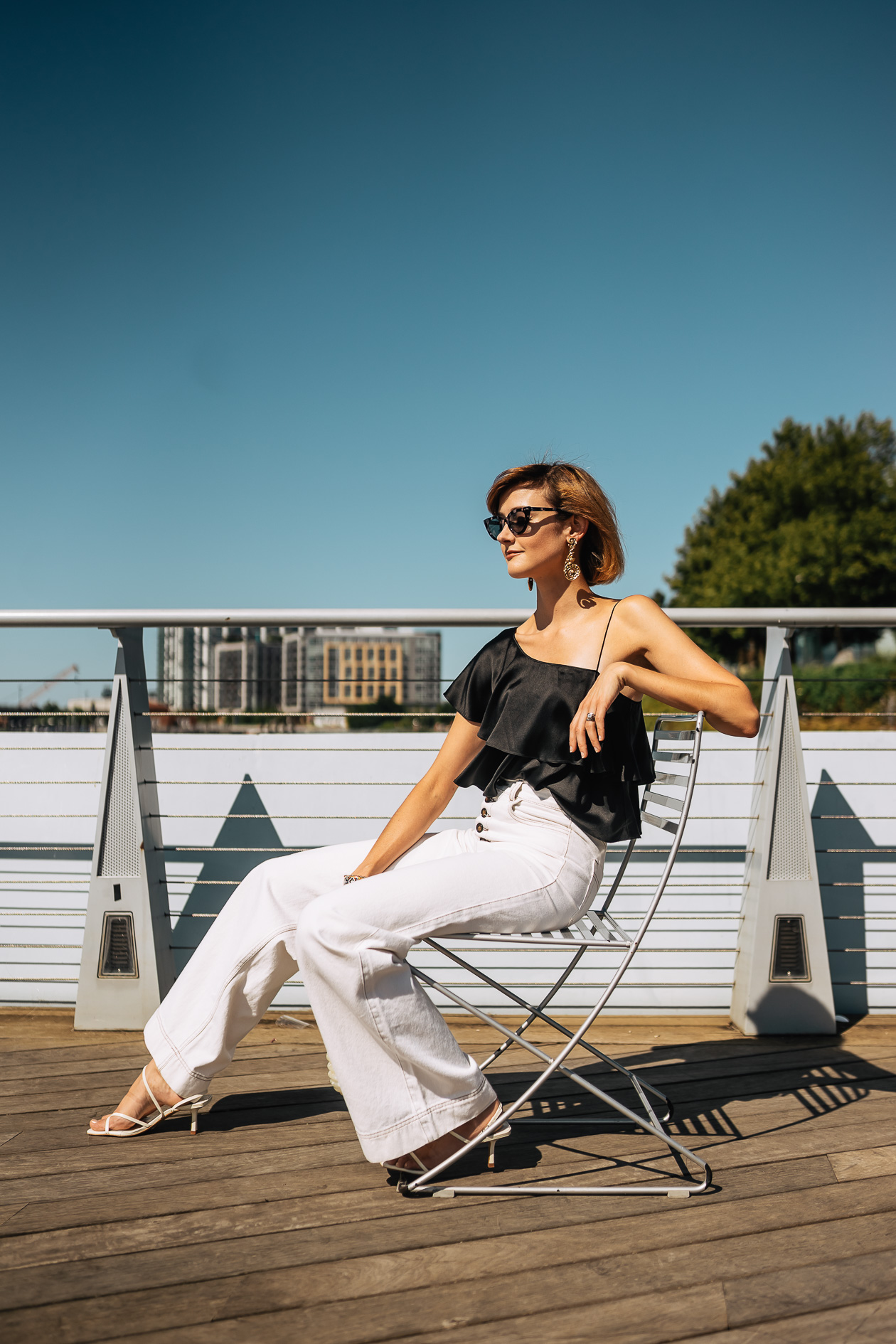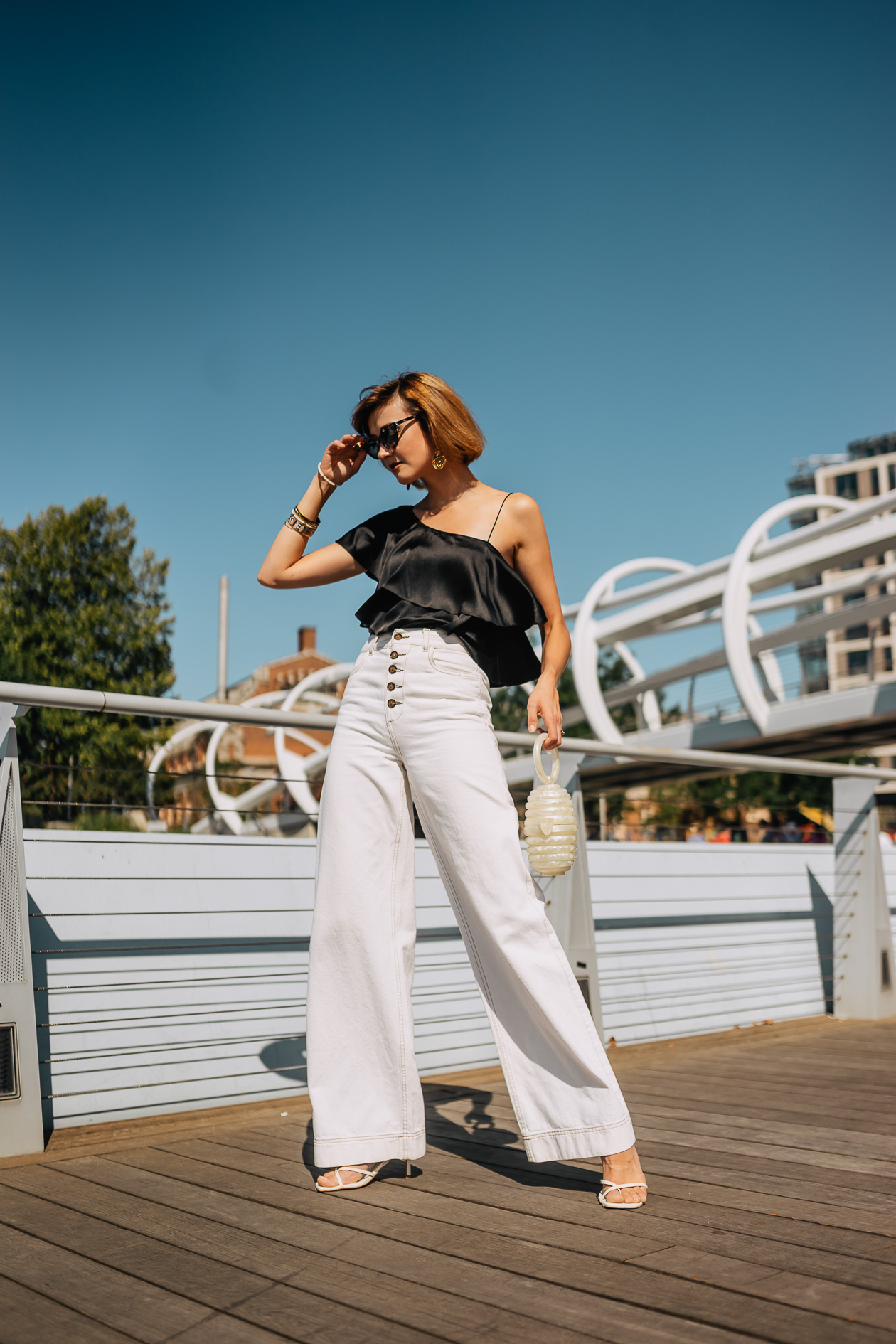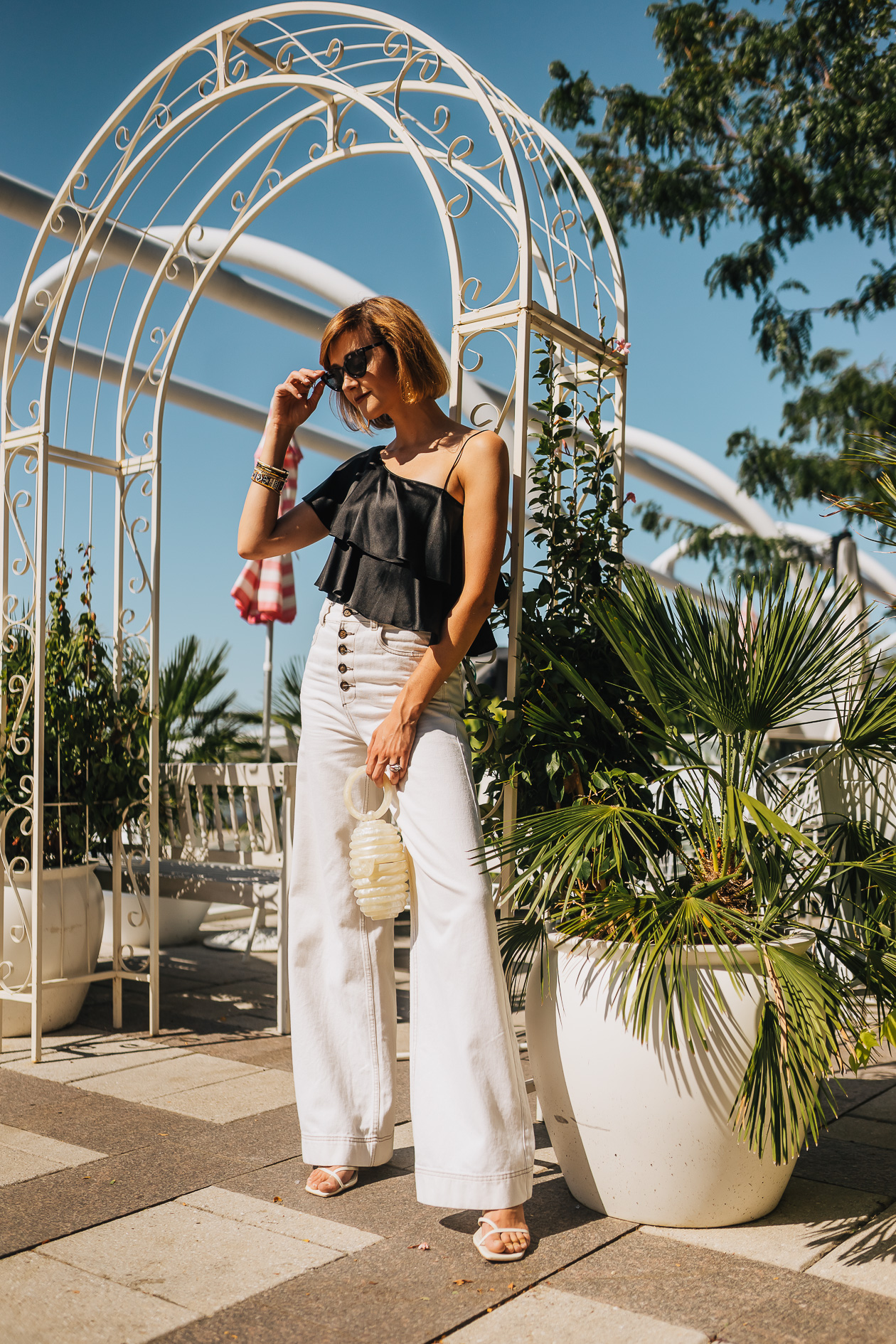 So you're probably asking yourself, "what do these photos have to do with thrifting?" I'm so glad you asked! Because the beautiful, formerly expensive blouse pictured above was a mere $30 find at a local thrift store, part of a $110 haul that included two more gorgeous silk blouses and a pair of never-worn, turquoise sandals from the early aughts that perfectly match the strappy aesthetic that's so popular right now.
I've been thrifting for years and I still get a thrill from discovering gems like these and breathing new life into secondhand clothes. Shopping you can feel good about – it's sustainable and economical! I did a post about shopping for vintage coats earlier this year that ended up being pretty popular, so I thought you all might like some thrifting wisdom I've learned over the years!
Go for Quality Fabrics
This might seem obvious, but it will greatly speed up the process when perusing jumbled racks of clothes. Linen, cotton, silk, wool are all good ones to look for and generally end up aging better than synthetic fabrics. The only thing that you need to beware of with natural fabrics is moth holes, which brings me to my next tip…
Obsessively Scour Each Piece before You Buy
Most thrift shops are final sale, so make sure you check and double-check before you purchase. Look it over in a well-lit area (it's super easy to miss stains and small fabric runs in dark thrift store changing rooms). Also look for worn hems, cuffs, and elbows (especially with sweaters). And don't forget to check the seams! Not to freak you all out, because I have never had an issue with this, but bed bugs hide in garment seams and if you're at a less-than-reputable establishment, better to be safe than sorry!
Thrift When You Travel
I find some of the best stuff in thrift shops when I travel. Small town thrift shops are often more reasonably-priced and you find some local gems you might not find anywhere else. This little handbag came from a second-hand shop in Hot Springs, Virginia and this Bill Blass jean jacket came from a cute shop in Philadelphia. Remember thrifting is a marathon, not a sprint – persistence pays off!
Don't Just Look for Designer Brands
Not to burst your bubble, but don't go thinking you're going to score that perfect YSL power blazer on the first try. Not saying it can't happen, but honestly many of my favorite thrifted pieces are complete no-name brands or come from designers that no longer exist. Hand-knit sweaters, kimono jackets, silk blouses (like the ones I recently picked up), and fun belts are all gems you can find with no brand recognition.
Know What Can't Be Fixed
Pieces that need tailoring are a very slippery slope. I've had a few that were worth it, but more often than not, it's more expensive than what the piece is worth. This is especially the case with leather jackets and fur coats. Exceptions:
Hemming. Super easy to fix, just make sure there's enough fabric to work with if you're letting out vs shortening.
Replacing buttons. I covered this in my vintage coats post, it's very easy to do and generally very cheap.
If it's an incredibly good deal. I scored this men's Burberry trench for $150 at a vintage shop in Paris (they normally retail for around $1000). Even with $100 worth of alterations and re-waterproofing (less than $100 if I remember correctly), it was still less than half the cost of a new one.
Tl;dr do a cost-benefit analysis before buying a piece that needs tailoring.
Don't Get Emotionally Attached
This goes along with all of the above. Don't let a designer label or incredible statement piece blind you into thinking it's a good buy if it's damaged or just doesn't fit. I can attest to the fact that it's very easy to convince yourself you can "make it work" when you find what looks like a diamond in the rough, but better to save your money and move on. Trust me, there will be others!
Are there any more thrifting questions I can answer for you? Just ask in the comments!
& Other Stories sunglasses (c/o)
Oscar de la Renta earrings (old, similar)
thrifted blouse (close match)
Zara pants
Zara sandals
Cult Gaia bag (sold out, in love with this one)
Photos shot by Pablo Raya at the Yards Park.