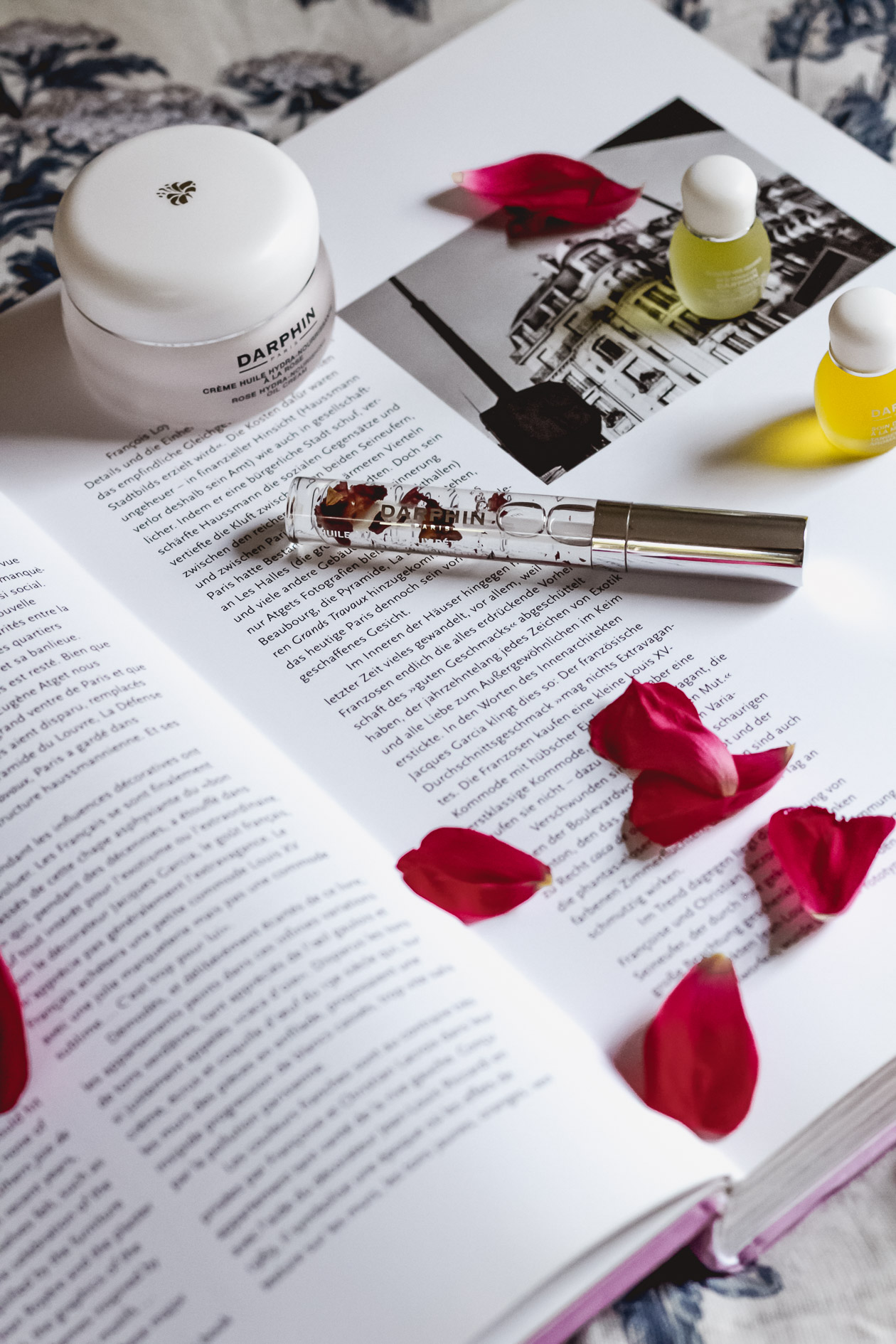 Skin oils can be a miracle worker for all skin types if you know how to use them right. Darphin recently sent me a set of different essential oil elixirs to try along with their Rose Hydra Nourishing Oil Cream and the combination of the two have worked wonders for my dry, sensitive skin in the past few weeks I've been using them. I'm huge fan of skin oils in general, so I thought I's share some tips for those of you who might be curious about how to use them.
A little goes a long way. I usually just hold my finger over the top of the bottle and do a quick flip to get a little on my fingertip. Then I gently tap it around my face, adding a little more as needed. It might seem like you're barely putting any on, but your skin shouldn't feel greasy, especially if you're trying a new product.
Add a couple drops to your moisturizer. This is a great way to make sure an oil elixir gets dispersed across your skin. I mix a drop or two with a little bit of the Darphin Rose Oil Cream in my hand before I apply it. This moisturizer is meant to be blended and I like being able to target specific concerns with the elixirs. So far my favorites are Chamomile for calming and 8-Flower for fine lines.
Don't neglect your lips. The skin on our lips is thin and delicate, losing moisture more quickly than other parts of your body. Lip oils are deeply moisturizing and not sticky like glosses. I always keep a lip oil on my nightstand to apply before I go to sleep. In the past, I used this (I know it sounds weird, but it's amazing on dry, delicate skin.), but Darphin's Rose-Infused Lip Oil is a new favorite.
Don't be afraid to try an oil cleanser. I've never had great luck with facial cleansers. Even the super gentle creams over dry my skin, so I've always just used Thayer's Rose Petal Toner and makeup remover if I have on a lot of eye makeup. At a Take Care skincare workshop earlier this year, I was introduced to Province Apothecary's amazing oil-based cleanser. Not only does it get my skin really clean, but it has anti-aging benefits as well. My skin always looks dewy and fresh after I use it.
Use it in the shower. One of the coolest (cheapest) beauty tricks that I've learned this year is that shaving your legs with coconut oil is waaay better than using body wash or shaving cream. I used to get bumps on my legs all the time from dryness and razor burn, but since I switched to coconut oil, my legs are smooth as can be. Since I had such great results, I now use it on the rest of my body after bodywash. The heat of the shower allows the coconut oil to absorb better into your skin and doesn't get on your clothes (which it tends to do if you put it on outside of the shower).
I hope my little guide was helpful! Have you used skin oils before? What tips or tricks have you learned?
Thanks Darphin for sending me the products to try!