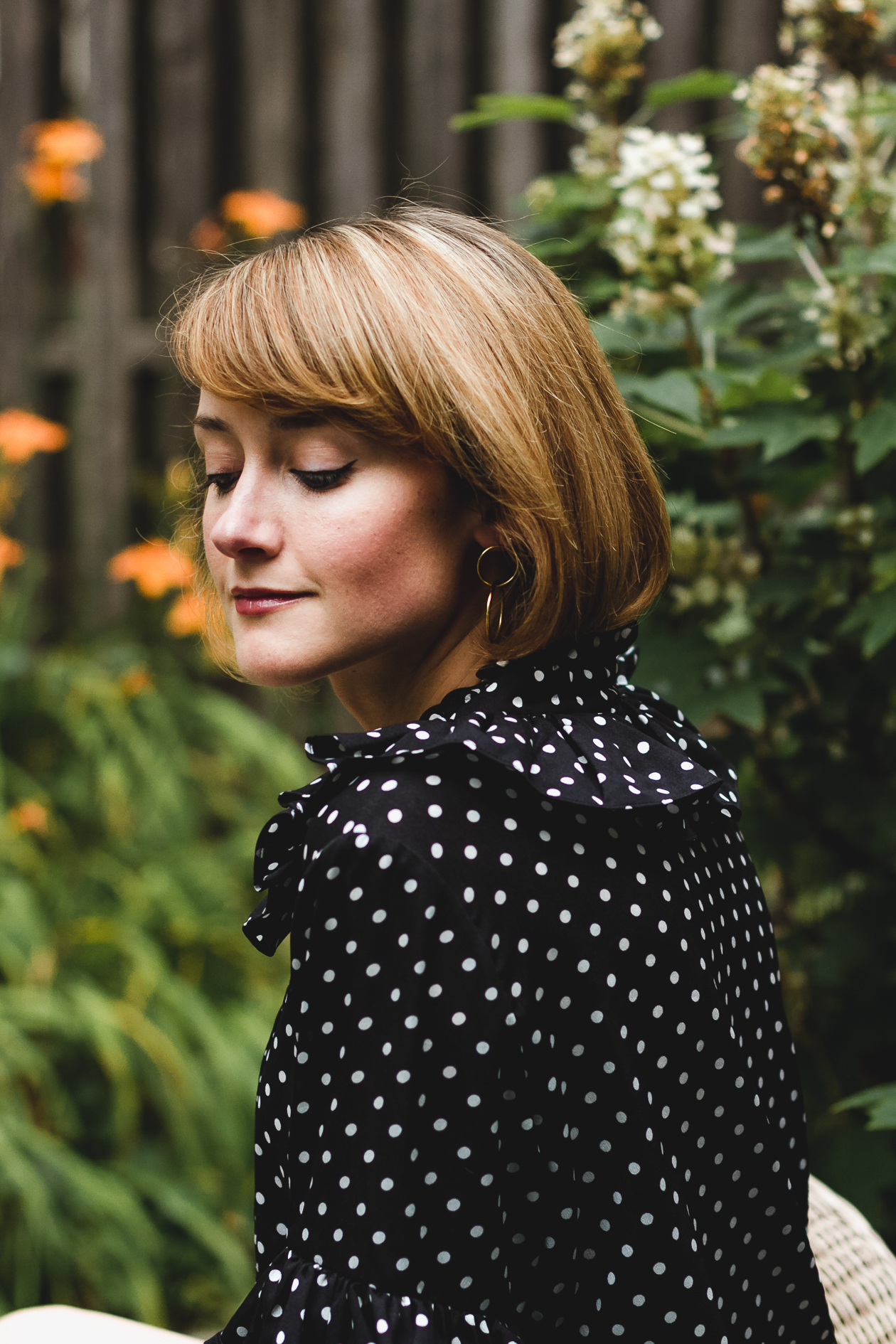 Suuuper fun topic right? Well the reality is this: no matter how great your hair is, it's going to get thinner as you get older, especially after you have children. Having never been blessed with long thick hair, I've always been mildly obsessed with any hair product that will make my hair thicker. Over the years I've tried a myriad of shampoos, conditioners, masks, serums, and basically any technique or tool to avoid breakage. I feel like I've hit a good stride with my current regimen so I thought I'd share in case it helps any of you with similar hair issues.
Shampoo
As I mentioned in my previous hair post, I started washing my hair in cold water to protect my hair color, but I've found it prevents breakage, as well. I'm also very careful to only wash my hair every other day. A few months back, Vitabrid C12 sent me their scalp shampoo to try and I've been using it regularly ever since. This scalp shampoo contains a stabilized vitamin C complex that improves scalp and hair health. Unlike other hair growth shampoos I've used, it doesn't make my scalp oily and it protects hair color. I have to say that my hair does look fuller and healthier since I've been using it so I'll continue to keep it in my regular rotation. I alternate every other wash with Juice Organics Color Protect Shampoo, as well (I extol its benefits in this post).
Conditioning
When you've got thin hair like mine, the trick is always finding conditioners that moisturize and protect your hair, without weighing it down. I've been using Kiehl's Amino Acid Conditioner for years and it keeps my hair nice and soft. I also alternate with Juice Organics Color Protect Conditioner. Once a week do a mask with Shu Uemura's Ultimate Remedy Extreme Restoration Masque, usually under a shower cap in a hot shower to help the mask penetrate.
Serums and Styling Products
Jason Thin to Thick Scalp Elixir has been in my arsenal for years. I started using it (pre-child) to improve the thickness of my hair, but quickly found it made my naturally wavy hair easier to control. I apply it to the roots of my hair, brush it through to the ends with a boar bristle brush, and leave it in overnight before I shampoo my hair. Since I blow-dry and curl my hair, I always use some form of heat protecting spray before styling. Right now I'm using Kerastase Spray À Porter.
Preventing Breakage
Oftentimes thinning hair can be attributed to breakage and, if your hair is thin to begin with, you want to do everything in your power to protect it. At night I sleep on a satin pillowcase to reduce breakage (it prevents wrinkles, as well). When I pull my hair back, I use these hair ties, which don't snag. Usually if I'm going to curl my hair, I try to do it on a day when I'm not washing my hair with shampoo and wash my hair with conditioner (like the Kiehl's one) instead. Believe it or not, most conditioners have small amounts of cleansers in them. This prevents my hair from getting dried out from heat styling and keeps my waves looking shiny and smooth.
Another thing I should mention is that many hair loss issues can be attributed to stress, health issues, and diet so see a dermatologist if you see a sudden change. I started taking Biotin after my son was born and it does make my hair and nails grow faster.
This probably seems like a lot, but I promise it's not as high-maintenance as it sounds. That being said, do what's manageable for you and feel free to take or leave what you want. But I'm curious, do any of you struggle with thin hair? If so, what tips or products would you recommend?