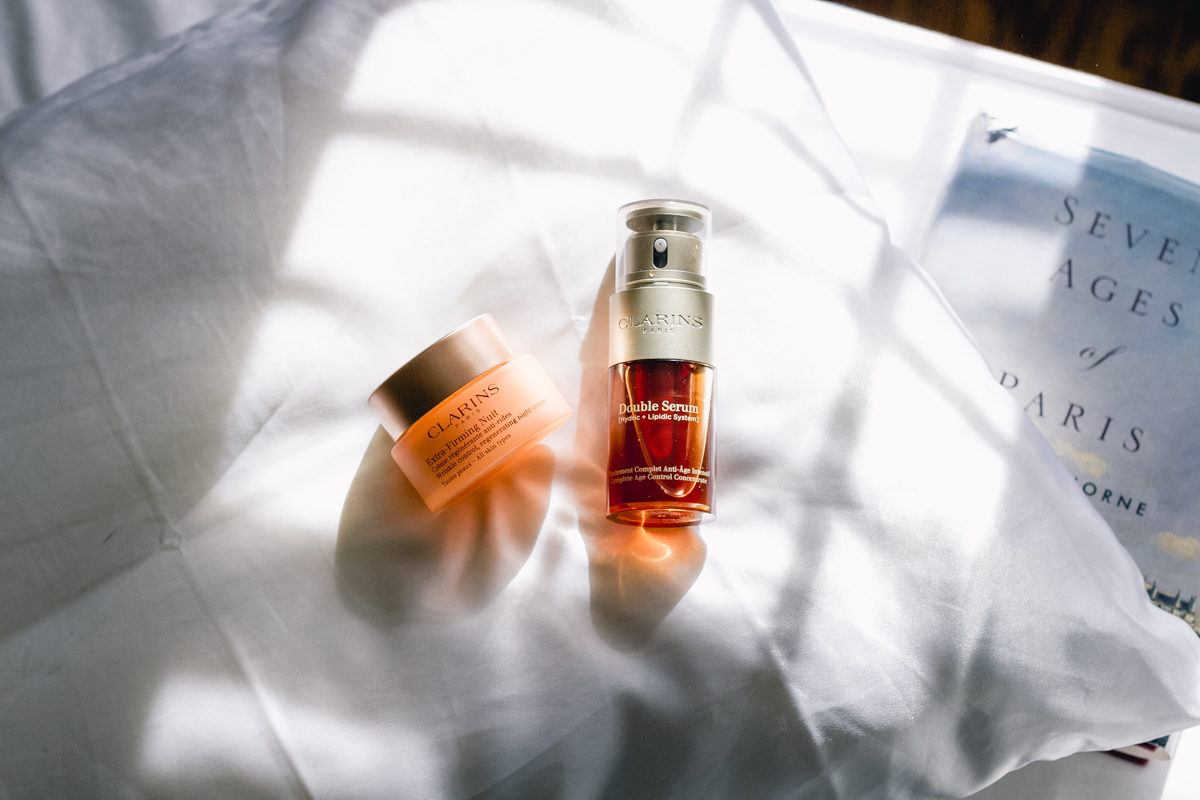 So you've probably noticed an underlying theme on the blog the past couple years: having a child kind of disrupts your previously-held life patterns. And I'm not saying this is a bad thing. I go to bed at a much more reasonable hour now, reduced screen time (both tv and internet) by quite a bit since my husband and I make an effort to minimize screen time around our son, and generally spend more quality time with my family than I did pre-child. But one area that has suffered is my beauty regimen. I have a lot less time in the evening to dedicate to multi-step beauty applications and self-care in general. So after the holidays, I decided to get back on track and I was surprised by how, with just a few changes to my night time routine, I've already seen an improvement in my "first thing in the morning" appearance. Here's what I did…
Set Yourself up for Good Night's Sleep
This seems pretty obvious right? Well, to a longtime insomnia-sufferer like myself, it's hard. Before I had my son, I used to stay up 'til all hours, knowing I could "catch up" by sleeping late on the weekends. But with that no longer being an option, I've really had to take some big steps to improve my sleep hygiene. This started with cutting down on screen time before bed – something I've always struggled with and possibly even harder to do now that I don't use my phone or computer in front of my son, but it makes such a big difference to turn them off at least 30 minutes before bed (if not an hour). Cutting down on "blue screen" time at night is important, too. When I'm not editing photos, I use f.lux on my computer or the "night shift" setting on my iPhone.
Another thing I do is stick to nonfiction (I got this tip from Geri's great post about limiting sleep anxiety). I love a good book as much as the next person, but if I get sucked into a really good story, I'm wired and up for at least another hour if not the rest of the night. Once I took Geri's advice (right now I'm reading Seven Ages of Paris), I found myself relaxed and sleepy after just a few pages.
Try a Satin Pillowcase
I was so skeptical of this, despite all the hype (and the price tag certainly didn't help). But reading this post finally pushed me to try it. Guess what? Amazon has a number of affordable options. I got this one and I really have noticed a improvement in the smoothness and breakage of my hair (a big win if you have fine hair like mine). Is it giving me less wrinkles? I can't really say, but for $9, it certainly can't hurt.
Find a Good Night Cream and Serum
Clarins recently sent me their new Extra-Firming Night Cream and famed Double-Serum. I've been using them together every night for almost a month now and let me just say *hand-over-heart* I noticed almost immediate results. I definitely saw a reduction in the fine lines next to my nose and mouth and my cheeks, which tend to get dry in the winter, are much more moisturized and smooth. These two products have topped my list for new favorites.
Use a Humidifier
I've been doing this for years, but it's worth emphasizing: humidifiers aren't just for colds. The winter months are dry (even in swampy DC ?), so as soon as November hits, I've got mine cranked every night. Trust me, your skin and hair will thank you for it.
What night time beauty steps do you swear by? Please share!