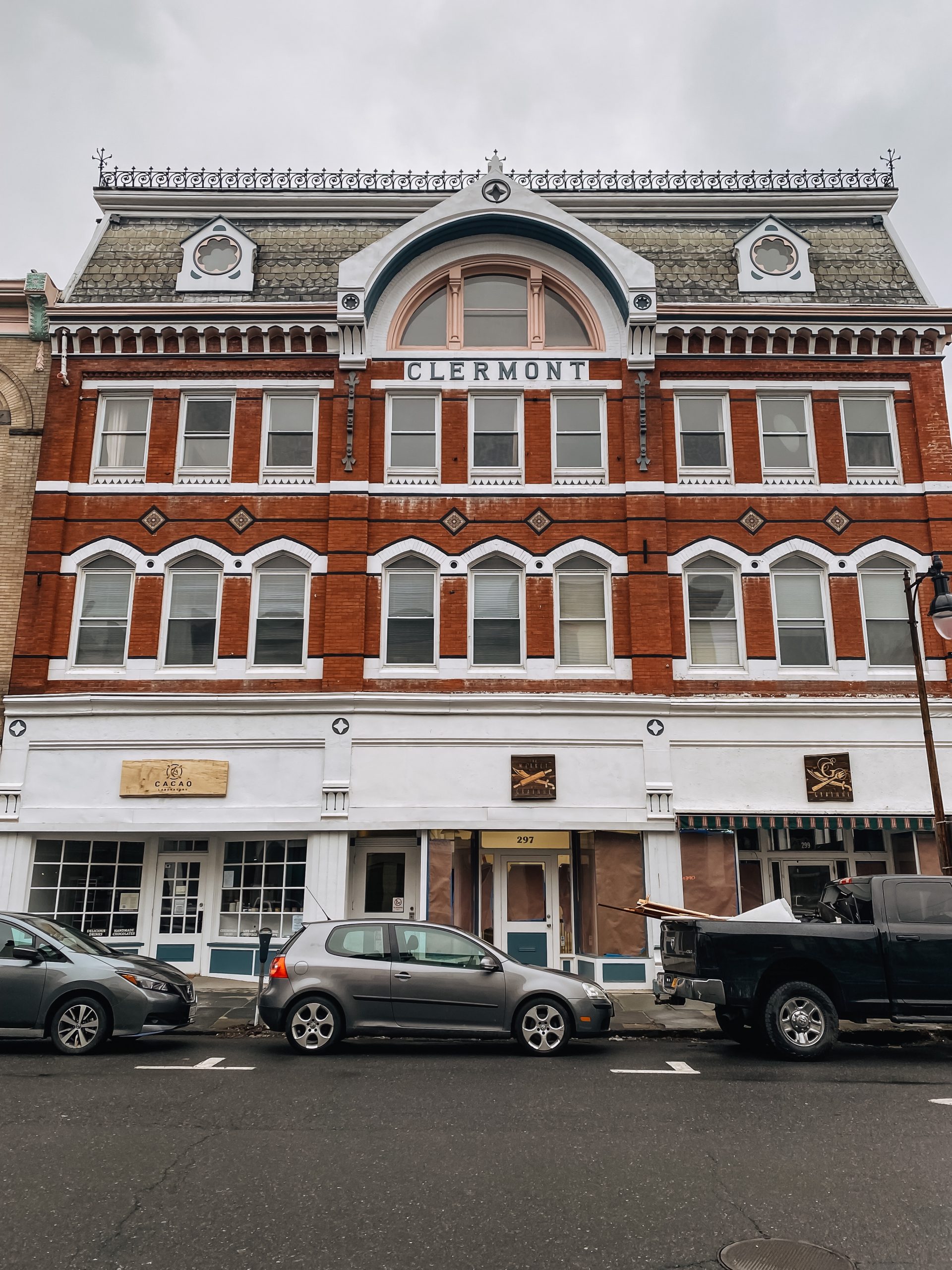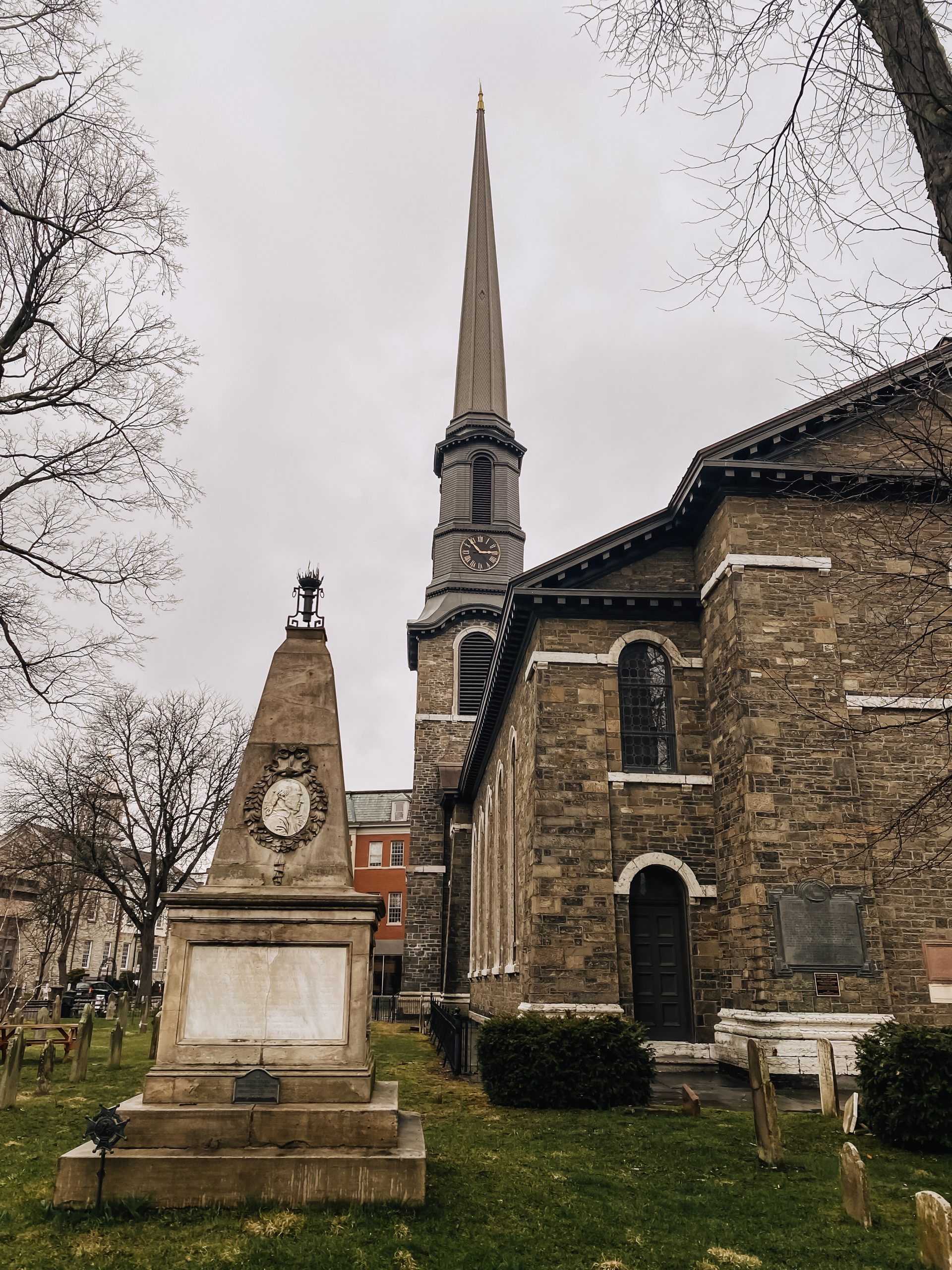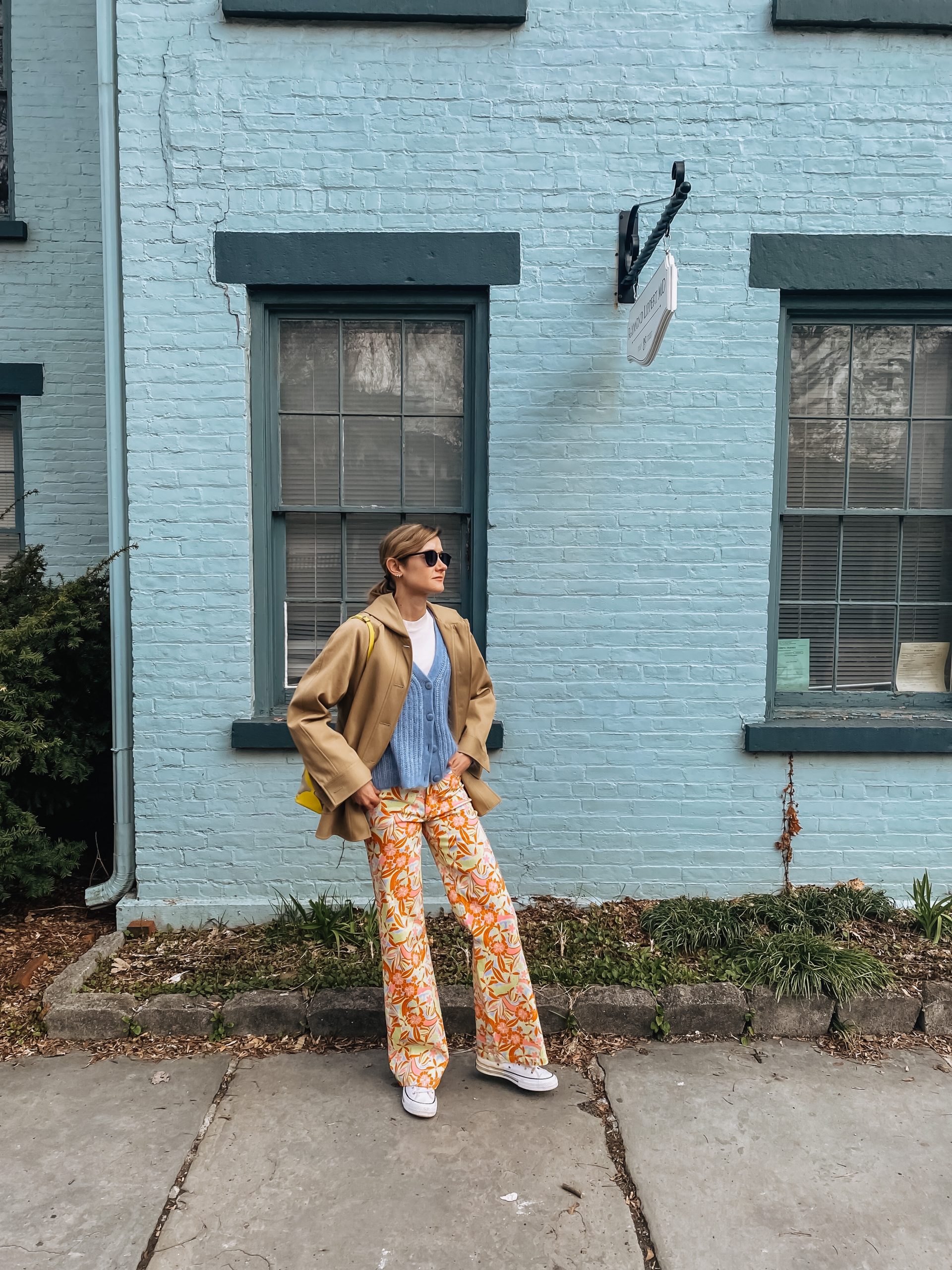 wearing Krewe Sunglasses, Sezane jacket, M.M. LaFleur t-shirt, Sezane cardigan, Nicole Miller pants, Converse sneakers, and Pierre Hardy bag
Having gone to college in upstate New York, I'd always heard wonderful things about the Hudson Valley, but never got the opportunity to explore it myself. So when a family gathering came up in the area, we decided to make a long weekend of it. We absolutely loved our stay and the great food and culture this area had to offer. Here's a little guide to what we did.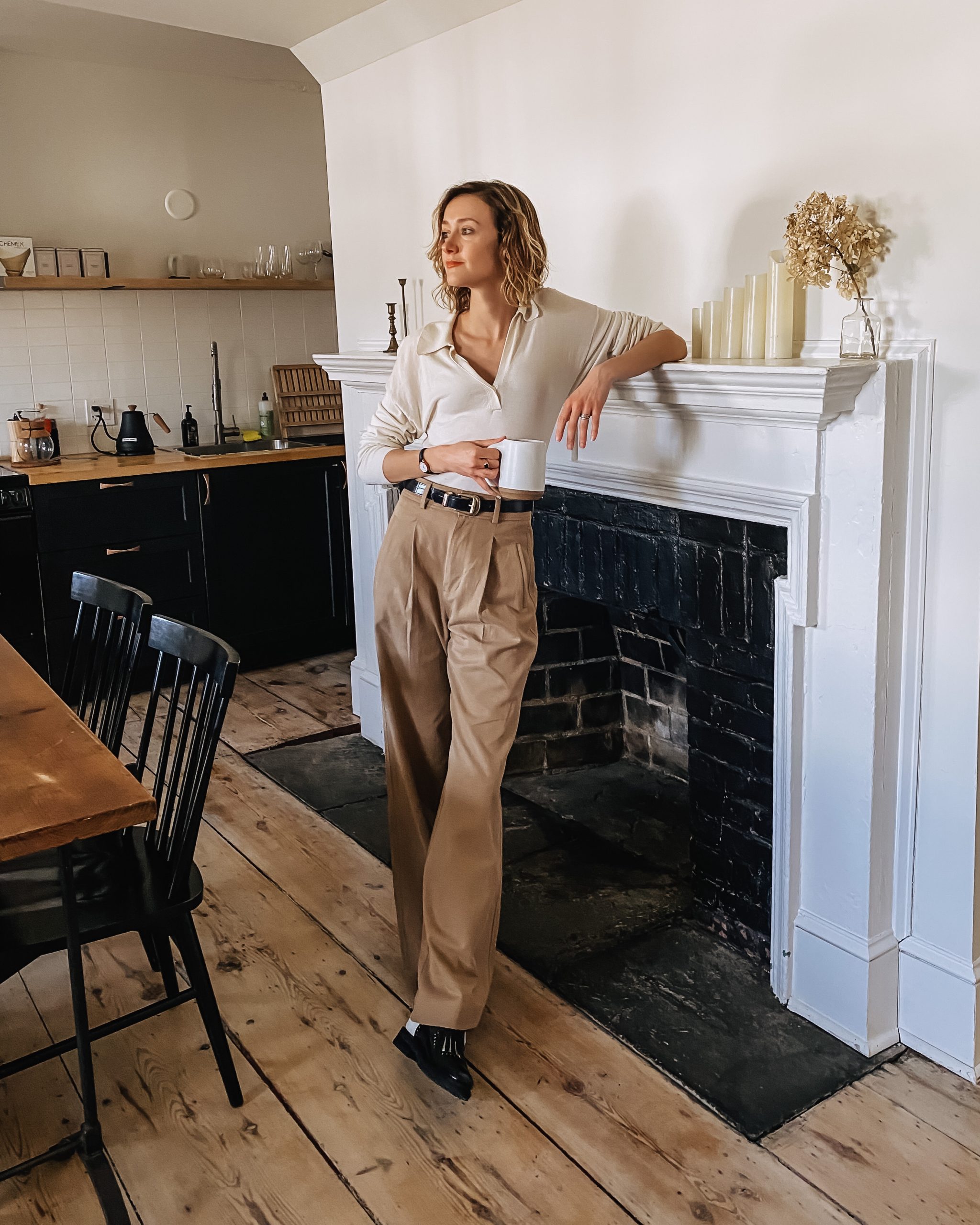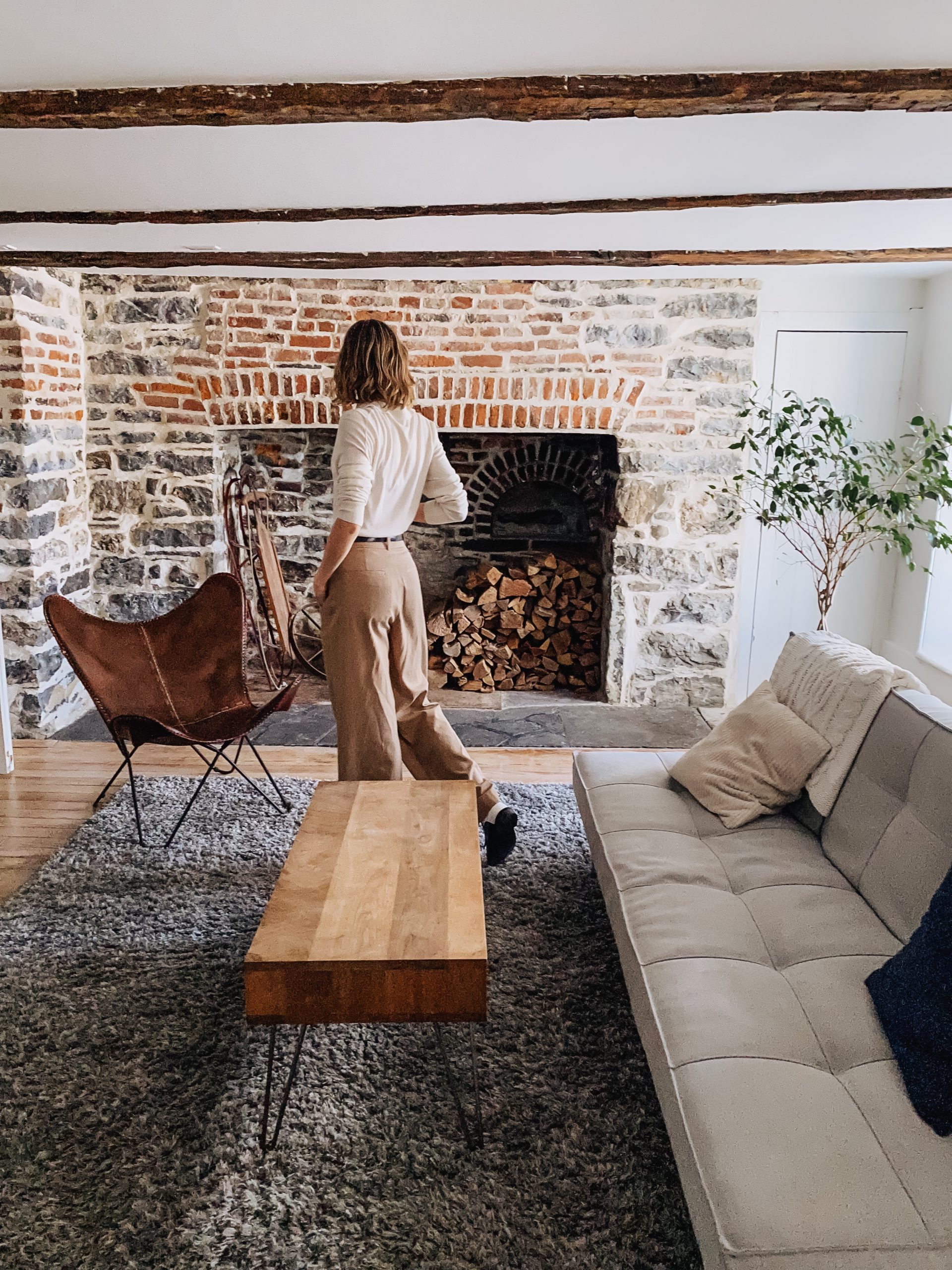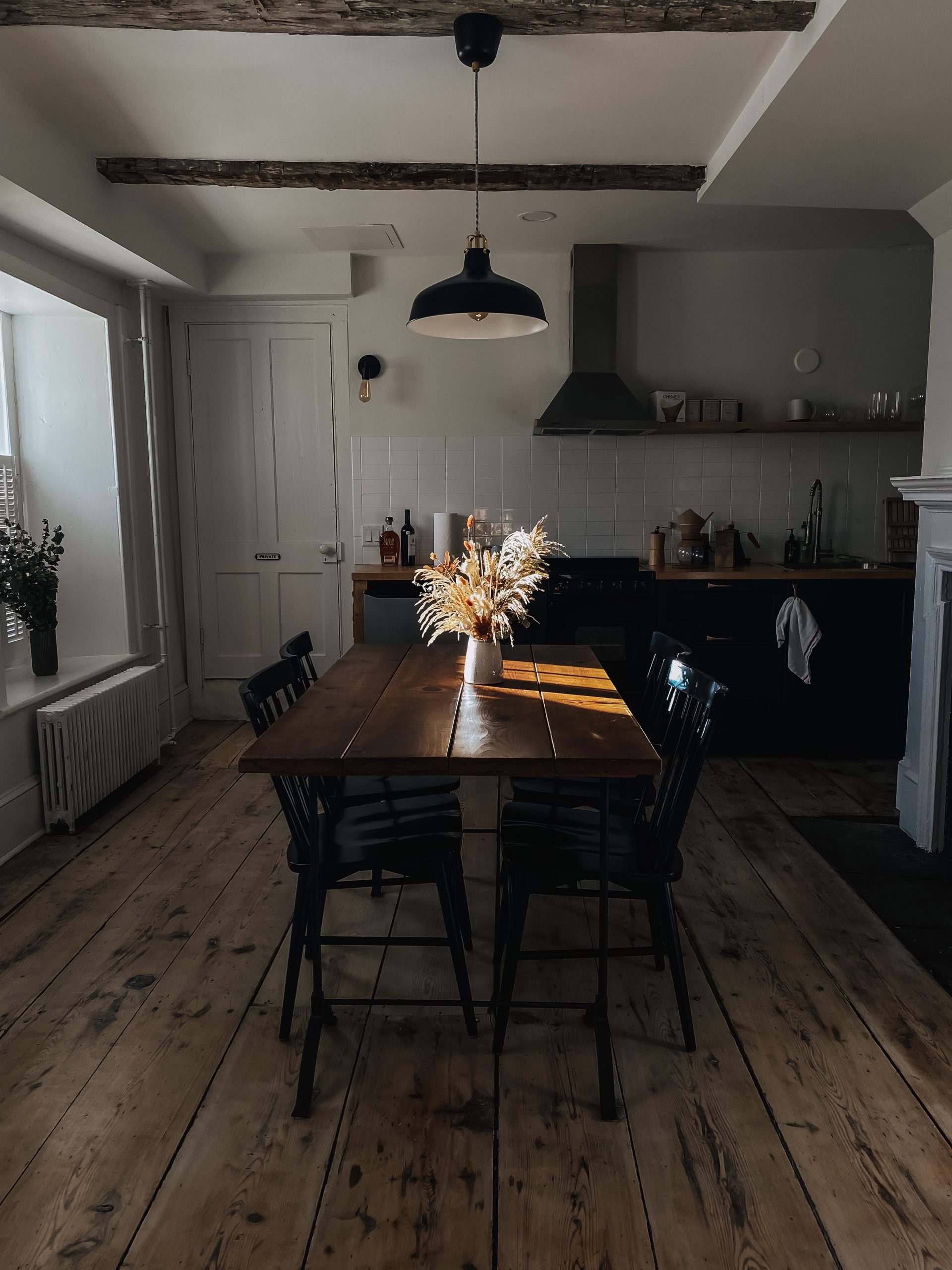 Where to Stay
After a little preliminary research, we decided on Kingston as our "home base" for this trip. The town has gotten a lot of attention lately for it's burgeoning food scene. And since we often make travel decisions based on the availability of good food, the choice was obvious. My husband knocked it out the park with our Airbnb – the downstairs unit (originally the kitchen) of a 1735 historic home, lovingly restored by it's owners. What attracted us to Kingston (besides the great food) was its rich history, so it really added to the ambiance of our trip by staying here. While the exposed brick fireplaces and hand-cut ceiling beams remind you of it's past, the unit is completely modernized and there were lots of thoughtful touches, like a fully-functional kitchen, air purifier, pour-over coffee maker, rain shower, and flat screen TV. We didn't miss a single comfort of home.
Another option we considered was Hotel Kinsley, which is actually a collection of historic buildings, each impeccably decorated with mid-century and contemporary decor. And this brings me to food…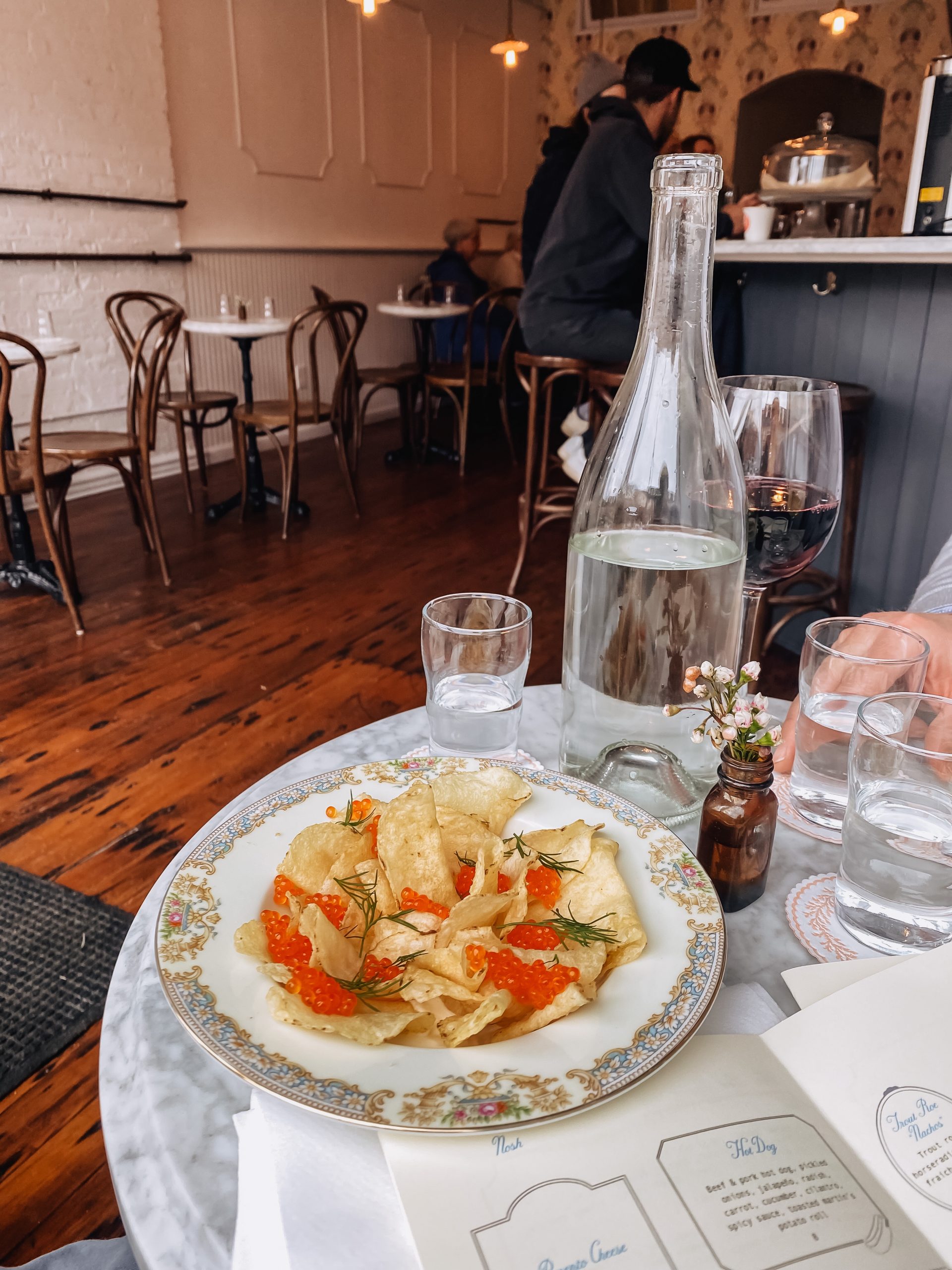 What to Eat
I'll try to keep this concise, because there's a lot to cover here! Dinner the first night was at Restaurant Kinsley, an upscale American brasserie housed in a restored bank (part of Hotel Kinsley). I 100% judge a restaurant by its bread basket and starting off the night with Kingston Bread and Bar's Upstate Levain with straciatella set the tone for what was to be an excellent meal. We loved the tuna tacos in crispy wonton with coconut rice and the steehead trout with dill caper emulsion was to die for.
After trying Kingston Bread and Bar's delicious Upstate Levain the night before, we knew we'd have to hit it up for breakfast. Just a couple blocks from our Airbnb, this bakery was clearly a local favorite for a reason. We sampled just a few of the impressive pastry selection – a cardamom bun, vanilla bun, and a slice of chocolate zucchini bread – and were impressed by every one. The Hash-Ish Sandwich will also go down in my memory as one of the best breakfast sandwiches I've ever had.
Brunette Wine Bar – Tucked in between many of the cute shops of the downtown waterfront you'll find this chic Parisian-inspired wine bar. Besides having a great wine selection, Brunette offers gourmet small plates like trout roe "nachos" (my son's favorite!) and even a fancy hot dog. This made for a great late lunch option after we spent the morning at exploring the waterfront.
Lola Pizza– After all the "fine dining" we'd had, we were looking for something a little more low key for our last night. We decided on Lola Pizza and were very pleased with our choice. In addition to wood-fired pizzas, Lola had delicious salads and a fantastic wine selection. We all loved the organic soft serve for dessert!
Rough Draft Bar and Books – Also within walking distance of our Airbnb, this bookstore and coffee shop serves delicious meat pies and pastries in a cozy historic stone building you could easily spend all day in.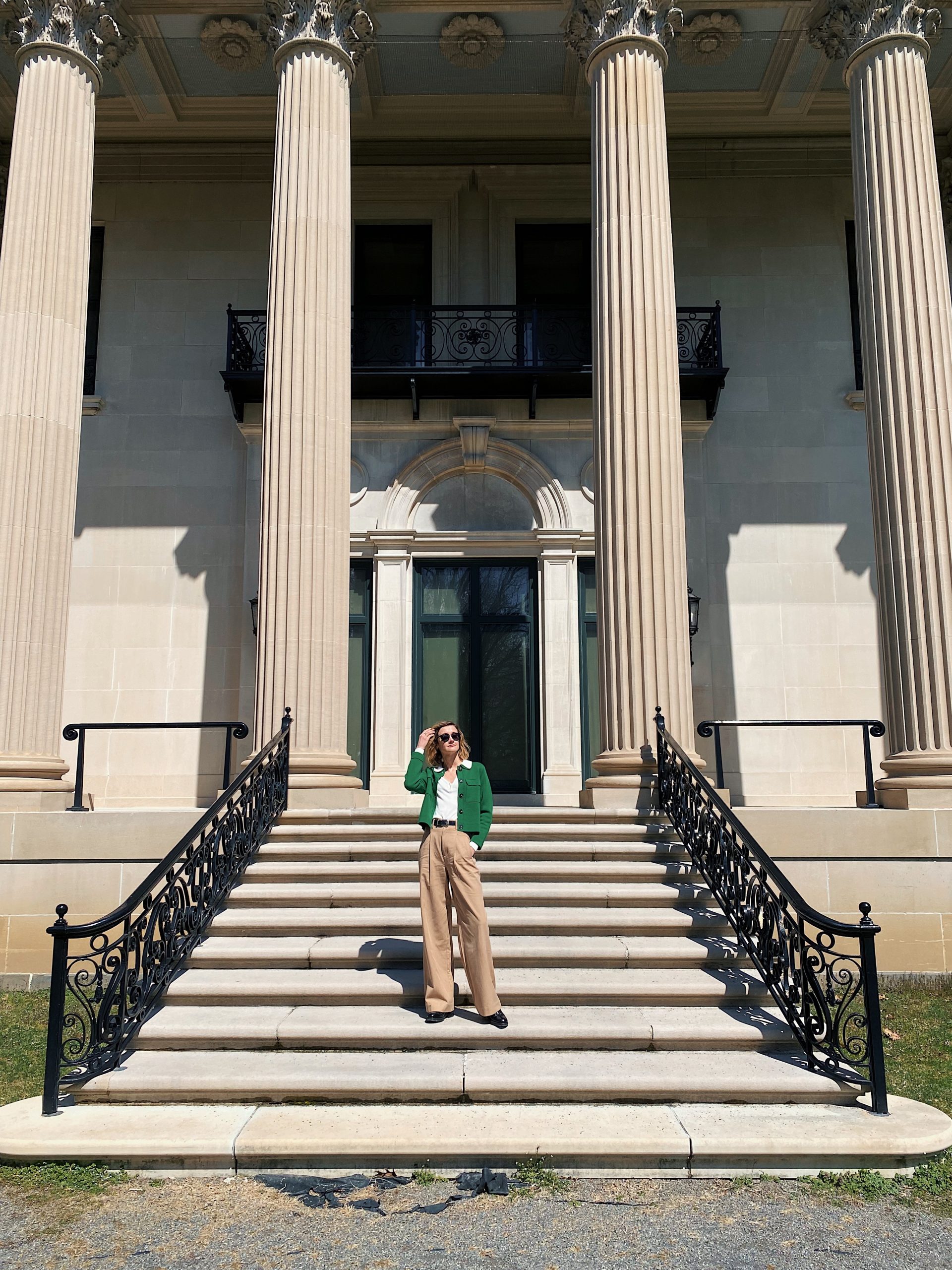 wearing Krewe sunglasses, Sezane knit jacket, M.M. LaFleur polo, Everlane pants, and Office of Angela Scott oxfords
What To Do
Hudson River Maritime Museum – Don't be fooled by the seemingly small exterior of this museum, as the exhibitions inside are quite extensive. My son loved building his own canal and lock in the Erie Canal section, my husband was very impressed by the Hudson River and climate change exhibition, and I was in awe of the extensive boat models and replicas you could check out. When the weather's nice, they offer solar boat tours on the river, as well!
ArtPort – We stumbled upon this cool historic steamboat building-turned art space after visiting the Maritime Museum. The current exhibition featuring 3-wheeled toys was very colorful and kid-friendly. I enjoyed seeing works by other local artists throughout the building, too.
Storm King Art Center – I've been wanting to visit Storm King for ages and I was lucky enough to snag tickets to the first day of their spring season. Although it was rainy, we bundled up in our jackets and enjoyed exploring the impressive sculptures dotting the sprawling grounds. On nicer days, this would be a great spot to bring a picnic! We grabbed some delicious New York-style pizza from nearby Prima Pizza. You can also pick up more traditional picnic fare at Farmhouse Market.
If you're visiting the Hudson Valley, it's definitely worth taking the time to visit some of the historic mansions along the river. Vanderbilt Mansion is certainly one of the most impressive. We enjoyed exploring the grounds and admiring the exterior, but I'd definitely like to schedule a tour to see the stunning interior with all of its original furnishings next time!
Just down the road from Vanderbilt Mansion, you'll find another notable estate – the home of Franklin Delanor Roosevelt. Our tour was as much a history lesson as it was a house tour. He and Eleanor were such incredible leaders that guided the US through one of the most difficult periods in our history, it's hard not to feel patriotic visiting here.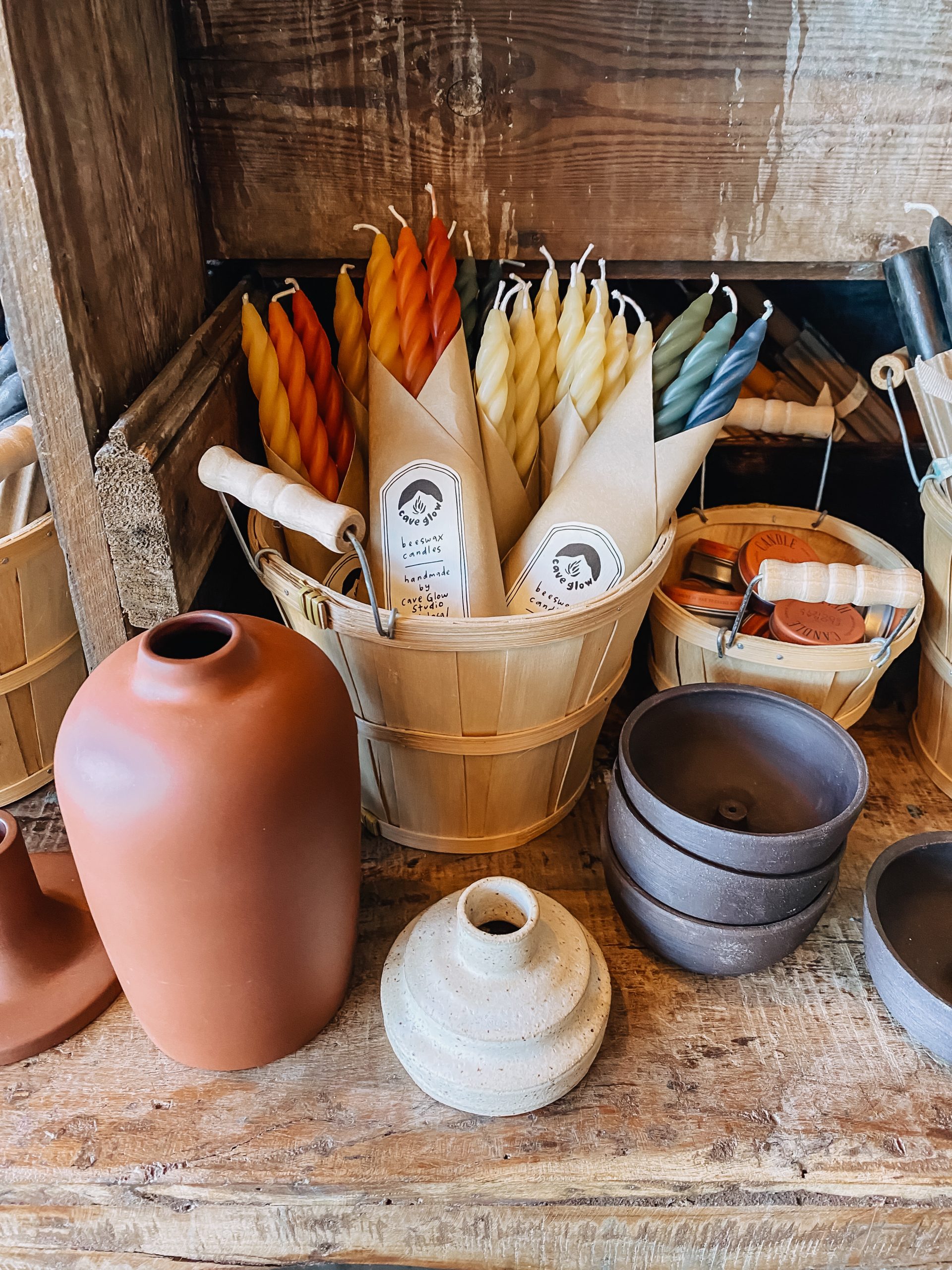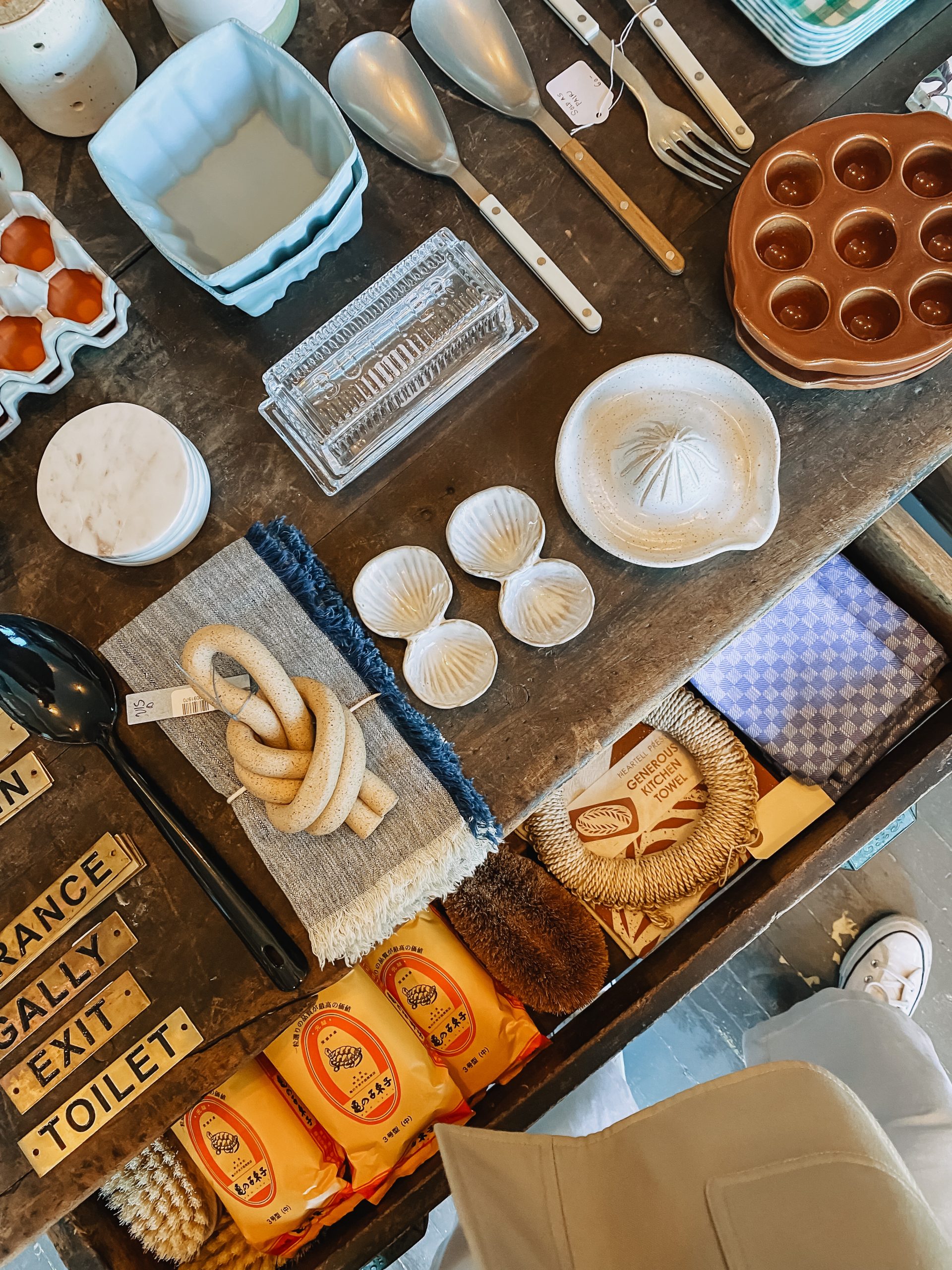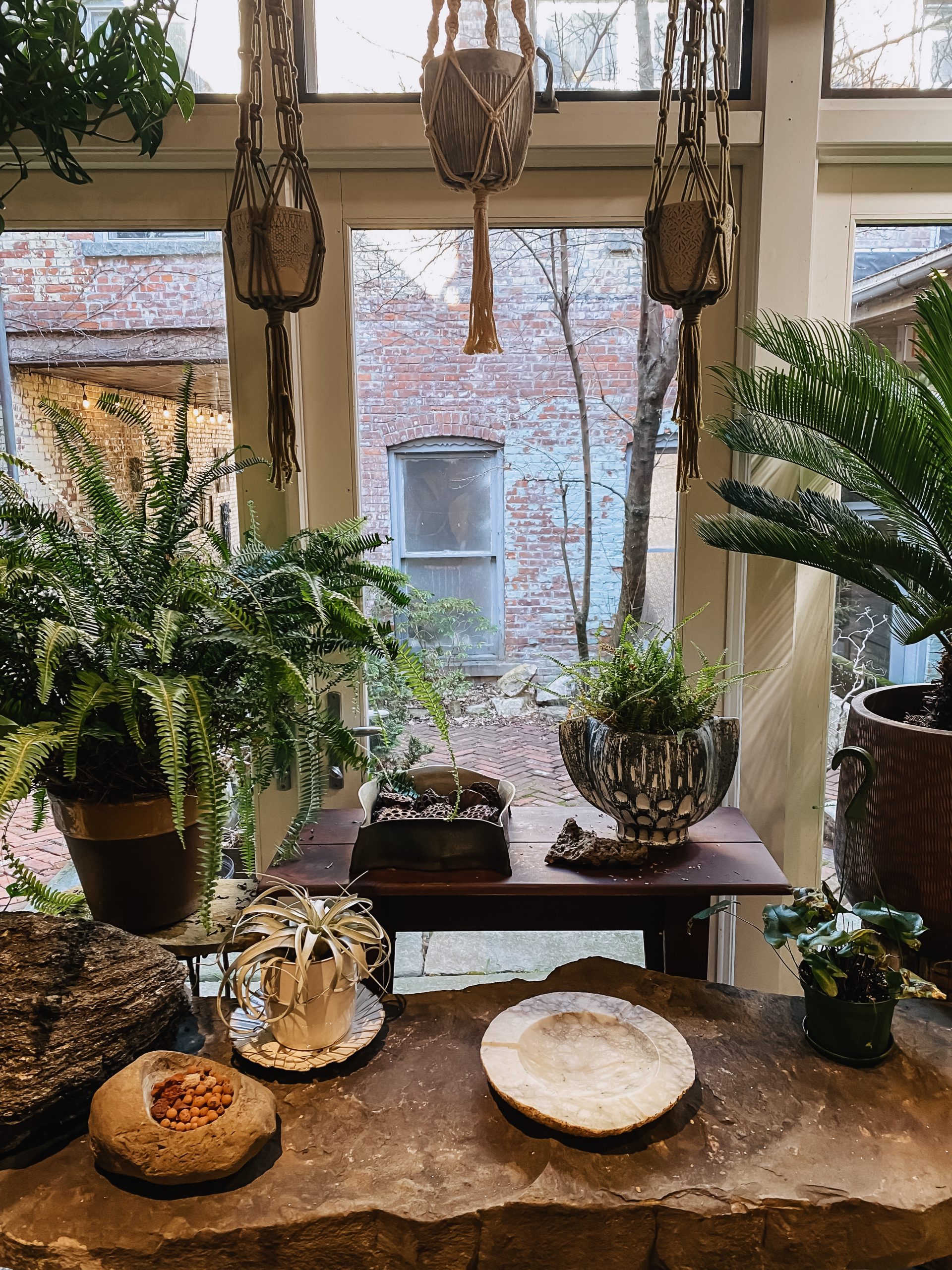 Where to Shop
If you like second-hand shopping, then this is the town for you! Lovefield Vintage is a vintage-lovers paradise. I snagged a fun floral cropped blazer, but it was hard not to take a lot more home! Down the street you'll find Capital Vintage, which has a wider selection and lower prices. You have to dig a little, but there's good stuff to be had here, too.
And Kingston's second-hand stores certainly aren't limited to clothing. If our car wasn't packed, I could have easily been tempted to bring home antique furniture, too. Milne Antiques had a large showroom full of mid-century and other retro gems.
If you're looking for home goods, definitely check out Clove & Creek. I had my eye on locally-made bedding, candles, dishes, rugs, soaps and even clothing. Tucked around the corner in its own private courtyard, you'll find Folk House Collective. This shop has a beautiful selection of handmade pottery, macrame, and artwork by local artists. Also of note is Spruce Design and Decor, which featured high-end soaps, candles, barware and dishware in addition to antique furnishings.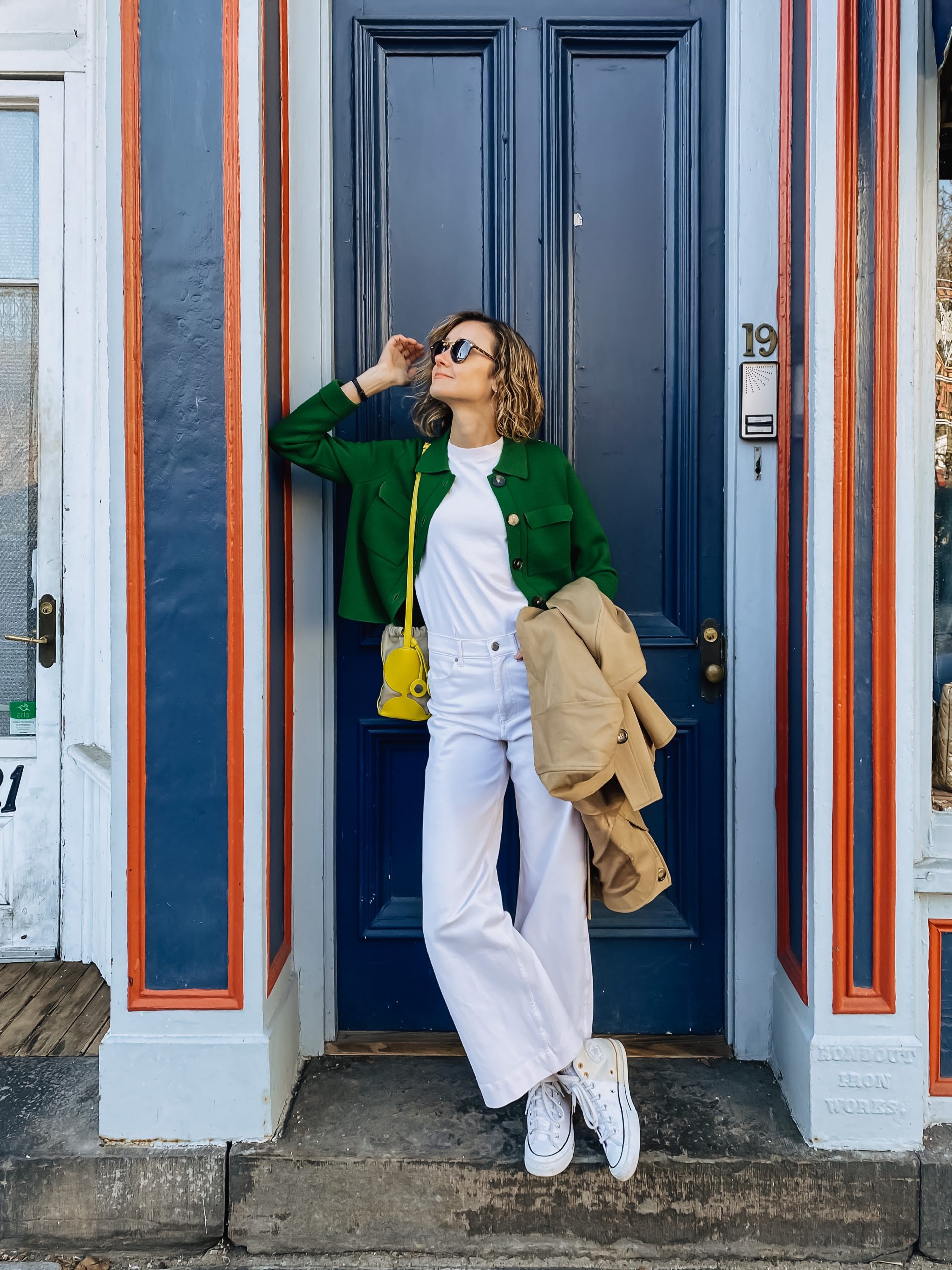 wearing Sezane knit jacket, M.M. LaFleur t-shirt, M.M. LaFleur pants, Converse sneakers, Sezane jacket, and Pierre Hardy bag
What to Wear
We visited in early spring, when the weather is pretty fickle – mid-50's-60s during the day with rain showers off and on. I packed layers, but kept things spring-y with a bright color palette. My trusty Sezane rain jacket got loads of wear, as did this knit shirt jacket and this oversized baby blue cardigan. I also brought these fun floral jeans, my favorite white flare jeans. For tops, I leaned heavily on my M.M. LaFleur white t-shirt and knit polo. And for dinners out, I mixed things up with this feminine ruffled top and this Y2K long-sleeve crop top. I mostly brought flats for walking around – my Converse high tops, chelsea boots for rainy days, and these Office of Angela Scott oxfords, but for nights out, I switched up to either my YSL pumps or Dora Teymur white ankle boots (similar).
wearing Nicholas top, M.M. LaFleur pants, YSL pumps, and Pierre Hardy bag