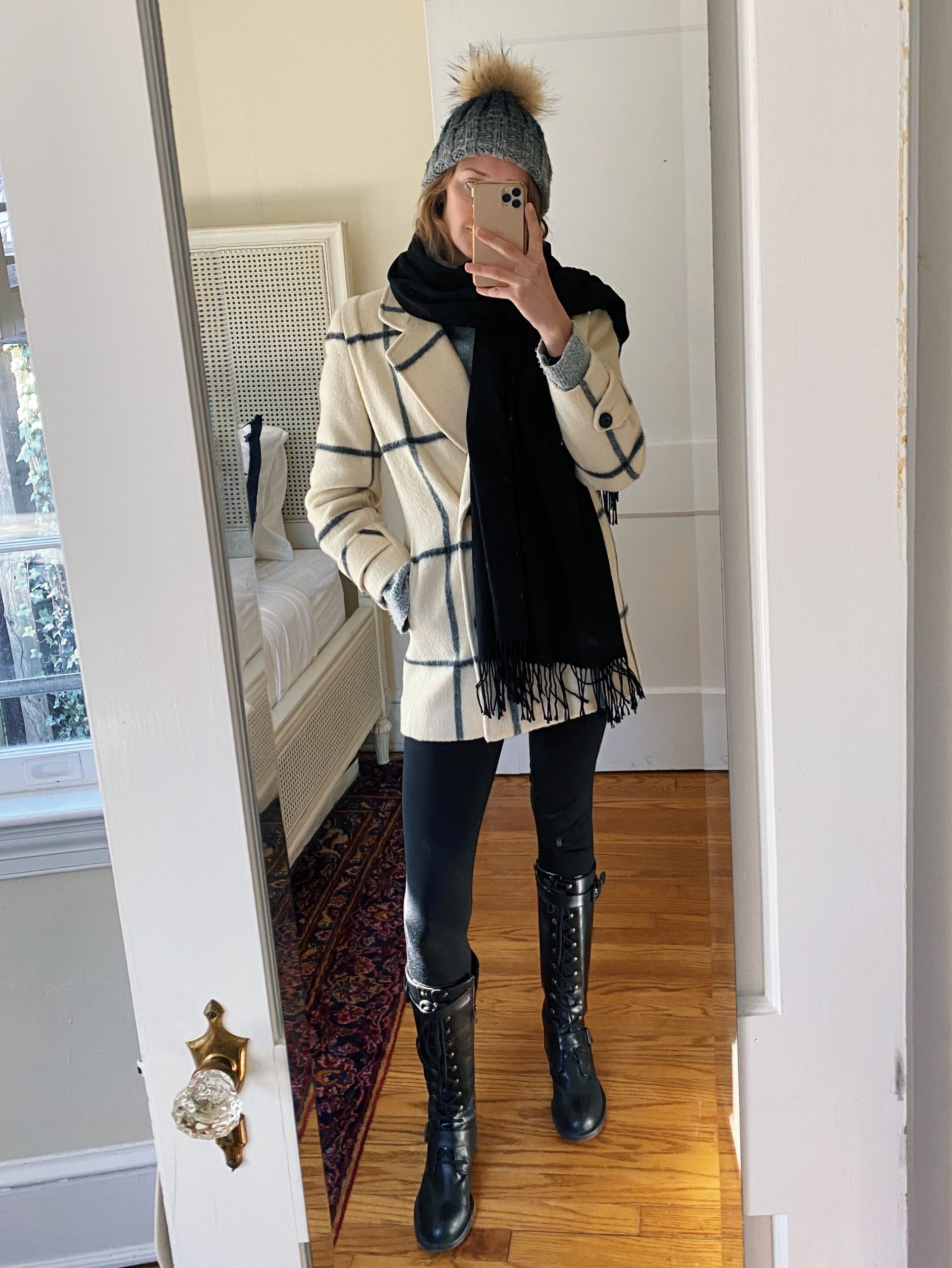 New year, new #dropofflooks! After a (very) long first week of the year with my son at home due to snow, I'm excited to be back in the habit of putting on real clothes to take him to school everyday. If you didn't catch my earlier post, I challenged myself to be creative with morning drop off looks and share them regularly on social media to keep me accountable. Now that the weather's turned chilly, it's made for some fun outerwear combinations, so I wanted to share some of my favorites here. All were thrown together in a pinch, and it's made me realize there are a few styling tricks I turn to keep outfits interesting, even when I'm in a hurry. Here they are…
Warm up a Trench Coat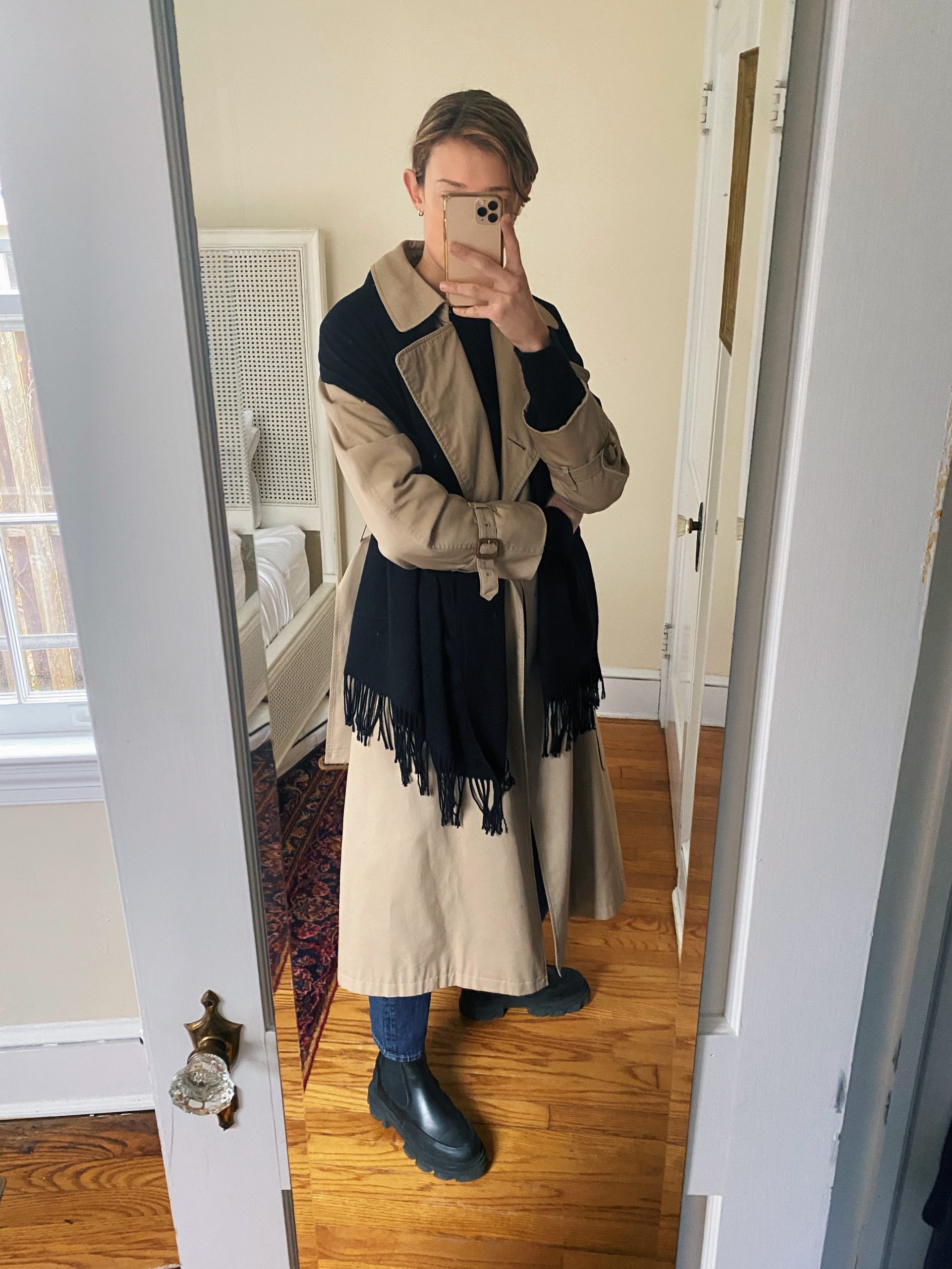 Oversized trench coats were a big trend this fall and there's no reason why they need to be put away for winter. Just add a big wrap scarf or sweater over your shoulders for extra warmth and you're golden. (Styled here with my favorite jeans and Ganni boots.)
Try a Fun Print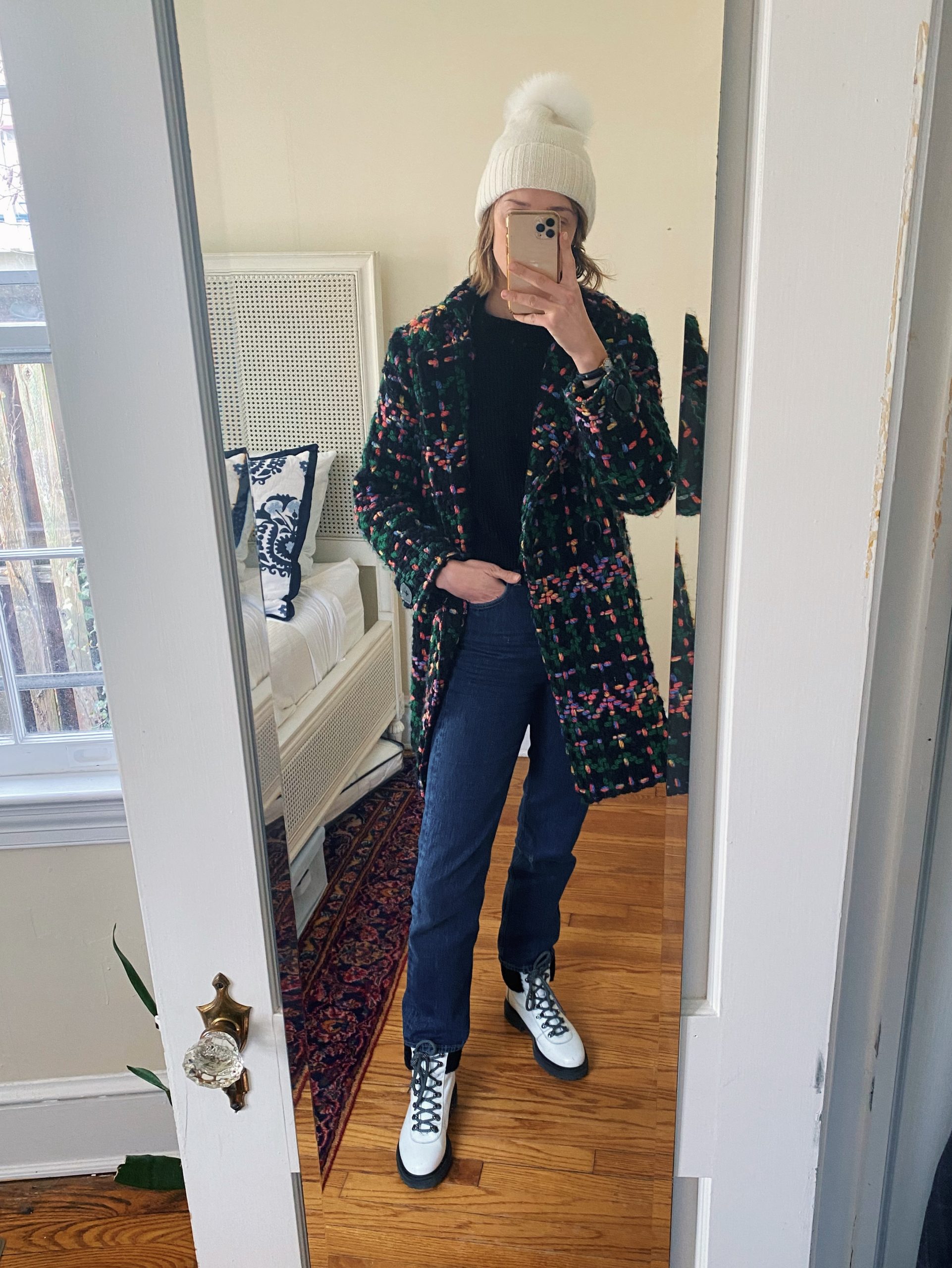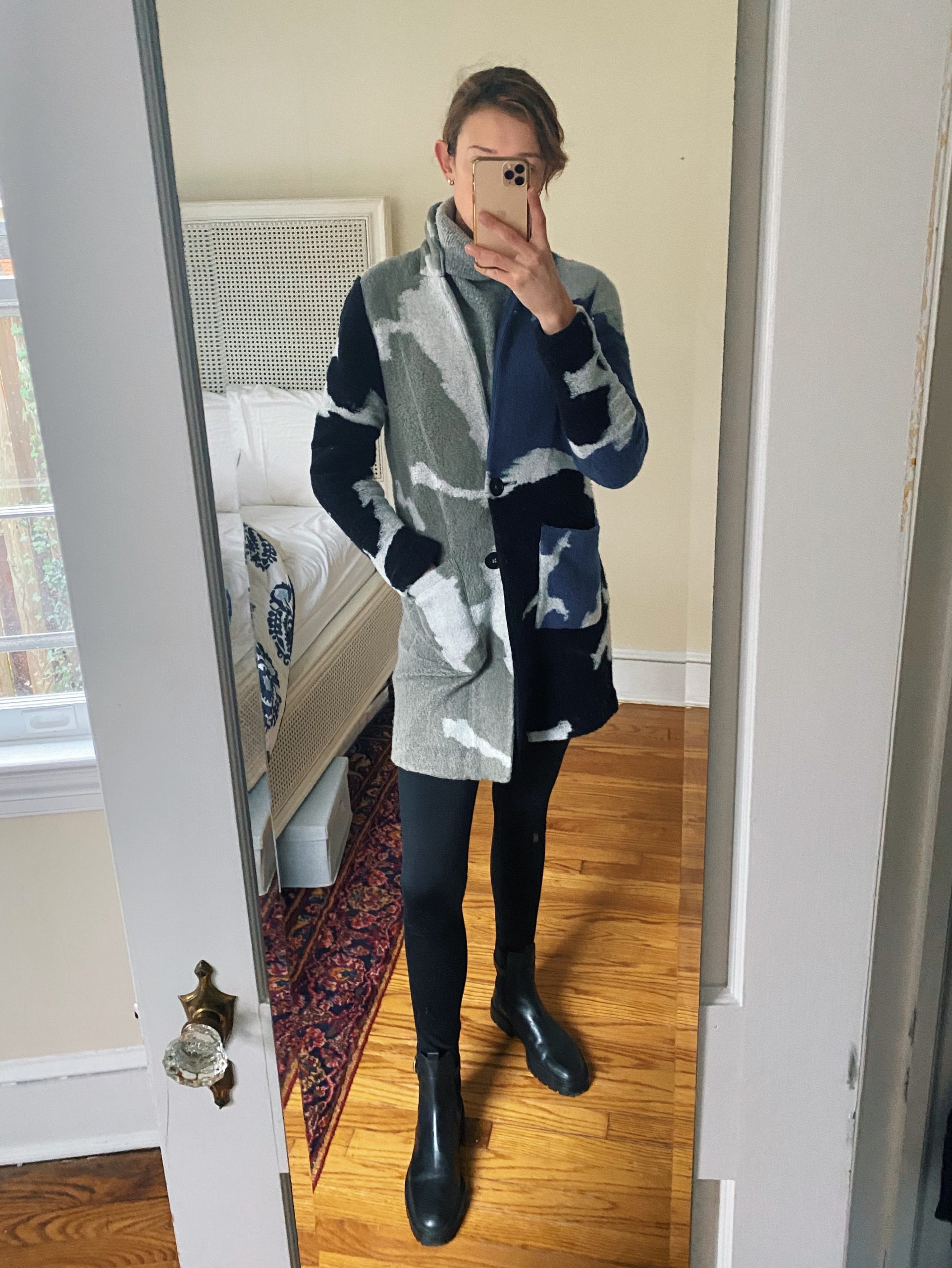 Outerwear certainly doesn't have to be drab! These are two relatively simple looks spruced up by two very fun coats. The first is old Anthropologie, but this is similar. The second is Nic + Zoe.
Add Color with Accessories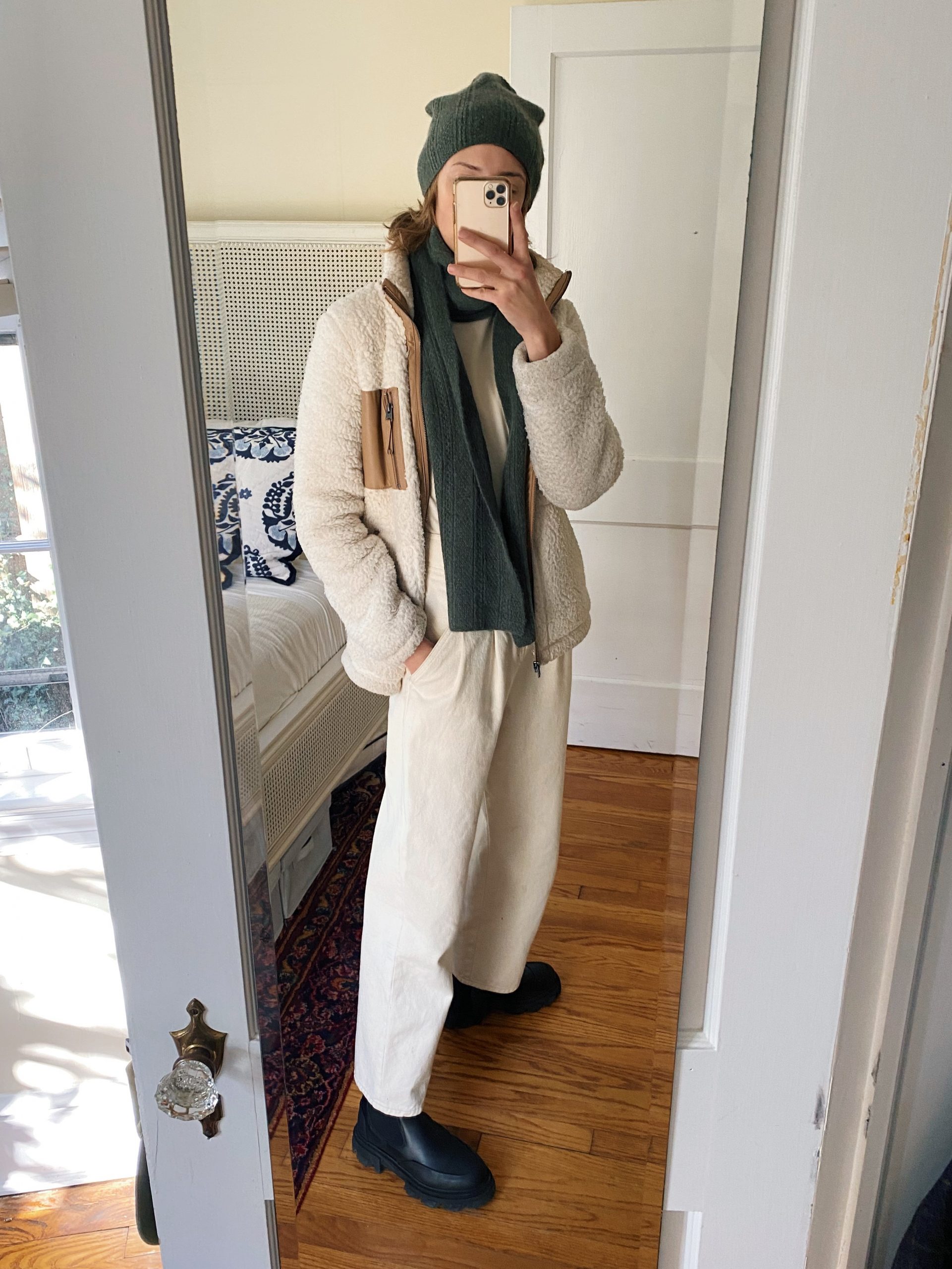 You can easily add interest to monochrome ensemble with a contrasting hat and scarf. This matching set really stands out against winter white fleece and pleated jeans.
Try a Cropped Silhouette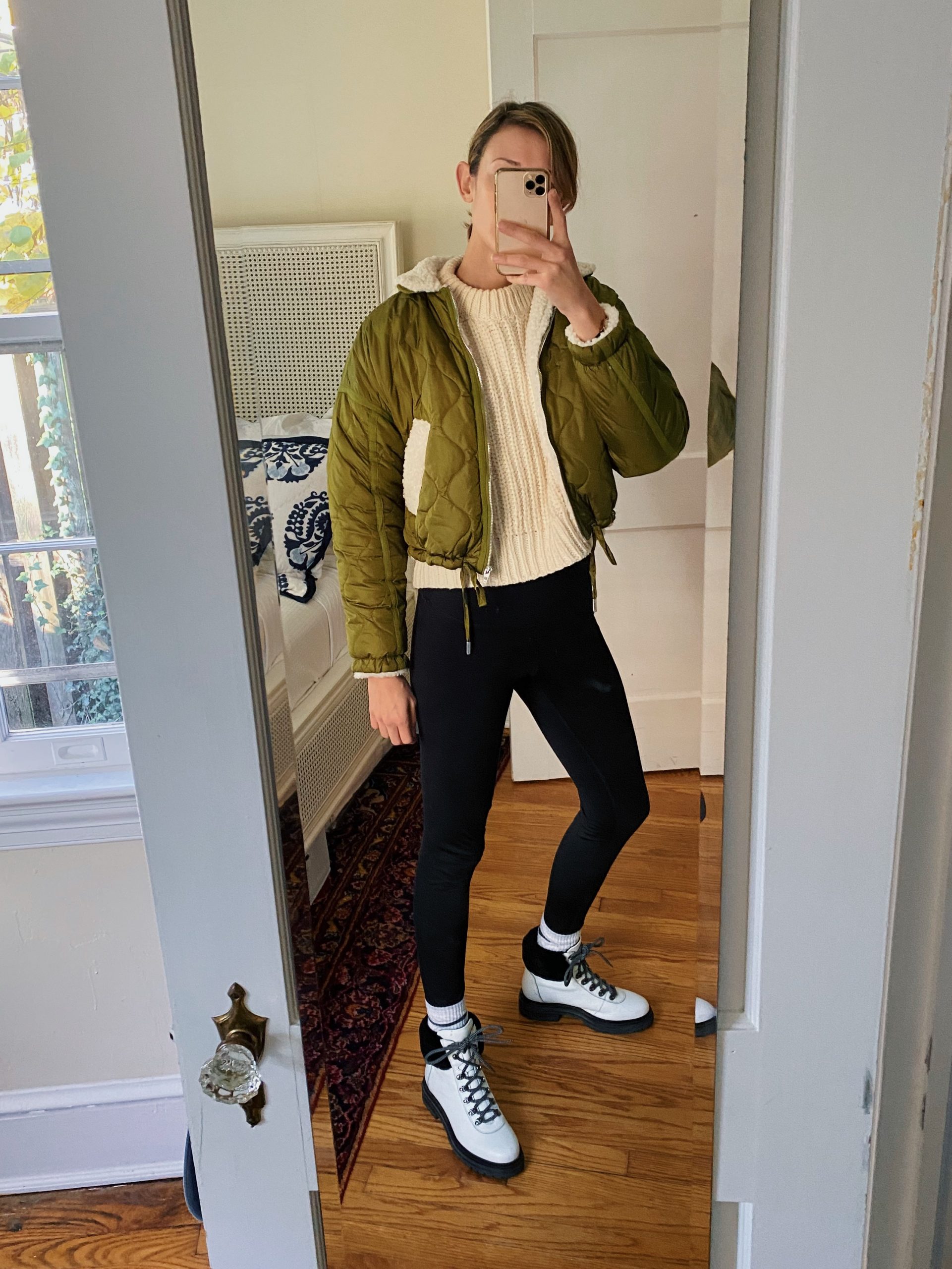 I've long been a fan of cropped puffer jackets as fun alternative to bulky winter coats. I like to pair mine with high-waisted jeans or fleece-lined leggings and boots for a sporty look.
Channel Menswear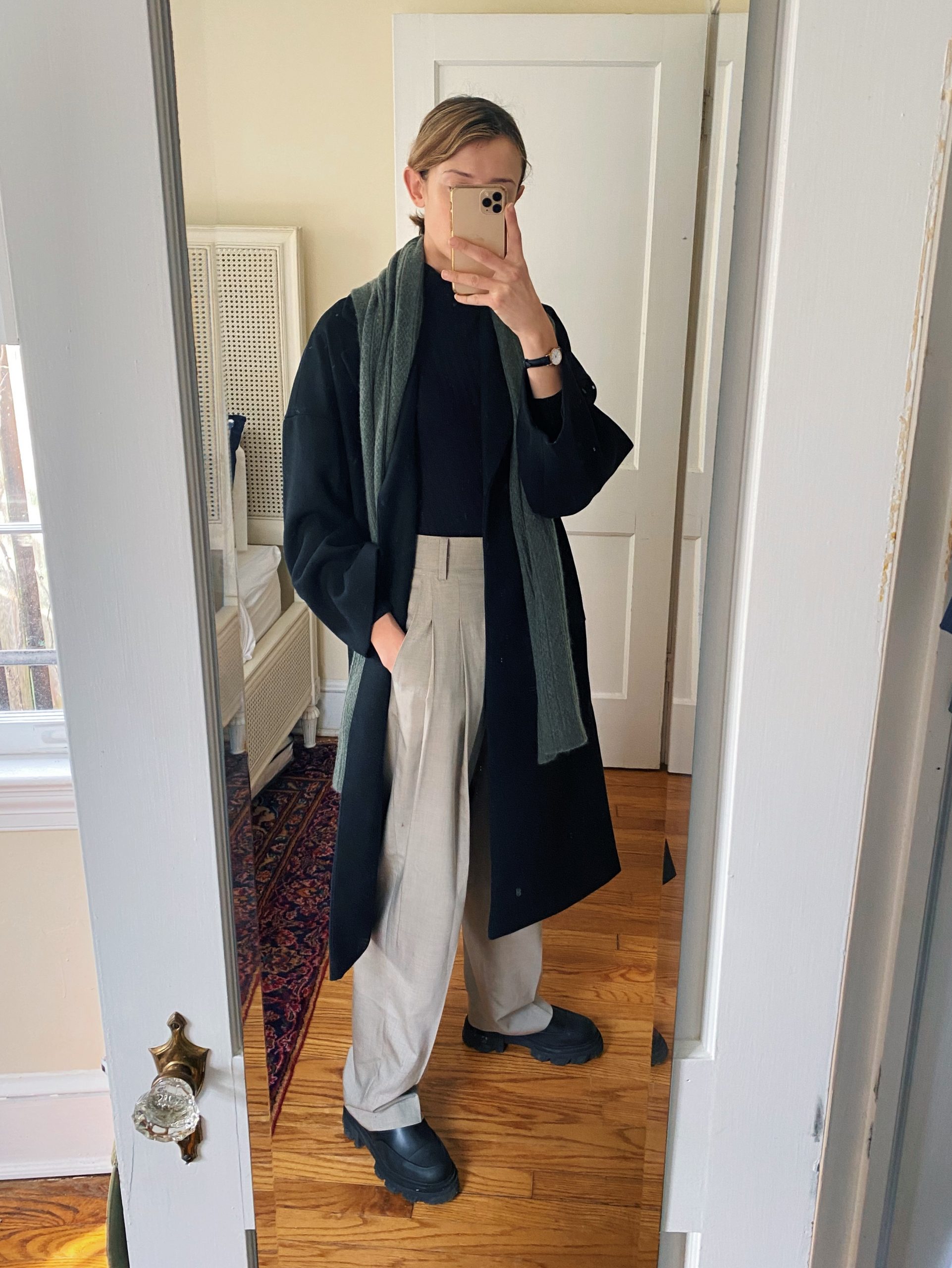 There's something very elegant about a menswear look. I kept the color palette muted with a black oversized coat and pleated beige pants for a minimalist look.
Mix Black and Brown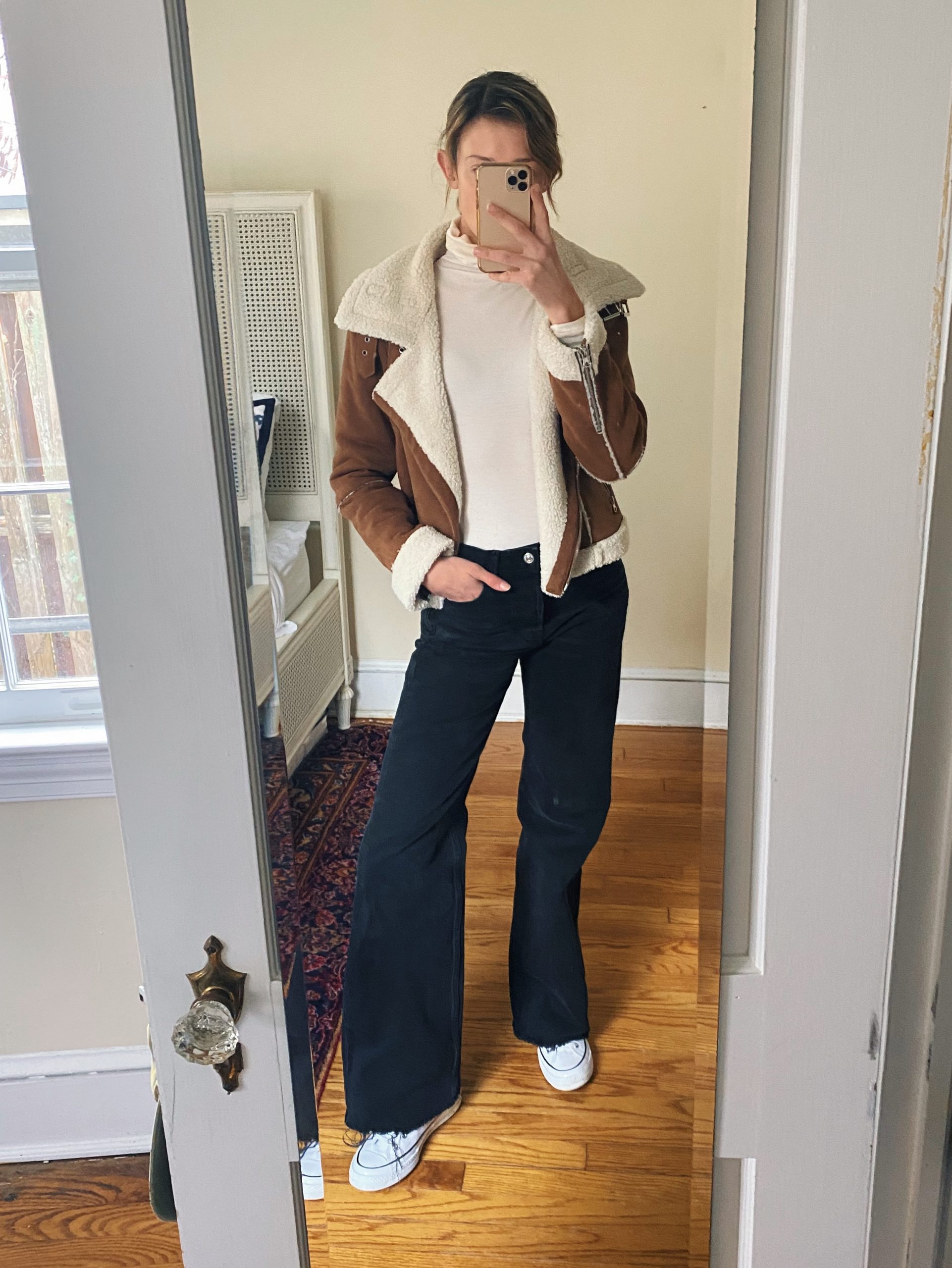 Pairing black and brown together is one of my favorite "color rules" to break. In this look, I styled a brown shearling jacket with wide black jeans, turtleneck, and converse for a chic look.
Go Grunge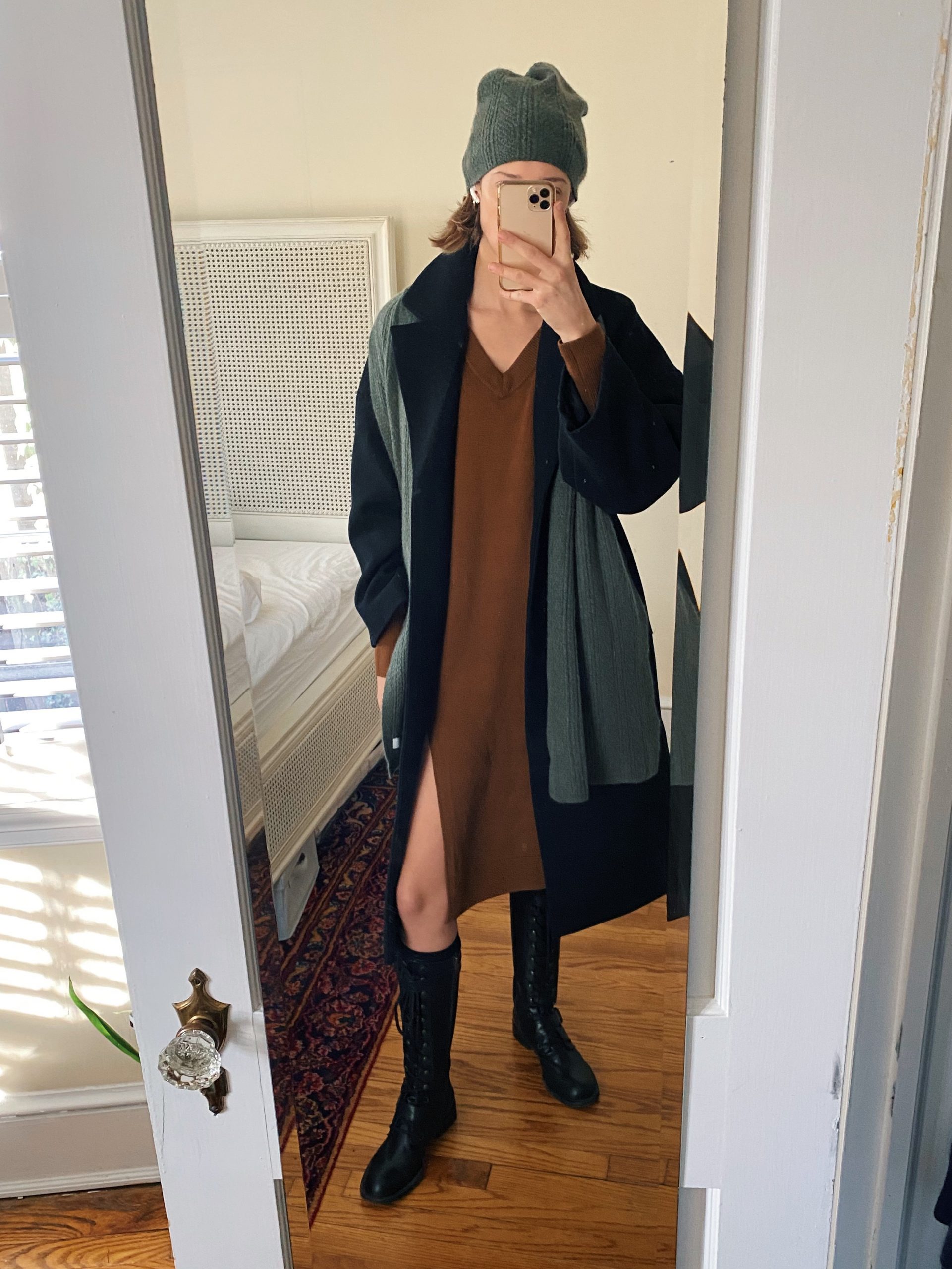 This was actually an office outfit that I made more "walkable" with tall combat boots, but it was fun embracing the whole '90s grunge vibe with a slouchy beanie, scarf, and oversized coat.
Go Retro with a Leather Jacket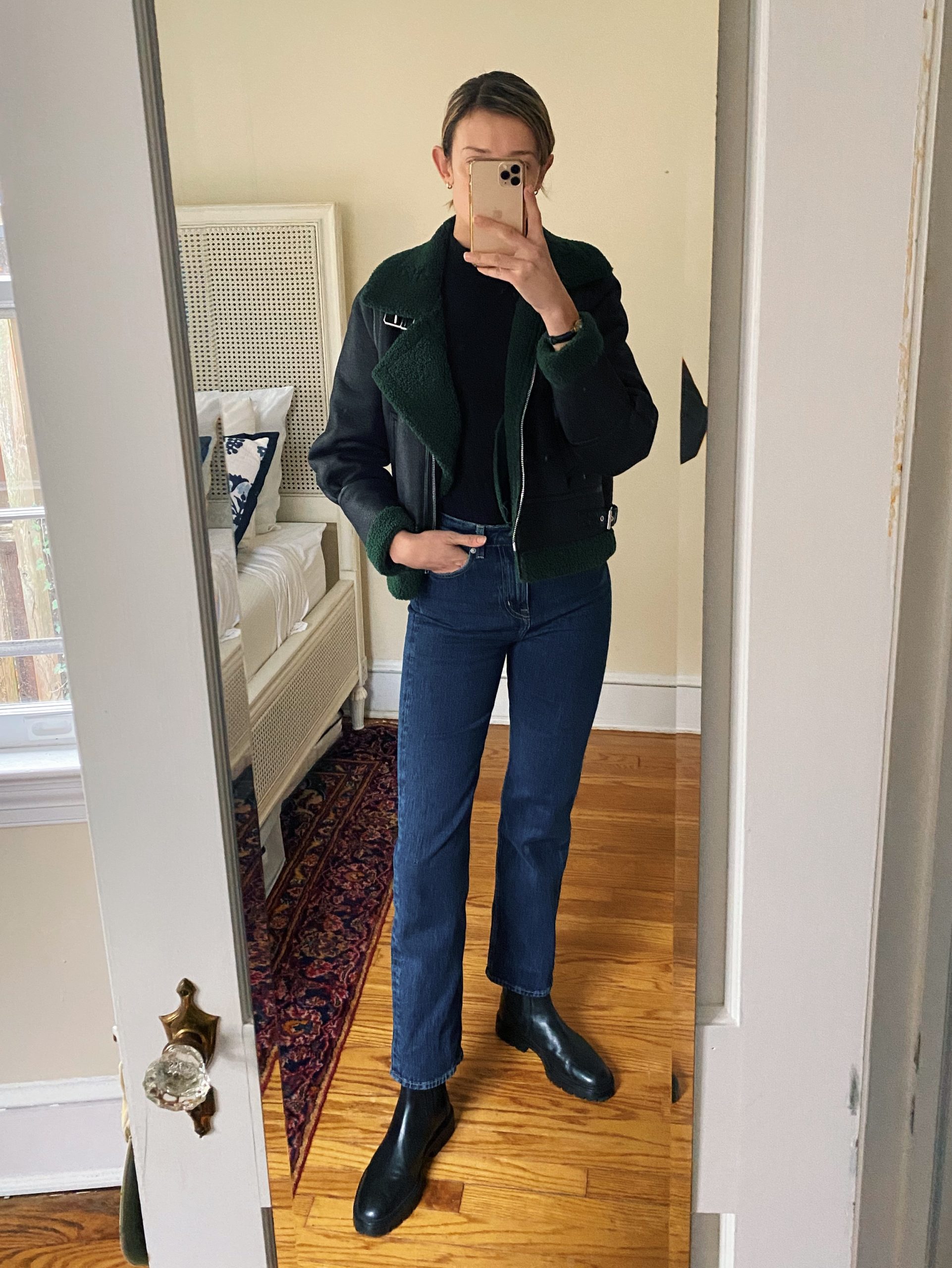 Leather biker jackets like this one always make me think of James Dean and 50's bad boys. I think they look incredibly chic styled with something simple like a black sweater, stovepipe jeans, and chelsea boots.
Follow me on instagram to catch more of my #dropofflooks (and tag your own)!