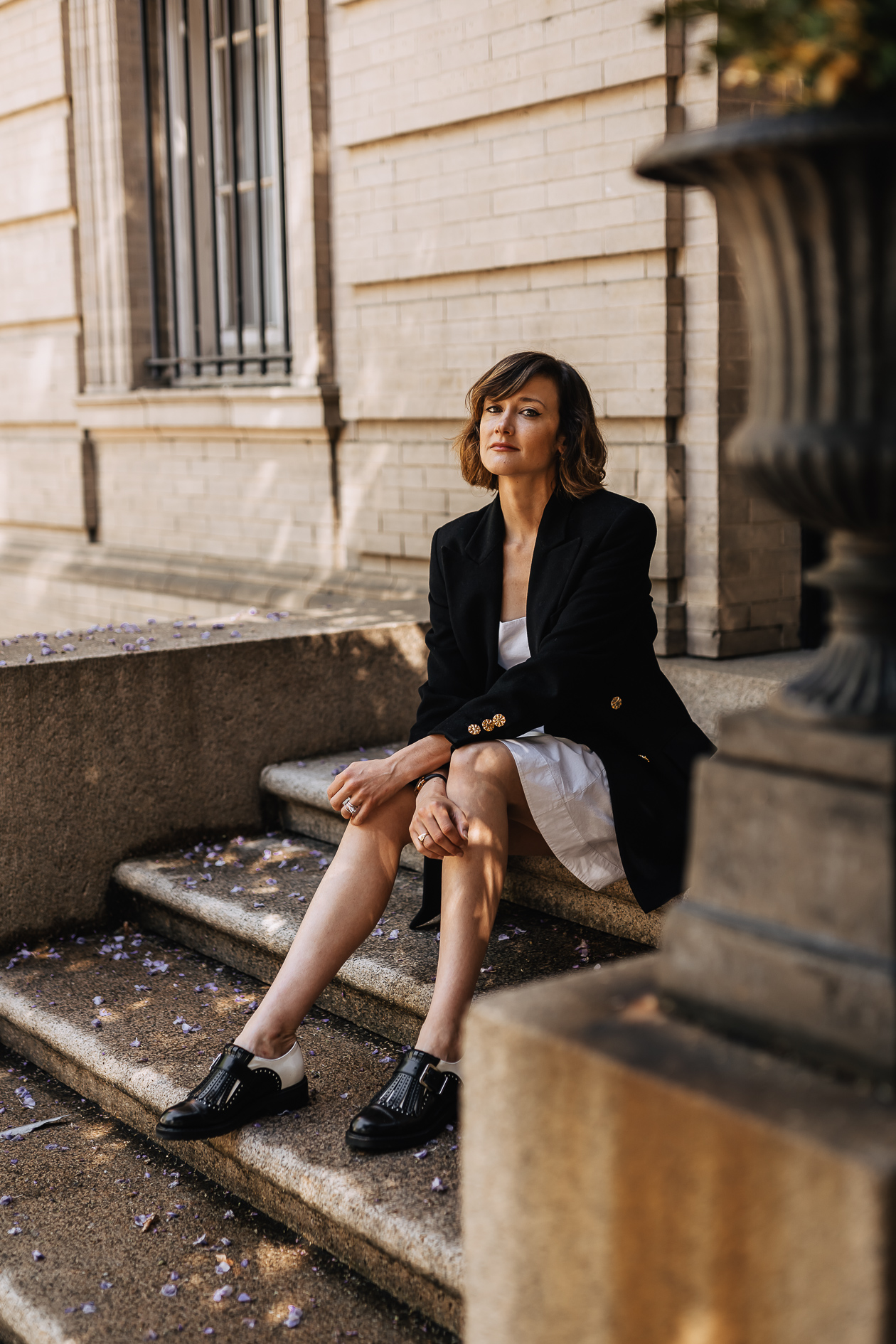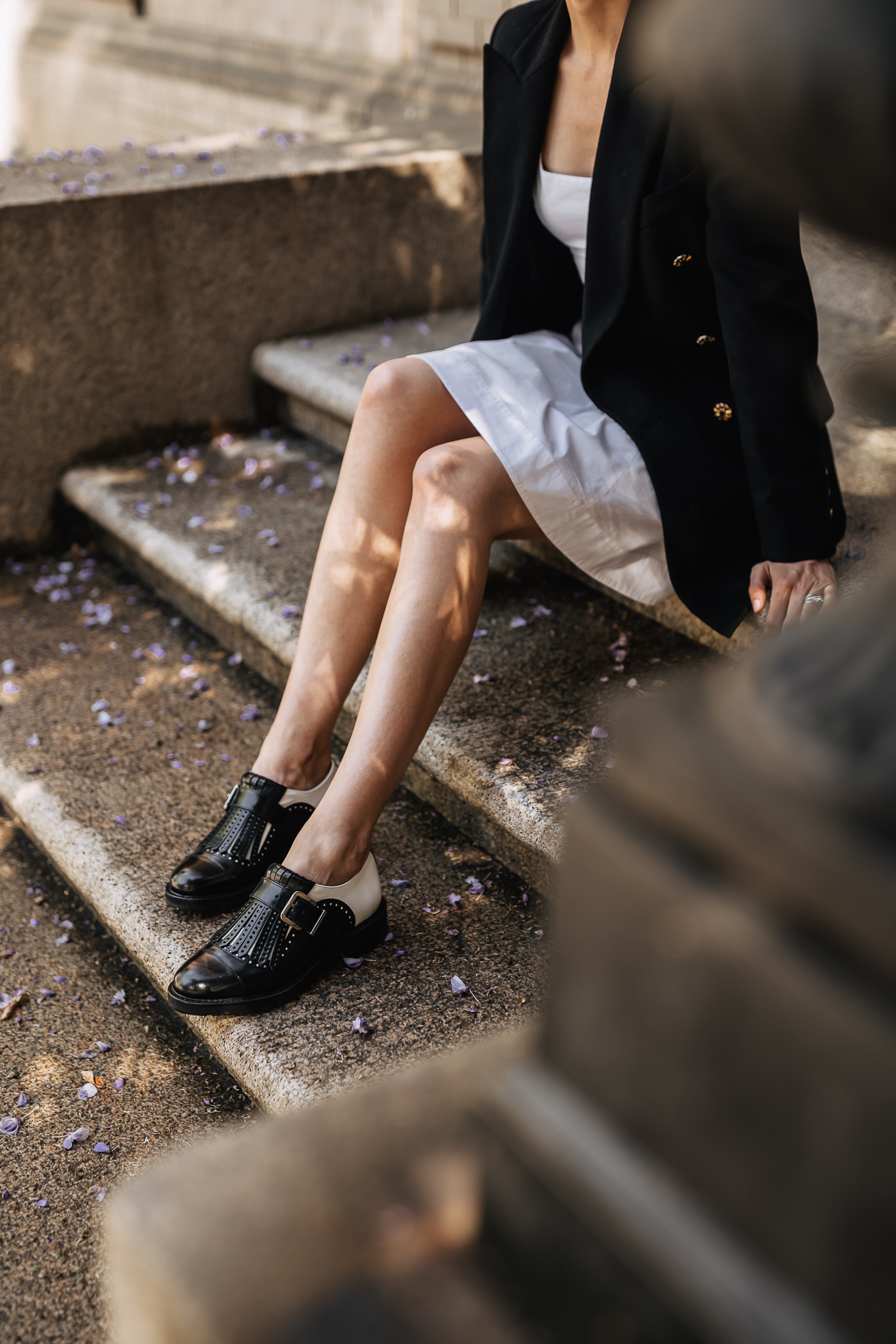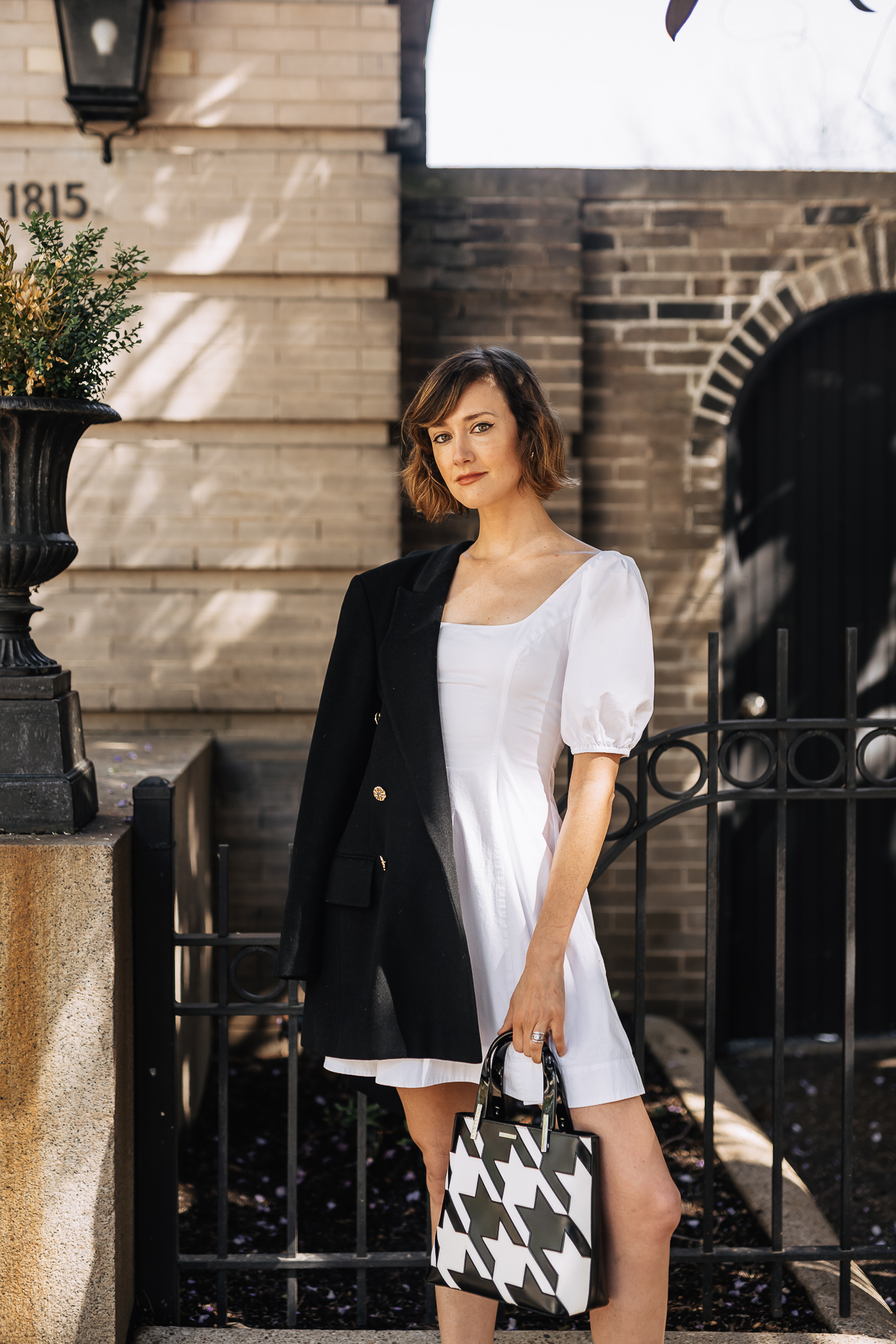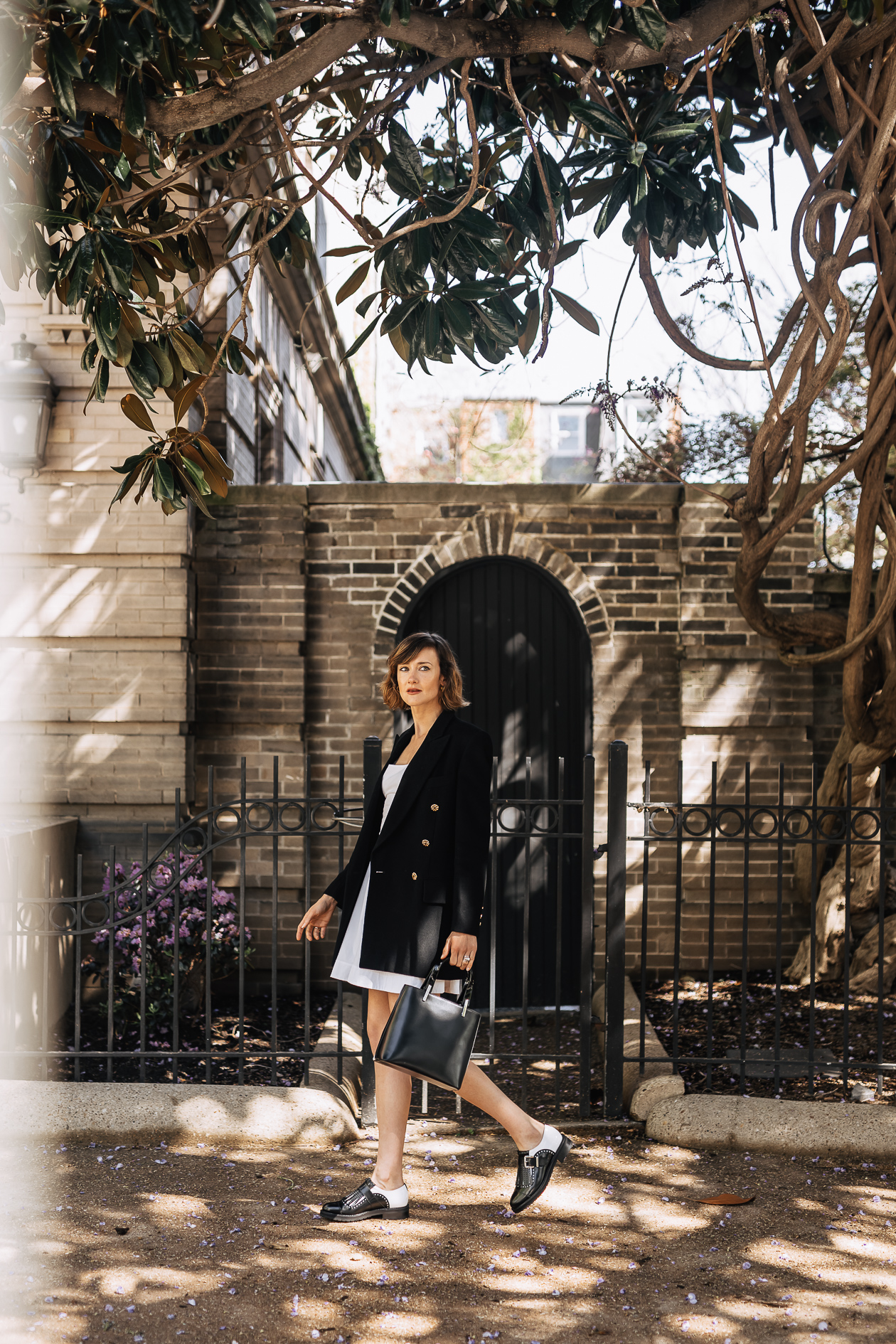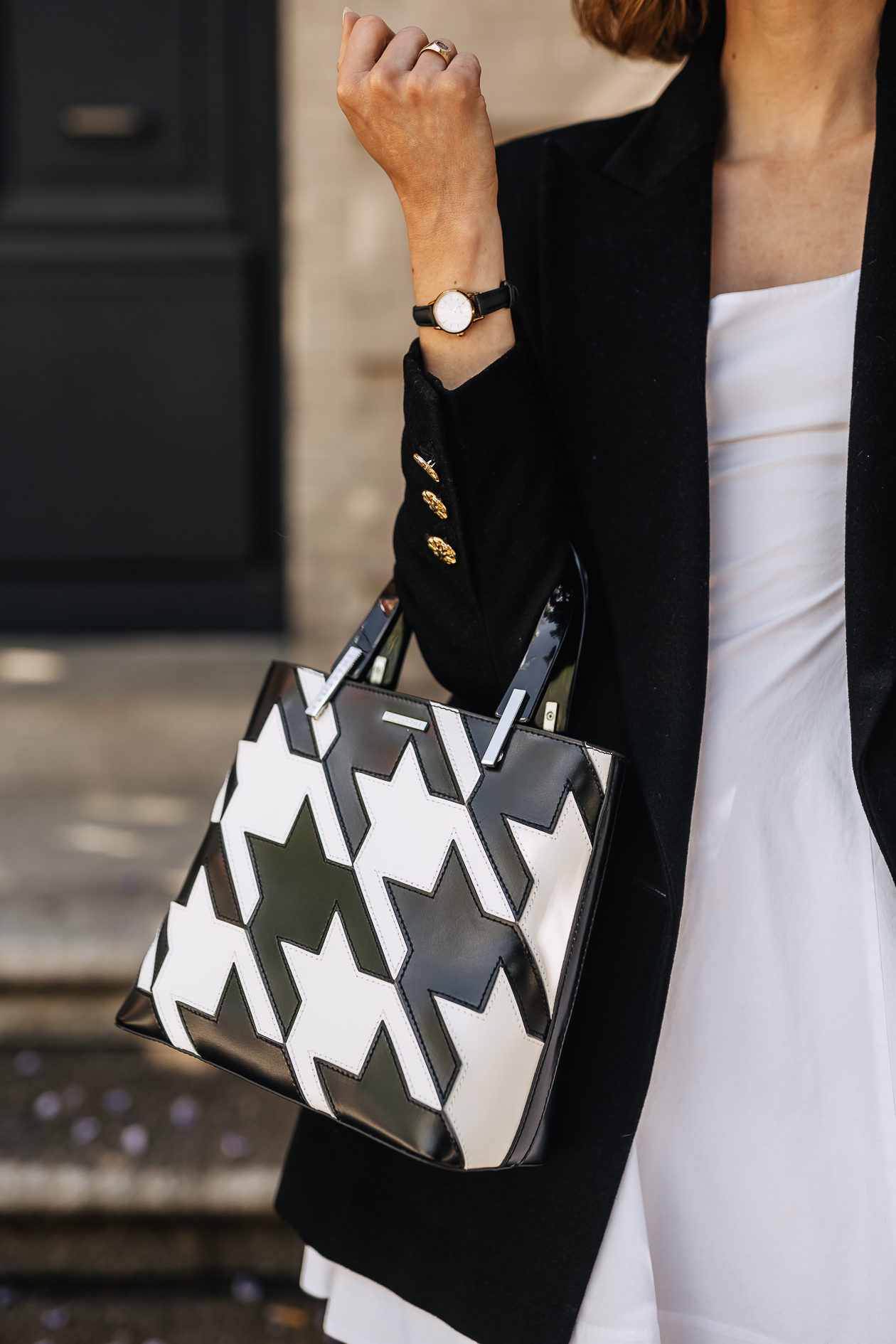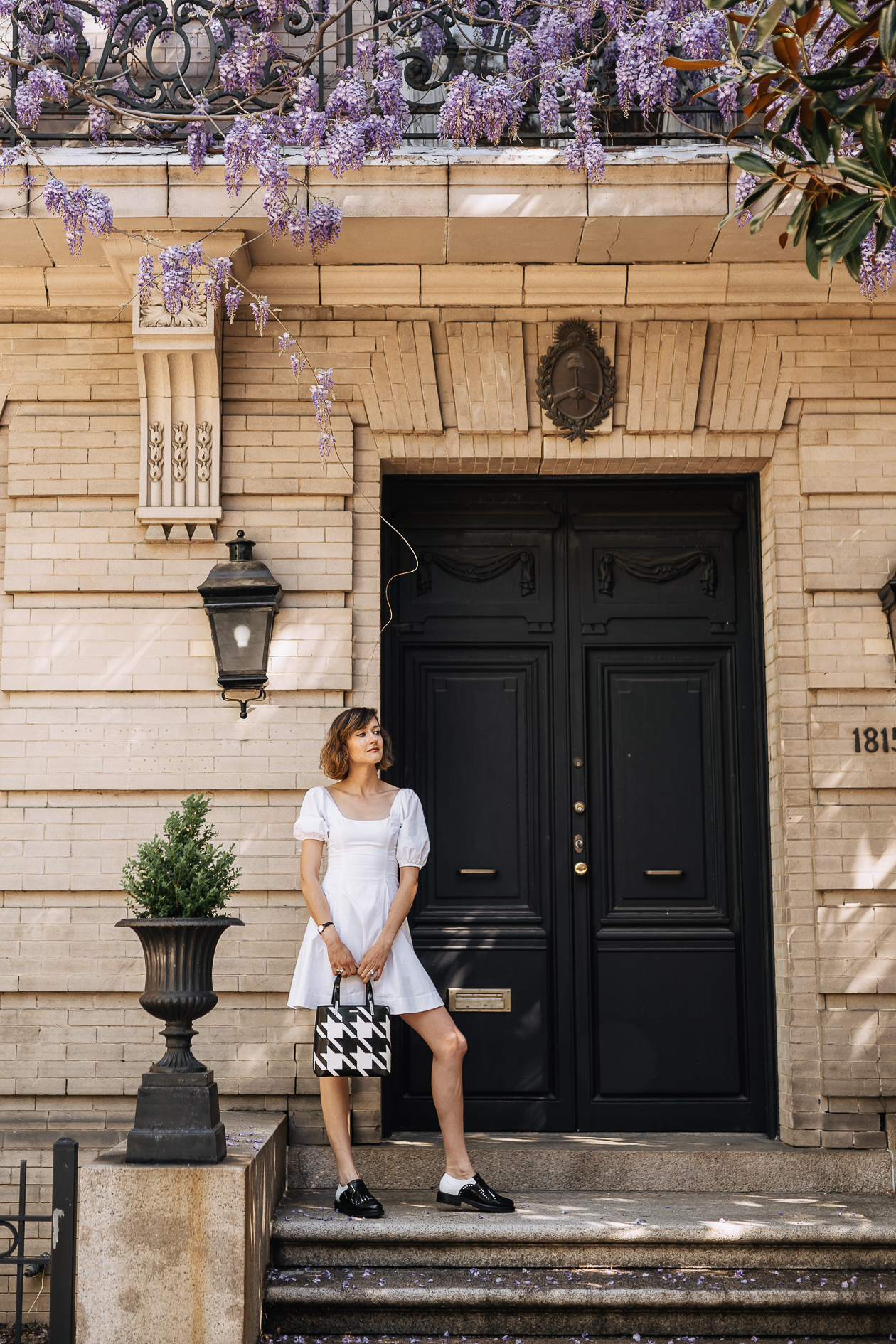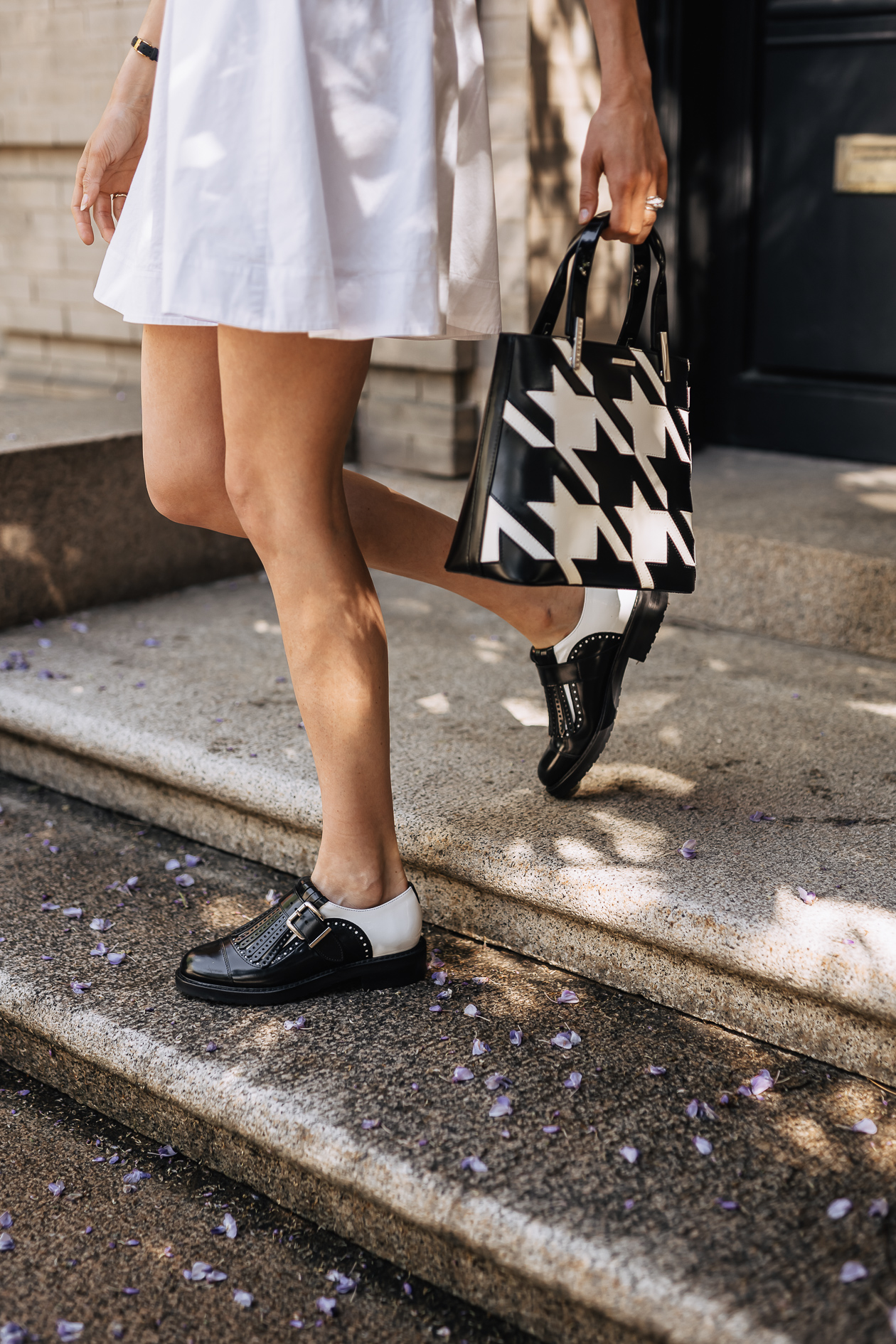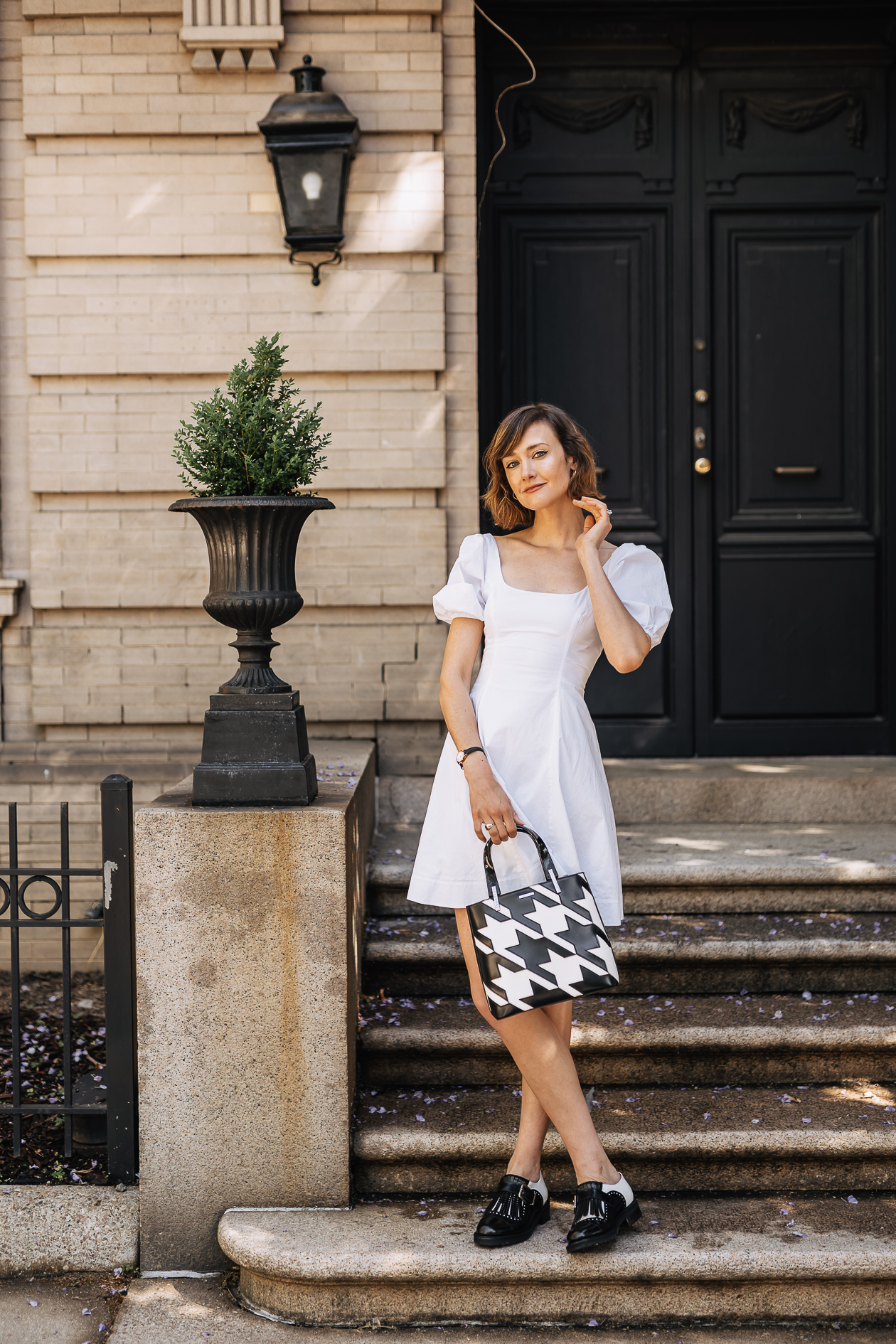 wearing Staud dress (under $100 option here), vintage Escada blazer (similar), The Office of Angela Scott Mr. Oliver oxfords (c/o), and Lamarthe bag
If there's one type of shoe in my closet that gets the most wear, it's probably the oxford. Over the years, I've had many variations and they almost never go out of style. So when The Office of Angela Scott, which designs beautifully-crafted, whimsical riffs on the classic oxford, invited me to select one of her spring styles, I was thrilled. Honestly, there were so many cool spring styles, it took me a whole weekend to pick just one pair. Ultimately, I decided on the Mr. Oliver. You know I love a good two-tone and that fringe detail just totally gets me. It's a style I love with a white dress for spring and summer, but will easily transition with jeans or slacks for fall. I styled it here with a Staud mini dress, vintage Escada blazer, and a houndstooth tote from Lamarthe I've had since our last trip to Paris.
Besides the vintage-inspired designs (which I obviously love), The Office of Angela Scott is a female-founded, funded, and operated company. As a working mom, who was raised by a working mom, I very much appreciate that Angela Scott thoughtfully designs her shoes for the working woman. I'm honored to be featured in The Office of Angela Scott's Women Who Mean Business series on their IG account. You can read all of my answers to the Q&A below!
How do you like your coffee? lots of milk, 2 splendas, and a dash of salt (it neutralizes the acidity and brings out the nutty flavor!)
What is your favorite season to dress for? Tough one, because honestly I always get bored with the current season and get ready to move onto the next. Perhaps fall, because I love to layer!
How does fashion influence you? Fashion has always been a creative outlet for me. I work in a corporate job (a great job, don't get me wrong), but fashion allows me to express my personality, play with interesting shapes and color combinations, and exude how I'm feeling in the moment. And this past year more than ever, fashion has been a mood booster for me. I realized how important it is to dress up for myself, even if I'm spending all my time at home – whether it's putting on a polished look for the work day or donning a nice dress and heels for dinner at home with my husband. It's strange how something as simple as an outfit can make you feel human again. 
What's one thing you're exceptionally good at? Making up silly songs when I'm doing stuff around the house…about my son, the dog, vacuuming. It's a rare talent.
Who is your current fashion muse? This is so tough, because I feel like I've been a bit starved for inspiration this past year. I'll be fully honest, with the absence of celebrity events (and real life human interaction in general), I've leaned in hard to IG for inspiration. Some of my favorites at the moment are @beatrice.gutu @kimseidensticker @pernilleteisbaek @anoukyve @theindiaedit @tendancehunter @allergictovanilla
What's your favorite fashion trend of all time? The power blazer! I have a whole closet full of them. I especially love collecting vintage ones. The stronger the shoulder the better.
Do you have a favorite family heirloom? A gold sovereign holder that once belonged to my great grandfather. It looks like a locket with beautiful engraving on the outside.
What's a cause that's important to you? Over the years, I've become passionate about sustainability. With all the waste and pollution created by the fashion industry, I feel it's important to use my platform to promote responsible shopping. Through a combination of shopping secondhand, renting, and investing in quality pieces I really love, I strive to buy less and wear more and I hope to encourage others to do the same. 
What are three items that you always have in your bag? Practical stuff: Burt Bees chapstick, a face mask, and a Trader Joe's nut bar (because I'm always hungry)
Leather or Lace? I like to mix a bit of both, but if I absolutely have to choose, leather.
What does it mean to be a Woman Who Means Business? Sticking to your convictions and never apologizing for being assertive (in the workplace and in life!). I also believe it means having humility – giving credit where it's due and being willing to learn from others.