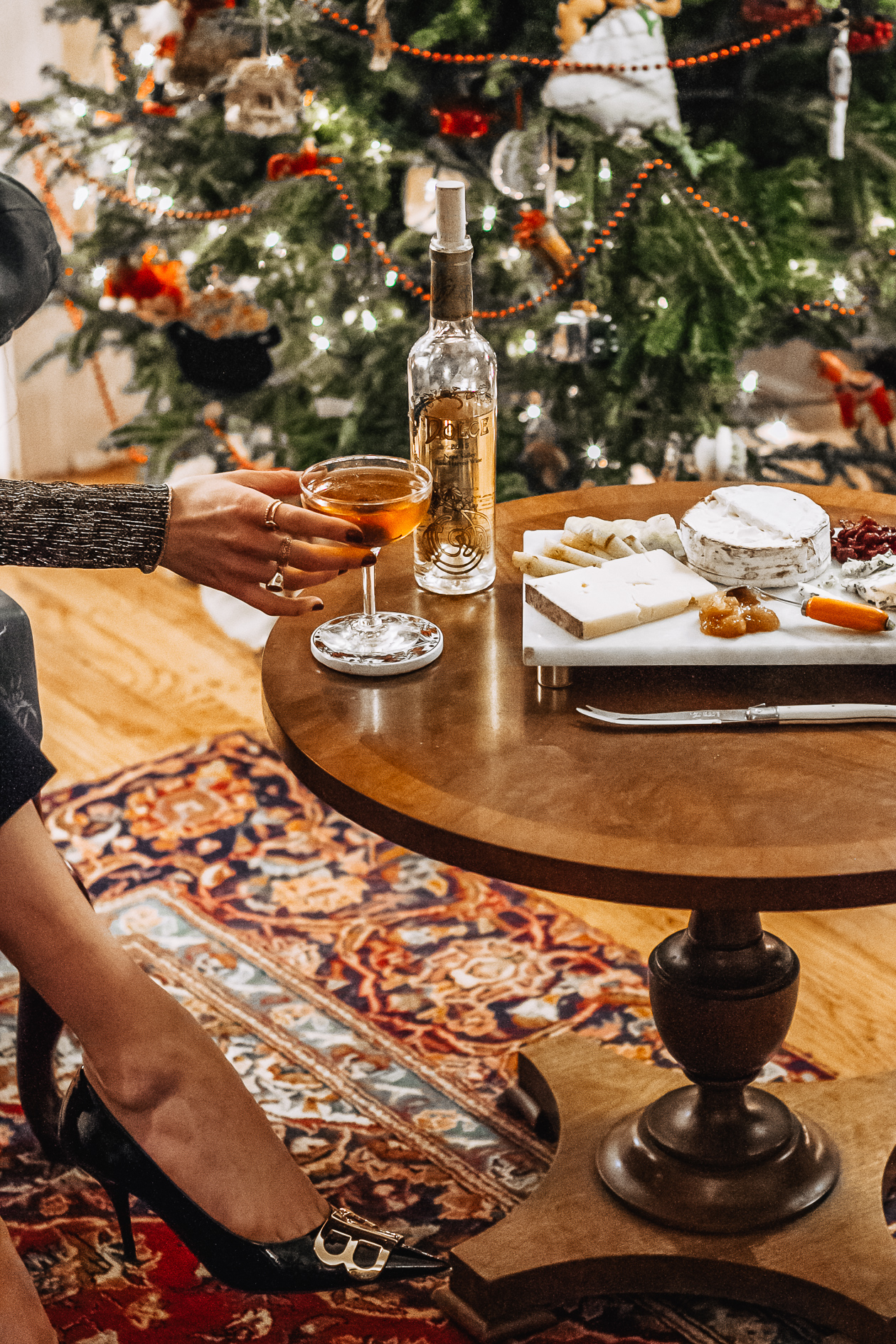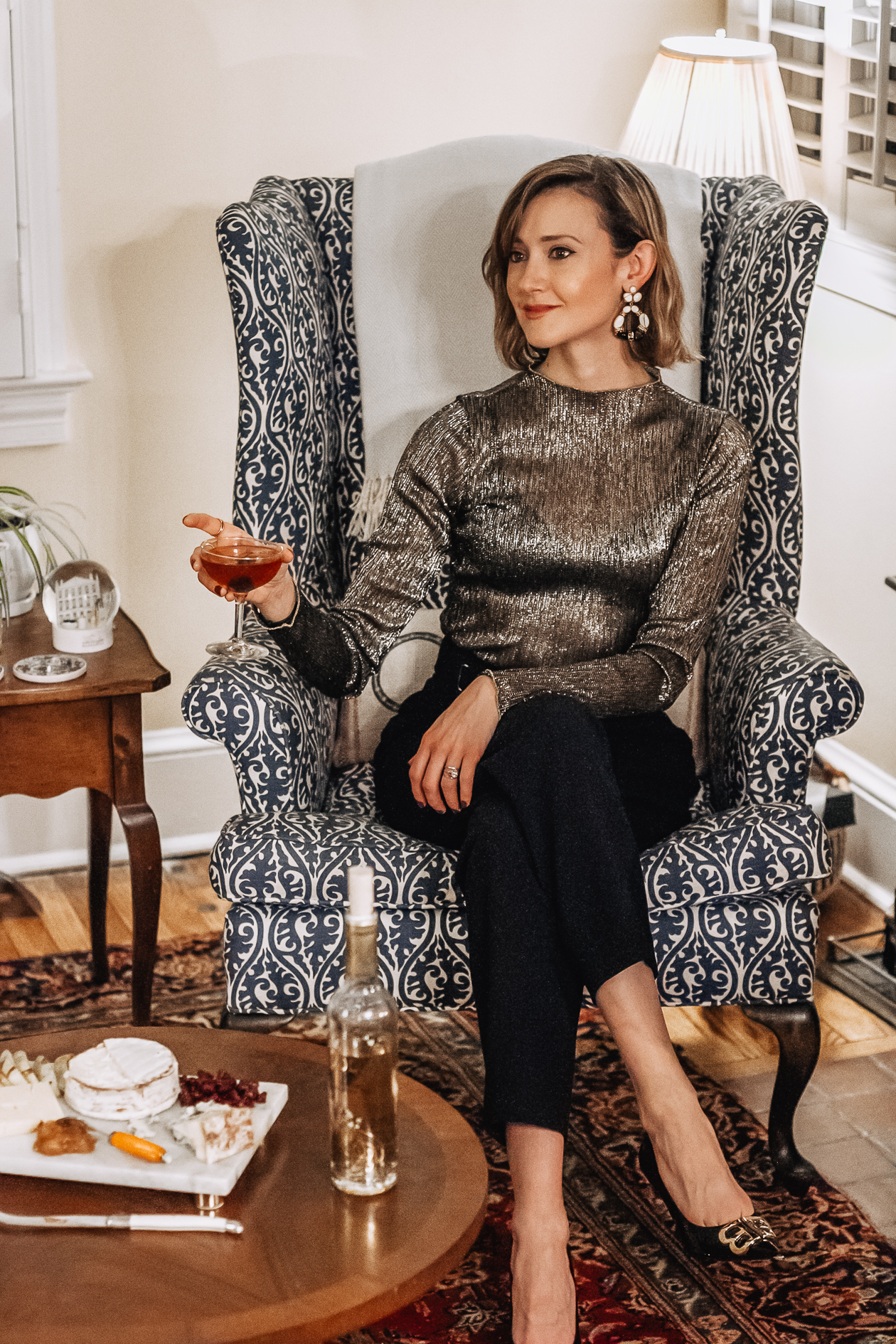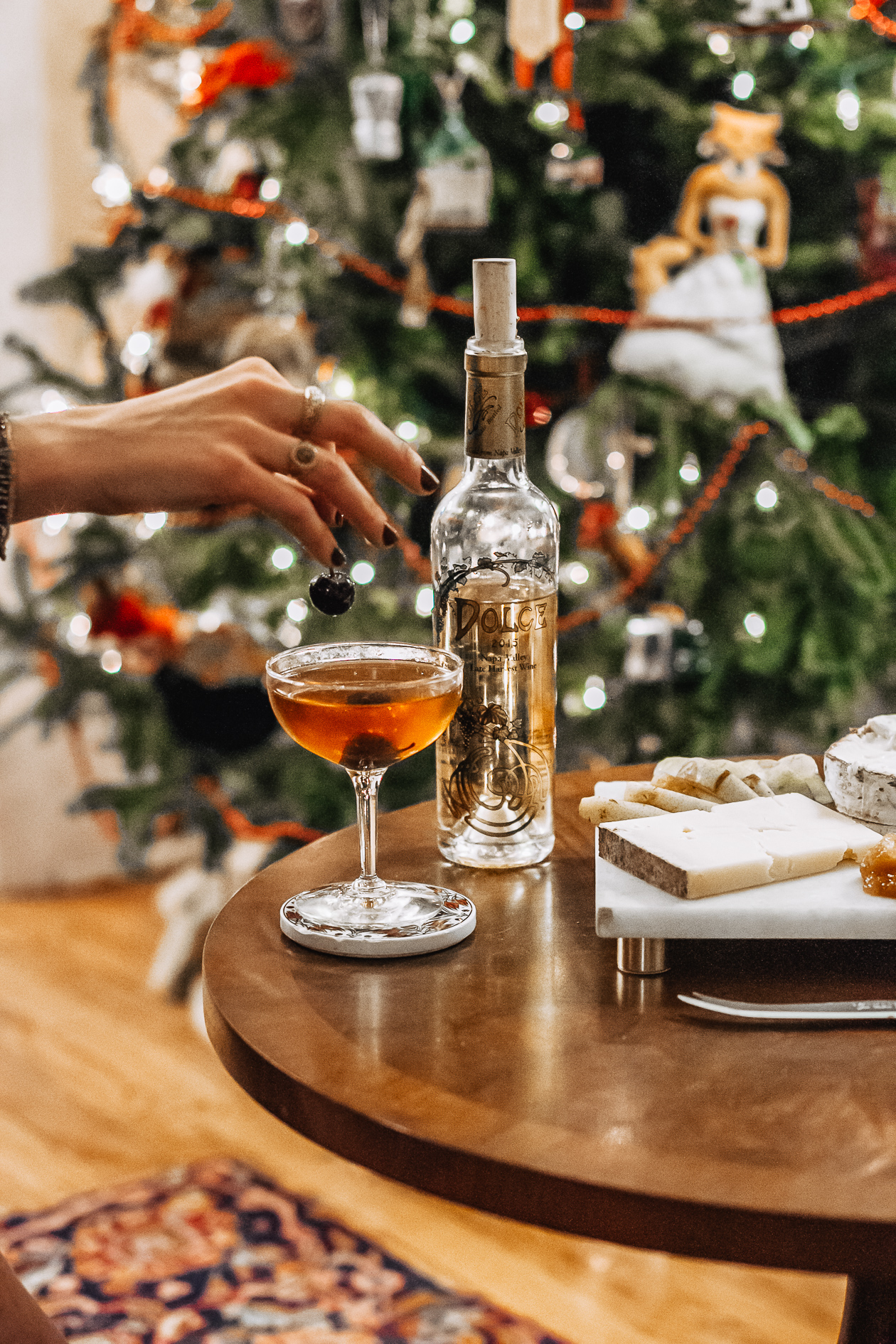 wearing Sezane earrings, & Other Stories top (sold out, similar), Joie trousers (similar), and Balenciaga pumps (sold out, also love these)
The house is decorated, my gift shopping is almost done, and work is wrapping up. I feel like I can finally relax and enjoy the holidays! It's hard not to feel a little blue about not being able to see family and friends this year, so my husband and I have been coming up with little celebrations of our own at home. The other night we planned a holiday-themed cocktail hour around our last Far Niente Hosted at Home virtual wine tasting of the year. It's amazing how dressing up and serving a signature cocktail with a fancy cheese board can mimic the ambiance of an upscale hotel bar on a winter evening. Here's what we did if you'd like to plan a festive cocktail hour of your own!
Try a Wine-Based Cocktail
This month's Hosted at Home tasting featured Napa late harvest wine Dolce. Late harvest wines are sweeter and typically served with desserts. I admit I didn't know much about them going into this tasting. Well, much to my surprise, these wines pair well with savory as well. Dolce winemaker Greg Allen suggested starting the meal with a small glass and a meal starter like a seared scallop, lobster, or marscapone and truffle ravioli. It also pairs well with salty snacks like butter popcorn, fried pork belly, and blue cheese.
Another fun idea is using Dolce in a signature cocktail like Greg's Dolce Sidecar. My knowledge of wine cocktails only goes as far as kirs, so this serving really opened my eyes to the possibilities. Recipe below!
Dolce Sidecar Cocktail
2 fl oz brandy or cognac 
2 fl oz Dolce Napa Valley or a late harvest white dessert wine
3 Luxardo cherries 
1 large tangerine wedge 
½ fl oz simple syrup 
1 cup ice
Muddle ingredients in a cocktail shaker for ten seconds
Serve either in a rocks glass with ice or strained into a martini glass with no ice.(Note: we garnished ours with a couple of the Luxardo cherries!)
We loved it. Lighter than a traditional Sidecar or Manhattan, it's the perfect drink for enjoying by the Christmas tree.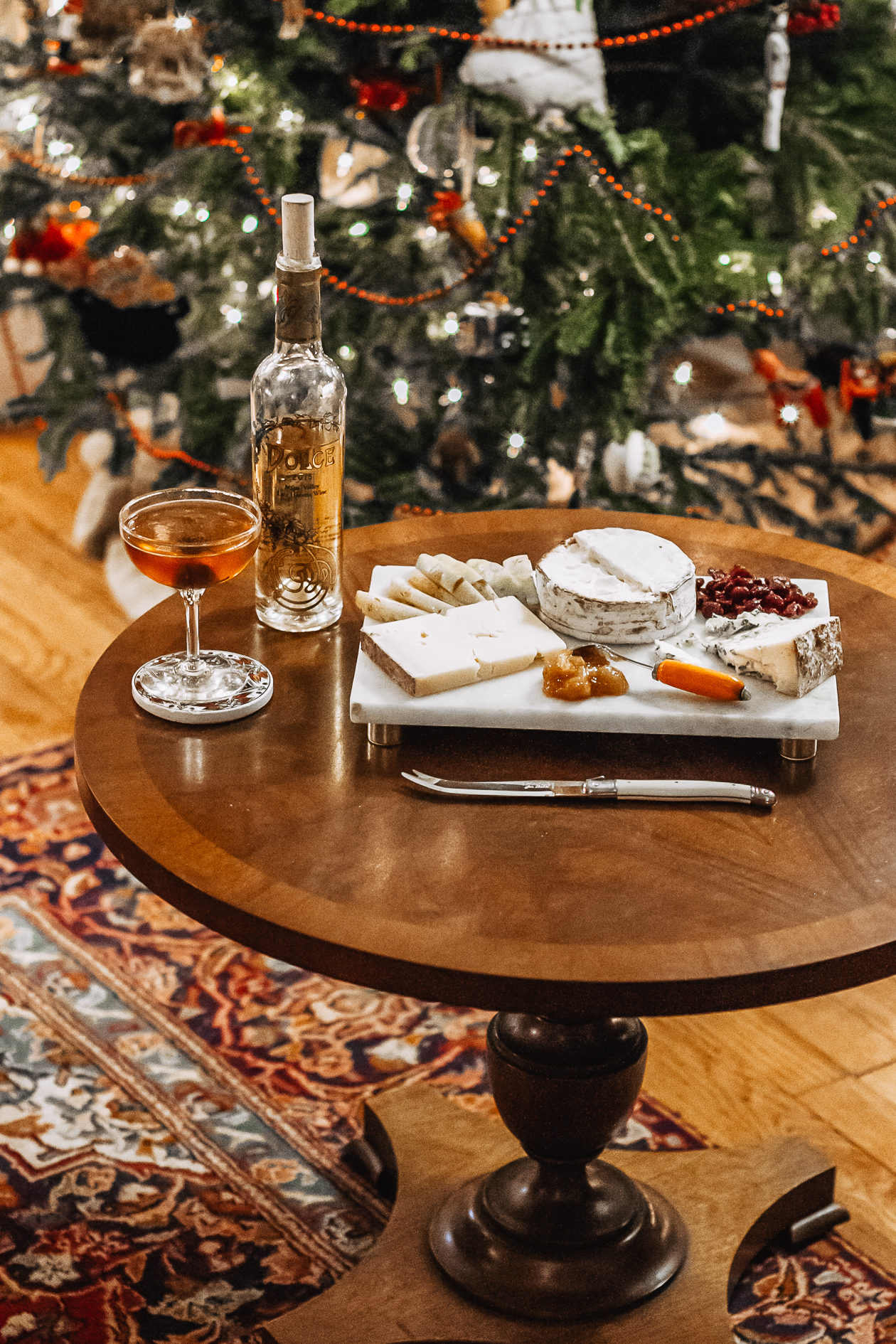 Keep Things Easy with a Fancy Cheese Board
I love cheese boards because they're easy to assemble with stuff you can find at the grocery store. We paired our cocktails with a holiday-inspired cheese plate with an English cheddar, Jasper Hill Harbison, and, of course, the all-important blue cheese, a stilton. For accouterments, we added sliced pears, dried cranberries, and raw honey.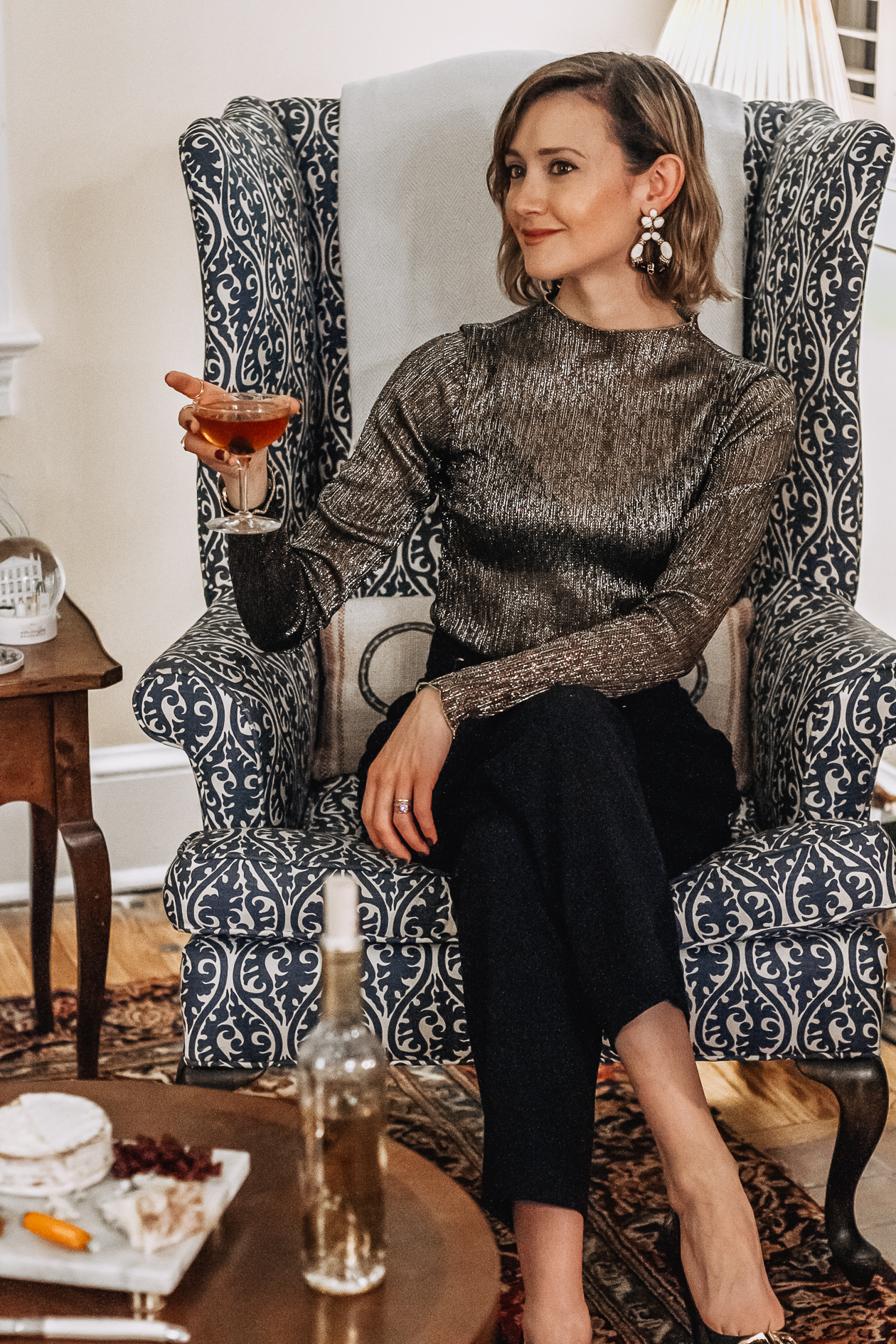 Dress Up
You know I never miss a chance to dress up, even if it's in the comfort of my own home! But seriously, changing out of sweatpants into something fancy is such a mood-lifter. Embrace sequins, sparkly fabrics, statement earrings, and the fun heels that have been looking so longingly from the depths of your closet. Put on a bold berry lip and smile knowing you've still got it.
Sidenote: if you're looking for a last minute gift idea, Far Niente's Hosted at Home subscription is perfect for the wine lover in your life. I think all of us are craving experiences right now and the monthly virtual tastings are something anyone can safely enjoy from the comfort of their own home. The subscription includes monthly shipments of 2-3 bottles of Far Niente's highly-rated Napa Valley wines each month, discounts on additional wine shipments, and the flexibility to cancel or skip any time. Read my full review here. Mention 'District of Chic' in 'How did you hear about us?' at checkout and get $25 off your subscription!