wearing Sezane blouse, chain necklace, Sezane belt, Citizens for Humanity jeans, and Miista boots
Pre-COVID, one of my husband's and my favorite indulgences was to attend the Friday evening wine tastings at our local wine store. It was a fun excuse to try interesting wines and learn about them from knowledgeable wine experts. Luckily, Far Niente winery offered us a wonderful alternative we can enjoy in the comfort of our own home! This cult favorite Napa-based winery offers a Hosted at Home subscription, which features virtual tastings along with monthly shipments of their award-winning vintages.
We've been doing this for a few months now and the monthly "Hosted at Home Happy Hours" are something we really look forward to. These virtual tastings are hosted by Far Niente's winemakers and culinary professionals and feature tasting tips, cultivation background, and even live cooking demonstrations. Each month offers different food pairing suggestions, often accompanied by recipes from professional chefs. My husband and I love to make a date night of it!
Here are just a couple of the past tasting themes:
Chardonnay, Pinot Noir, and Cabernet Sauvignon with curated cheese selections from Jasper Hill Farm
Single-vineyard Cabernets with Fusilli Estate & Filet Mignon (recipes via Chef Eric Upper of Alexander's Steakhouse)
This month featured 2017 Cabernets from Far Niente's sister winery Nickel & Nickel paired with mushroom and aged cheddar-topped Wagyu beef burgers. So in the spirit of fall, we decided to enjoy them outdoors by the fire pit. Honestly, the evening felt very much like one we would enjoy at a restaurant and having extra special wines like those of Nickel & Nickel makes all the difference.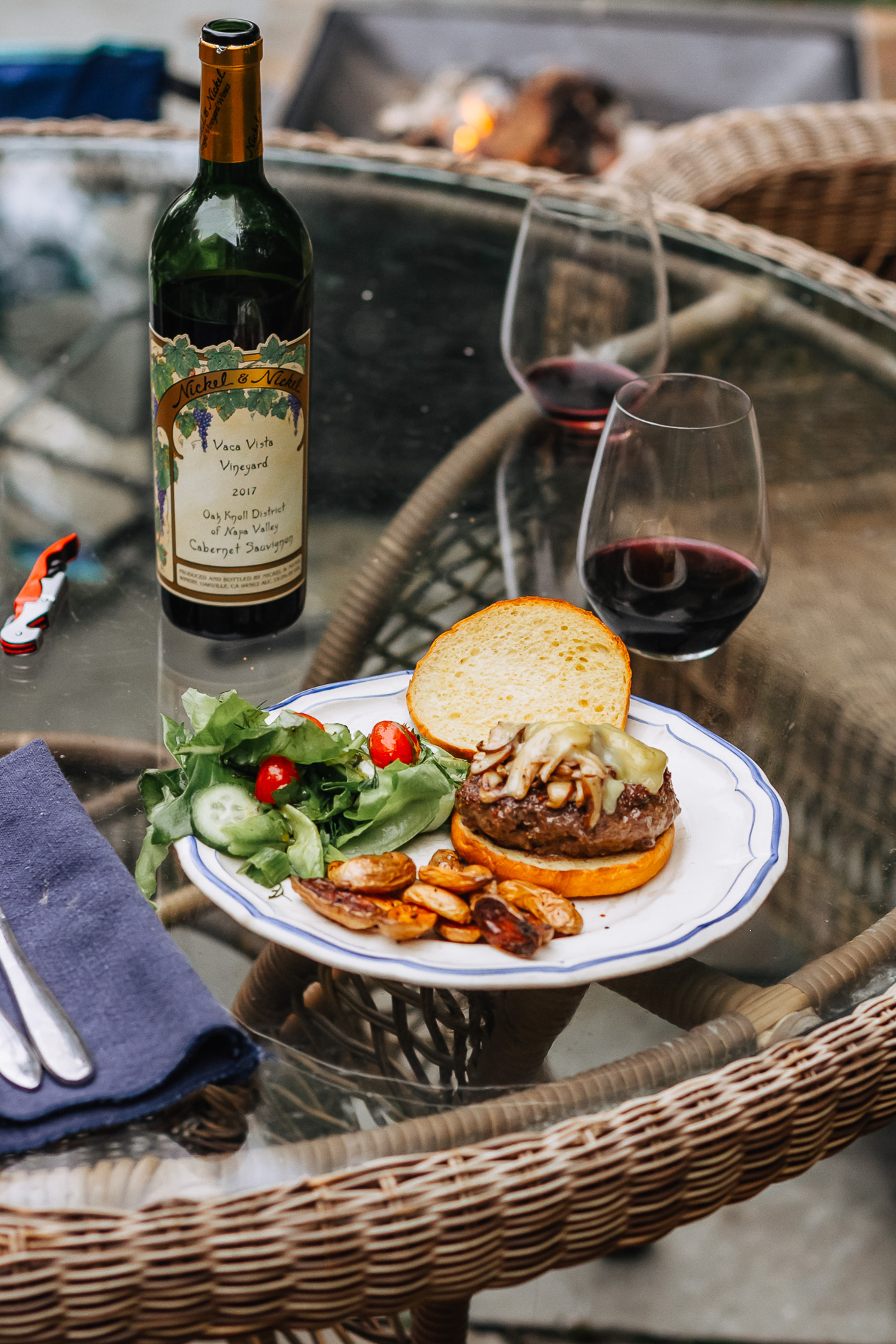 A little about the subscription…
Hosted at Home offers shipments of 2-3 bottles of Far Niente's highly-rated Napa Valley wines each month, access to their virtual happy hours, discounts on additional wine shipments, and you have the flexibility to cancel or skip any time. For $200 a month, I think it's an incredible value for the quality. Mention 'District of Chic' in 'How did you hear about us?' at checkout and get $25 off your subscription!
Any questions about how it works? I'm happy to answer in the comments!