When I first considered getting laser skin resurfacing treatments almost a year ago, it was after months of struggling to conceal dark spots (hyperpigmentation) on my cheeks. After trying expensive foundations and concealers with only mediocre results, I made an appointment with Dr. Naga at SkinDC. I've been seeing Dr. Naga for years and I wouldn't trust my skin with anyone else. She has a light hand, an incredible breadth of knowledge, and an eye for perfection that will make you look like a million bucks. Can't tell what I've had done? That's the idea. 😉 
But let's talk lasers. To treat my hyperpigmentation, Dr. Naga suggested I start with BBL. BBL stands for Broadband Light. It's a non-invasive treatment that uses high intensity pulses of light to treat skin damage without disrupting the skin's surface, which results in no down time. The beauty (zing!) of BBL is that it can be used to target larger areas of uneven skin tone. Since I had many spots on my nose and checks, BBL could be used to even out all of these areas in one go.
Now I'd be lying if I said it didn't hurt a little bit. But the whole process only lasts a few minutes and the pain certainly isn't memorable enough that I wouldn't do it again a heartbeat to have my skin look this good.
Post-laser treatment care was pretty minimal: ice pack the treated areas the first evening, keep skin moisturized (I used Skincando's Miracle Cream which helps heal post-surgery skin), use Aquaphor on treated spots that begin to scab over, and be extra gentle to avoid scraping any of the scabs. Dr. Naga emphasized to the stay out of the sun as much as possible and when I was outside, to wear a SPF 20 or higher and a hat. 
Within a few weeks I had already begun to see a big improvement in my skin. Not only does BBL reduce hyperpigmentation, it also boosts collagen production, so my skin looked brighter and more youthful.
At my follow-up appointment about 6 weeks later, I still had a few stubborn spots Dr. Naga wanted to clear up (she's a perfectionist, which is what I love about her!). To fade these specific spots, she used PICO laser, which targets pigment from unwanted dark spots, scars, and even tattoo ink. If you only have a few trouble spots you want to get rid of, this might be a good option.
PICO recovery was similar to BBL and within a month, my skin looked better than it had in years. Honestly, I had no idea I could get results like these after just a couple treatments.
The treatment couldn't have come at a better time. My PICO appointment was exactly one month before COVID-19 caused much of the DC area to go into lockdown. During the first few months struggling to work from home and keep my 5 year old son entertained, it was so nice to look in the mirror every morning and feel absolutely no need to put on makeup. Almost 7 months later and after spending a large portion of the summer outdoors (with a hat and SPF 60 of course), my spots are still barely visible. 
Will I get laser treatment again? Absolutely. The way I see it, I can get BBL once a year and spend a lot less time and money on makeup. Recent studies have also shown that skin that receives regular laser treatments actually behaves like younger skin! This could mean less money spent on expensive face creams, too!
But I'll let the photos speak for themselves. Check out the before and after below! You can also follow more of my laser treatment journey in IG stories here.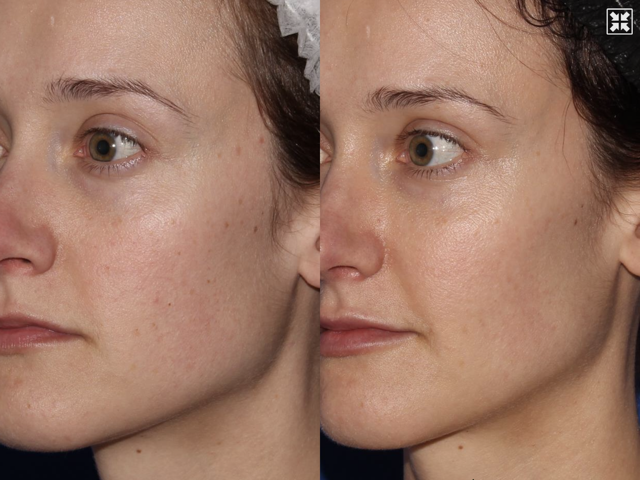 Friendly PSA: SkinDC is currently running an October promotion: get 4 BBL treatments for the price of 3. Learn more about their laser treatments and book appointments here.
Got questions about lasers? I'm happy to answer any questions you might have, just comment below!