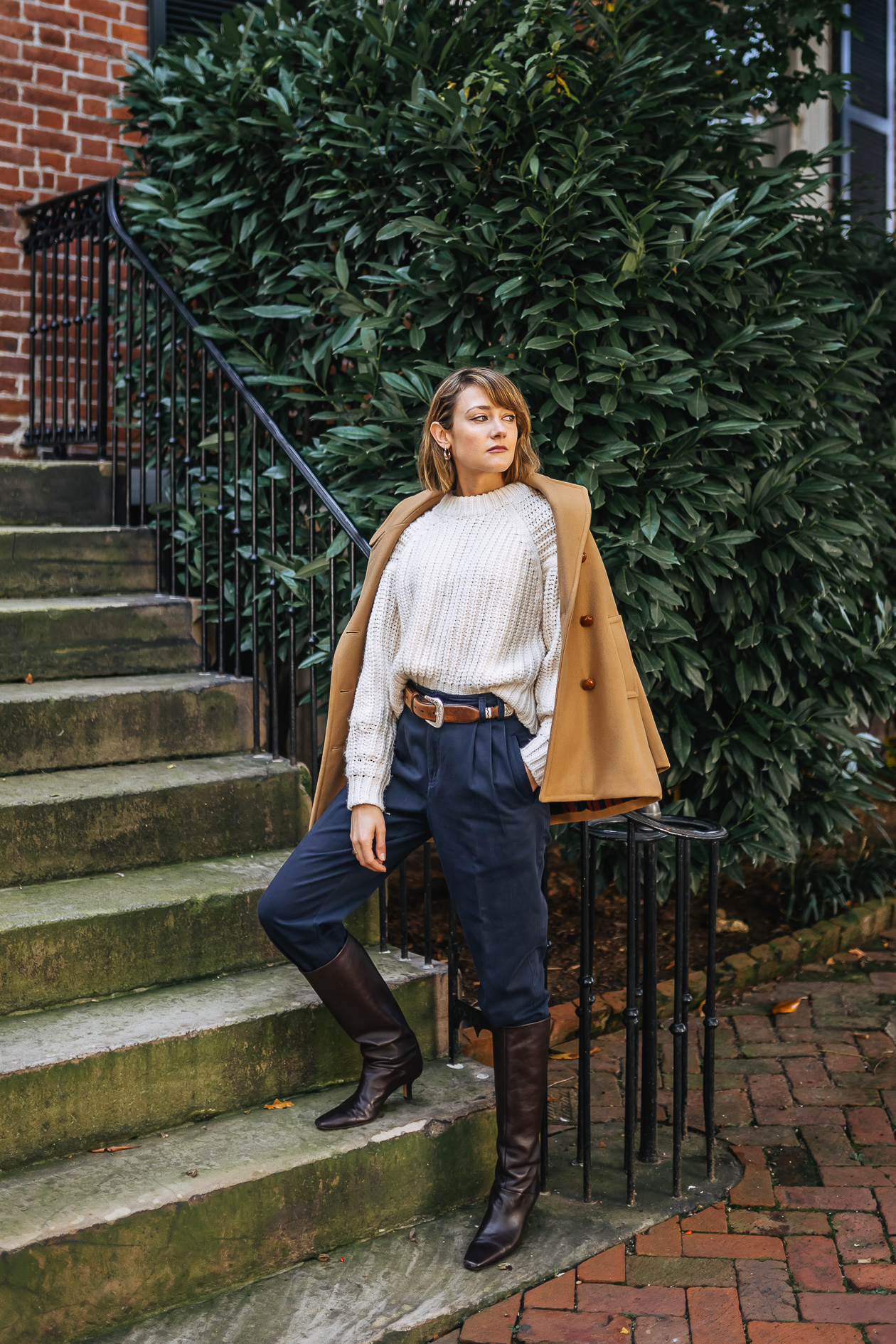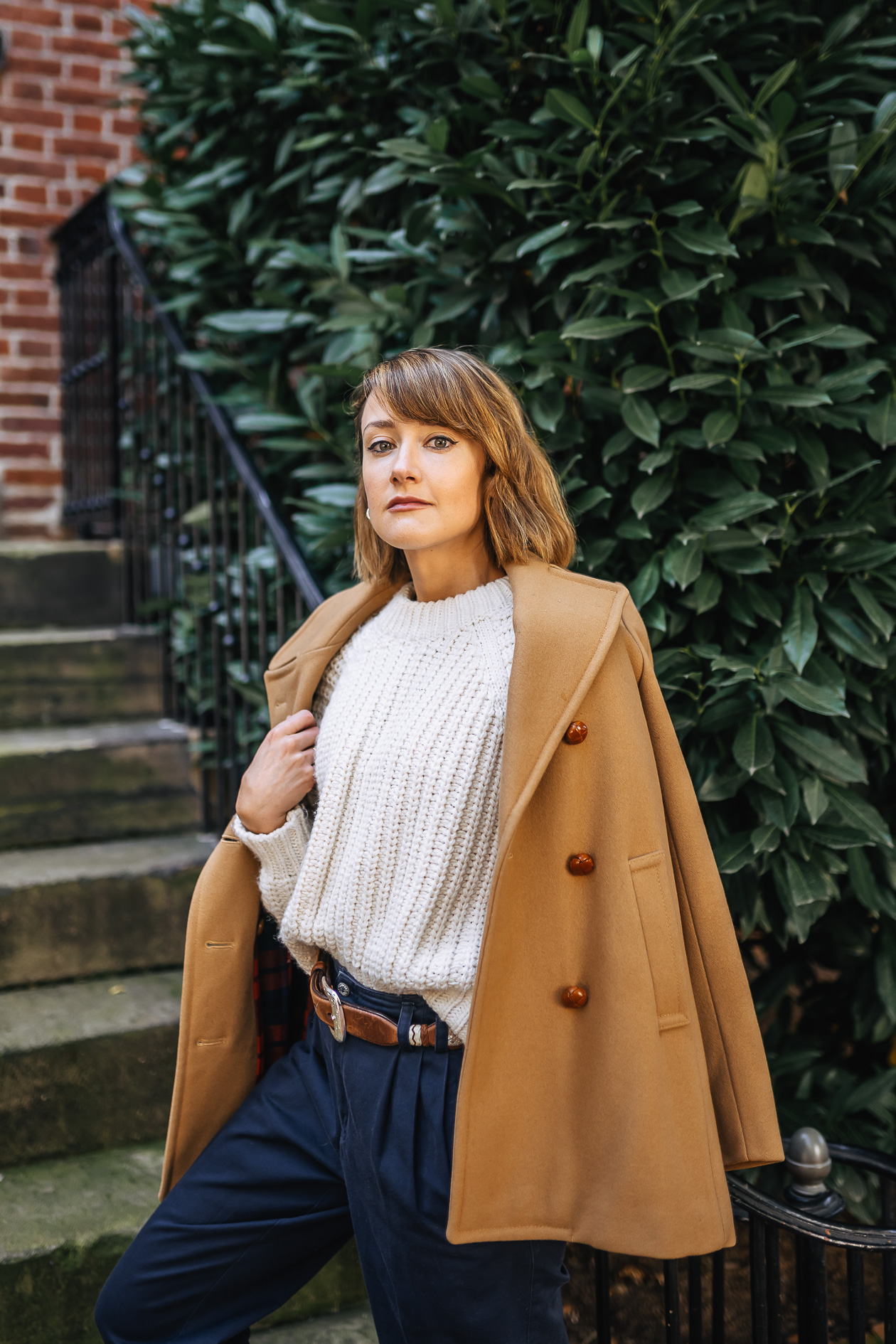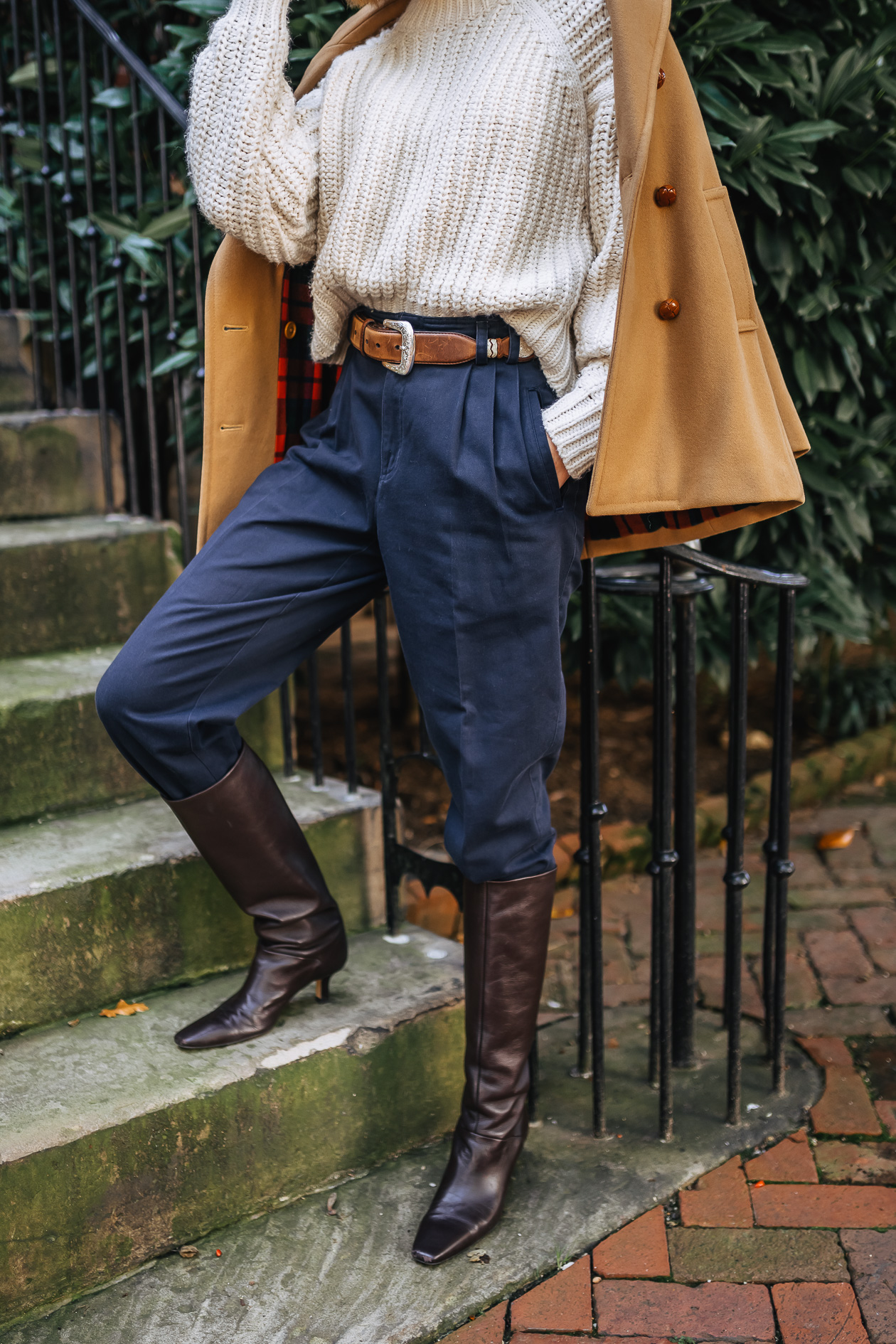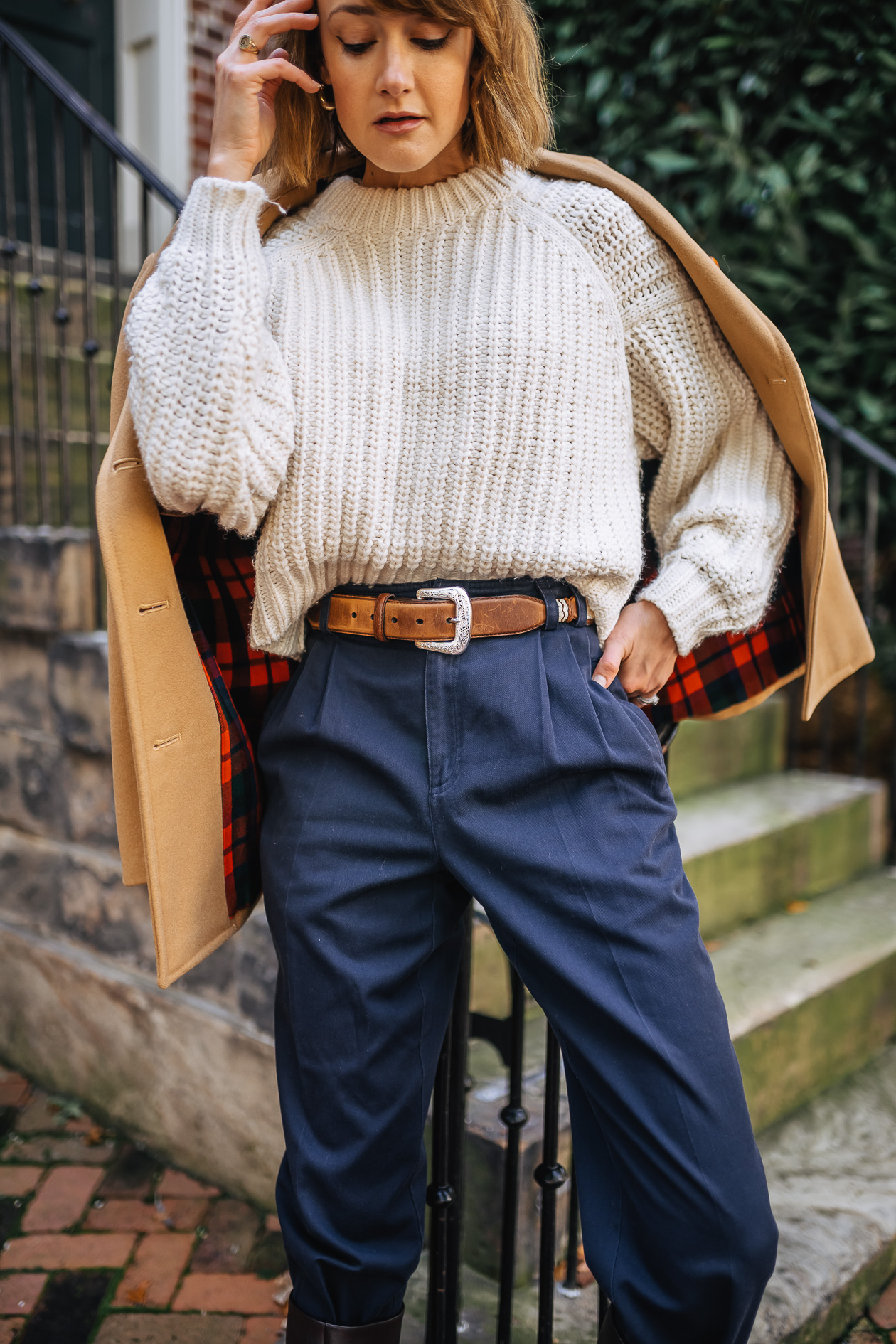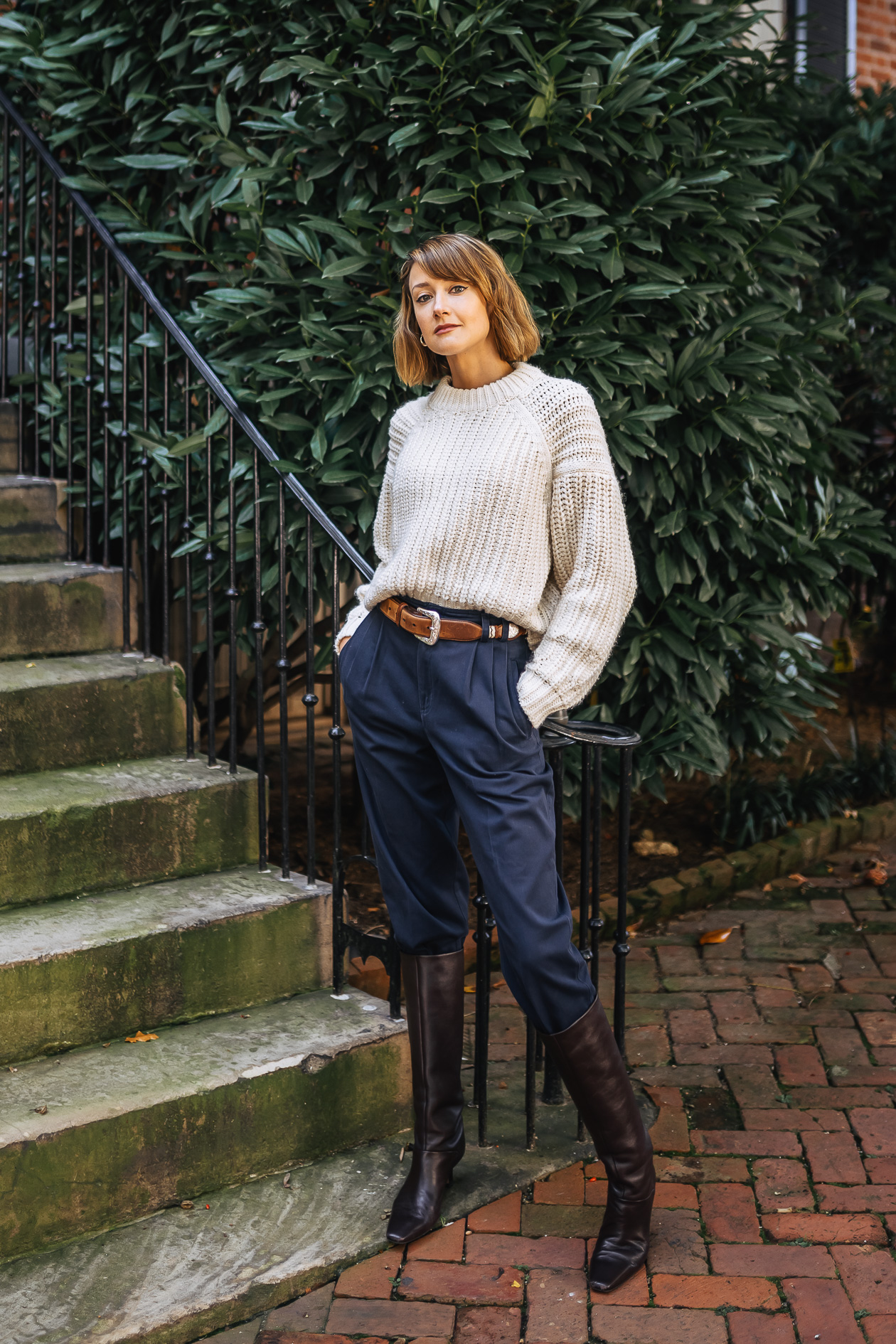 wearing H&M sweater, vintage Brooks Brothers coat (similar), vintage western belt (similar), vintage trousers (similar), Zara boots (old, similar)
For me, this year has been all about investing in classic pieces. The silver lining of having no social events on the calendar has made it very easy not to be distracted by trendy impulse buys. One thing I've learned is timeless pieces don't necessarily have to cost a fortune. Take this outfit for example. Would you believe it if I told you every piece cost less than $200? Much of this outfit is vintage with a few "fast fashion" brands sprinkled in between. Which brings me to my next point, inexpensive clothing doesn't have to be "fast fashion" if you select the right pieces. Zara, Mango, and H&M are capable of producing items that stand the test of time. The key is honing your eye to quality and design. The sweater I'm wearing here is from H&M, but it's a classic fisherman style in a warm chunky knit I know I'll style with a myriad of looks. The boots are Zara from last season and they've already gotten their fair share of wear. The chocolate brown hue and kitten heel make it extremely versatile with skirts, casual jeans, or tucked into trousers like I did here.
So how do you spot a "classic?" Before I buy (be it vintage or new), I like to ask myself a few questions…
First, how will I style this item? One of the great benefits of shopping online is I can style the item in the comfort of my own home before committing to buy. I try to take the extra time to come up with at least 4-5 outfits before I remove the tags. It also ensures this item won't be quickly forgotten in the back of my closet.
Will this item still be in style after this season? Trends can be hard to predict, but if it's blowing up my instagram feed and every fashun girl's wearing it, I'm probably going to be tired of it in 6 months. I want to make sure I really love the item, not just get influenced by the crowd.
Is this item made of good quality materials? I try to look for "natural" materials wherever possible (wool, cotton, genuine leather) and avoid the synthetic ones. These tend to last longer and age better too!
I hope this was helpful. What tips would you add for shopping for wardrobe classics?