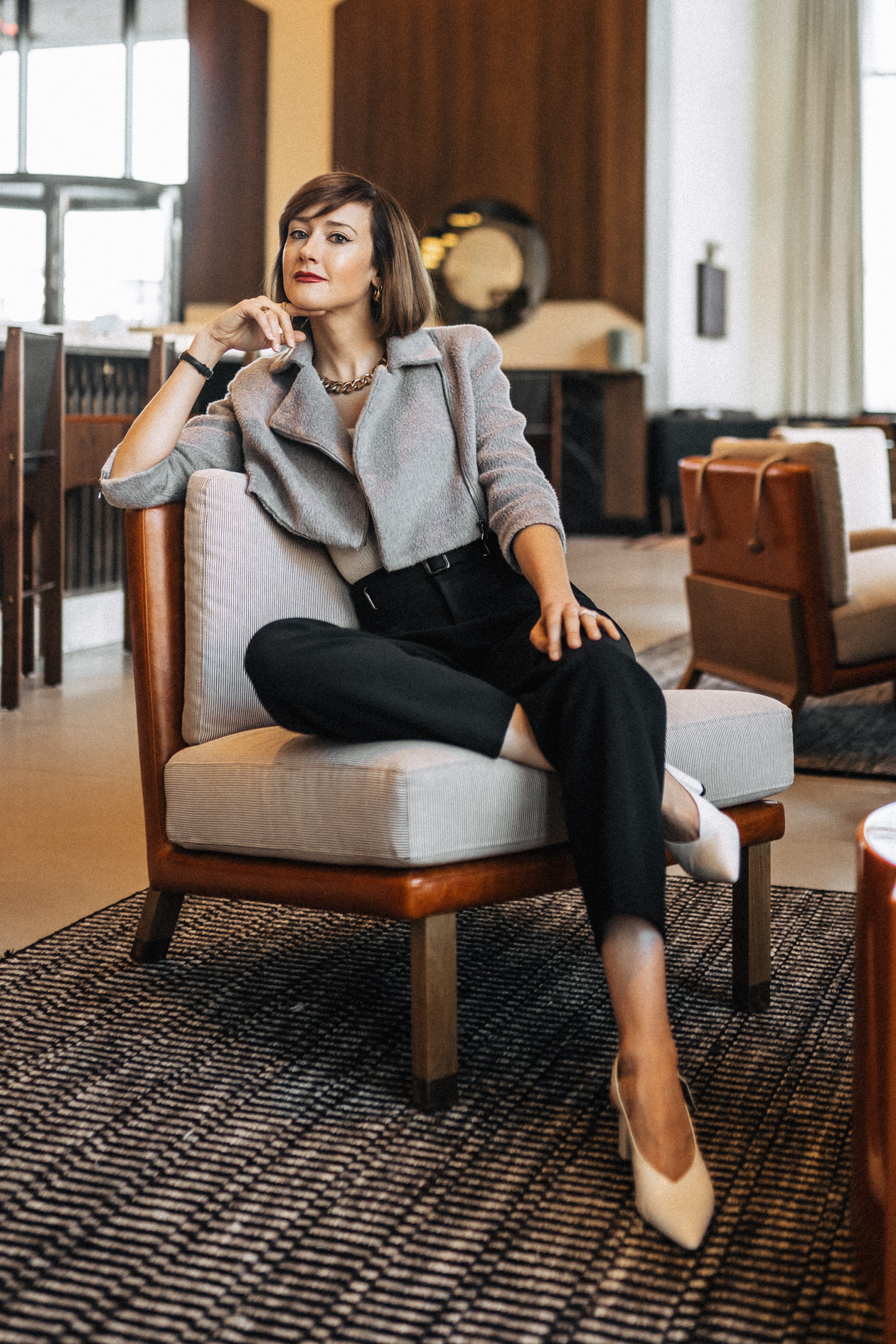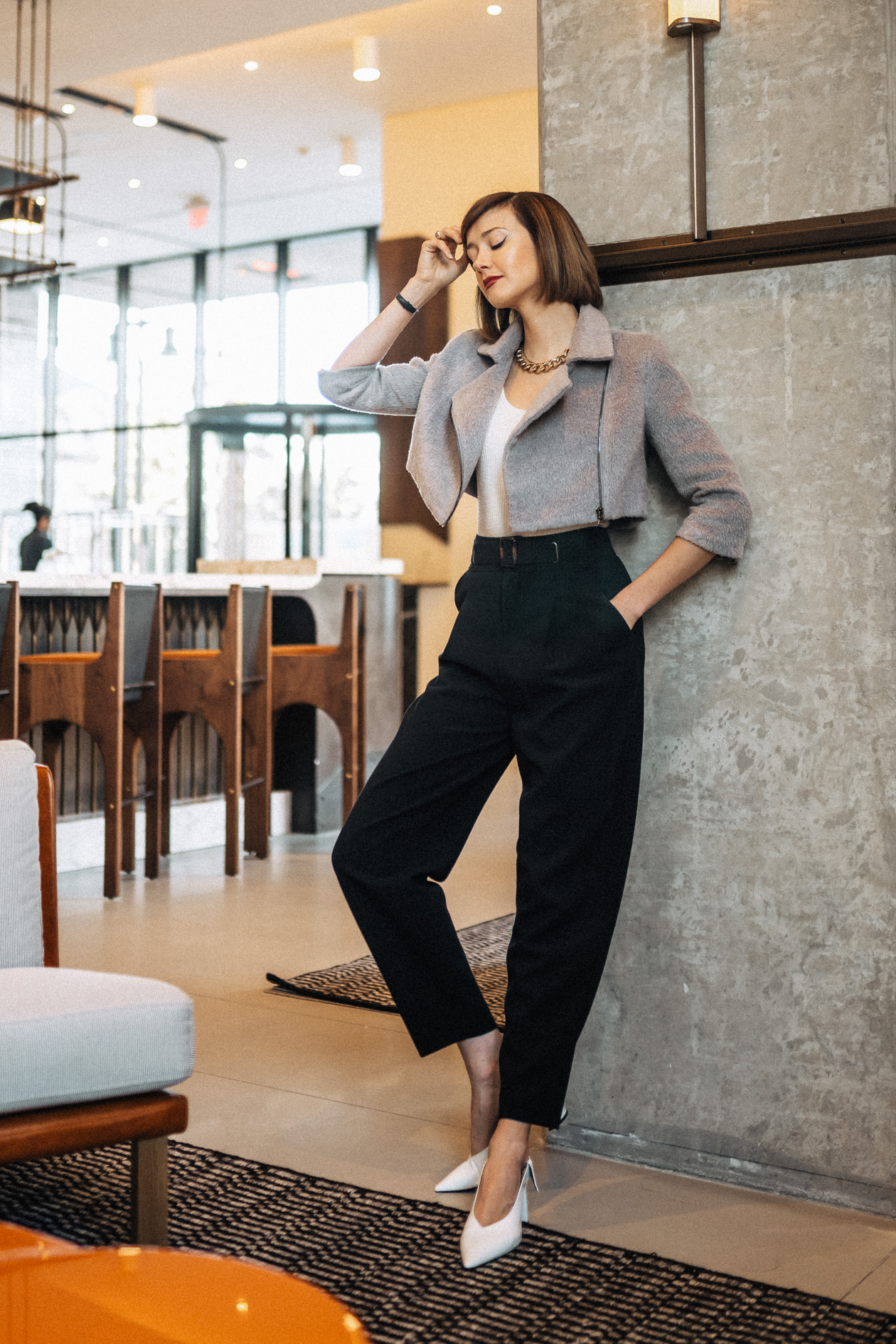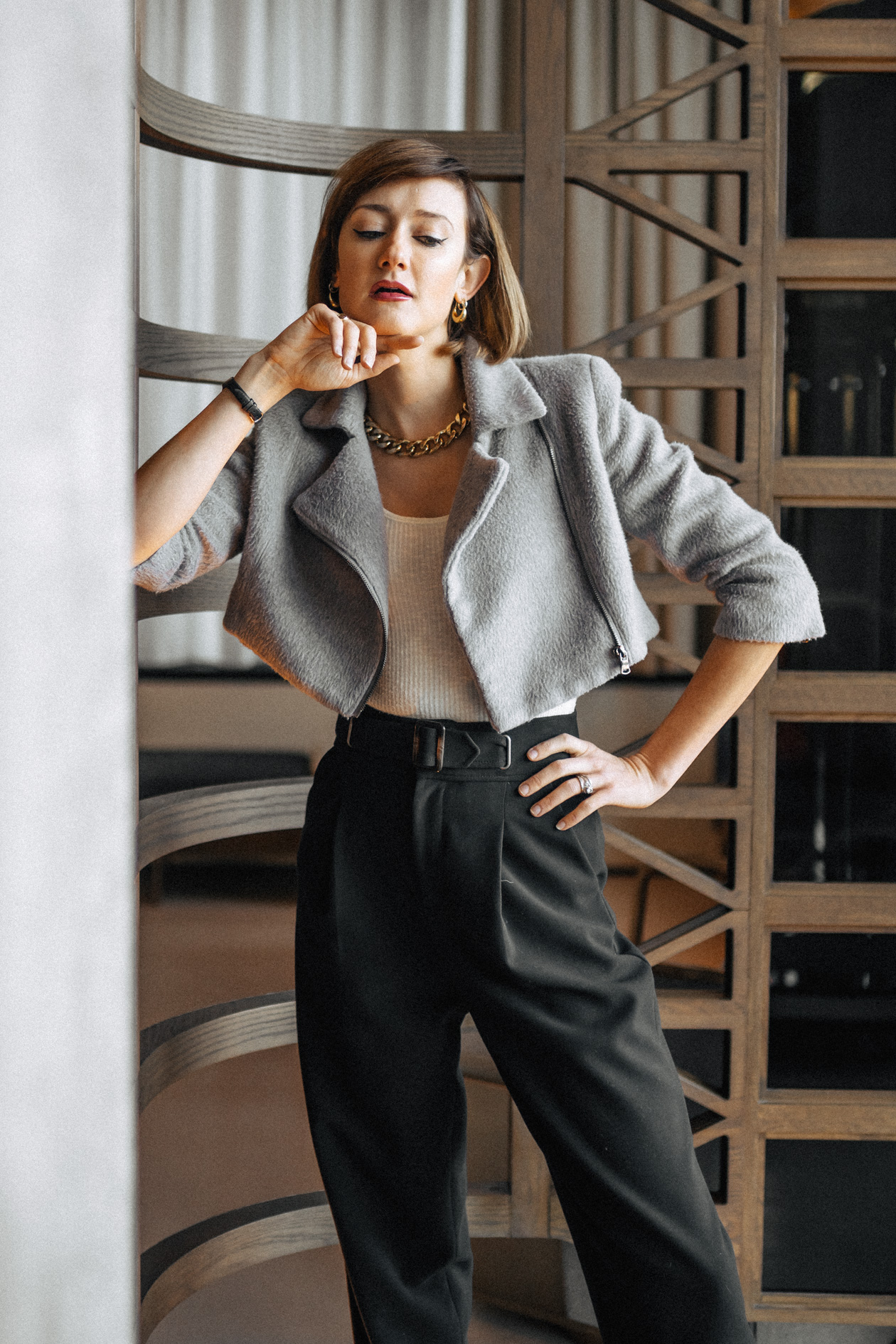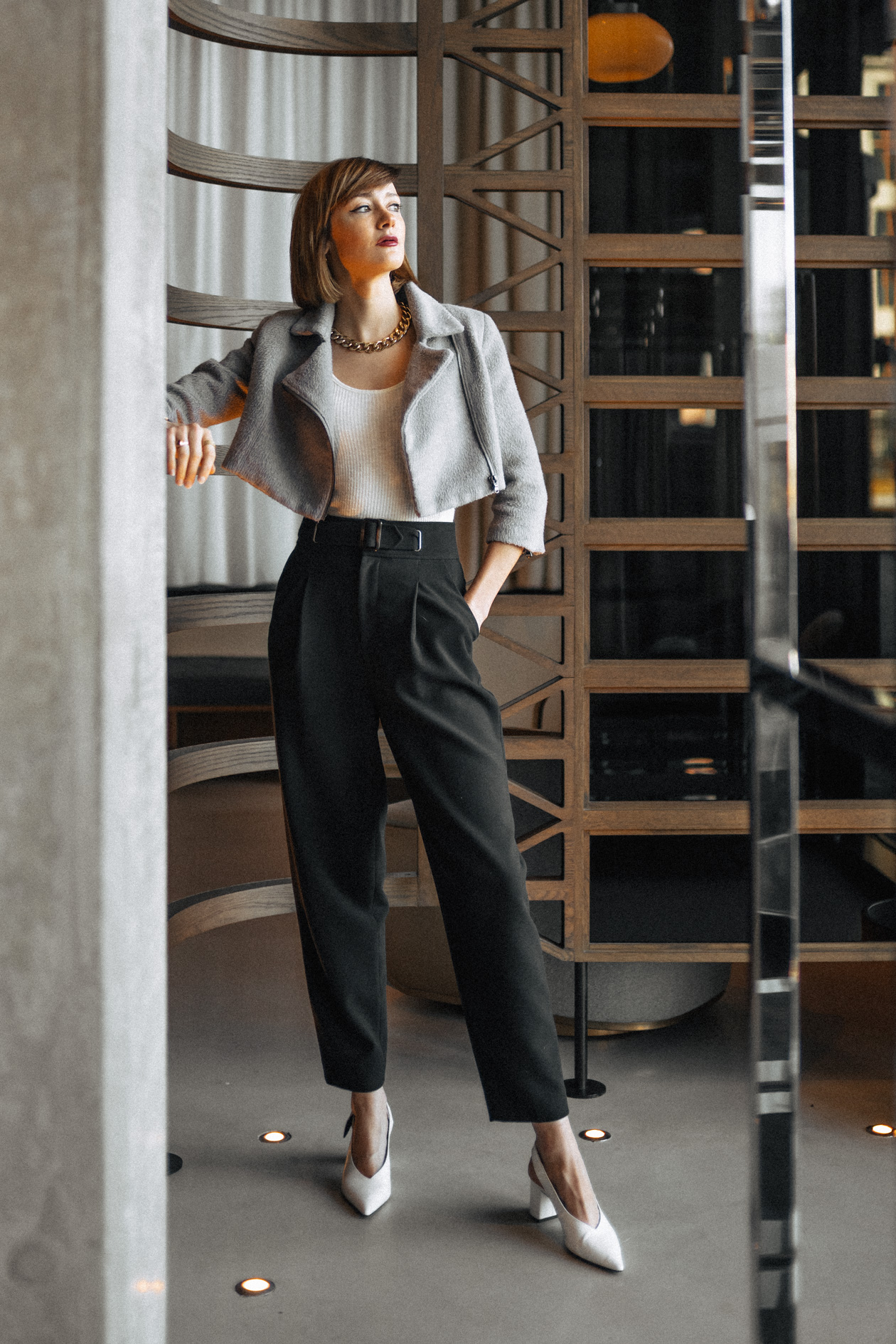 a work outfit from pre-COVID-19 days wearing Toccin cropped blazer (20% off with code 'STAYHOME'), chain necklace, Abercrombie + Fitch top, Joie pants, white pumps
Do I look a little too serene in these photos? That's because this was pre-COVID-19 life. When I shot this look (last month), my mind was on the cropped jacket trend and how to style it for work. *sigh* It sounds like such a luxury, writing it now, coming up with a cute outfit to wear to work.
Since then, our childcare has been cancelled until further notice and my husband and I are both working from home. Don't get me wrong, we're very grateful to still have our jobs and that our careers allow us the flexibility to work from home (as I know this is not the case for many right now). But it's challenging.
The first week was a hot mess – stressful, disorganized – everyone was frustrated. Thankfully, we got our sh*t together and the second week was much better. And I think we've come up with some good practices that could be helpful to other young working families struggling to find balance (and sanity) during this trying time. So if you find yourself in a similar situation, here's what's been working for us:
Come up with a daily schedule everyone can agree on. Even a loose one. I've seen this one widely circulated on social media and we were able to modify it to meet our needs. The real importance of the schedule is everyone knows what to expect. If I'm doing schoolwork with my son from 9-10 AM, my husband knows that's his "undisturbed time" to get work done. We usually trade off taking care of my son during each of these schedule blocks throughout the day, so each of us gets a break and has time to work.
A virtual family calendar is your friend. My husband and I juggle lots of conference calls throughout the day. The only way to make sure we're both able to take our calls undisturbed is to keep a shared Google Calendar. It doesn't always work out perfectly, because things inevitably come up last minute, but it really helps for planning future meetings.
Recognize when, where, and how everyone works best. My son focuses better on schoolwork in the morning. I work best in a quiet environment. My husband likes to do regular video meetings to check in with his coworkers. So we try to take this into account when planning our daily schedule. 
Set expectations with your coworkers. They should be understanding, because many of us are dealing with similar challenges right now. If possible, make them aware of your daily schedule. This way they know the best times to reach you. For example, I've let mine know that the best time to schedule meetings with me is between 1 and 3 PM when my son goes down for his nap.
Compromise, compromise, compromise. It's pretty much a given we're all not going to get the absolute perfect schedule, but it is possible for each family member to carve out small blocks of time for themselves each day. Be forgiving of each other and, most importantly, yourself. Non-essential projects will need to be pushed back. Your house might not be the cleanest it's ever been. Your child might be getting a little more screen time than you might like.
None of us are perfect and we're all doing the best we can given the circumstances. Now more than ever, we need to prioritize what's really important. The rest can wait.
Photos shot (pre-COVID-19) by Pablo Raya at The Thompson Hotel.