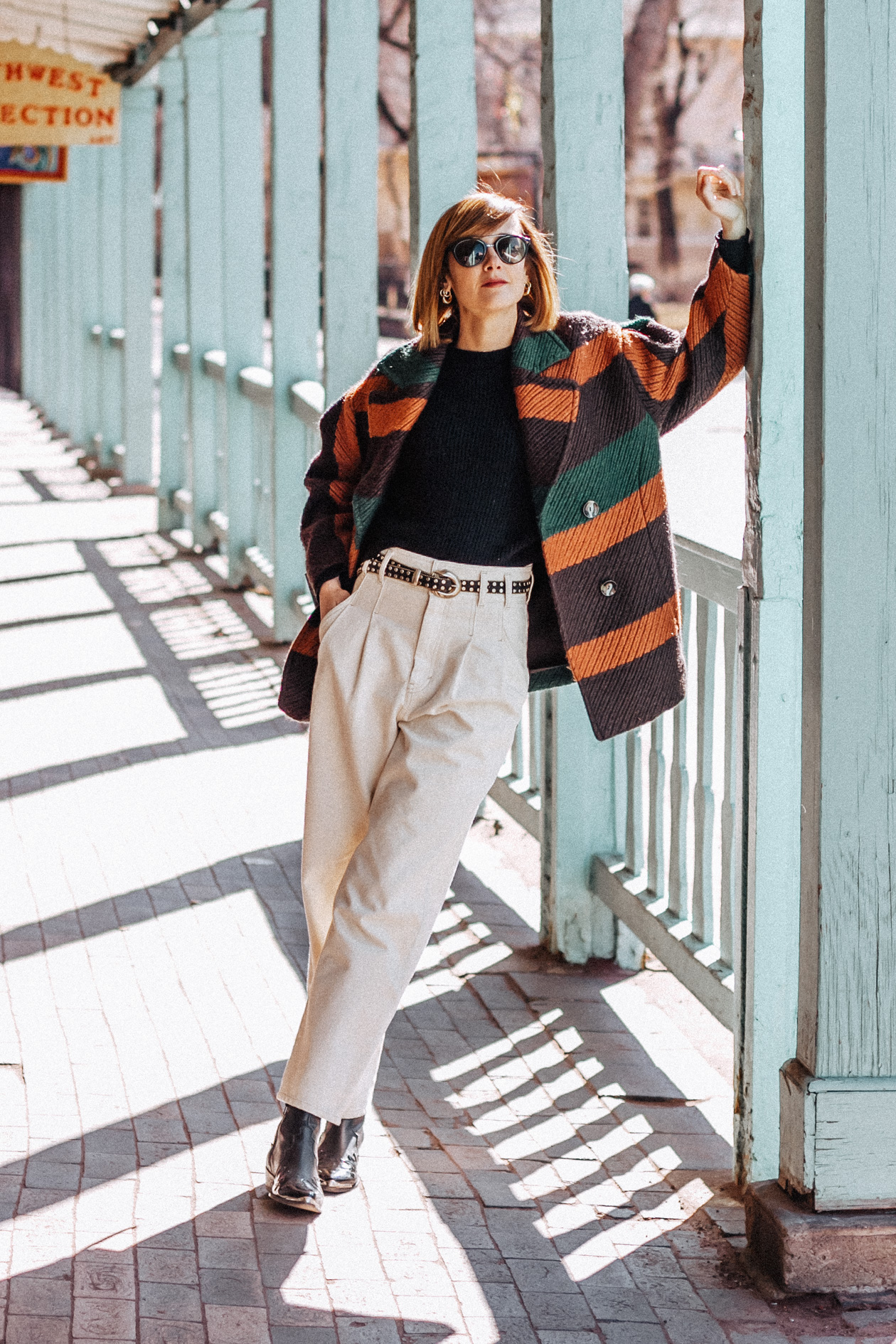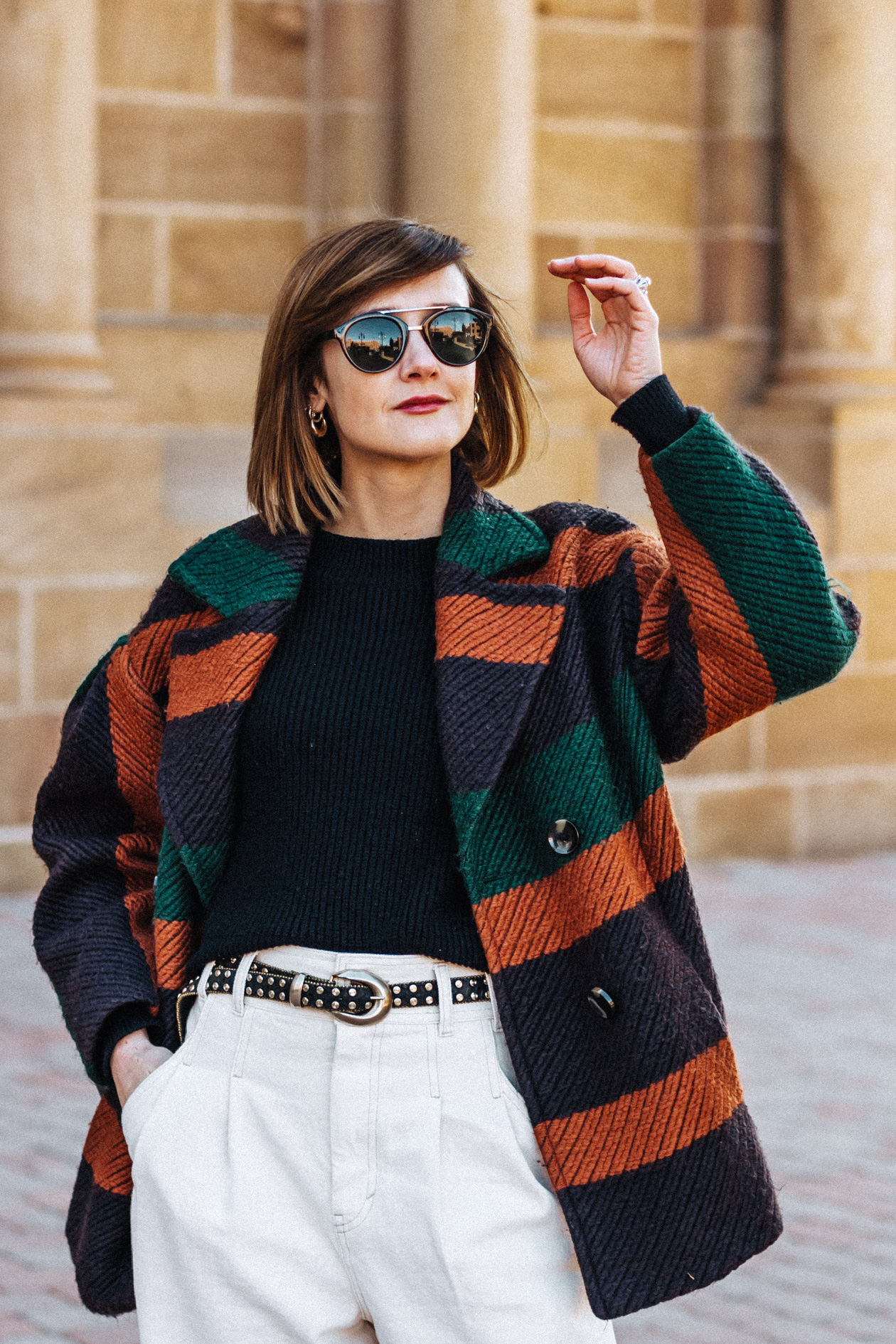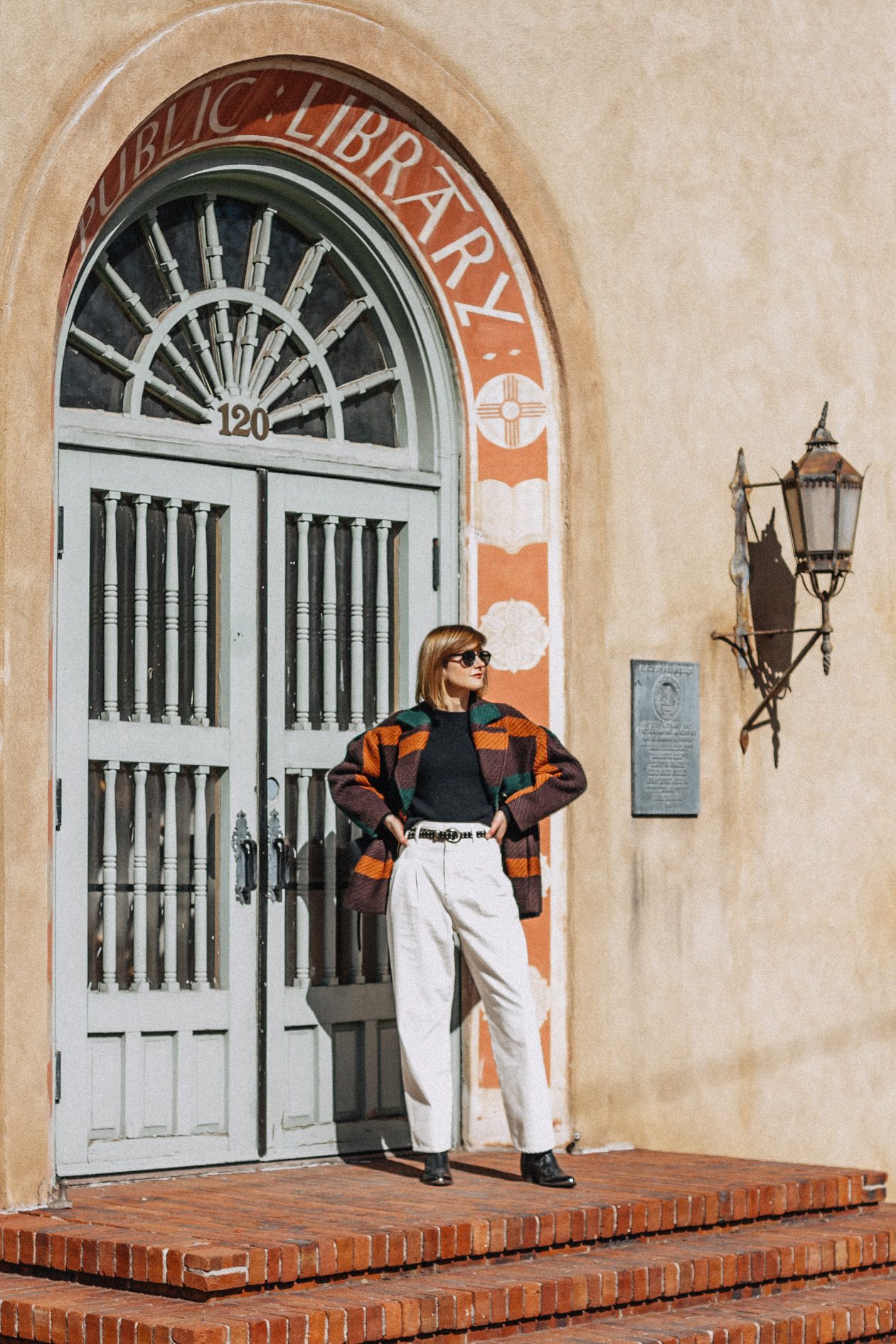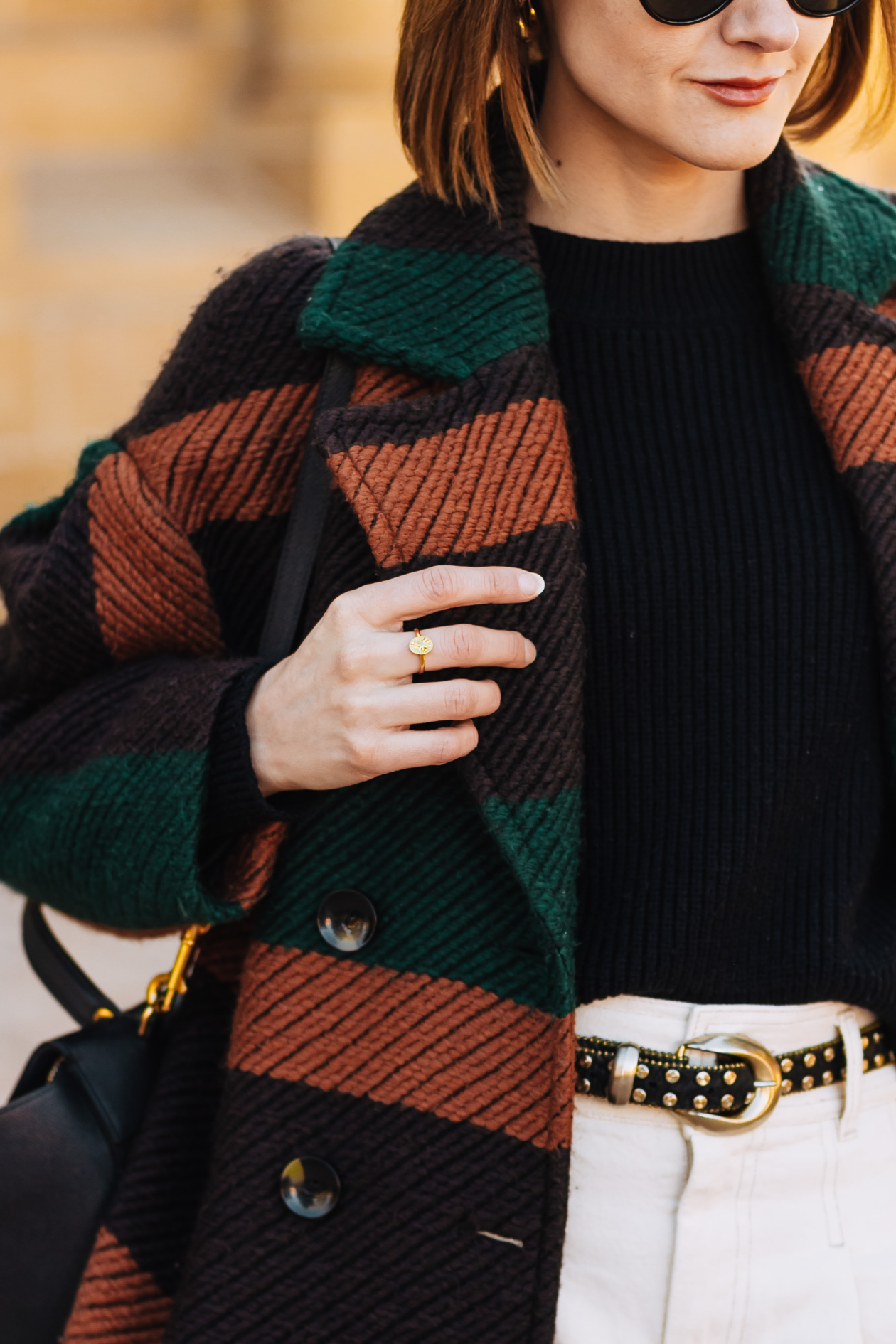 wearing an Ulla Johnson coat, Vox Lux sweater, western belt, & Other Stories pants, western ankle boots, and Mejuri ring
I've seen a lot of influencers expressing guilt for posting what could be perceived as trivial things during these trying times. Honestly, I welcome it. Personal style and travel blogs have always been sources of virtual escape for me. Now more than ever, I love seeing your recipe ideas, the fun activities you've dreamed up at home, what you're shopping for online, and your beautiful vacation photos from the last time you traveled. Please, keep it coming and don't apologize for it. Everyone could use a little morale boost right now and some semblance of social connection. (If I want to be terrified, I'll go to twitter!)
So I hope you don't think I'm being insensitive to the crisis the world is facing right now, but taking a moment to focus on happy memories from our recent trip to Santa Fe is a kind of therapy for me. I know we'll get through this and hopefully come out more united for it. I'm looking forward to the not-too-distant future when I can plan a trip back out west and hope this post might inspire you to do the same.
So here's a follow-up to my previous Santa Fe guide. (You'll note the lack of dining options – that's because we went to all the same places I mentioned on our last time and not a single one disappointed.)
Shopping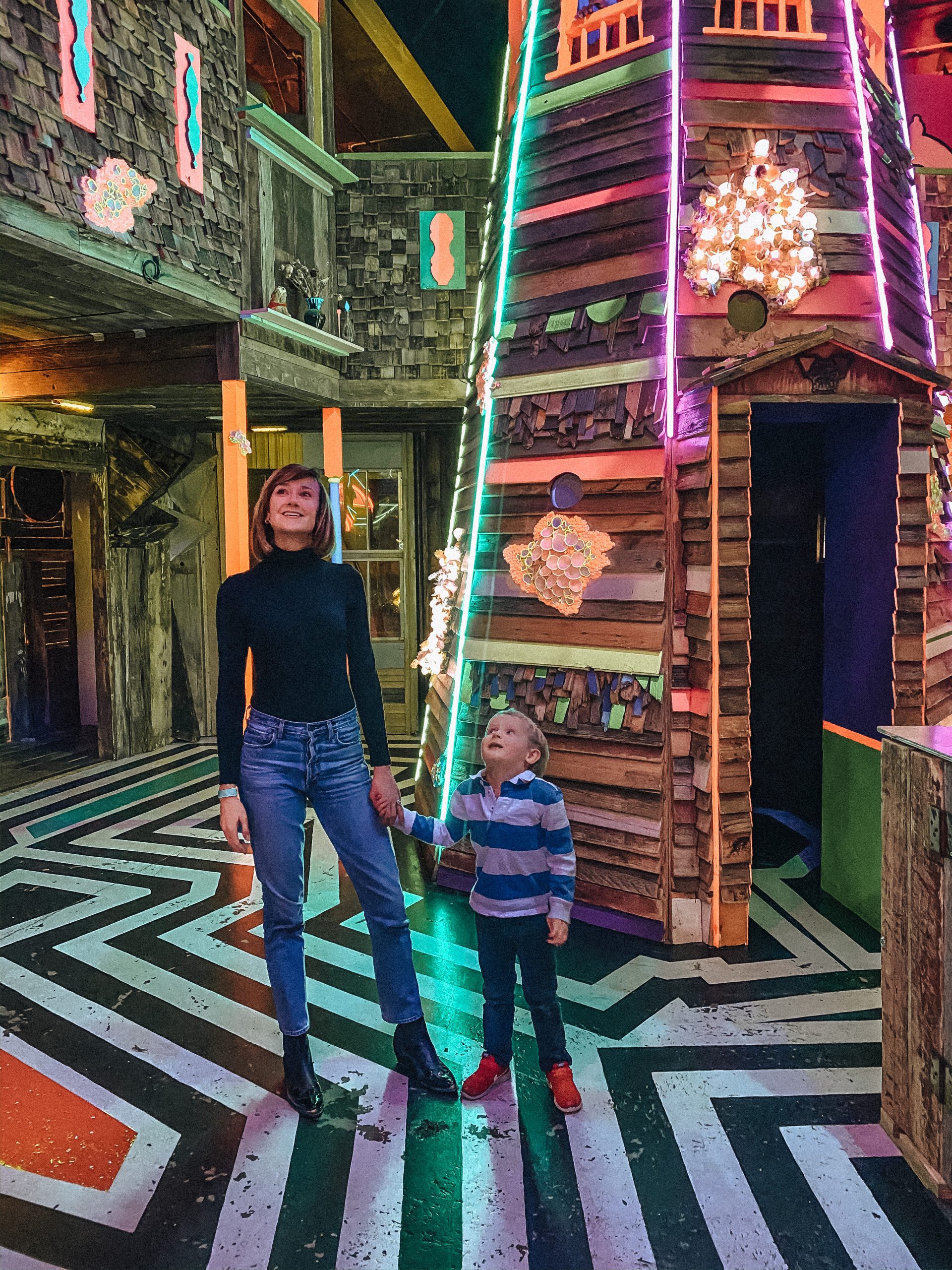 Art and Culture
Meow Wolf – Part-interactive art exhibition, part-funhouse, Meow Wolf's House of Eternal Return was put together by a Santa Fe artist collaborative and sponsored by J. R.R. Martin (creator of Game of Thrones). This wacked out "mystery house" is full of neon lights, black-light paint, trippy music, and hidden clues to a story you can follow (if you're not chasing a toddler). I like to think of it as a family-friendly acid trip. We spent a few hours here and I still think there's more to uncover. My 4-year-old son, who generally has a short attention span, didn't want to leave!
Museum of International Folk Art – Part of a complex of museums on what is know is Museum Hill, the Museum of International Folk Art sits on a courtyard with sweeping views of the city and nearby mountains. You could easily spend all day here wandering the halls of current exhibitions (we loved Yokai: Ghosts & Demons of Japan) or inspecting the dizzying maze of world treasures in the Girard Wing.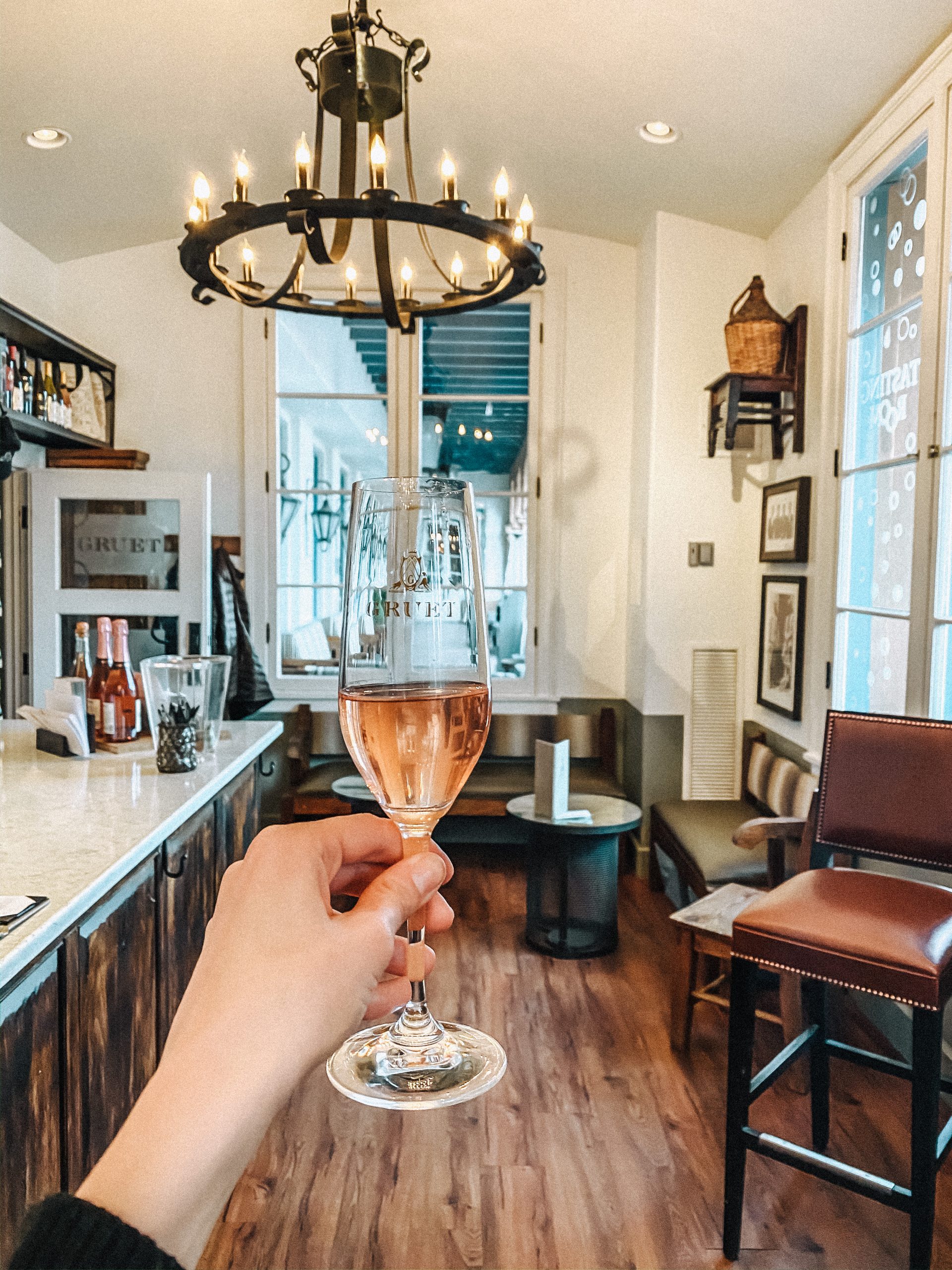 Drink
Gruet Tasting Room – Gruet is a delicious champagne-style sparkling you can find in stores around the country, but many of you might not be aware it's from New Mexico! My husband and I were delighted to stumble upon their chic tasting room, where we tried many of the other wonderful wines they have to offer.
Tonic – All of the elegance of a speakeasy with none of the annoying buzzing to get in the door, Tonic serves interesting artisan cocktails and features live jazz many nights of the week. We loved the art deco interior and stunning chandeliers!
I hope this little guide could provide a brief virtual escape for you today. Perhaps this can come in handy for you when this is all over and we can indulge our wanderlusts once again. In the meantime, please keep sharing your new posts with me! Tell me what fun activities or daydreams are helping you cope in the comments.