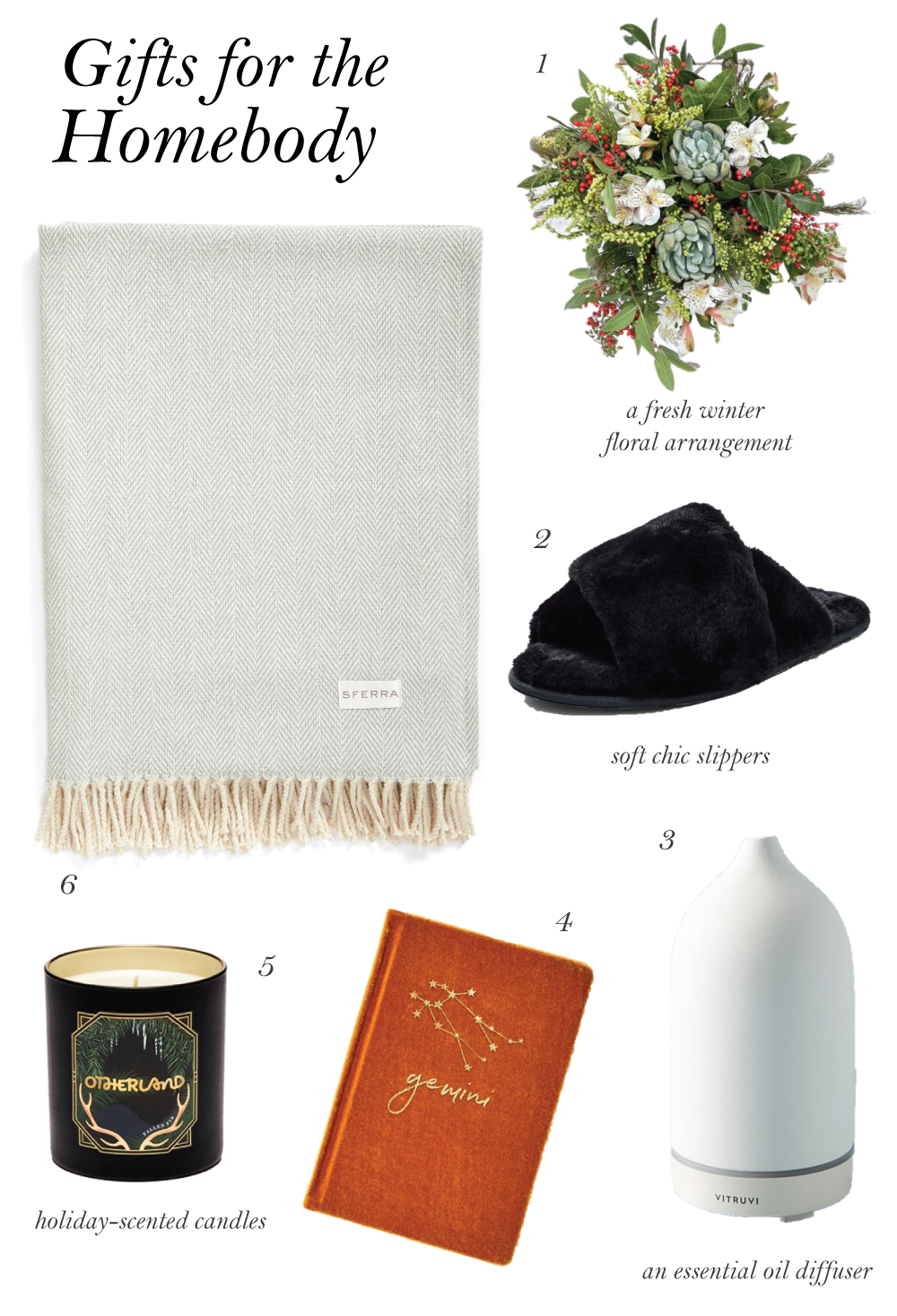 1. a fresh winter flower arrangement, 2. soft chic slippers, 3. an essential oil diffuser, 4. a pretty velvet journal, 5. holiday-scented candles, 6. a neutral throw blanket
Maybe it's because I'm looking forward to spending lots of relaxation time at home in the coming weeks, but I finding home gifts the easiest to shop for right now. Many of these things are items I've received as gifts myself (and loved) and a few I've currently got my eye on. I guarantee there's something on this list for every girlfriend, aunt, mom, or grandmother will love! More details below…
A fresh winter flower arrangement is a failsafe that anyone will appreciate (and they make great holiday centerpieces, too!). I love Bouqs because they work with eco-friendly farms that use sustainable growing practices. A beautiful gift that's good for the planet!
These lush slippers recently caught my eye as footwear that would be super comfy for padding around the house, but look fabulous with a suit or party dress for hosting an intimate holiday party at home. Either way, it's a win (and currently 25% off)!
An essential oil diffuser is something I've been dying to get, so this gift idea is 99% selfish. But integrating spa-like aromatherapy into my home via a sleek modern ceramic design sounds pretty darn relaxing and I'm willing to be most friends of mine will feel the same way. (P.S. This and all of Anthropologie's site is currently 30% off through the weekend so get on it!)
I've gotten really into bullet journaling this year. In fact, it's kind of life-changing and I'm planning talk more about in a coming post. In the meantime, I'm hoping to convert a few friends with a chic blank notebook this year.
It wouldn't be a gift guide without at least one candle and Otherland's new holiday collection sounds heavenly. Added bonus that they let you build your own gift set of three, which comes in a pretty box, complete with matches!
I love a good throw. In fact I have one on most sofas and chairs in my house. A friend gave me this one a few years ago and it's super soft and machine washable (also currently 20% off)!
I'm hoping to do at a couple more gift guides in the next few days so stay tuned!