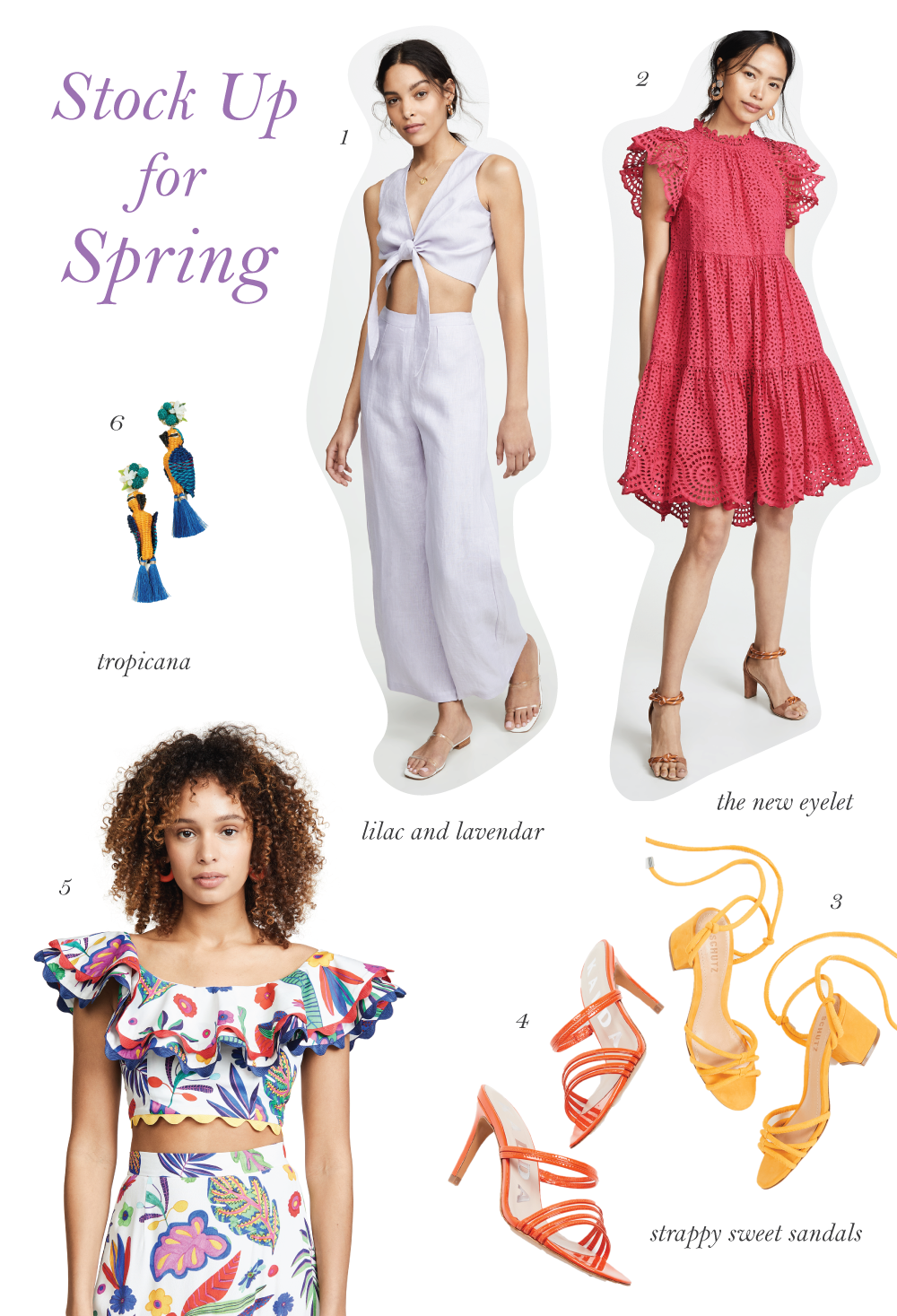 1. lilac tied top and linen pants, 2. fuchsia eyelet dress, 3. marigold strappy sandals, 4. orange sandals, 5. ruffled crop top, 6. woven parrot earrings
Does anyone else have a "bad" habit of only shopping when there's a sale? I'll be honest, I hardly ever shop anymore unless there's some sort of discount incentive. Shopbop's 'Event of the Season' Spring Sale just started and consider me "incentivized." During their last sale, I was all about transitional items, but now that it finally feels like spring, I'm diving head-first into warm weather trends. This means pretty dresses and tops in lavender, eyelet, and tropical prints and cute strappy sandals to go with. Check out my favorite pieces below and use code 'EVENT19' at checkout for up to 25% off full-price and sale items.
Lavender and Lilac
The quintessential '90s color is back baby! This color brings back all kinds of good nostalgic feels for me thinking about the first dress I ever wore from the adult section at Ann Taylor in this very hue. Added bonus: it makes use pale girls look more tan!

---
The New Eyelet
Ok, so not super original for spring, but this year's context is definitely more modern. Obviously you know I'm a fan of this dress from my previous post, I'm loving this fabric in less girly styles and different colors.

---
Strappy Sweet Sandals
Another '90s trend returns with cute strappy sandals in a reasonable heel height. I've got my eye on ones in bright colors and metallics and Schutz in particular has a ton of great options right now!

---
Tropicana
Nothing gets me pumped for a beach getaway like tropical prints! I'm looking for maxi dresses and skirts to pair with flats and crop tops to wear with jeans. CeliaB and Stella Jean have some great ones.