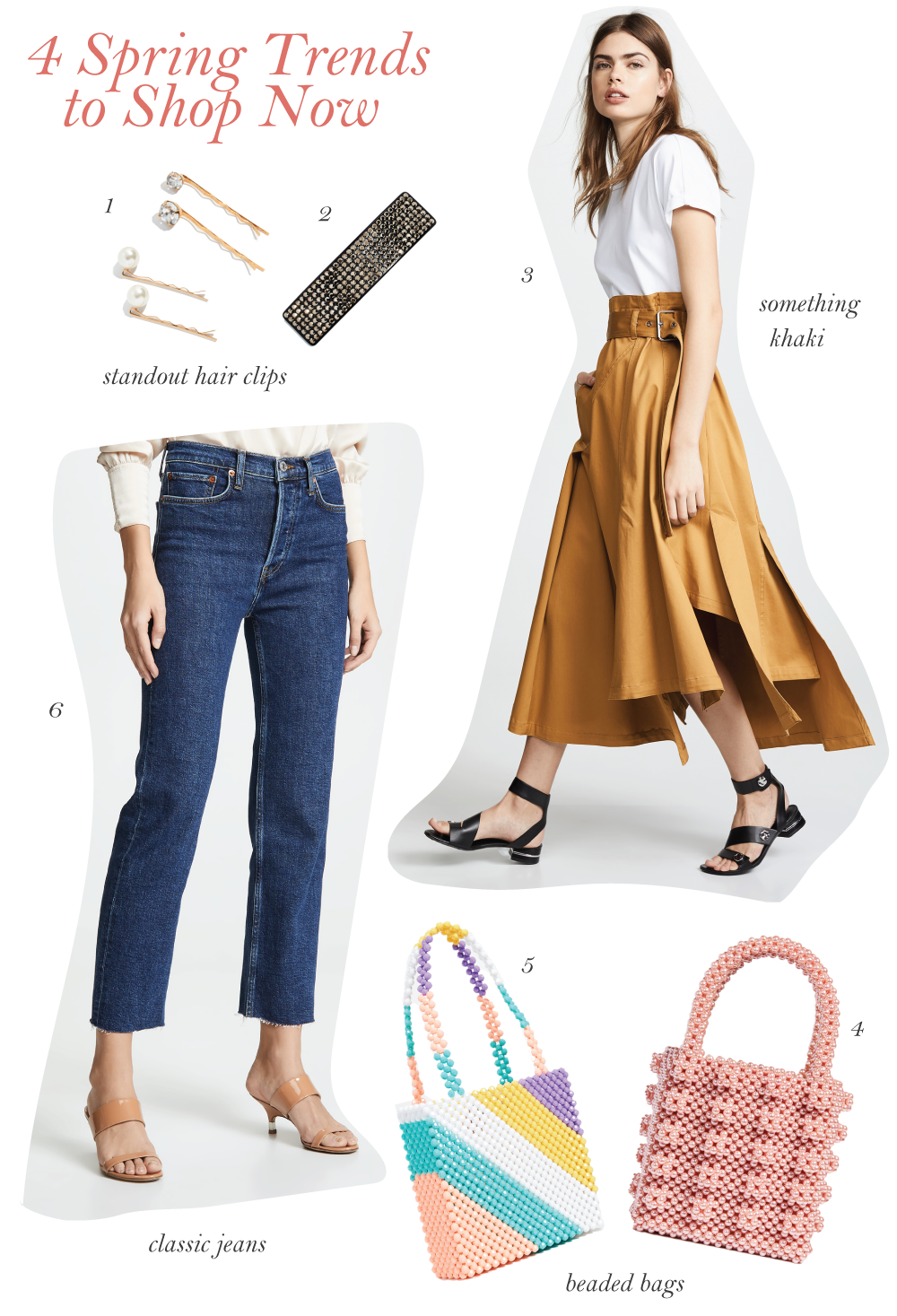 1. set of crystal and pearl bobby pins, 2. resin strass barrette, 3. dress with jersey tee, 4. pearl pink bag, 5. multi stripe tote, 6. high rise stove pipe jeans
Ok here's the post when I go all blogger-y on you and tell you why you should be shopping for spring when it's still cold out. But hear me out! Shopbop just started their spring 'Buy More, Save More' Sale and like I've said before, with up to 25% off almost everything on the site, this is the best time to snag the pieces that won't be around long. I've had my eye on more than a couple things, biding my time until this moment, and they're already selling out fast. Here are the trends I'm stocking up on…
Standout Hair Clips
I'm sooo excited about this trend – the perfect accessory for anyone who's not great with hair. Just sweep to the side, clip, and you've got yourself a cool girl hairstyle with minimal effort!

---
Something Khaki
Anyone who's ever had to to endure khaki in their school dress code will tell you it takes a while to get over the wardrobe trauma of their youth. It's taken me some time to come around, but the reinvented khaki designs of this season totally have me sold. I'm focusing on utility-style pockets and flared skirts.

---
Beaded Bags
Beaded bags are the new basket bag so expect to see them everywhere this spring and summer. Shrimps and Susan Alexandra have some great ones right now!

---
Classic Jeans
Not too fitted, not too flared, no distressing, or crazy washes – just good, old-fashioned denim that you can dress up or down. I like mine high-waisted and cut just above the ankle for the most flattering fit.