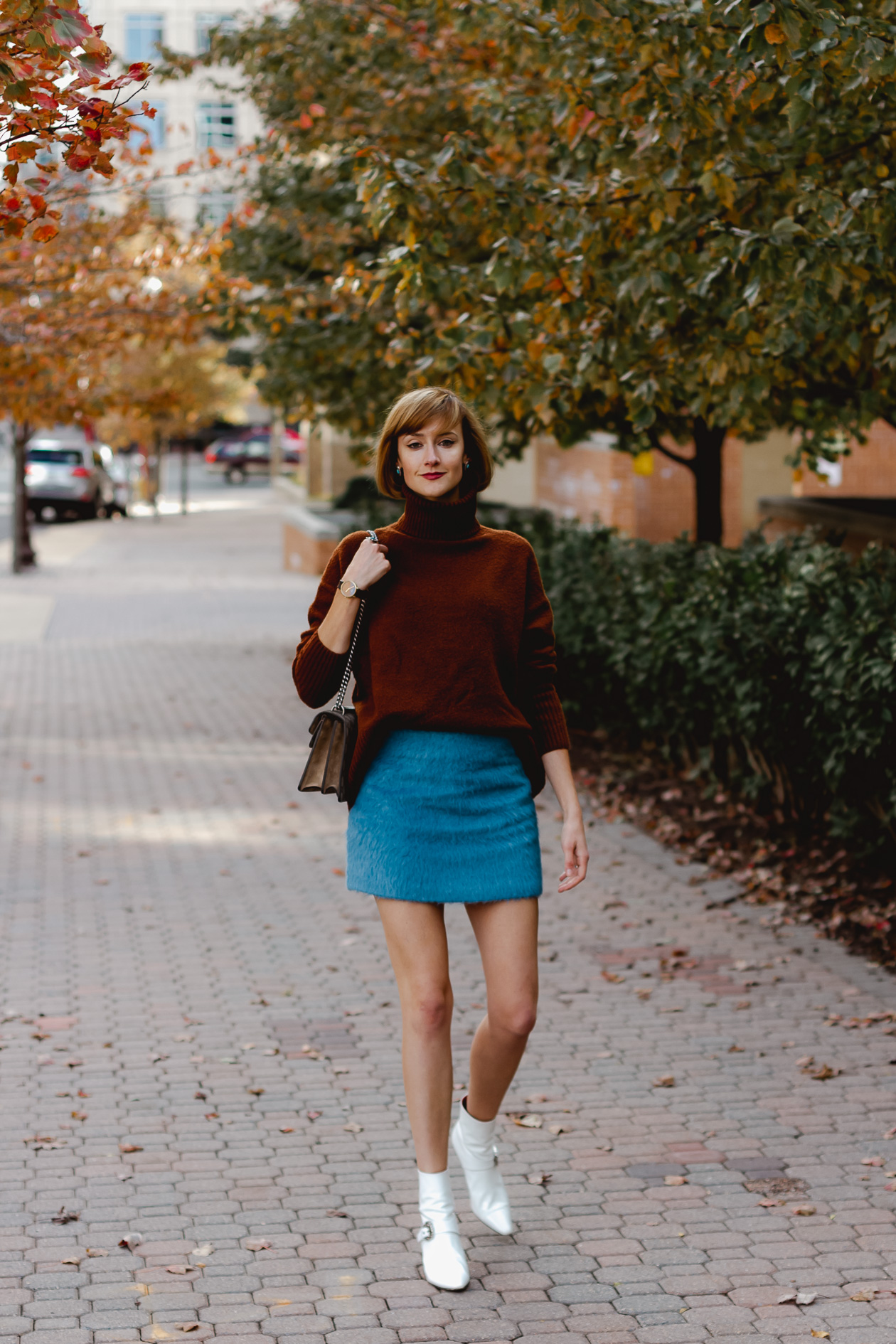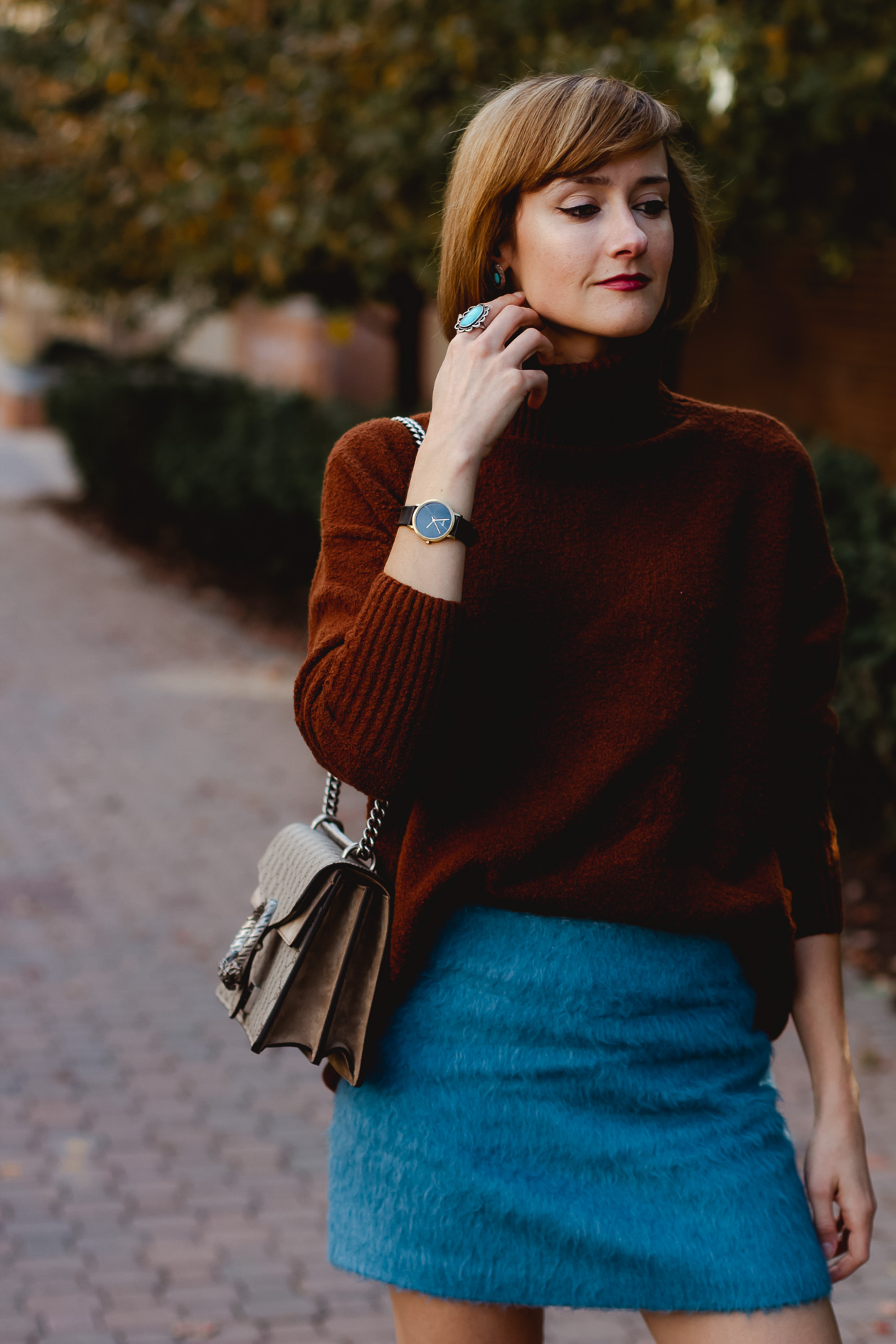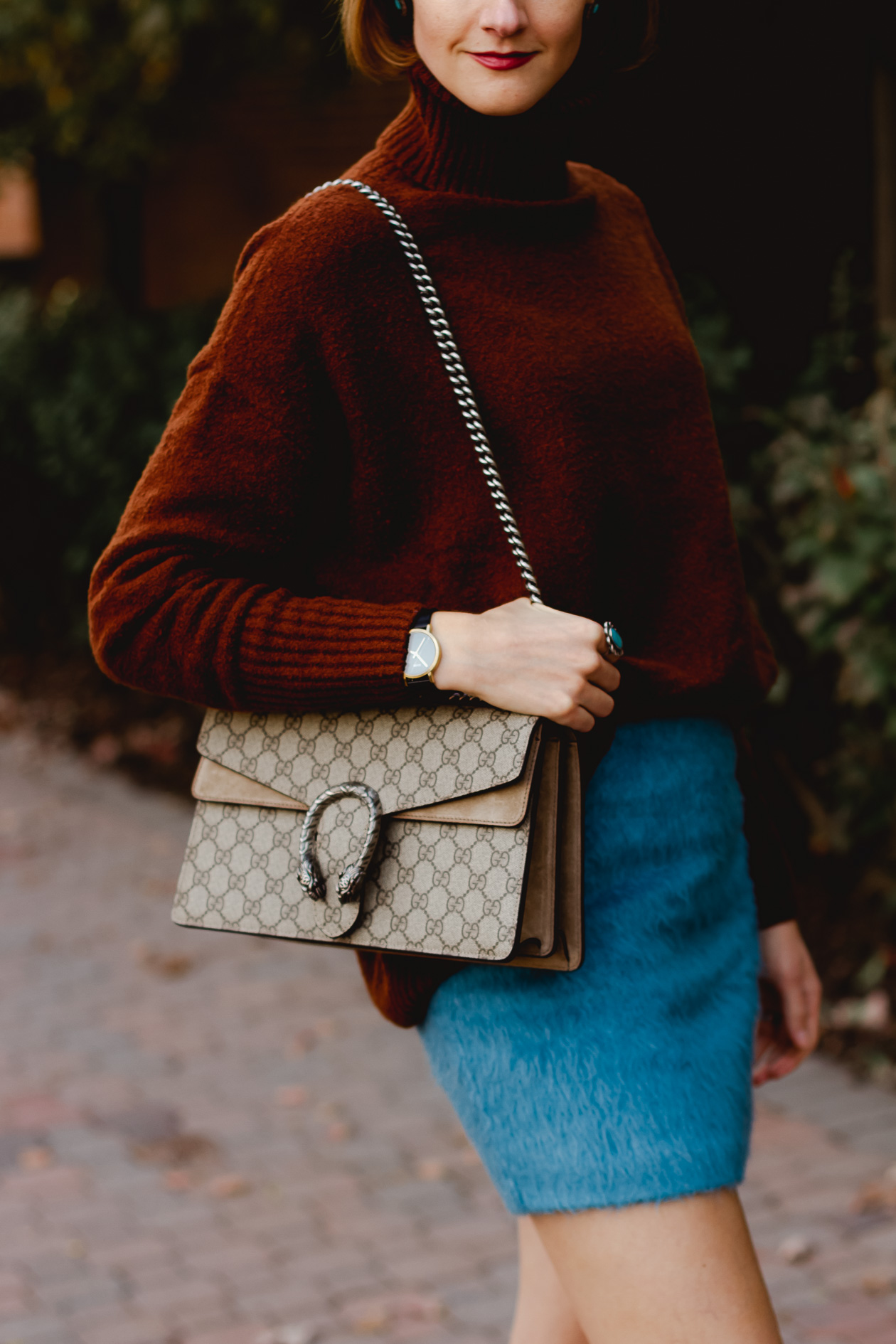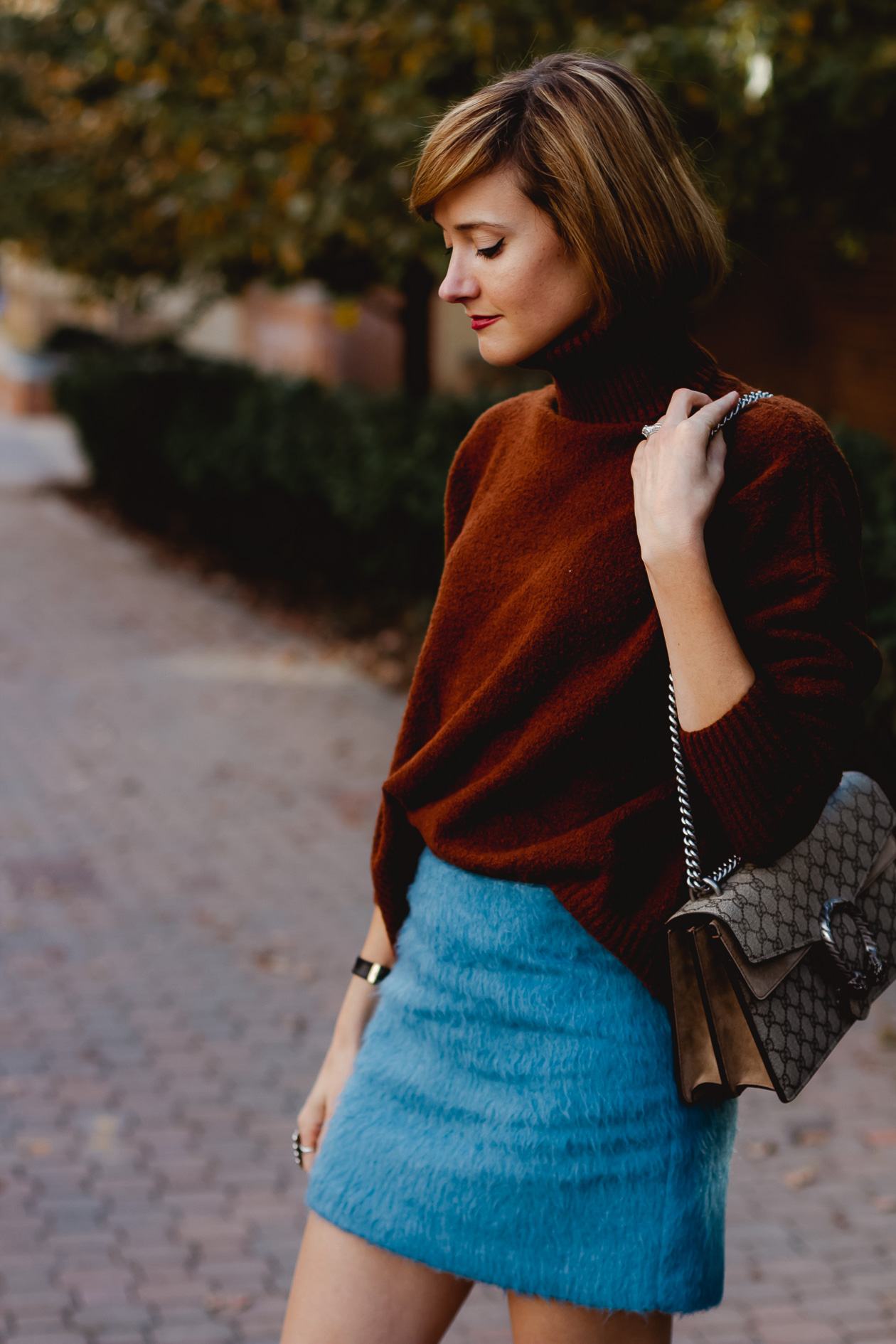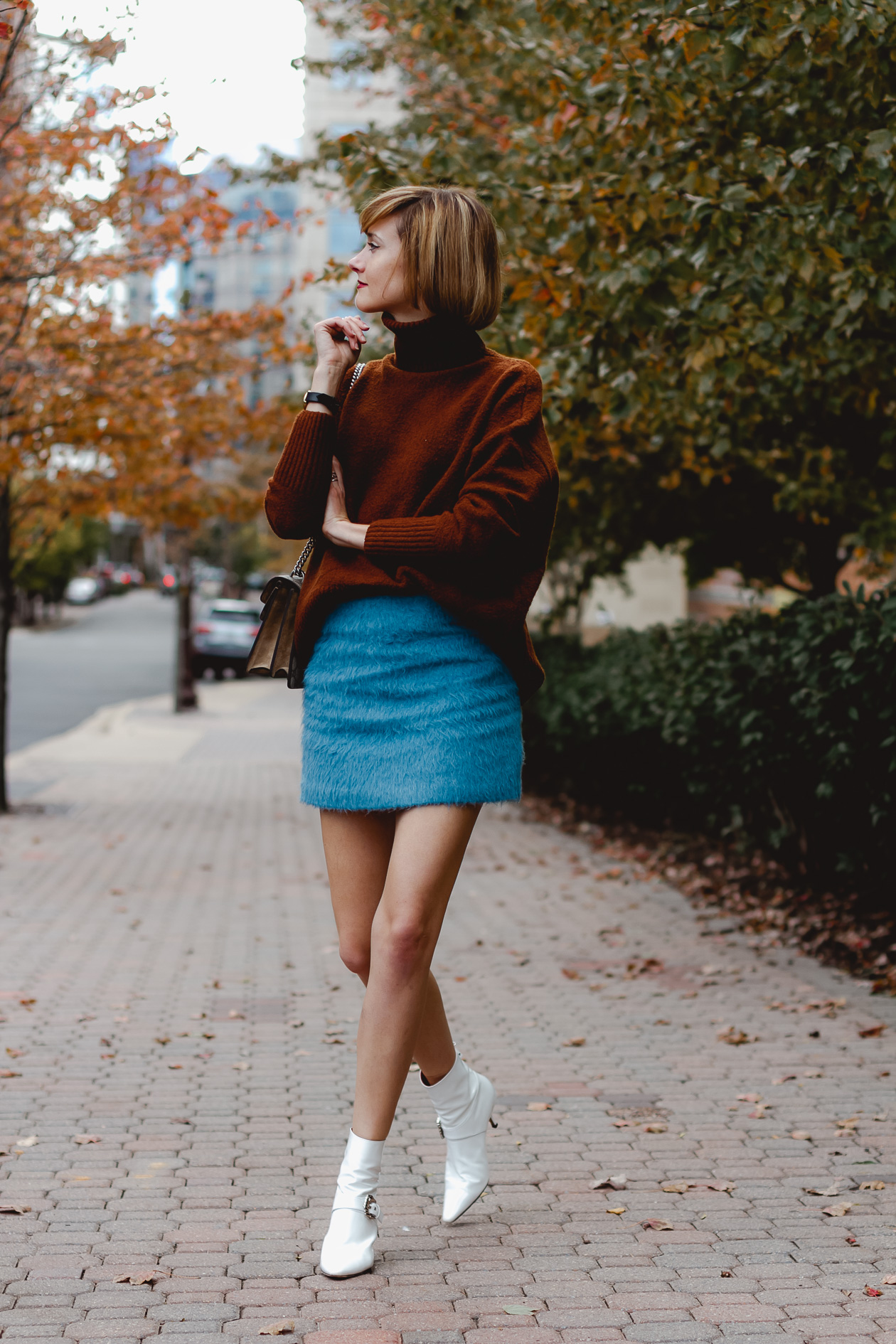 An oversized knit with a fitted mini skirt is one of my favorite combinations. The proportions are super-flattering and you can show a little skin without going overboard. I recently picked up this cozy chocolate turtleneck and couldn't wait to style it with a fuzzy blue mini skirt I've had forever and white ankle boots for maximum mod vibes.
Where did the beautiful Gucci bag come from, you ask? Well my mom was kind enough to lend it to me from her enviable purse collection. She doesn't shop as often as I do, but when she does, she researches first and gets a bunch of things all in one go. She spent this past year looking at handbags to go with a variety of outfits. By the end of the summer, she had acquired a great selection of high-low options from everywhere from Tradesy to Etsy to the usual high-end stores. What surprised me was how much she leveraged influencers to make her decisions about which bags to get. She doesn't have an instagram account, but she used the browser version to see what bags my fellow bloggers were wearing and how they were styling them. By the time she was ready to buy, she knew exactly what brands, styles, and colors she wanted and never once talked a salesperson.
Being an "influencer" myself (and a marketer by day), I find this sort of stuff fascinating. Spending a large portion of my time looking at other influencers on social media, there's no question it plays a large part in my buying decisions. But seeing a non-social media participant like my mom use it as a shopping tool is like a retail marketing case study. And she's not the first person I've heard this from. My friends buy skincare products off facebook and use instagram to find everything from swimwear to jewelry.
So what's the key takeaway? Some influence is trackable, but a lot of it isn't. A large portion of instagram buyers don't use the LiketoKnowIt app or click affiliate links, but they're still using social media to influence their buying decisions. This isn't great for marketers (like myself) who need to be able track the success of social media campaigns, but it's still important for brands to recognize a lot of influence simply isn't going to be trackable. Going forward, I hope to see brands put more value on the social media influence they can't see.
& Other Stories sweater (c/o)
Topshop mini skirt
Dorateymur boots (more Dorateymur)
Gucci bag