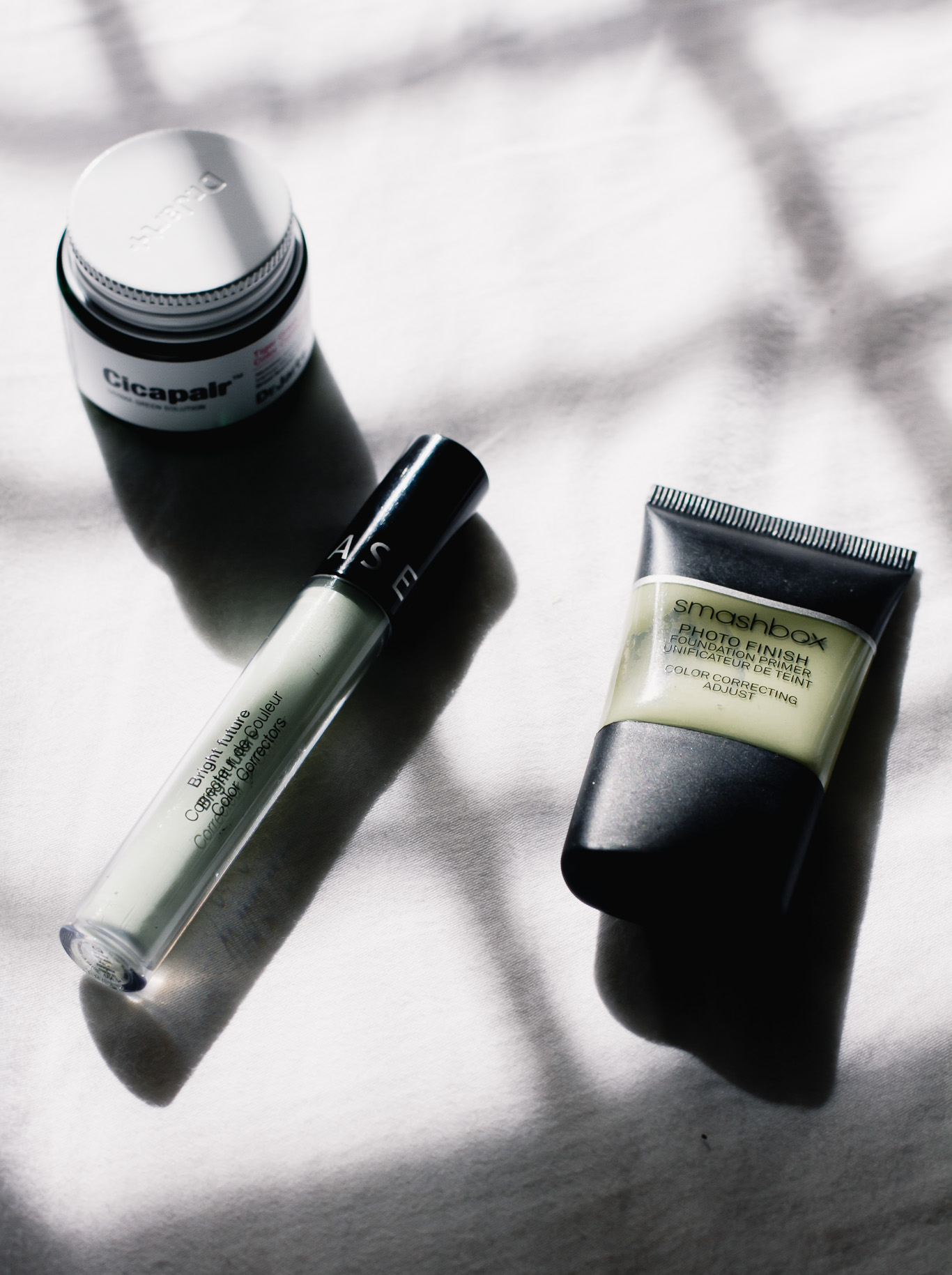 Whenever an aesthetician asks me what about my top skincare concerns, redness is almost always top of my list. And lord knows winter weather doesn't make it any better. As soon as the temp drops below 50°F, I pretty much turn into Rudolph and it feels like a constant battle with foundation and concealer to counteract it.
So in the past year, I started trying the green-tinted, color-correcting products that have become so popular. Here's my take on three I snapped up at Sephora (which, incidentally, is having a big sale right now, so there's never been a better time to stock up on beauty products!).
Sephora Bright Future Color Corrector – I tried this one first as an inexpensive foray into the color-correcting products. It's liquidy and pretty bright, so it requires some blending, but I quickly found that anything layered on top (foundation, concealer, etc.) kind of rubbed it off. I will say that it works ok for covering zits, so that's a bonus, but in my opinion a good concealer would do just as well. Verdict: not impressed.
Smashbox Color Correcting Foundation Primer – Very very sheer, so I didn't see a whole lot of color correction, but it does do a good job of minimizing pores and keeping makeup in place. I could see it working well for evening out slight redness before applying foundation, but doesn't get the job done with deeper redness, like I get with my nose. Verdict: a good primer for minor redness.
Dr. Jart+ Cicapair Tiger Grass Color Correcting Treatment SPF 30 – This was a recent find from the Sephora sale and from first application, I was impressed. It has a creamier texture and more of a muted gray/green color than the others. It covered my redness immediately and didn't budge under makeup. I love that it includes its active ingredients that have historically been used in treating inflammation, redness, and blemishes, so *fingers crossed* I won't need so much concealer in the future.  Added bonus: it has dust barrier technology and SPF 30 sun protection. After removing my makeup at the end of the day, I definitely noticed less redness, so it already seems to be working! Verdict: a great product for covering and calming mild to intense redness. I will definitely be buying this again.
Do you struggle with redness? If so, what products do you recommend?