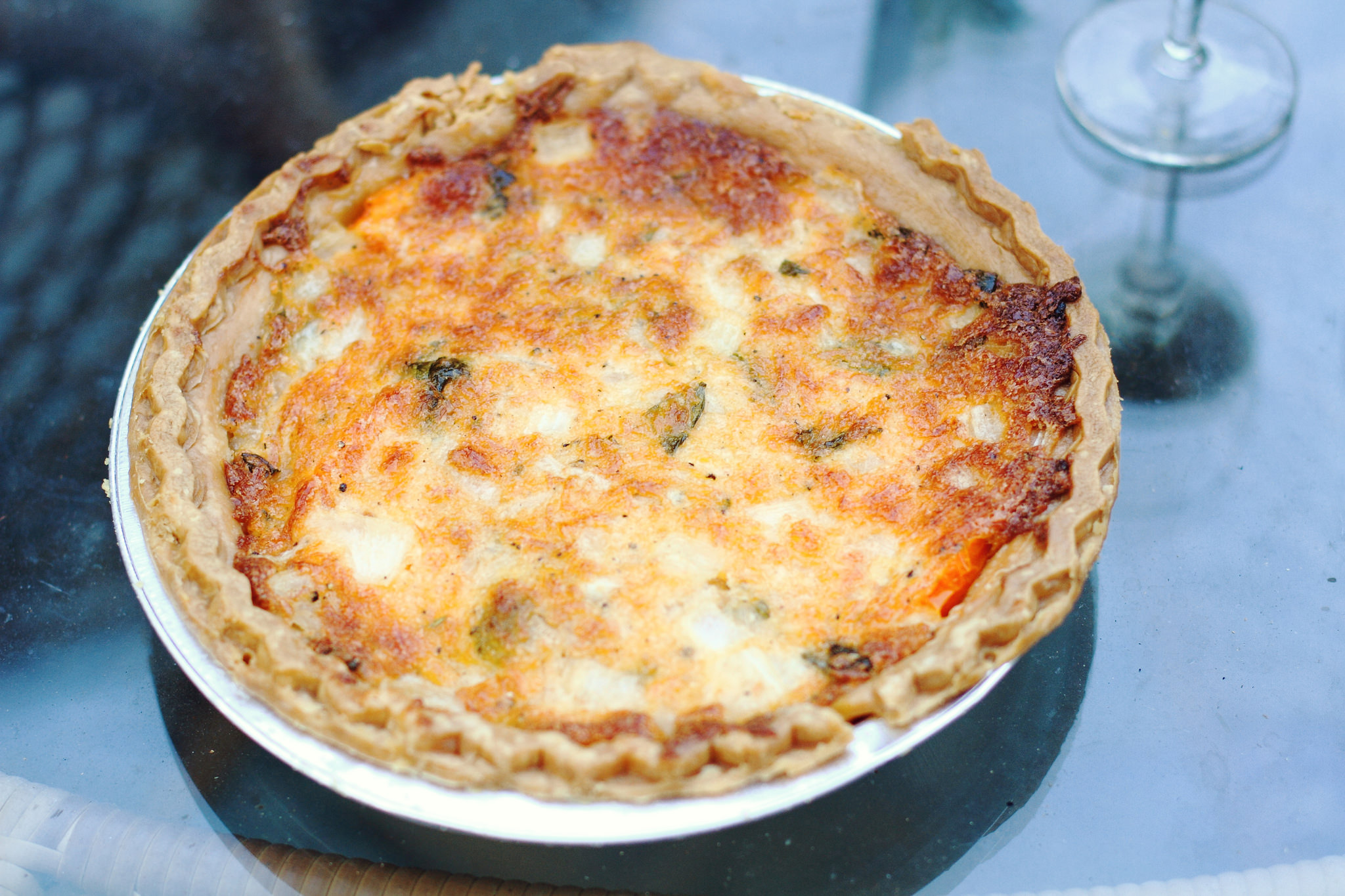 Since tomato season is in full swing, I wanted to share this delicious recipe for tomato pie (a quintessential southern dish that's one of B's favorites). And now this recipe holds a special place in my heart because B made this for dinner the night that I went into labor with J.
1 9 inch frozen pie crust
3 large heirloom tomatoes (about 2 pounds), sliced 1/4″ thick
3/4 teaspoon kosher salt, divided
1 cup finely chopped sweet onion (about 1/2 medium onion)
1/2 tablespoon unsalted butter
1 1/2 cups grated sharp cheddar (about 4 ounces)
1/2 cup mayonnaise (preferably Duke's)
1/4 cup coarsely chopped fresh herbs, such as basil, oregano, parsley, and/or thyme
1 teaspoon mild hot sauce
1/2 teaspoon freshly ground black pepper
Line a rimmed baking sheet with several layers of paper towels. Arrange tomato slices on prepared sheet, sprinkle with 1/4 tsp. salt, and cover with more paper towels. Let drain at least 30 minutes.
Preheat oven to 350°F.
Pre-bake pie crust following directions on package until very light brown and dry. Remove from oven and let cool.
Meanwhile, heat a large skillet over medium. Add onion, butter, and 1/4 tsp. salt and cook, stirring occasionally, until onion is softened and just starting to brown, 5–8 minutes. Let cool.
Combine cheese, mayonnaise, herbs, hot sauce, pepper, onion mixture, and remaining 1/4 tsp. salt in a medium bowl. Blot tomatoes with fresh paper towels to remove as much remaining moisture as possible. Arrange tomato slices in pie shell and top with filling.
Bake pie for 40-45 minutes, rotating halfway through, until golden brown. Let cool to room temperature before slicing.
recipe via Epicurious