When planning my wedding, obviously my favorite part was shopping for the dress, something I recommend you drag out, because a lot of the other planning details can be quite annoying. I've always been partial to pieces with unexpected details, lace, and soft fabrics so this translated into what I searched for in a dress, though this criteria really covers the majority of wedding gowns out there, so narrowing it down was a challenge.
When making my final decision, my mother gave me an interesting thought to consider: how is the dress going fit in the setting? This was something that hadn't influenced my choices up until that point, but it made sense. I was married outdoors, at a sprawling old hotel, where I was required to navigate many many steps on my way to the altar. Picturing this place made me realize that a less substantial dress (that might be more appropriate for a smaller, more intimate space) would get lost in such a large, stately backdrop. Of course, I tried a wide variety of dresses and remember thinking, "oh this one would be perfect for an intimate at-home wedding" or "I could picture this one at a sophisticated city wedding," so I thought it might be fun to revisit some of those styles and silhouettes and imagine the possibilities…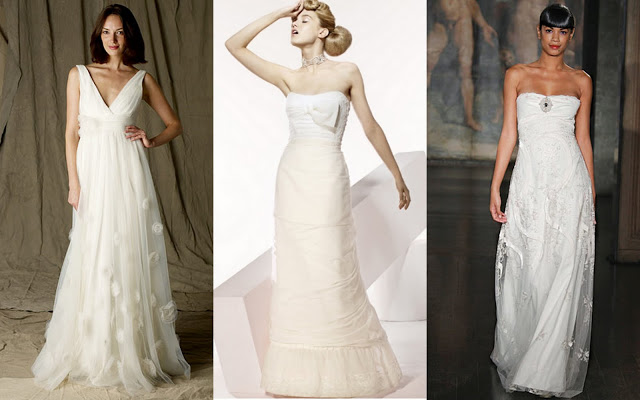 Lela Rose, Suzanne Ermann, Claire Pettibone
For outdoor, daytime weddings in more intimate settings, I love the idea of wearing a delicate dress with floral or vintage-inspired lace details.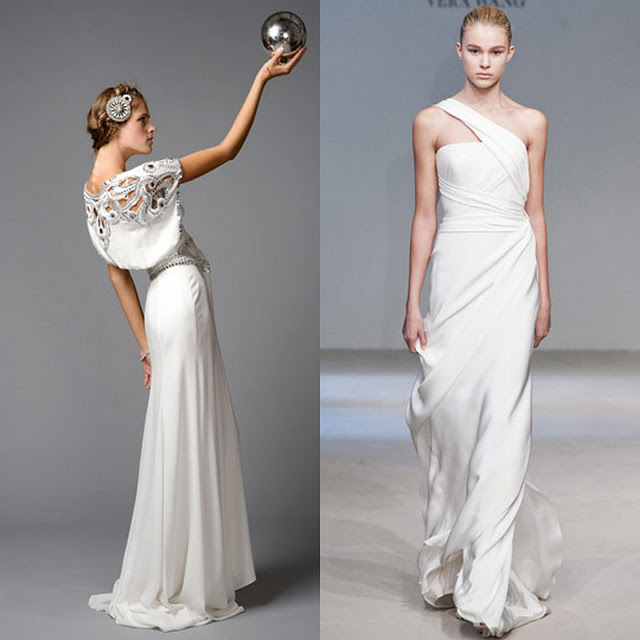 Temperley London, Vera Wang
Wouldn't a screen siren dress like one of these be so beautiful against Art Deco-style architecture of a museum or a library for an evening wedding?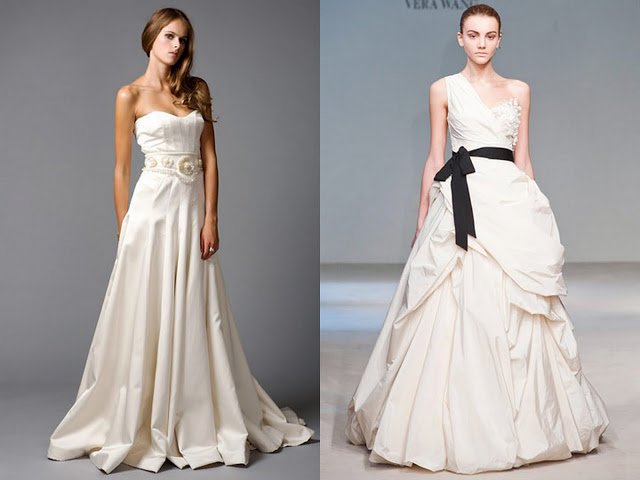 Temperley London, Vera Wang
For something more formal, I would love to wear something with more volume and a slightly heavier fabric.
Photo Holland Photo Arts
Here is my dress, which is Carolina Herrera. You can see it has a little bit of country feel, yet has the volume in the skirt to compete with all the brick and landscaping in the background. I thought the Spanish mesh overlay softened the dress nicely for a daytime wedding, but the scalloped ribbon detail made it "interesting" enough for my taste. My husband is kind of a casual guy, who is more comfortable in cowboy boots than dress shoes, so we had that to take into account when planning the wedding attire, too.
These are my suggestions when searching for bridal gowns. I've never been much for the fashion "rules." I believe that you should go with what you like, regardless, but these were helpful things to consider when trying to make that oh-so-difficult final decision.
*Chic Sponsor: David's Bridal*
images via suzanneermann.com, NYMag, Brides.com