For the first time ever, in my whole life, I have a reason to sport "Resort" clothing in December. My family is going on an amazing sailing cruise and, though regular cruises don't excite me at all, I think this could be really fun and different. In the spirit of such an occasion, I thought I'd take a spin through the some of the designer collections and pick my favorites. My goal is to do one of these a week and find some less expensive duds in the process.
My first, luckily, is not terribly expensive. An Anna Wintour darling, Trovata is preptastic, but Chloe-Sevigny-edgy preptastic, not Sherman-Pickey-pastel-colors-just-vomited-on-me preptastic.
That being said, I continue.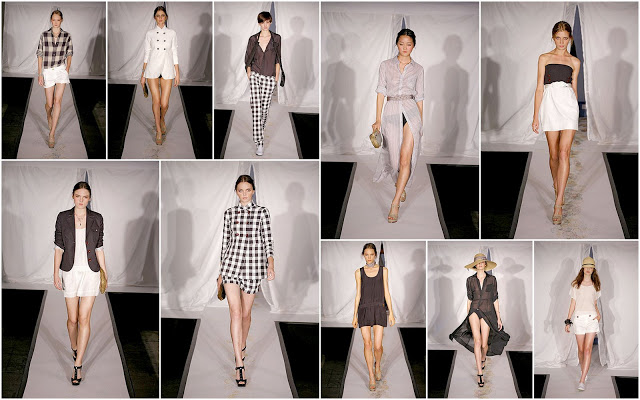 Image Source Click to Expand
I love the use of monotone colors and not obnoxious plaid! The upper left corner features the most adorable button-down I've ever seen that encourages one to roll the sleeves to show off the so-friggin'-adorable smaller plaid underneath! One of my favorites (second from right in upper right corner) is the gorgeous sheer long shirt/cover up. The shoes are fabulous as well. I don't love things that are overly girly and I'm glad to see that dominatrix footwear is still present in spring collections to toughen things up a bit. I'm also a fan of the jacket silhouettes. Anything double-breasted is ok in my book and the flare would be very flattering with tapered or skinny pants. I will be keeping my eye out for similar items in the cheapie brands, but I might just spring (ha) for that impractical sheer cover up.
P.S. Picasa collages are awesome.