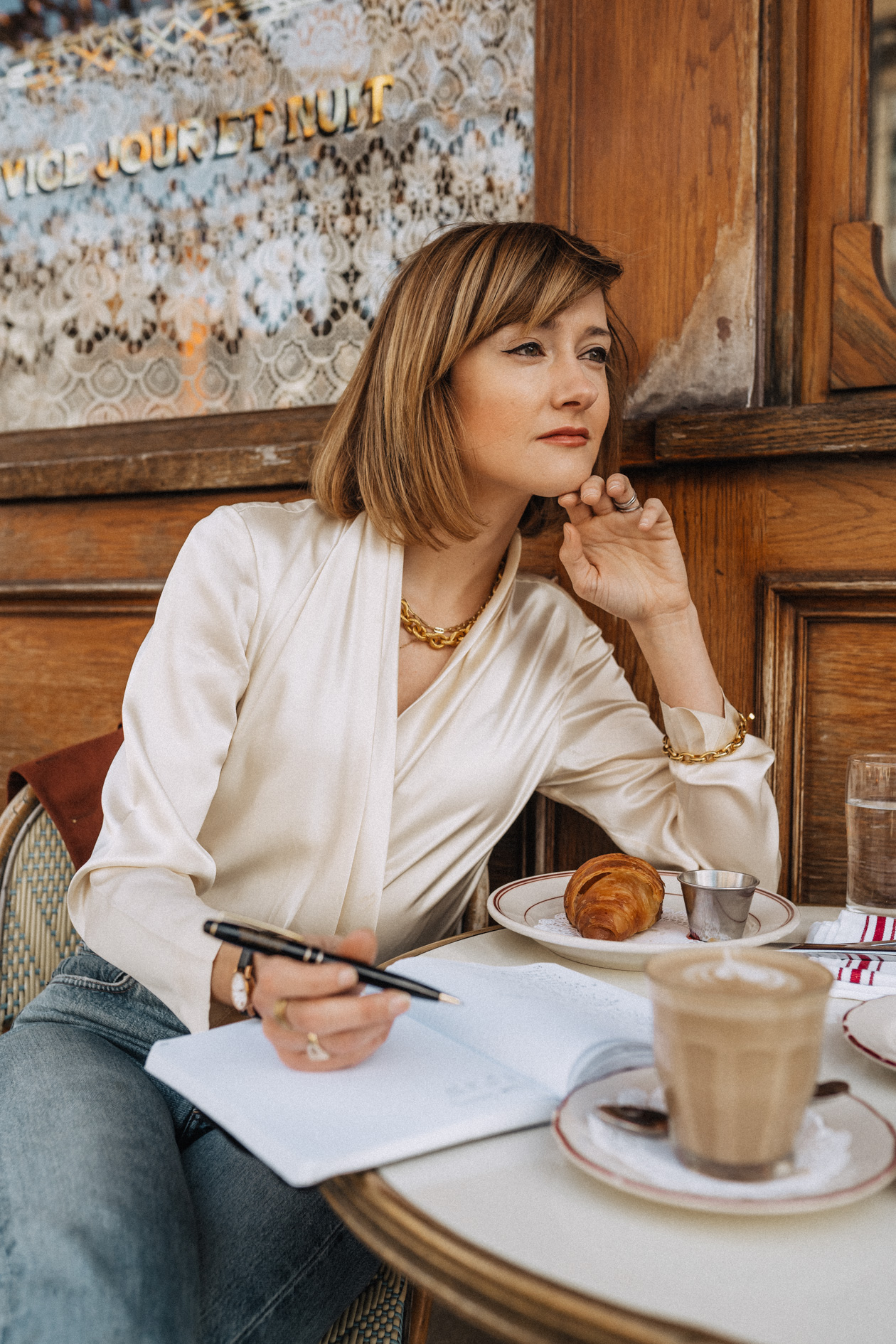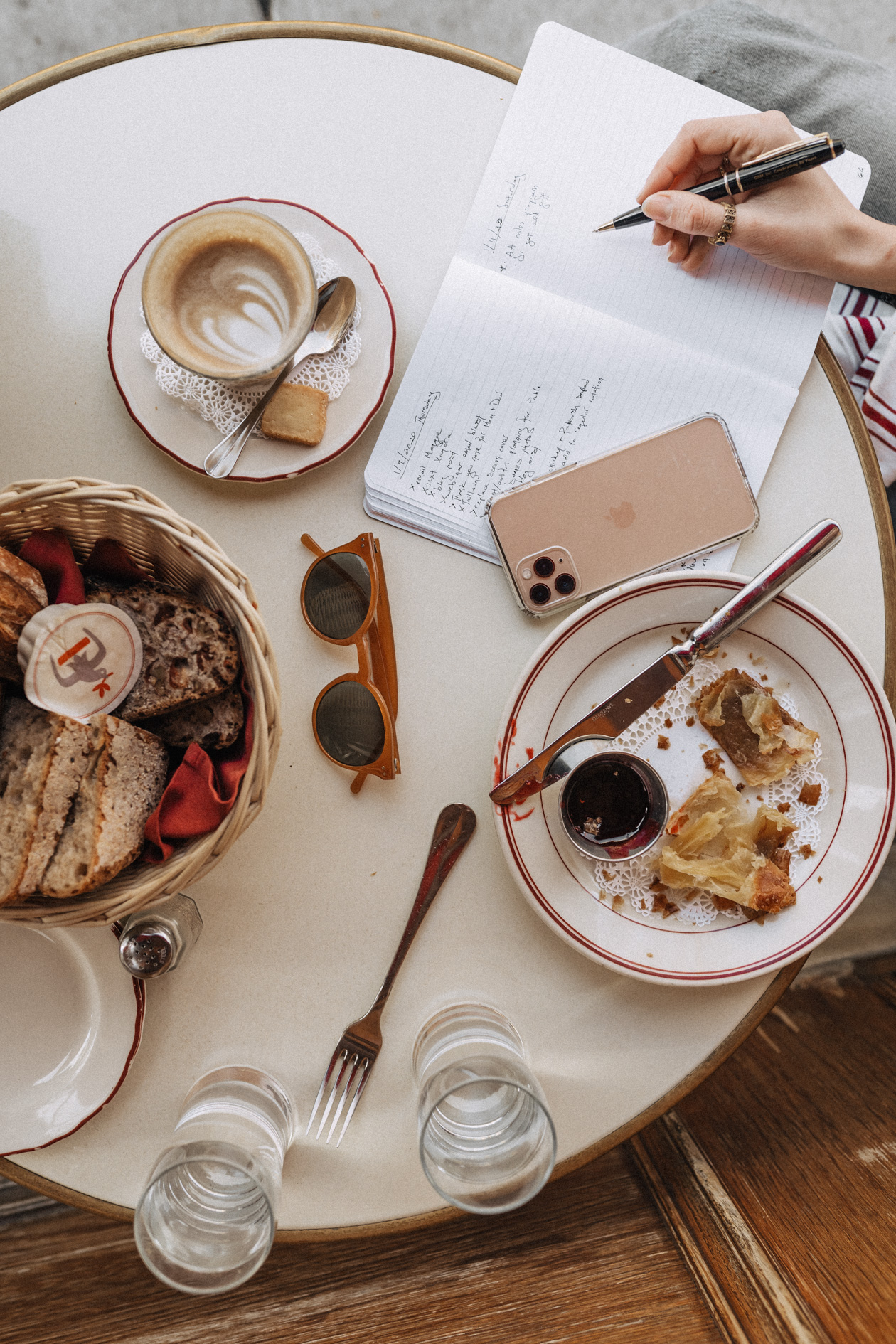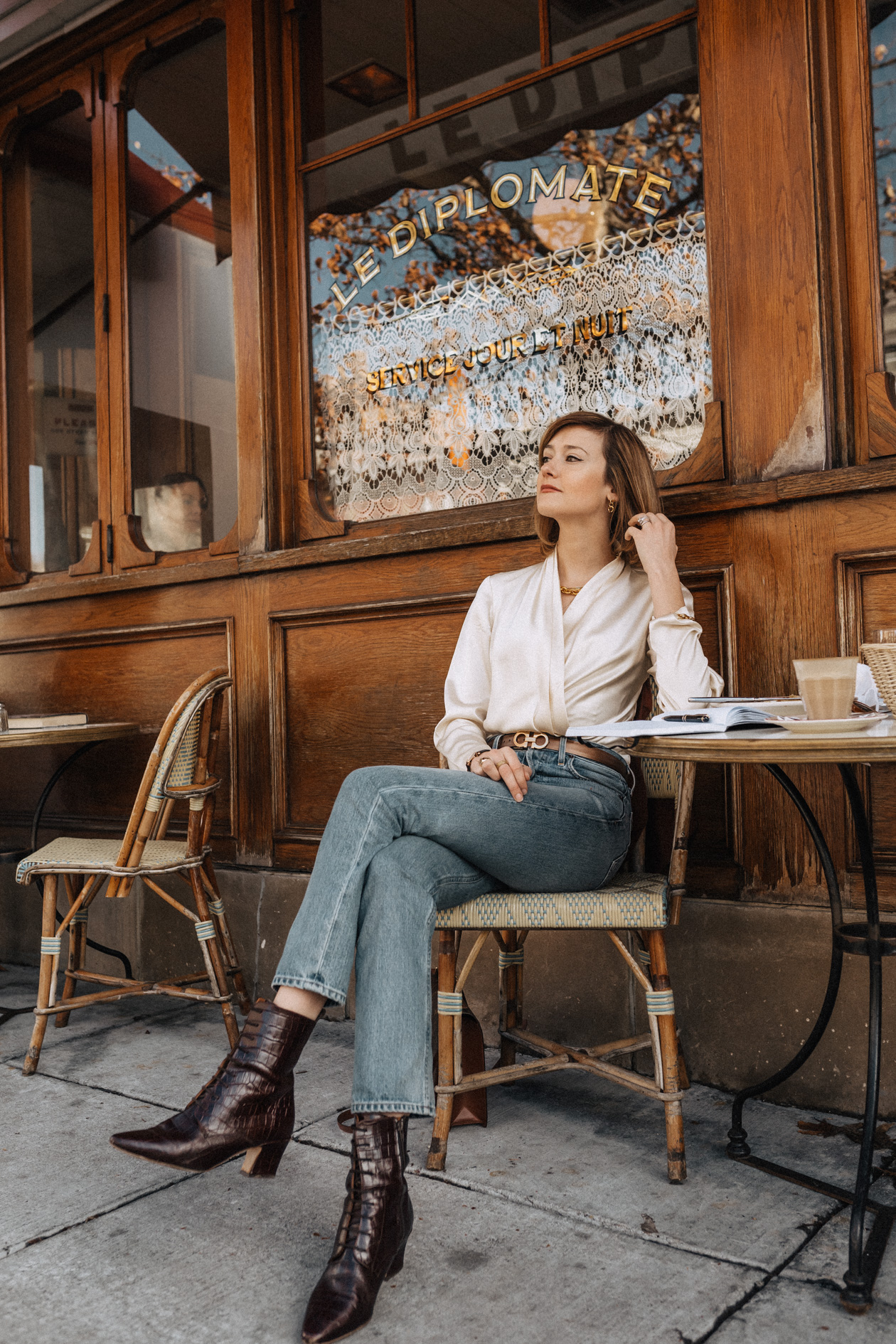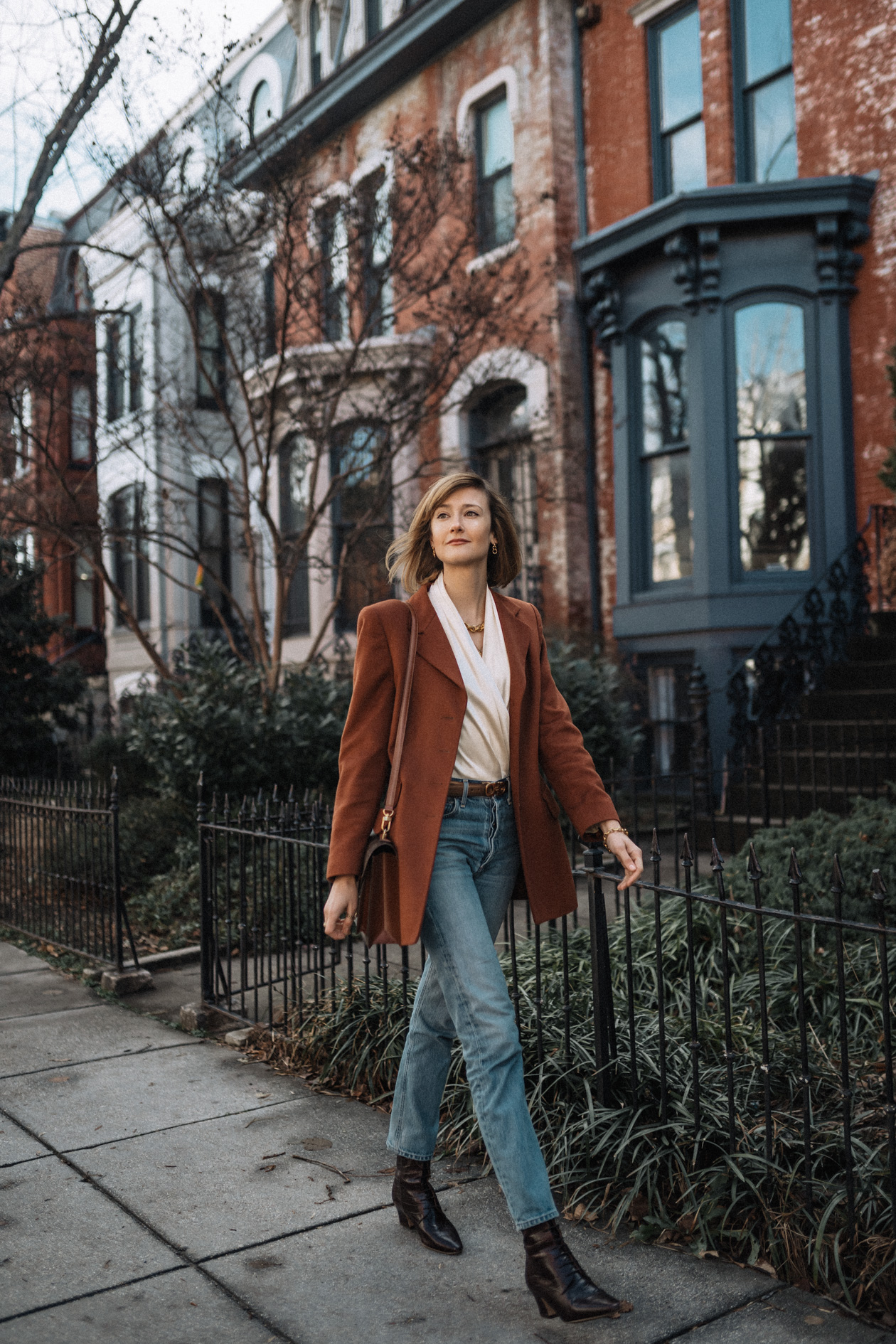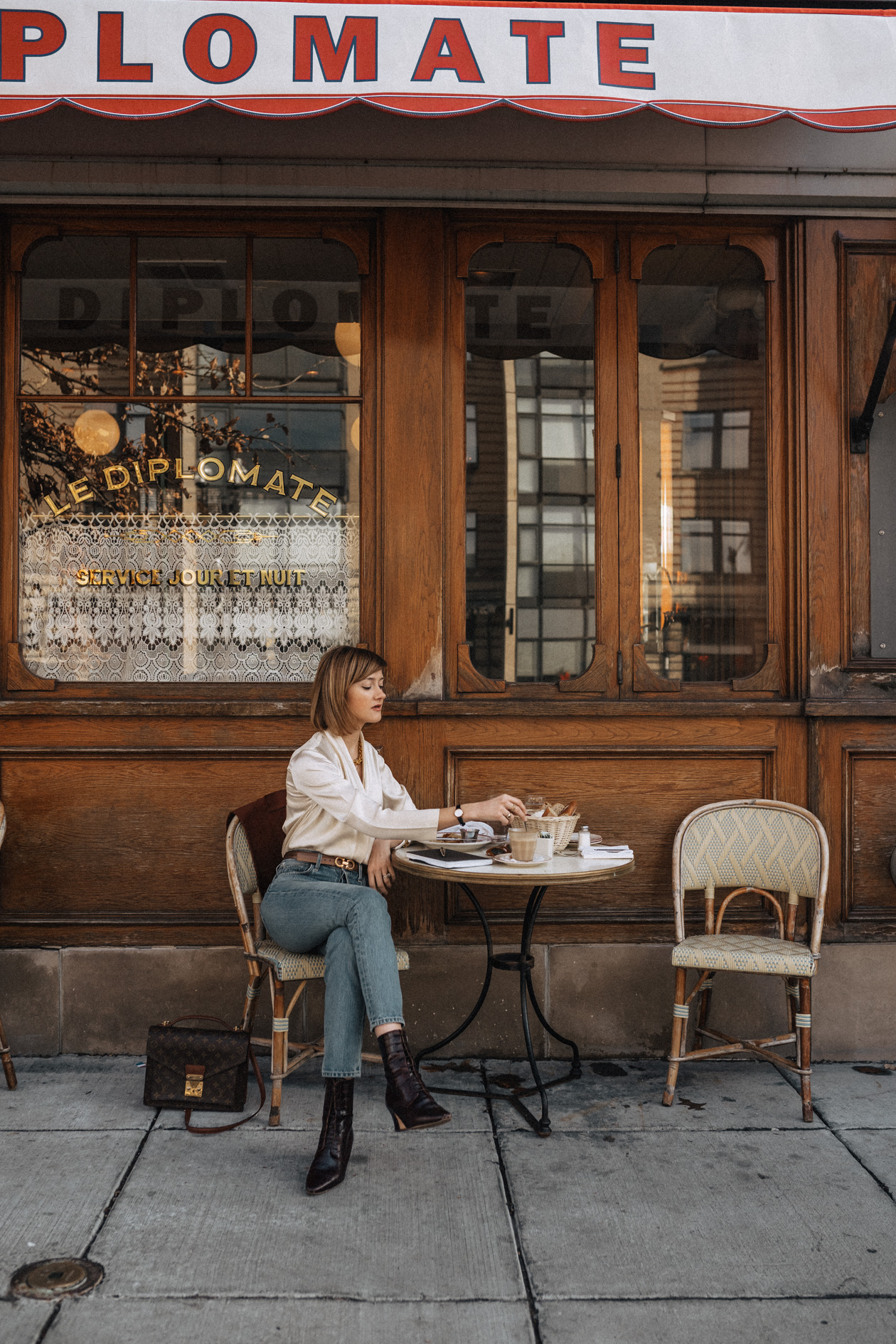 wearing chain necklace, vintage satin wrap blouse (similar), vintage Escada blazer (similar), Ferragamo belt, Citizens of Humanity jeans, Miista boots, Louis Vuitton bag
I used to religiously use day planners and I'm really not sure why I stopped (I honestly think I was trying to use less paper, which is dumb if using a little 100 page notebook once a year generally improves my quality of life). Sometime last year, I felt really frustrated after a family vacation, because I felt I had a hazy memory of what we had done and felt scatterbrained about life in general. So I decided to look into bullet journaling and was pleasantly surprised by how quick and easy it is to pick up the system. It didn't take long for me to see the benefits. I'm able to prioritize better, no longer feeling like I'm pingponging through a million menial tasks throughout the day, but actually accomplishing a streamlined list of items by order of importance. I also find keeping a log of completed tasks and projects is super satisfying and motivates me to accomplish more. For life events, it's a great way to create a timeline of memories for things like vacations and visits from loved ones.
Now I'm sure you've all seen the insta-worthy bullet journals with beautiful illustrations and colors throughout, but I like to keep mine as simple as possible. The goal here is to save time, not add another item I have to maintain to perfection. I pretty much follow the original guidelines set by Ryder Carroll to a T. He created a nice abbreviated system for organizing one's time with flexibility to readjust as priorities inevitably change. Since I've been using this system, I've noticed a huge dip in my work-related stress and general anxiety. I actually look forward to setting up my tasks and schedule first thing in the morning and I feel prepared to tackle my day. It's a huge confidence boost when you're on top of your sh*t.
A quick google search will show you loads of pre-fab bullet journals you can buy, but I find a simple lined moleskin notebook to be the best. The nice thing about this system is the flexibility to make it your own.
Got questions about bullet journaling? Shoot me a question in the comments!
Photos shot by Pablo Raya at Le Diplomate.