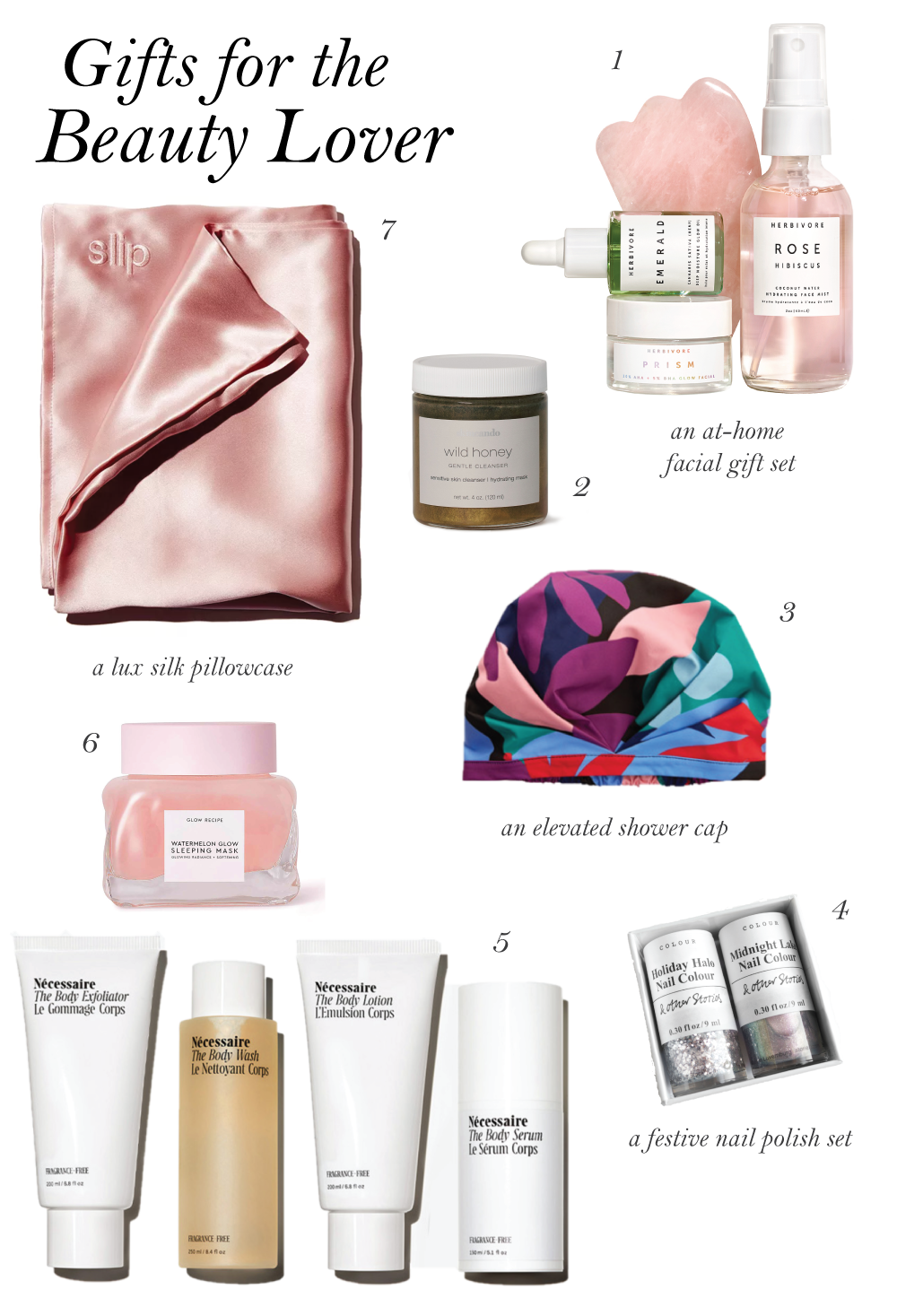 1. an at-home facial kit, 2. wild honey cleanser, 3. an elevated shower cap, 4. a festive nail polish set, 5. Necessaire The Body Collection, 6. watermelon sleeping mask, 7. a lux silk pillowcase
We're coming down to the wire! But if you're like me, there's still a bit of last minute holiday shopping to do and beauty gifts make great stocking stuffers! Once again, this list includes products I already own and love or ones I would love to receive. All of these will arrive by Christmas, too!
The moment I saw this at-home facial set was on sale, I immediately wanted it for myself. Herbivore makes awesome clean beauty products and who wouldn't want an excuse for at-home pampering after the holidays?
Another one of my clean beauty favorites, this wild honey cleanser is gentle enough for sensitive skin and it's pretty too! Packed with high-quality ingredients like Cretian wild honey, reishi mushroom, and gold, you can use this as a hydrating mask to calm your skin while gently exfoliating. This little product really does it all and it's a safe bet for anyone with sensitive skin.
I try my best to do weekly hair masks, but I'm 99% sure I never leave them in as long as I'm supposed to. Traditional shower caps are ugly, not to mention uncomfortable. With this glamorous wrap-style shower cap, I picture myself lounging chicly in a chair, flipping through a magazine in spa-like luxury. 
What girl doesn't love a fun nail polish set? This one is perfect for New Year's Eve and makes for a very affordable stocking stuffer.
Ok this is definitely the most selfish gift idea on the list, but I loooove my Necessaire body wash and moisturizer and I'm dying to try the exfoliator and serum. Considering the individual products usually go for $25-$30, this full-size gift set is a pretty great deal.
You know I love clean beauty, but it's equally important to me that it's effective. I'll be the first to admit I have no idea how this magical watermelon sleeping mask works, but when I wake up in the morning, my skin is as soft as can be. Comes in a nice mini size too, which makes for a another great stocking stuffer.
I swear by my silk pillowcase for protecting my skin and hair while I sleep. In fact, I even travel with it. I'm willing to bet anyone who gets this as a gift will love it as much as I do. Oh, and it comes in a range of colors!
P.S. Don't feel bad about picking up a few of these for yourself. We all deserve a little self-care this time of year!