Believe it or not, we do host dinner parties since having a child, but they're much more hastily-thrown together than they used to be. Recently Calvert Woodley reached out about helping me host a special event and it was the perfect excuse to plan a dinner party like we did back in the days before child. Honestly Calvert Woodley had me at hello, because I've been frequenting this DC institution for over 10 years now. Even when I was on a tight budget in my 20's, it was a great place to scour their bargain bin and find great deals on wine and spirits. As my husband and I started to learn more about wine (and our budget increased), we came to appreciate their fantastic selection of wines from all over the world. and most recently became big fans of their wine sampler boxes, which include themes like Wines over 90 Points and Petit Châteaux Bordeaux Blend.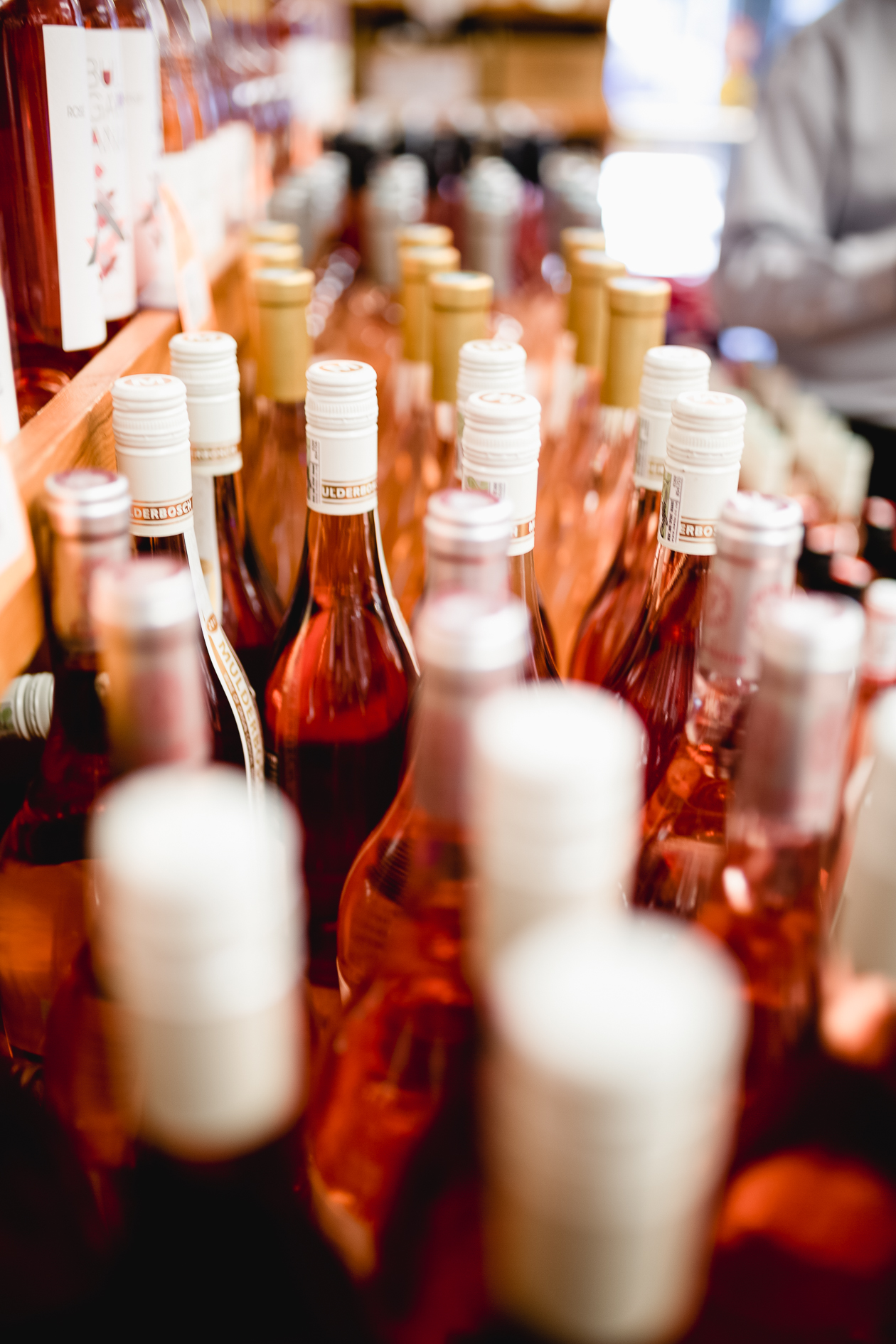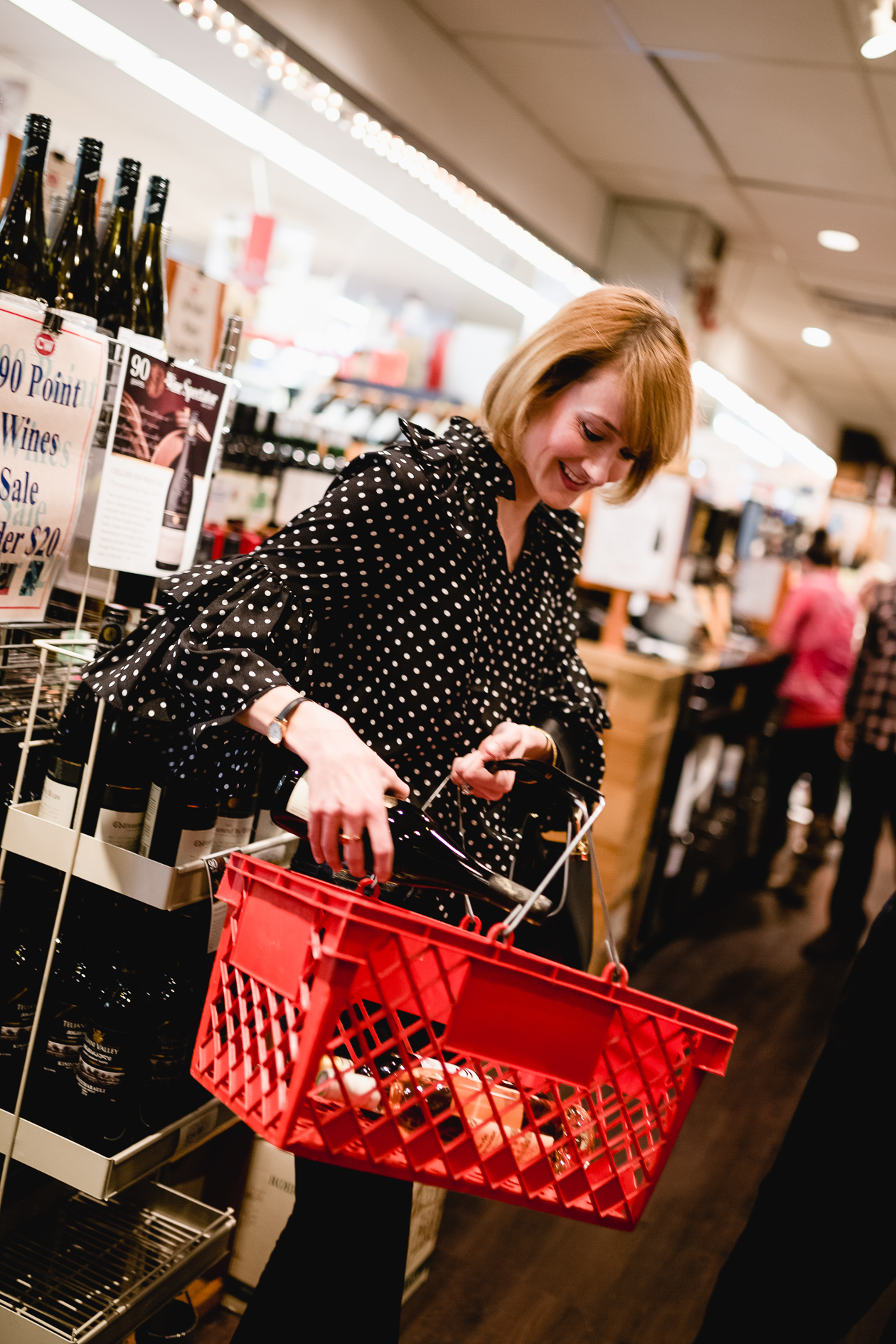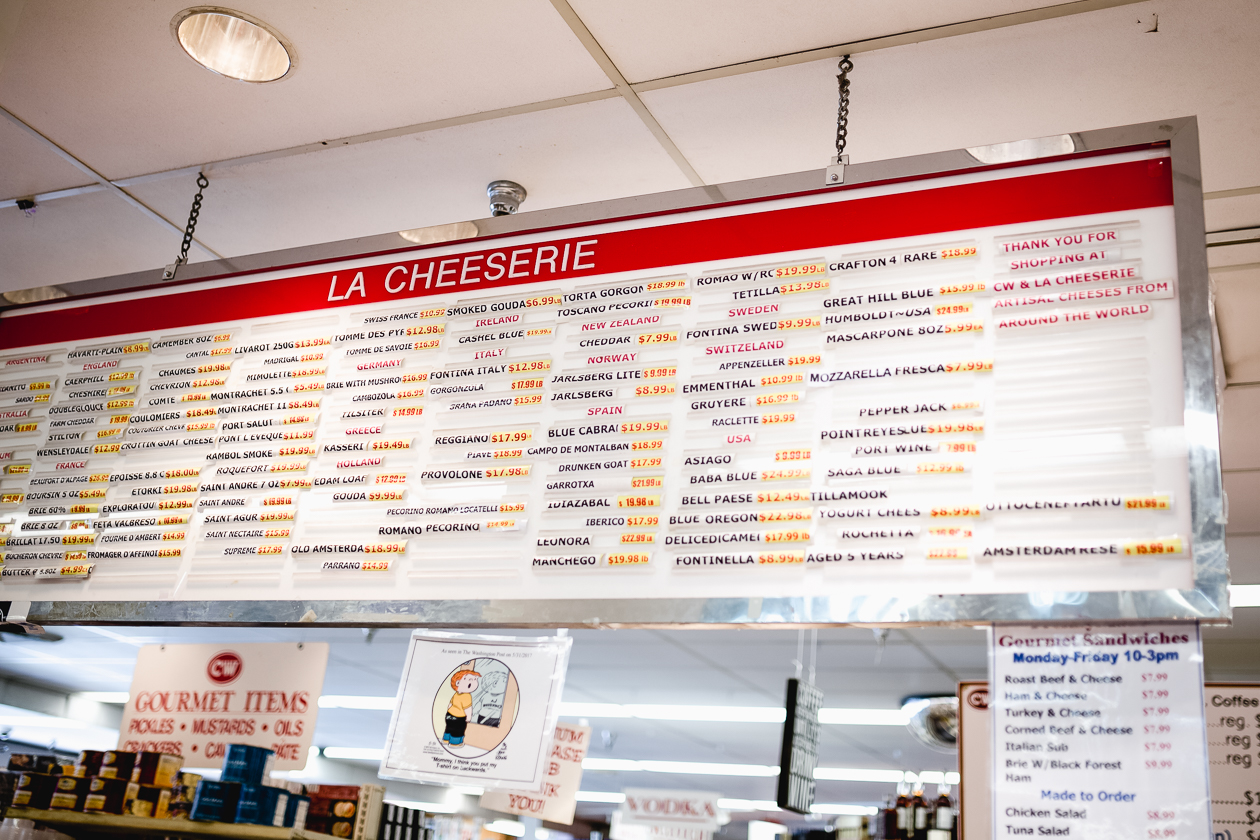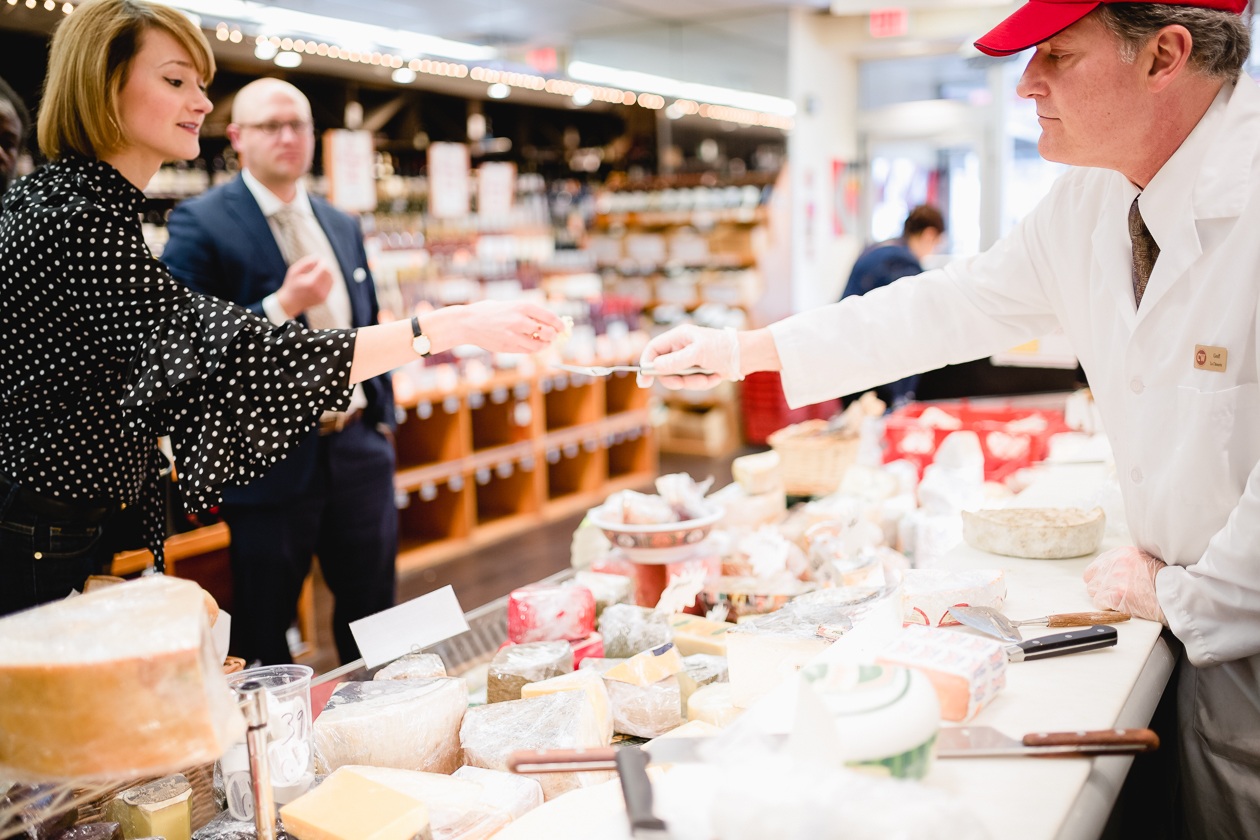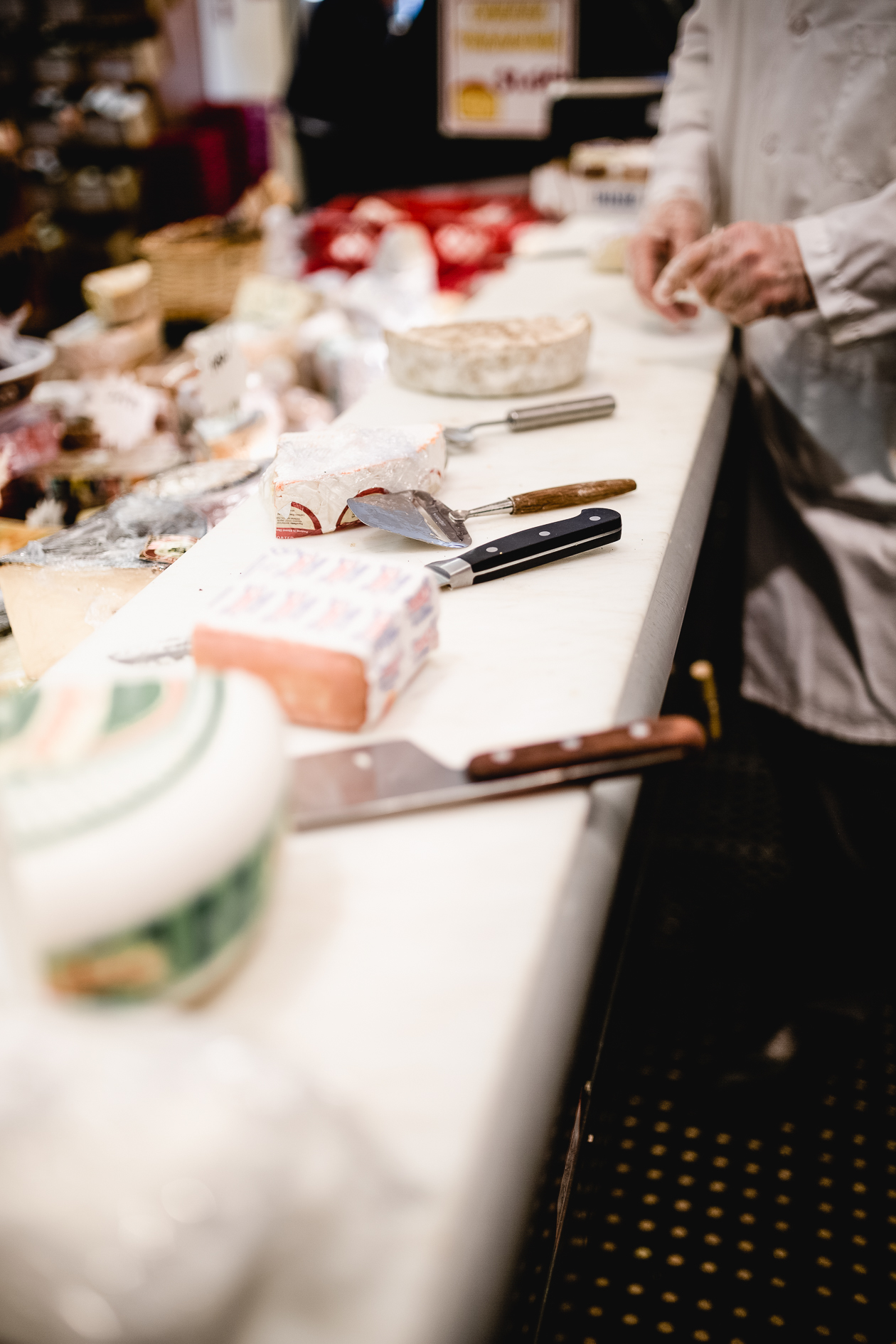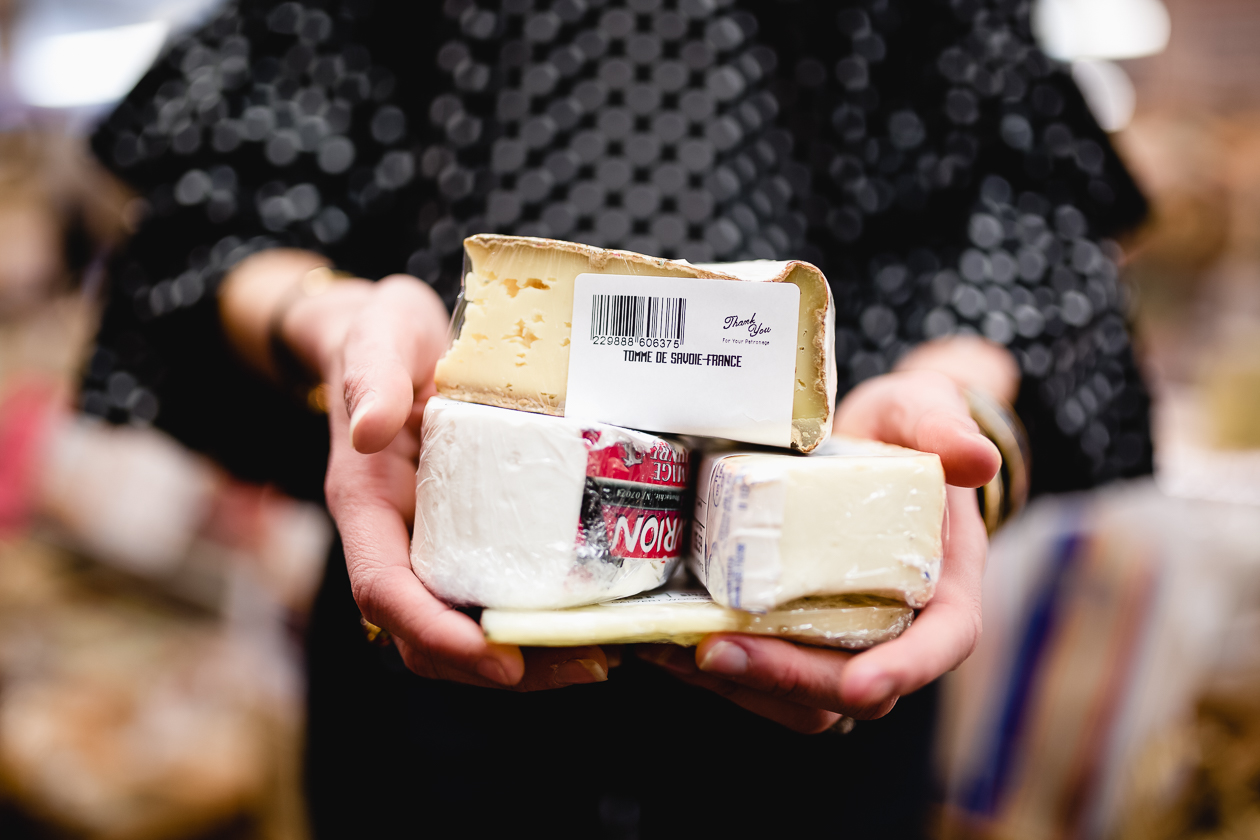 If you come in to shop at the store, you'll find experts in every area. When we selected our wine pairings for dinner, we got direction from Bill Hunter, a level 2 sommelier with over 30 years in the restaurant industry. He recommended four fantastic wines, all of which were very reasonably-priced and all of which we would purchase again in a heartbeat. At the cheese counter (affectionately call La Cheeserie), Geoff Romaine (another industry expert with over 27 years of experience) recommended three different varieties of cheese for our pre-dinner cheese board, plus the perfect accoutrements for each one, and a nice creamy goat cheese for my chèvre chaud salad (more on that below).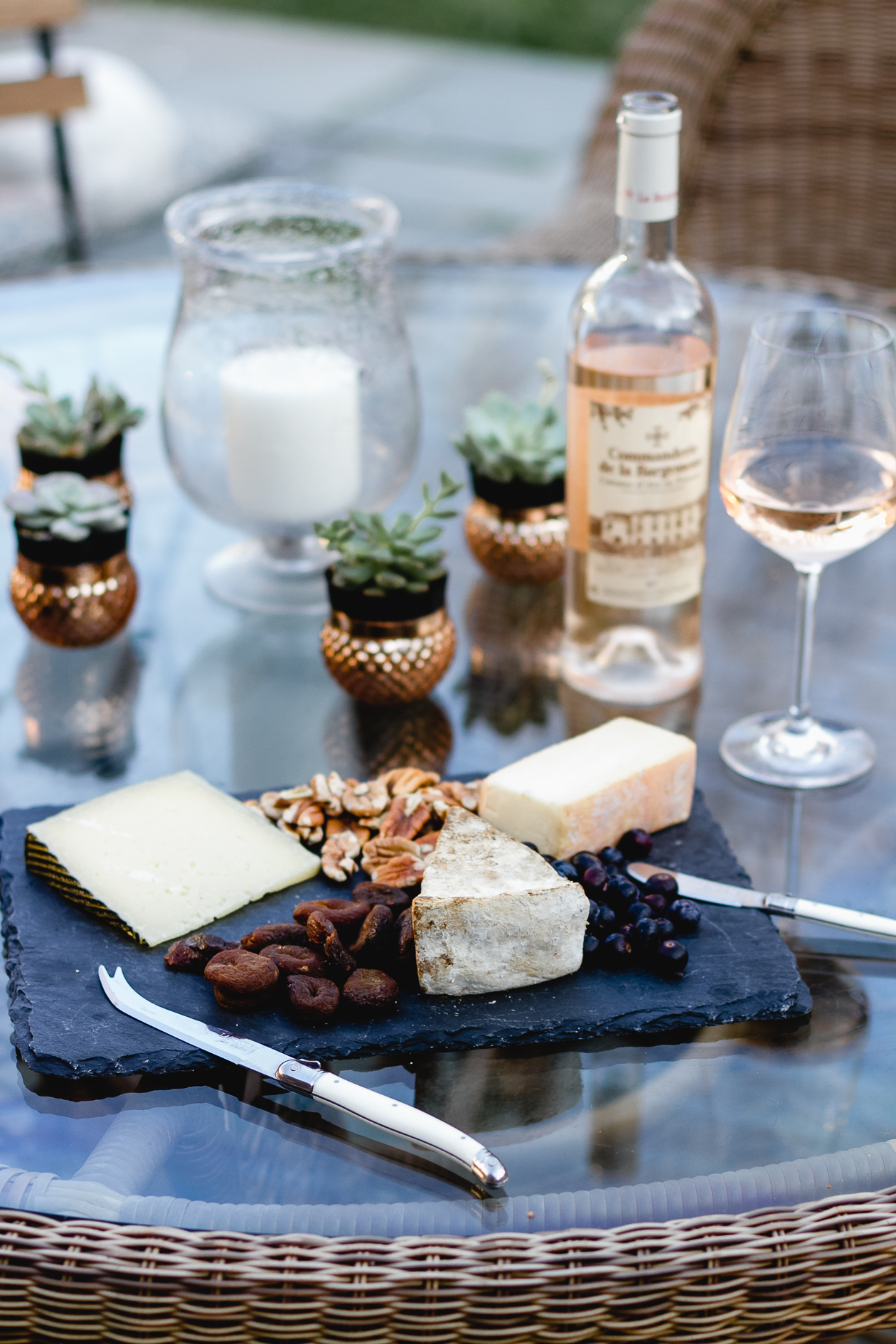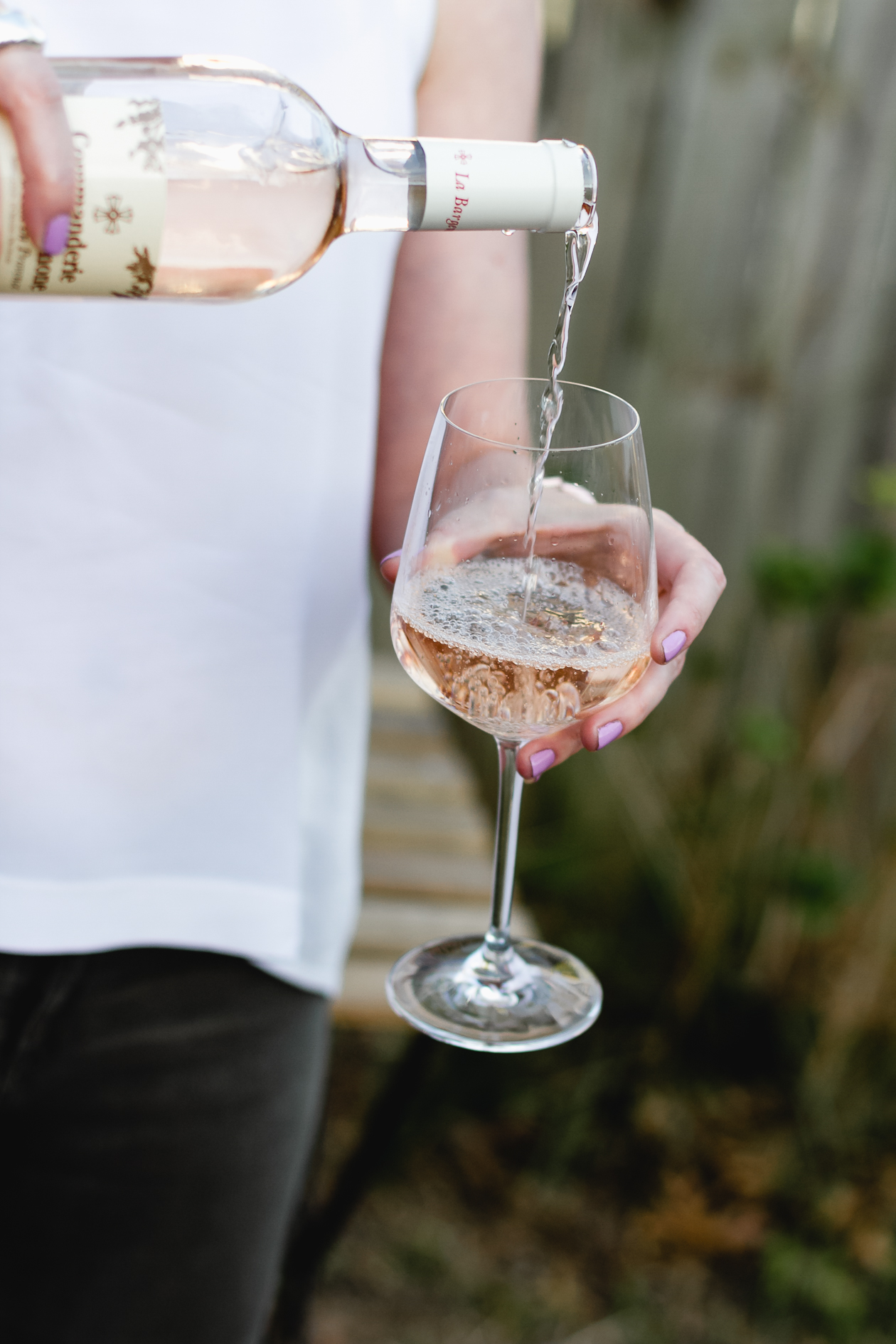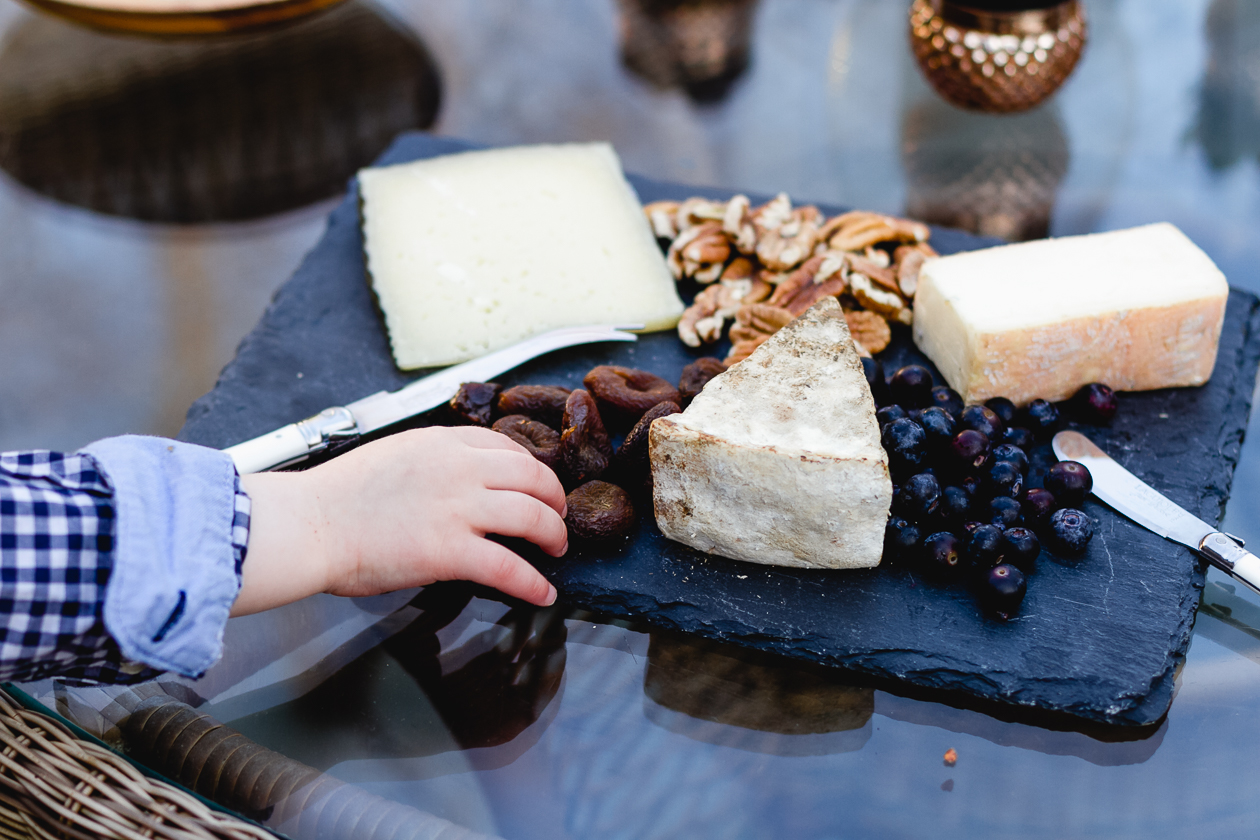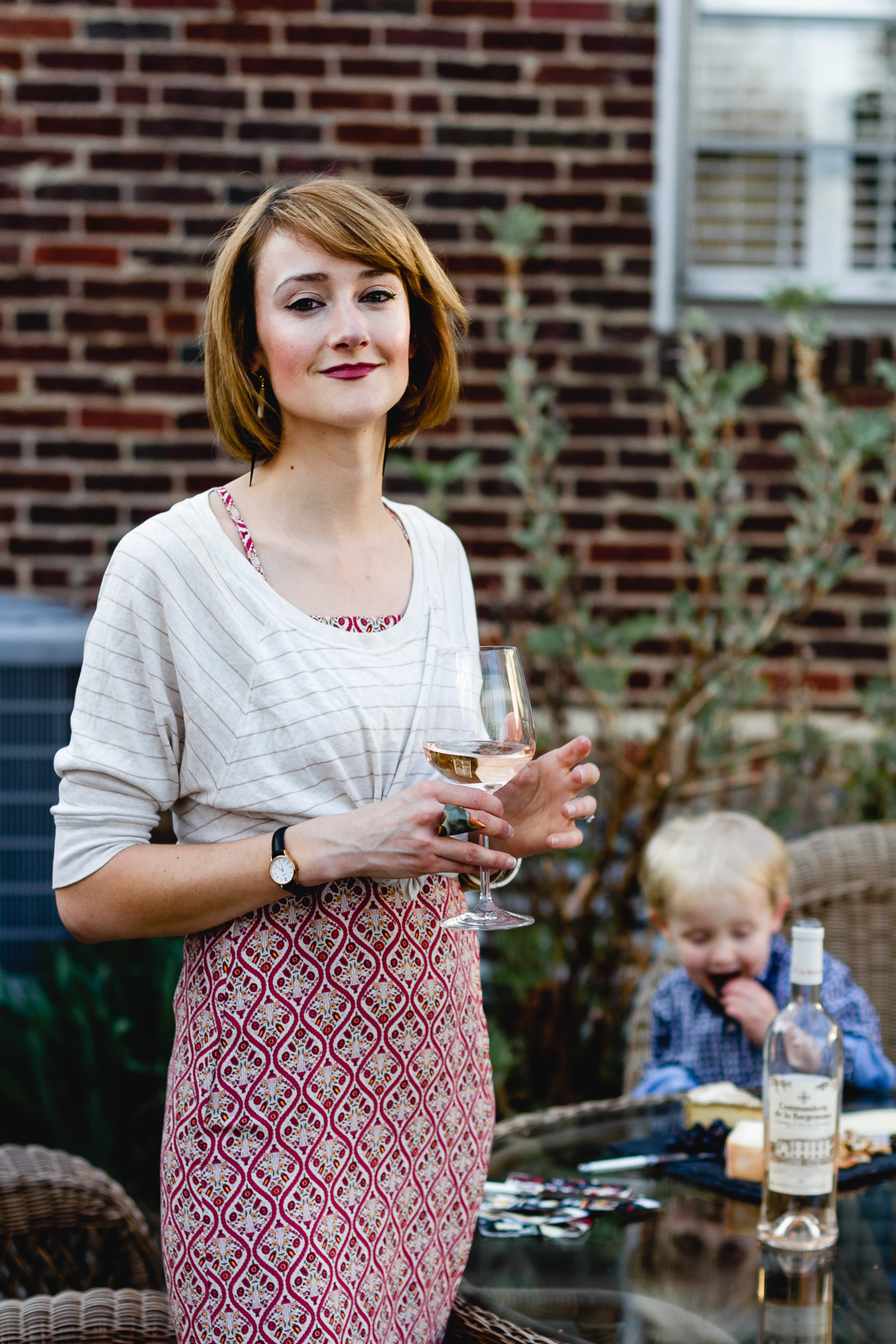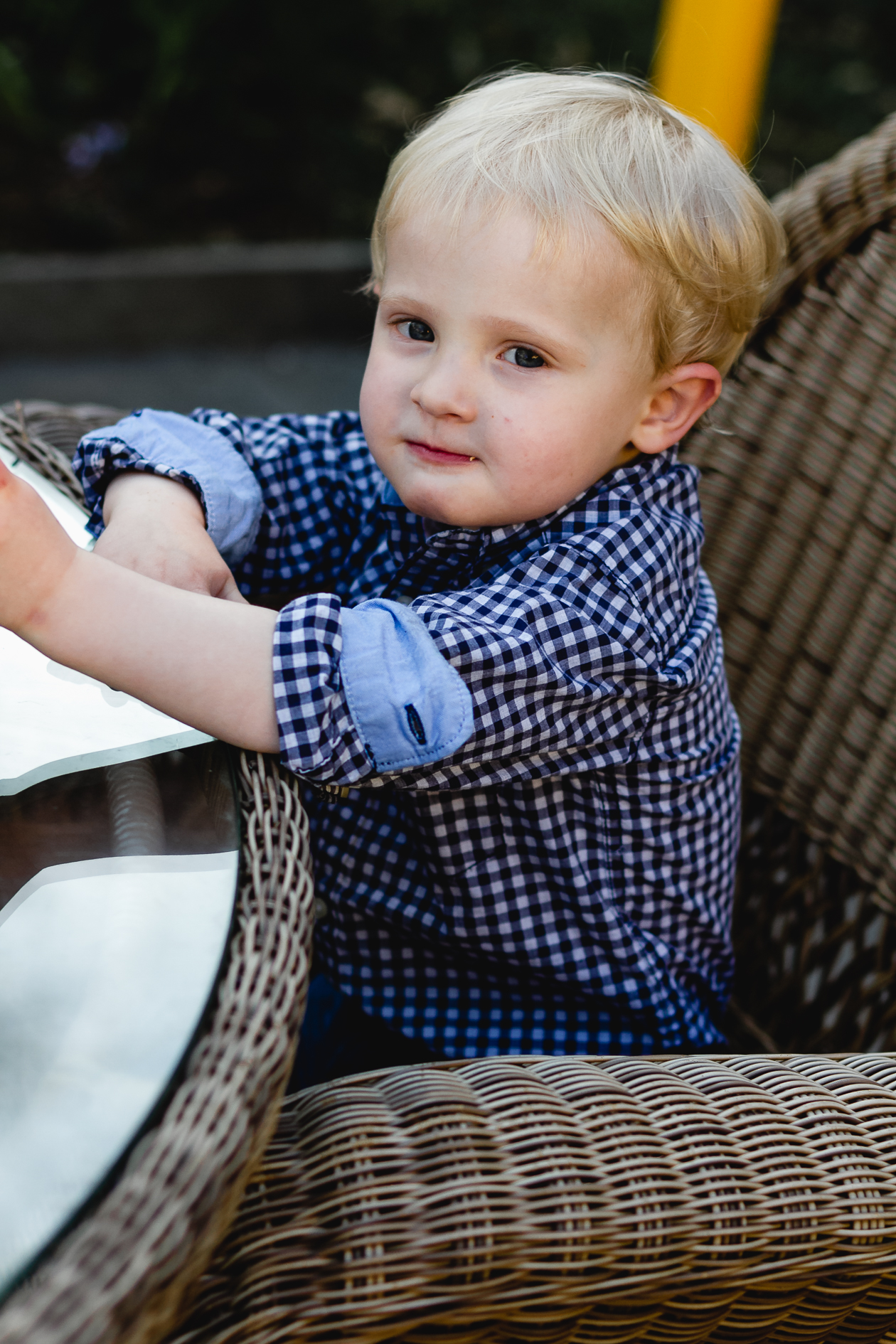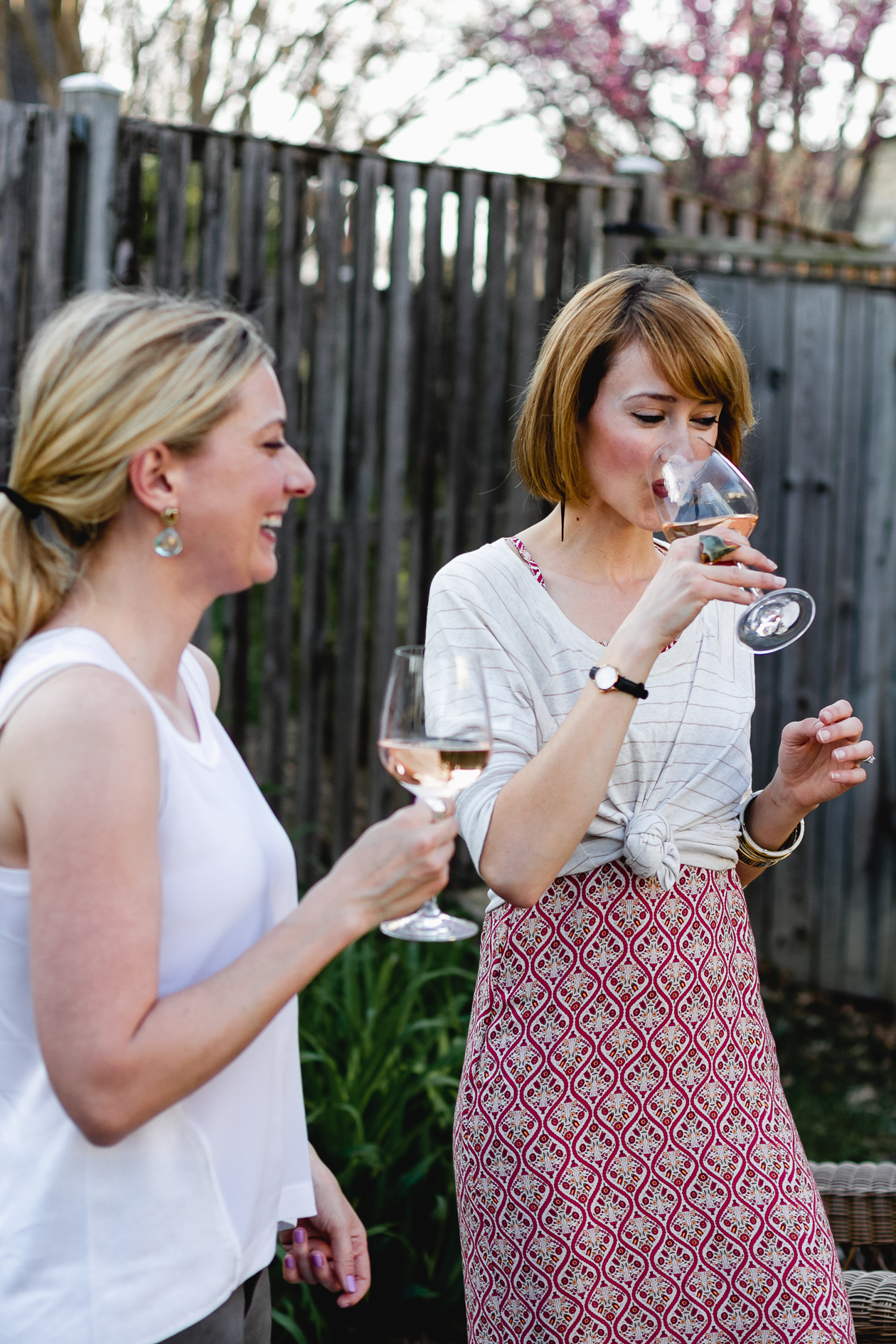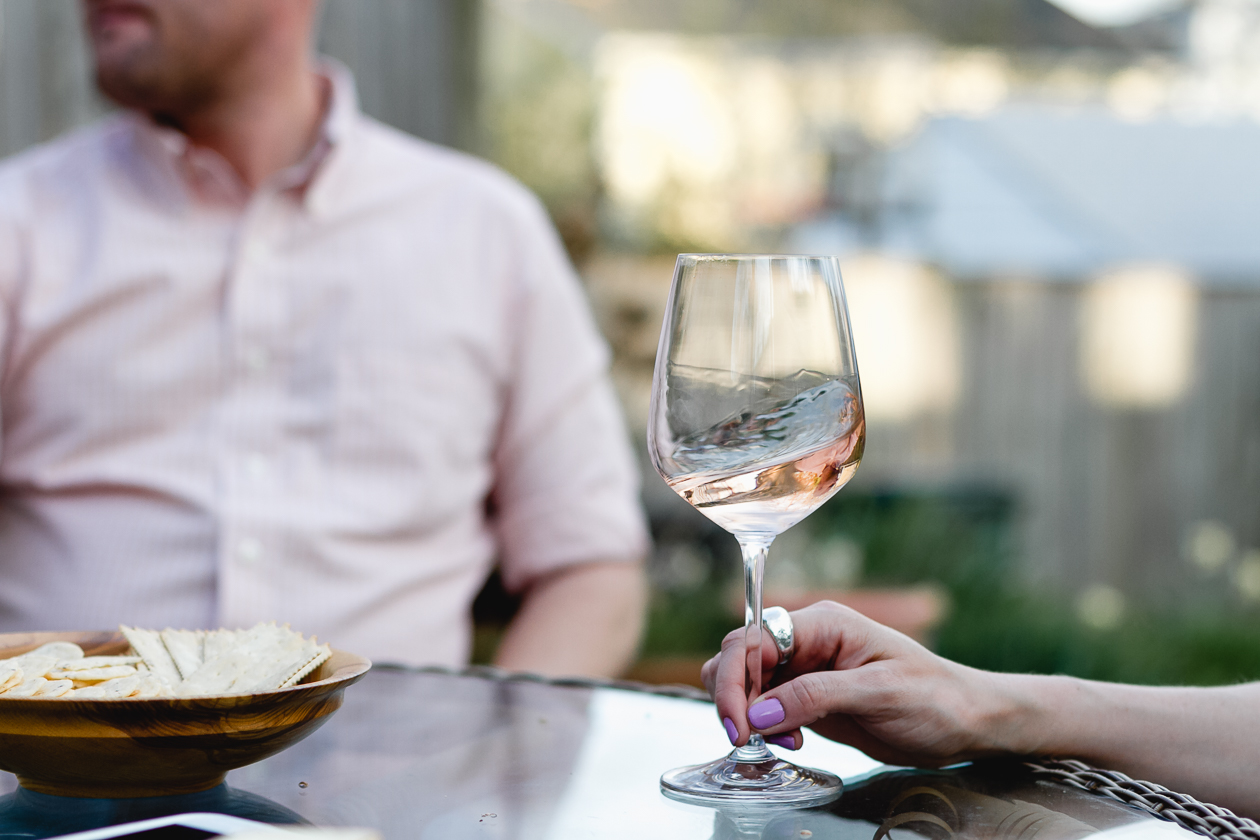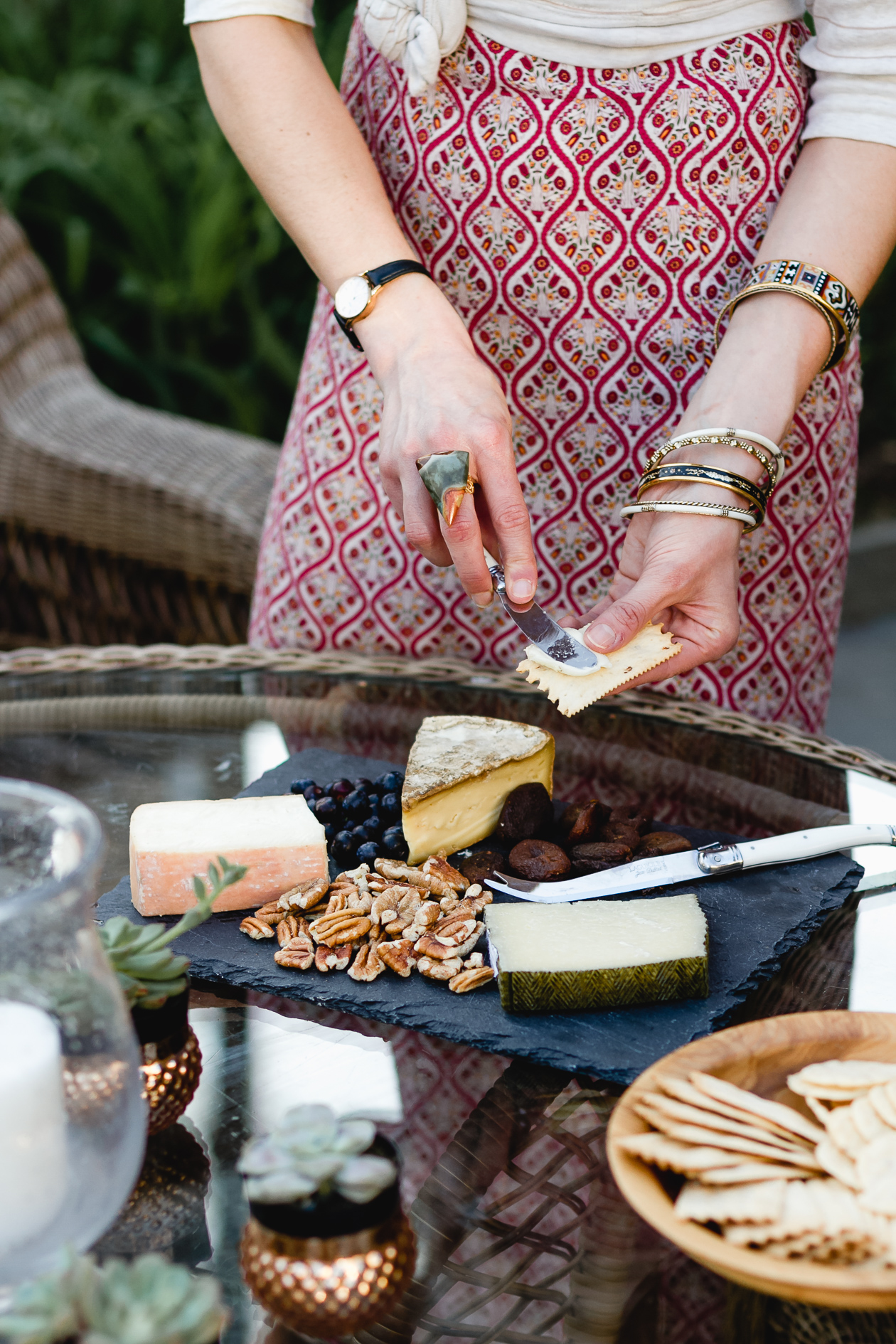 So the onto the party! Since we wanted the wines and cheeses to be the stars of the show, we went with a decidedly French-inspired meal with steak for the main. We started off with a cheese board of Campo de Montalban, Taleggio, and Tomme de Savoie paired with blueberries, dried apricots, and toasted pecans (hand-picked by us at B's parents' home in New Mexico!). My son was the first one to dig in, of course. Per Bill's recommendation, we (the adults) enjoyed the cheeses with a Commanderie de la Bargemone rosé – one of Dave McIntyre's summer favorites and honestly one of ours now, too. A tip from Bill: chill the rosé overnight and then take it out 20 minutes before serving so it has a chance to warm up a bit!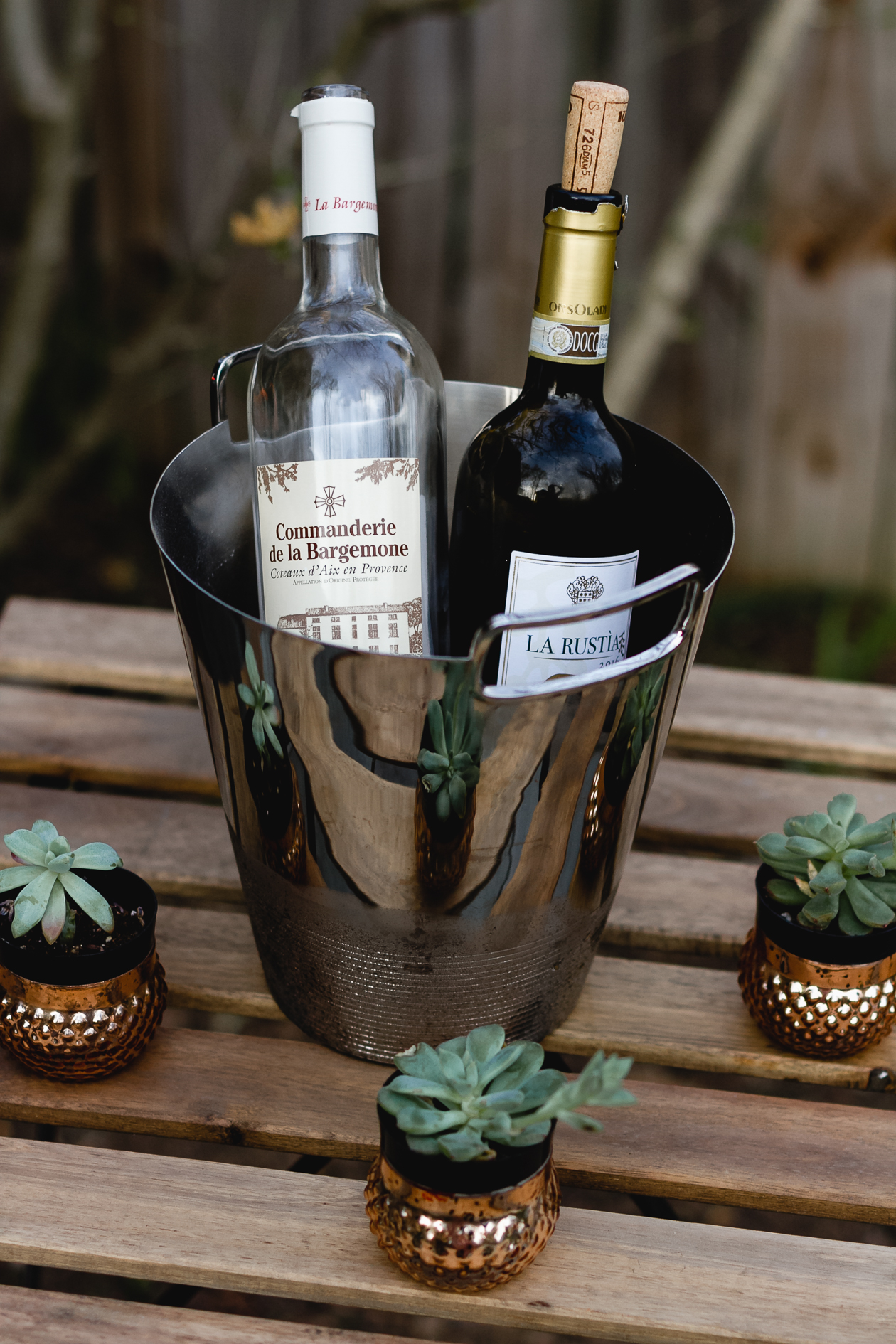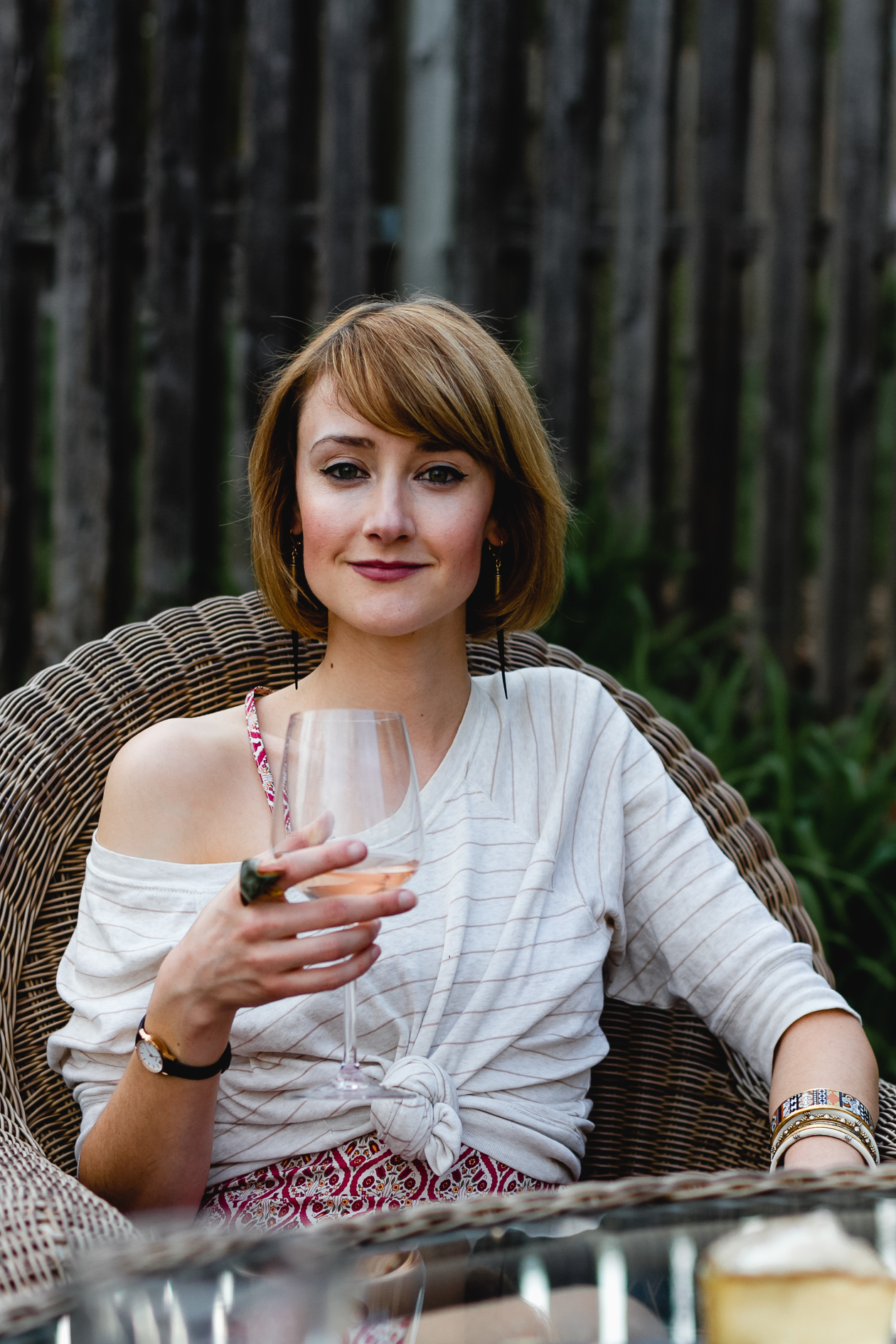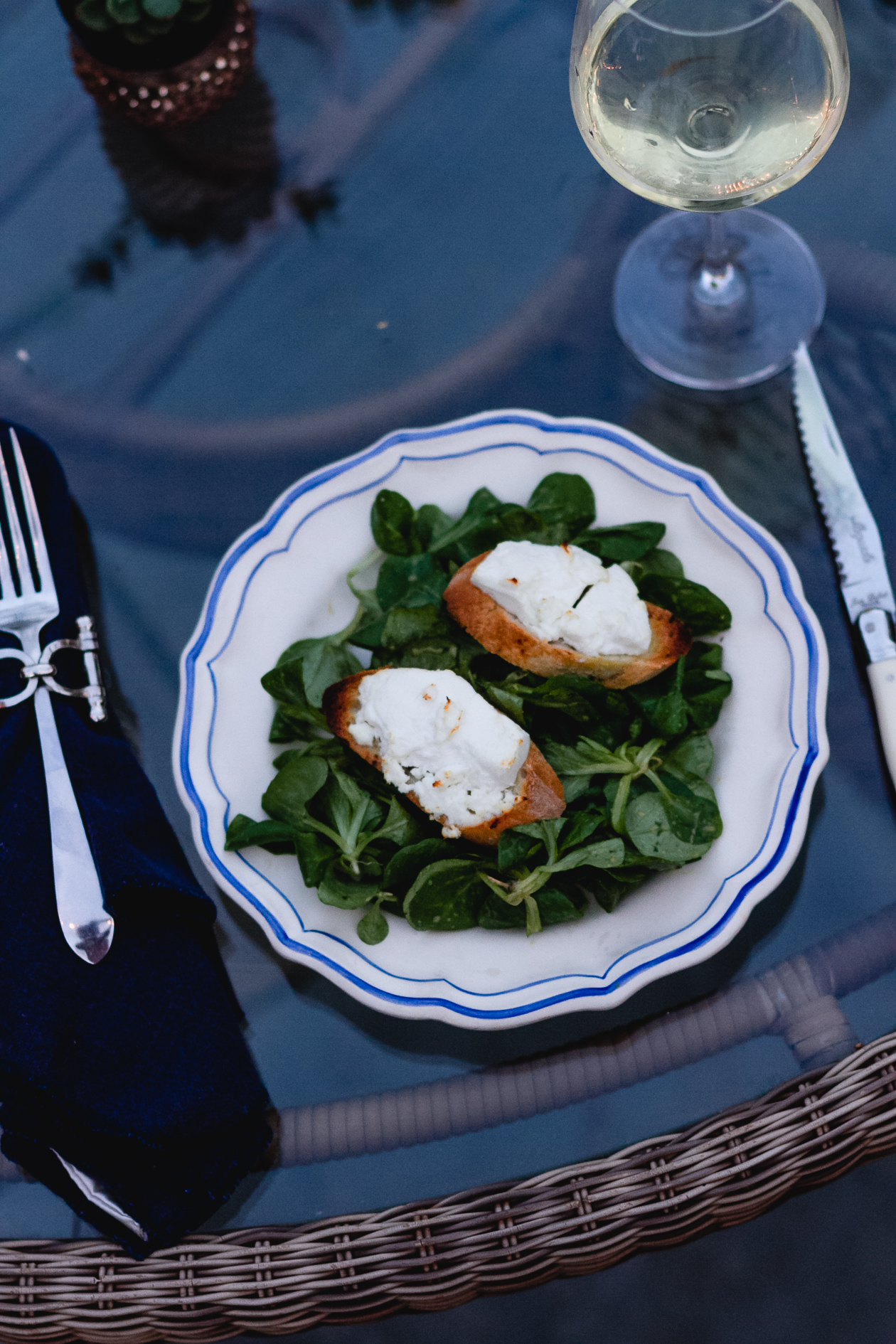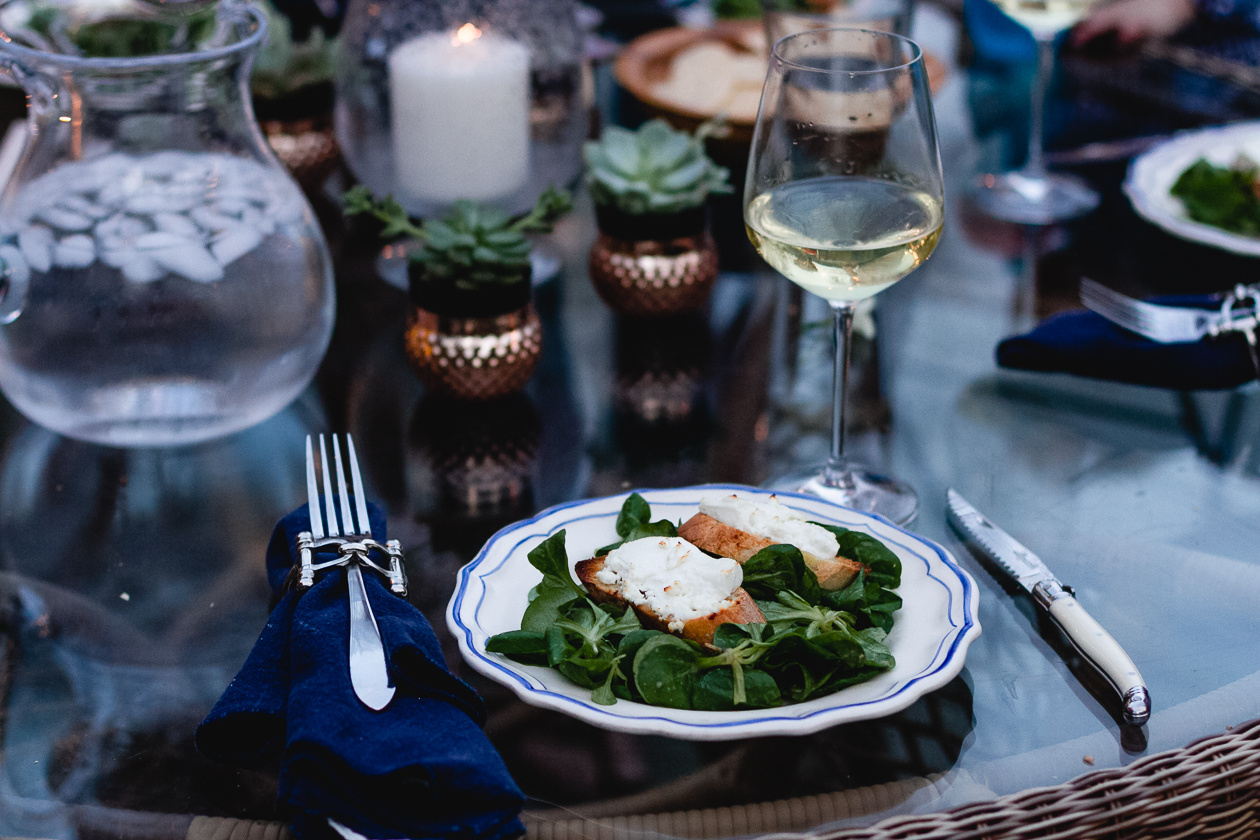 Fun fact: chèvre chaud salad is one of my favorite things in the world. When I spent a year abroad in Paris, I had it multiple times and learned what it truly meant to love a salad. It's ridiculously simple, but the flavors are so so perfect together – creamy goat cheese, tangy vinegar, and a little sweetness from the honey. Make it with a delicate, but slightly nutty lettuce like mâche and you can't go wrong. Dave's recommendation was to have it with Orsolani's Erbaluce di Caluso – a lovely Piedmont white with stone fruit flavors.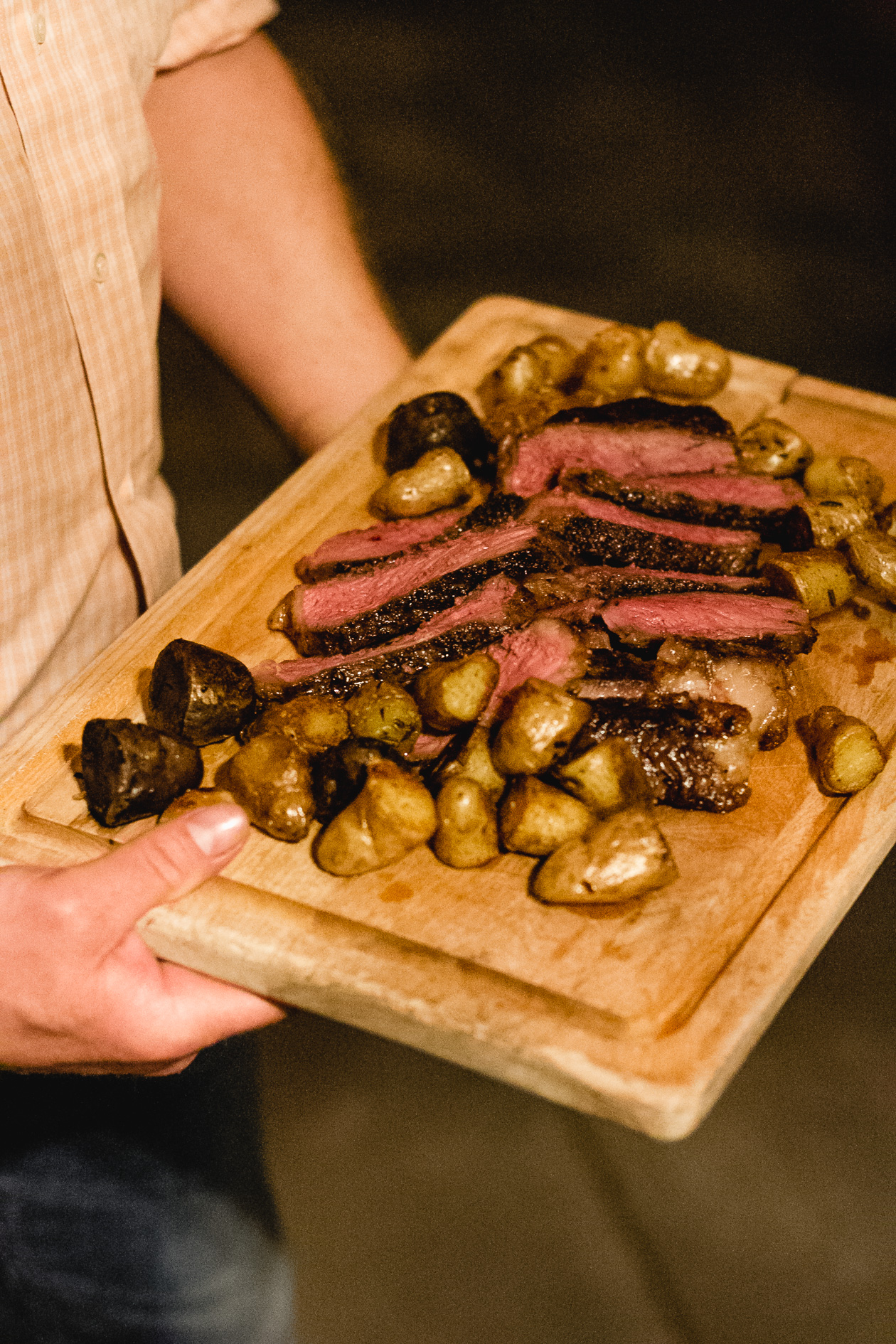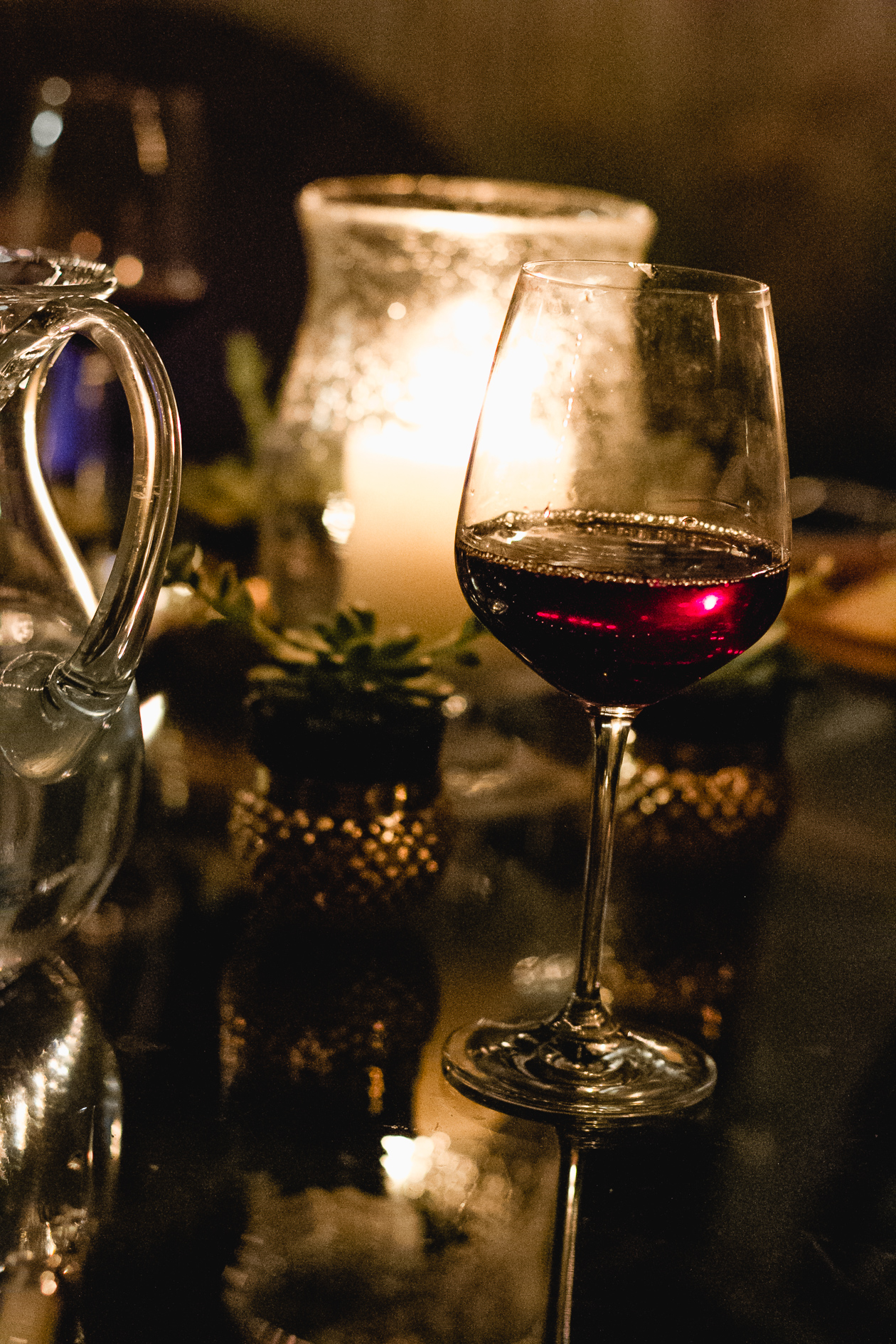 La pièce de résistance was a cast iron-seared steak with shallot butter sauce and beef fat fried potatoes. We picked up the skillet technique from Alison Roman's "Dining In," but B's addition of the shallot butter sauce really made the magic happen. We started with a burgundy pinot by Thevenet & Fils and finished with Agricola Punica Montessu Isola dei Nuraghi – a really nice, full-bodied red that finished wonderfully with a 5 year aged gouda (a perfect pairing recommended by Bill).
---
Recipes
Chèvre Chaud Salad
3 tablespoons olive oil
1 tablespoons honey
1 tablespoons Dijon mustard
2 tablespoons white wine vinegar
Salt and pepper
mâche lettuce (but any small mixed green will do)*
1 baguette sliced about 1/2 in thick (you'll use 2 per salad so plan accordingly)
1 log of good creamy goat cheese, again sliced about 1/2 in thick and 2 per salad
** Make sure you rinse the greens well if using mâche because they can be a little sandy.
Heat the oven to 400ºF.
While the oven is heating, whisk together the first four ingredients and season to taste with salt and pepper. Set aside.
Brush the bread slices with a little bit of olive oil before toasting each side lightly. Top each with a slice of the goat cheese and place them in the oven for another 3-5 minutes until they begin to brown a bit on top and look puffed and molten. Watch them closely so they don't burn!
Toss the greens with the dressing. Make a nice bed of greens on each plate and top with two of the toasts.
Cast Iron-Seared Steak
1 (1 1/4 to 1 1/2 lb) rib-eye steak, 1 1/4 to 1 1/2 inches thick
sea salt and pepper
1 tablespoon olive oil
Season the steak with salt and pepper. Let it sit at room temperature for at least an hour before cooking.
Heat the oil over high heat in a large (preferably cast iron) skillet until the oil starts smoking a bit.
Add the steak and let it cook on one side until it forms a deep, golden brown crust (about 6-8 minutes). Resist the urge to touch or move it in any way!
Flip the steak and cook on the other side until it gets the same golden brown crust.
Transfer steaks to a warm platter and keep warm while you make the shallot butter sauce below.
Shallot Butter Sauce
4 tablespoons butter
3 tablespoons finely chopped shallots
1 teaspoon finely chopped garlic
1 teaspoon fresh thyme leaves or 1/4 teaspoon dried
1 tablespoon good white wine vinegar
4 tablespoons finely chopped parsley
Add 2 tablespoons butter to the skillet and when melted, add the shallots, garlic and thyme. Cook briefly until wilted, but do not burn. Add the vinegar, cook briefly and swirl in the remaining butter and the parsley.
Remove skillet from heat and add the steaks and any juices that have accumulated on the platter. Blend well, and serve immediately with the shallot butter over the steaks.
Many thanks to Calvert Woodley for providing the wine and cheese and all the thought and care you put into making this a truly special evening! Thanks Emily Goodstein for taking the fantastic photos in the store!