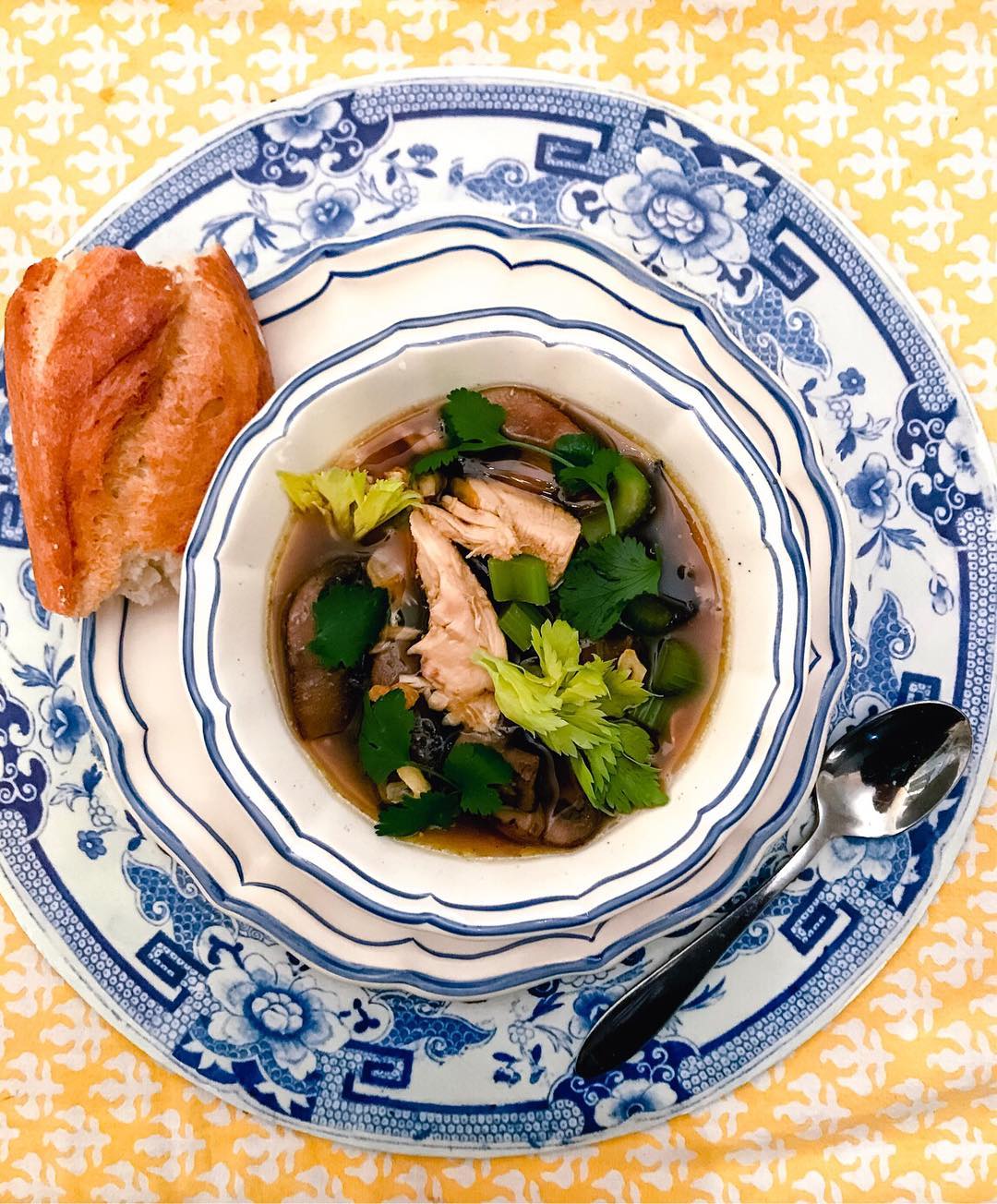 I've been bad about sharing recipes lately and part of that is because we had gotten kind of a rut. We don't have a ton of time to try really involved recipes so we tend to fall back on our tried-and-true favorites. But for Christmas my mom got me Alison Roman's "Dining In" and it's been a total game changer. None of the recipes are particularly complicated and all them incorporate interesting ingredients that I might not have used otherwise. One of my favorites is her golden chicken broth. I never tried making my own broth before because I always assumed it was time-consuming and costly because it required whole chicken pieces. I could not have been more wrong as Alison was unashamed to admit she saves chicken bones and carcasses for such occasions. We used the leftovers from a rotisserie chicken and it proved more than sufficient for a flavorful broth. I loved the unexpected flavors of fennel and turmeric in her recipe. The first time I made it, I followed it to a T, since we were spending a lazy, rainy Sunday at home. The second time, I didn't have as much time to kill, so I threw everything in a slow cooker, cooked it on low overnight, and was pleasantly surprised to find the same velvety broth in the morning. The beauty of this recipe is that you can easily tweak it according to what ingredients you have on hand – no fresh ginger or turmeric? Just used powdered. No fennel? Just use the celery and maybe throw in a carrot or two. Sear the ingredients in a pot beforehand if you have time; don't bother if you don't. At the end of the day, it's just chicken broth that you'll most likely use with something else. We use ours to make lentils, sauces, even add flavor to frozen peas on weeknights. Oh yeah, and as a base for the obvious chicken soup, like the one pictured above.
Slow Cooker Chicken Broth

1 large yellow union, unpeeled, halved
2 heads of garlic (peel and all), halved crosswise
2 (2 inch) pieces fresh turmeric, peeled and halved lengthwise, or 1 teaspoon ground
1 (4 inch) piece ginger, peeled and halved lengthwise, or 1 teaspoon ground
4 celery stalks, chopped
1 large fennel bulb, chopped
2 fresh or dried bay leaves
2 whole star anise or 3 whole cloves
1 (3 1/2 to 4 pounds chicken carcasses, backbones, and/or wings)
salt and pepper
If you have time, add a tablespoon of oil to a pot and sear the the onion, garlic, fresh turmeric and ginger (add to the slow cooker later if you're using ground) all cut side down for about 4 minutes until everything starts to char slightly and become fragrant. Add the celery, fennel, bay leaves, and star anise (or cloves). Cook until the vegetables start to soften (about 4 more minutes). Add everything to the slow cooker along with the chicken (and ground spices if you're using them).
If you want to do this as quickly as possible, just toss everything directly into the slow cooker and say "BAM!" like Emeril (or don't if there's people around).
Add enough water to cover the chicken bones. Season with salt and pepper (but don't overdo it because you can adjust the seasoning at the end). Cook for at least 8 hours (I usually just let it go overnight), but this recipe says you can cook slow cooker chicken broth for up to 24 hours – it's up to you! Strain, store, and enjoy!
(recipe adapted from Alison Roman's "Dining In")