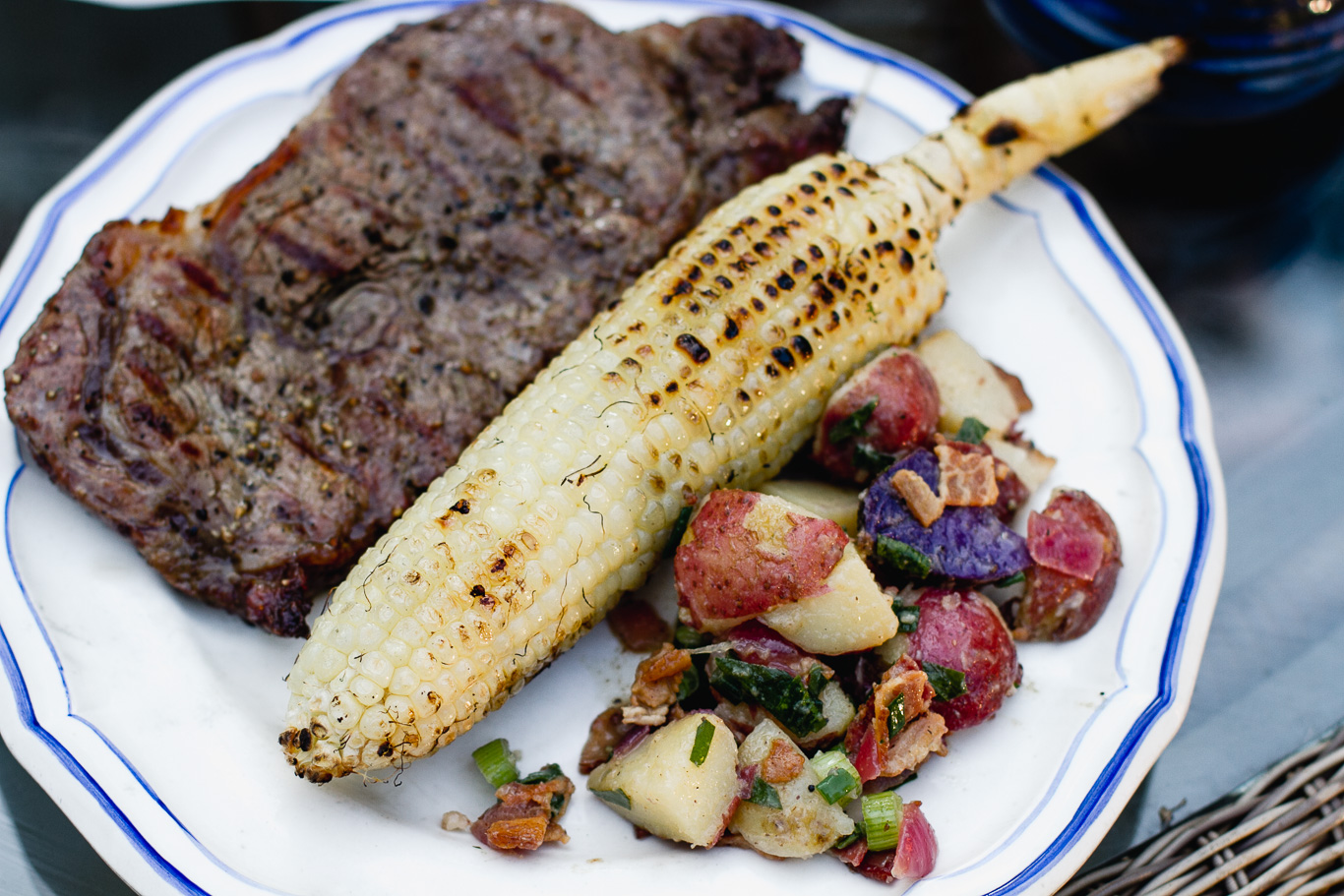 Apologies again for the massive gaps between recipe shares. It's hard to completely blame the kiddo this time, because honestly we've just been enjoying summer outdoor activities and dedicating time to trying new recipes hasn't really been our top priority. But we recently had a nice excuse to slow down and cook a nice family meal for my dad's birthday. Have you ever planned an entire meal around a side instead of main? Because that was the case here. We had a delicious vinegar-based potato salad that one of our friends had made on the Fourth of July and were dying to replicate it at home. Figures good ol' Bobby Flay was behind it. It seemed like the perfect excuse to do classic outdoor BBQ, so we picked up some steaks and corn on the cob to go along.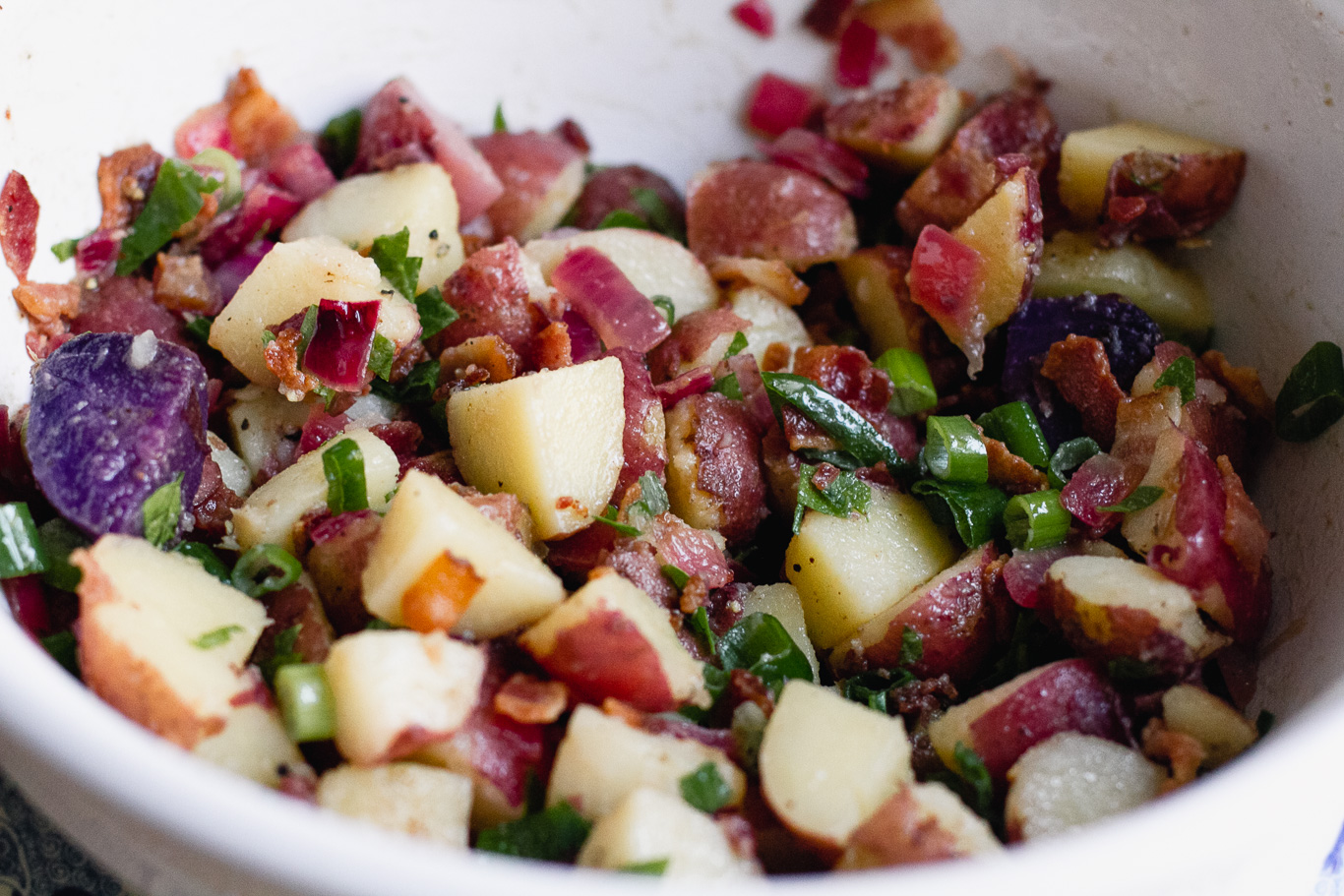 German  Potato Salad
3 pounds new potatoes
1 yellow onion, quartered
1/2 pound bacon, diced
1 large red onion, diced
3/4 cup cider vinegar
1 tablespoon Dijon mustard
1/4 cup canola oil or olive oil
Salt and freshly ground pepper
8 green onions, thinly sliced
1/4 cup chopped fresh parsley leaves
Place potatoes in a large pot with the yellow onion and cover with cold water. Bring to a boil and cook until tender. Drain, discard the onion, and cut the potatoes into cubes when cool enough to handle. Place the potatoes in a large bowl and cover to keep warm.
In a large saute pan, add the bacon and cook until crisp. Remove the bacon with a slotted spoon and drain on a paper towel-lined plate. Add the red onion to the rendered bacon fat and cook until soft, about 3 to 4 minutes. Carefully add the vinegar and mustard and cook for 2 more minutes. Whisk in the oil and season, to taste, with salt and pepper. Add the hot dressing to the potatoes and toss gently to coat. Fold in the green onions and parsley. Season again with salt and pepper, to taste.
recipe via Bobby Flay
Grilled Corn with Cilantro Lime Butter
1/2 cup (1 stick) unsalted butter, room temperature
2 tablespoons finely chopped fresh cilantro
1 lime zested
1 1/2 teaspoon kosher salt
1/2 teaspoon freshly ground black pepper
8 ears corn, shucked
1 tablespoon vegetable oil
Mix butter, cilantro, lime zest, salt, and pepper in a small bowl. Set herb butter aside. Brush corn with oil and grill over medium-high heat, turning often, until it is tender and charred in spots (about 5-8 minutes).
Transfer corn to a large plate and spread with reserved herb butter, dividing evenly.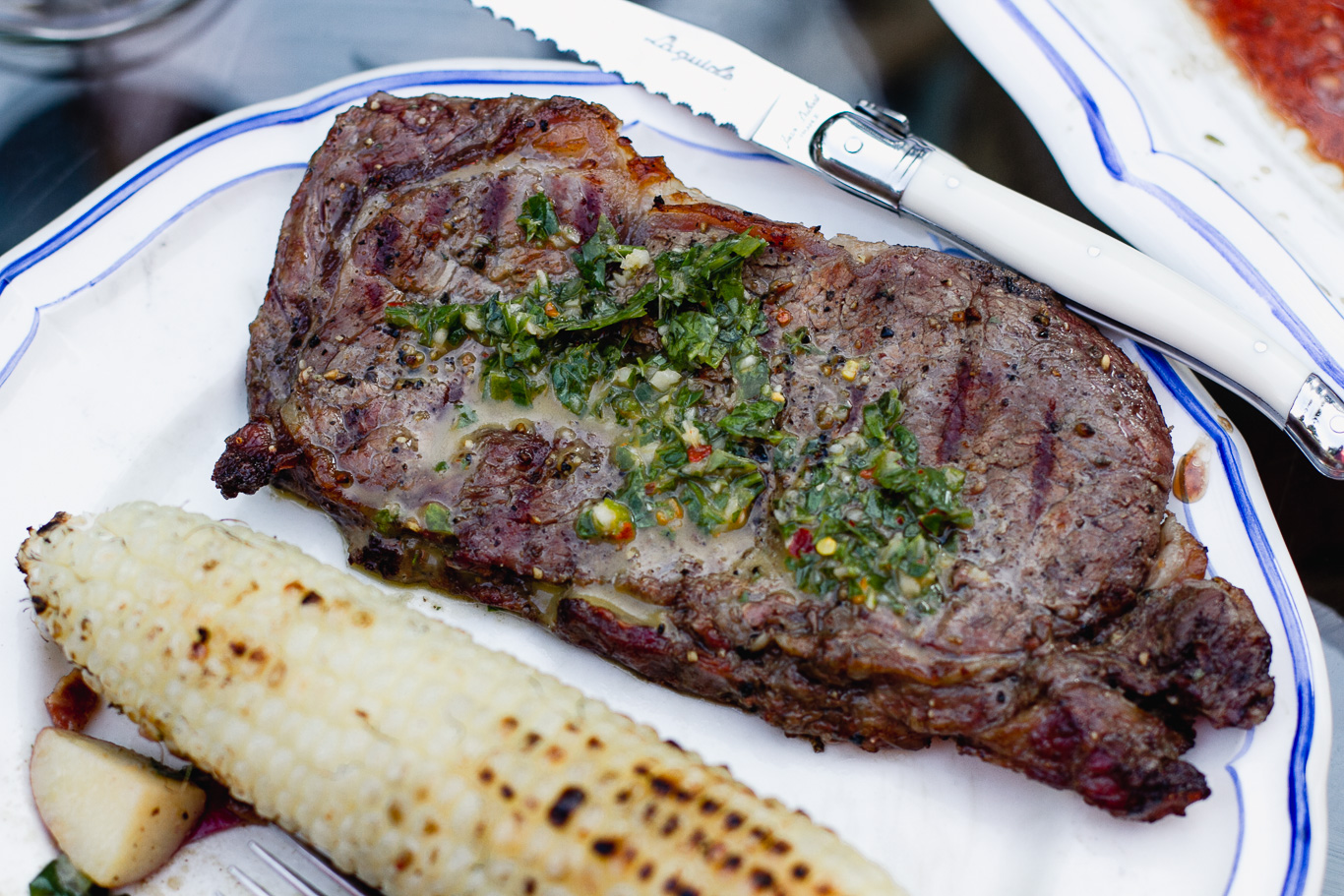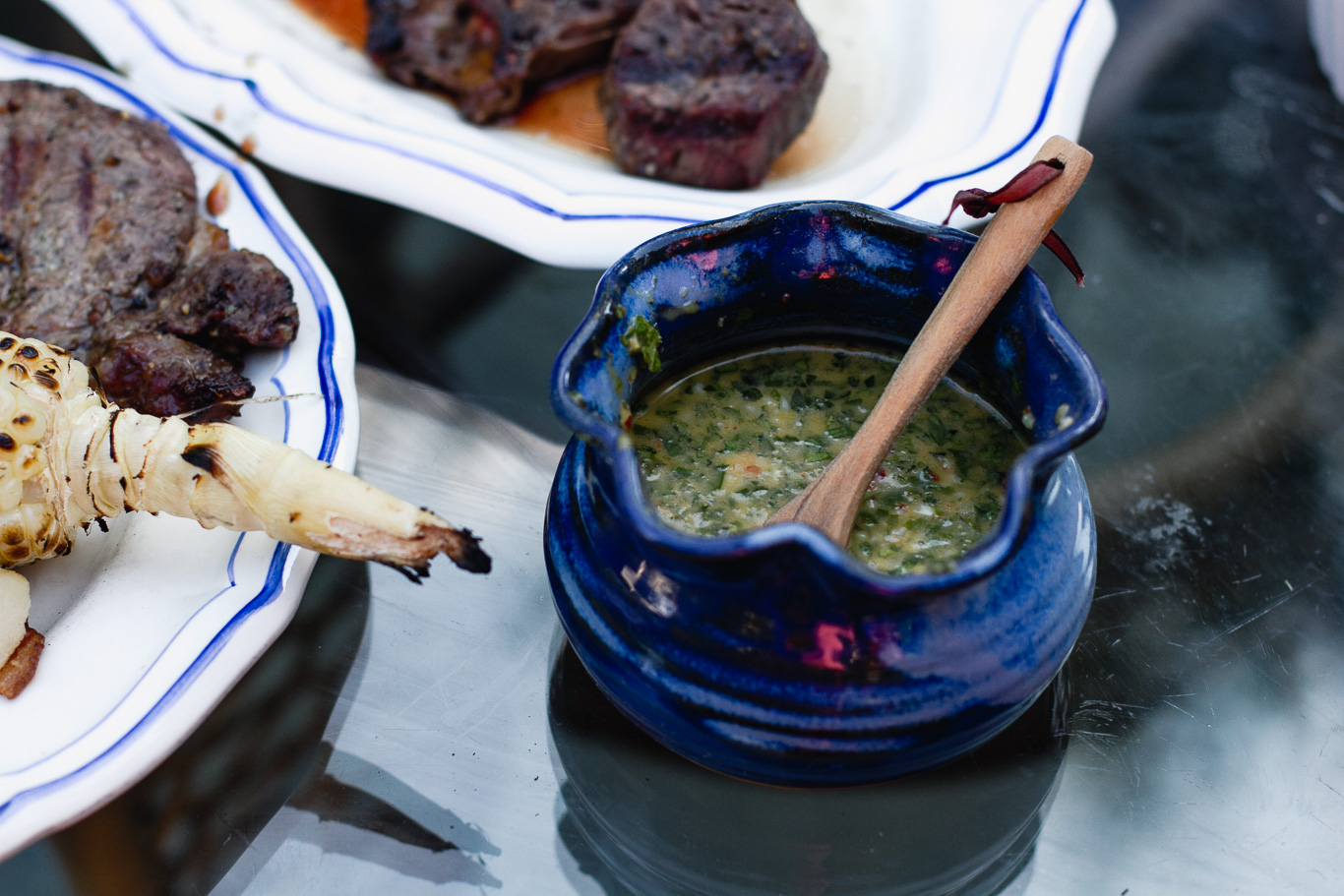 Grilled Steak with Chimichurri
1 cup water
1 tablespoon coarse salt
1 head of garlic, separated into cloves and peeled
1 cup packed fresh flat leaf parsley leaves
1 cup fresh oregano leaves
2 teaspoons crushed red pepper flakes
1/4 red wine vinegar
1/2 cup extra virgin olive oil
Bring the water to a boil in a small saucepan. Add the salt and stir until it dissolves. Remove from heat and allow to cool. (If you want to make this easier, just heat the water in the microwave.)
Finely mince the garlic, parsley, and oregano and place in a bowl. Add red pepper flakes. Whisk in red wine vinegar and olive oil. Then whisk in the salt water mixture. (Alternatively, you can do all of this in a food processor.) The chimichurri is best prepared at least one day in advance, so the flavors have time to blend.
Serve alongside grilled rib-eye steaks, simply seasoned with salt and pepper, and enjoy!
recipe via Seven Fires: Grilling the Argentine Way