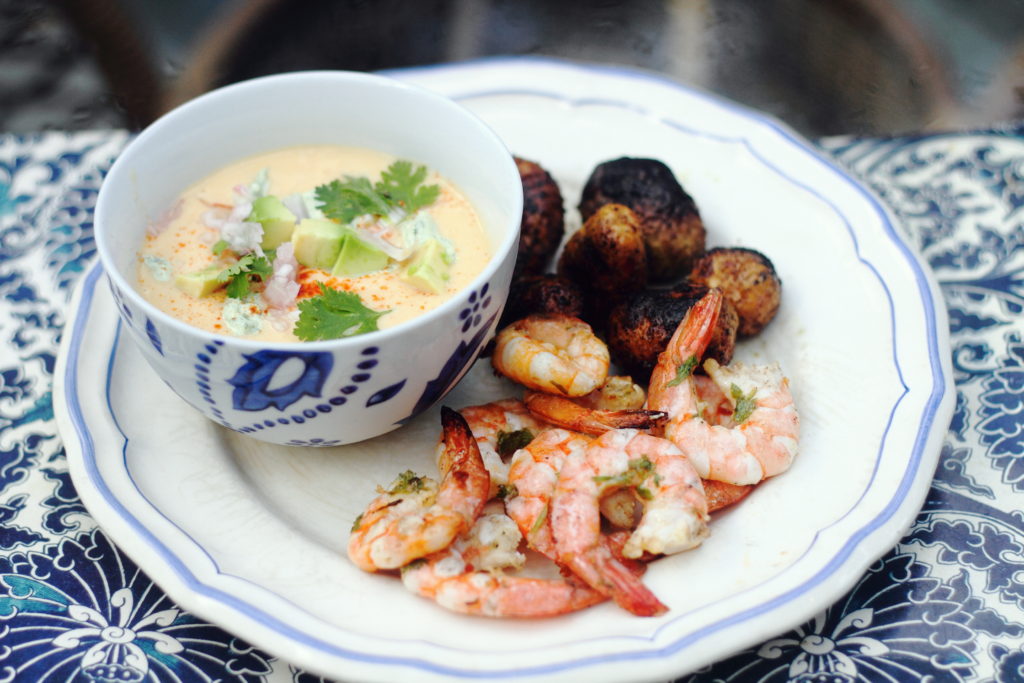 We've been so busy this summer, it feels downright indulgent to finally have a weekend to just hang out and cook. I got so excited at the prospect I might have chosen a slightly more ambitious meal than I should have, given the small child variable. But we managed to make it through relatively unscathed. Full disclosure: the gazpacho was a bit of a time commitment. Worth it though – it completely captures the Mexican street corn flavor I love so much. And don't let me scare you; the grilled shrimp and potatoes were super easy. If you've never had grilled potatoes before, you owe it to yourself to give them a try – crispy and smokey on the outside and soft on the inside!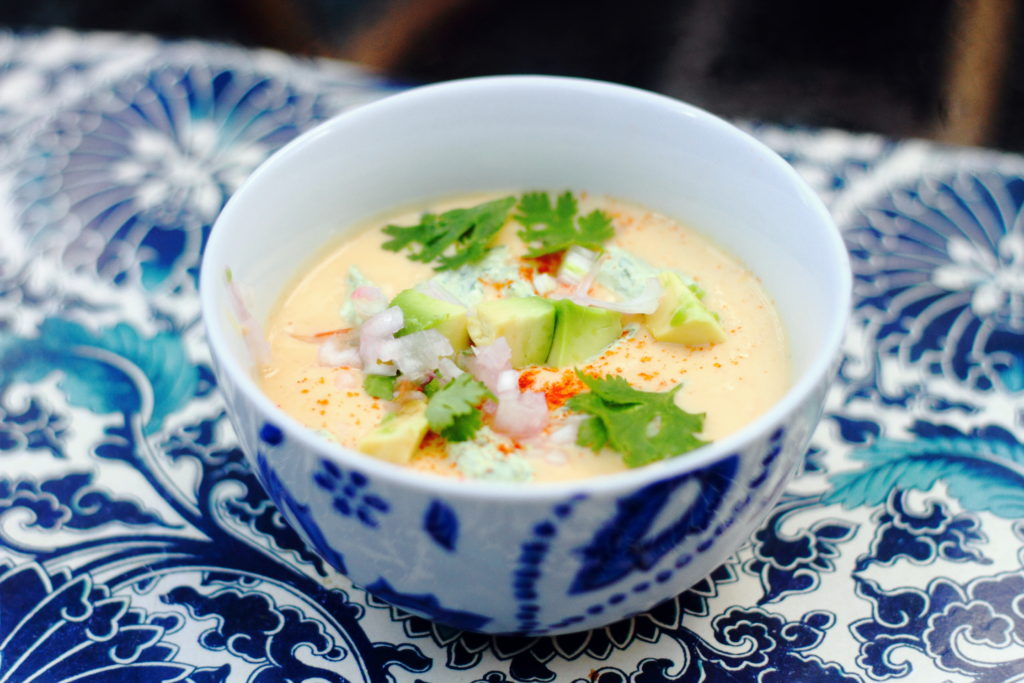 Esquites and Yellow Tomato Gazpacho
Soup
4 ears yellow or bicolor corn, husked and snapped in two
1¼ pounds yellow tomatoes, stemmed and cored
1 small sweet onion, chopped
2 cloves garlic, minced
1 yellow bell pepper, stemmed, seeded, and chopped
2 slices hearty white bread, ideally stale, each 1 inch thick, crusts removed
1/4 cup  blanched almonds
1 tablespoon white wine vinegar, plus more as needed
salt and pepper
2 to 3 tablespoons extra-virgin olive oil
Chile Cream
1 poblano chile
Small bunch of cilantro, leaves and tender stems chopped, plus a few sprigs left whole for garnish
1 ounce cotija or feta cheese, crumbled
1/3 cup crema or sour cream
salt and pepper
To Serve
1 lime
1 shallot, minced
1 avocado
cayenne or smoked paprika (optional)
To make the soup, fill a large bowl with cold water and ice. Bring a large pot of salted water to a boil over high heat. Place the corn into the pot and cook for 2 minutes. Submerge the cobs in the ice water for 3 minutes, then transfer to a plate. (Note: at this point the recipe recommends quick boiling and peeling the tomatoes, but I never bother with that for gazpacho and it's never an issue. That being said, it's up to you.)
In a blender, process the onion, garlic, and bell pepper into a paste. Scrape down the sides of the carafe, then add the bread in chunks, followed by the almonds, and process again.
Slice the corn kernels from the cobs. Set aside approximately ¾ cup kernels for garnish, then add the rest of the corn to the blender, along with the chopped tomatoes. Puree the vegetables until smooth, about 3 minutes. Pour in 1½ teaspoons of the vinegar, a generous pinch of salt, and some pepper. Process again. With the motor running, add most of the olive oil in a thin, steady stream through the hole in the blender's lid. Continue blending, maybe 2 minutes more, until the liquid is silky and emulsified. Stop the blender, taste, adding more of the remaining 1½ teaspoons vinegar, salt, or oil, as needed. (Note: The flavors will dull when chilled.) Flip the motor on for another 30 seconds, then pour the soup into a serving bowl or pitcher. Cover and refrigerate for at least 2 hours, and up to overnight.
About an hour before you're looking to eat, make the chile cream. Char the poblano over a gas flame or under a broiler, turning regularly until blackened on all sides, 7 to 10 minutes. Transfer to a bowl and cover with plastic wrap. Leave to steam for about 20 minutes. Stem, peel, seed, and chop the chile, and add to a blender or food processor with the cilantro and cheese. Blitz to a fine green and white confetti. Scrape down the sides, pour in the crema or sour cream, add a few grinds of pepper, and blend again. Taste, then season as needed with salt and pepper. Cover and refrigerate until needed.
In a small bowl, squeeze the juice from half the lime over the shallot. Sprinkle on some salt and pepper and leave at room temperature to marinate, stirring occasionally.
Right before serving, peel, core, and dice the avocado. Ladle the chilled soup into bowls, top with the reserved corn, avocado, pickled shallots, chile cream, cilantro leaves, and cayenne powder. Cut the remaining lime half into wedges, serve with the soup, and enjoy!
Recipe via Design*Sponge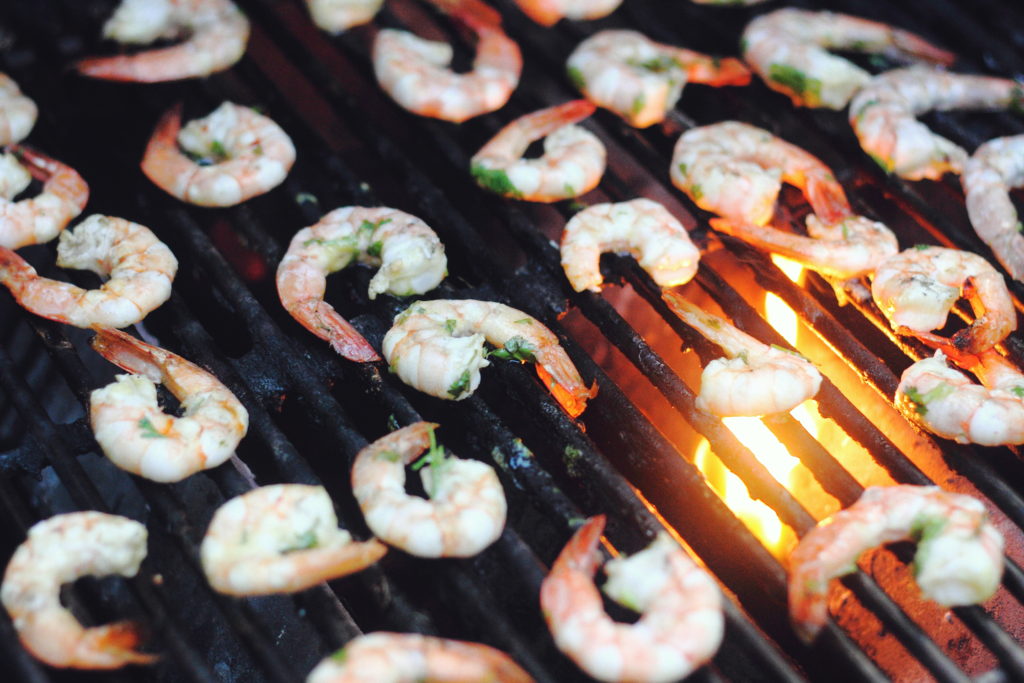 Brined and Grilled Cilantro Lime Shrimp
2-3 tablespoons salt
water
1 lb shrimp, peeled and de-veined
1/4 cup olive oil
1 tablespoon garlic powder
juice from one lime
1 handful fresh cilantro, chopped
(optional: add a few shakes of red chile flakes for heat!)
Dissolve the 2-3 tablespoons of salt in enough water to cover the shrimp in a sealable container. Add the shrimp, cover and place in the fridge to brine for 1-2 hours.
Drain the shrimp well, then mix with the olive oil, garlic powder, lime juice, cilantro, and chile flakes if you desire. Mix well. Let marinate 15-20 minutes.
Heat grill to medium-high. Place shrimp on grill and cook for about 5-7 minutes, turning once, until pink and firm.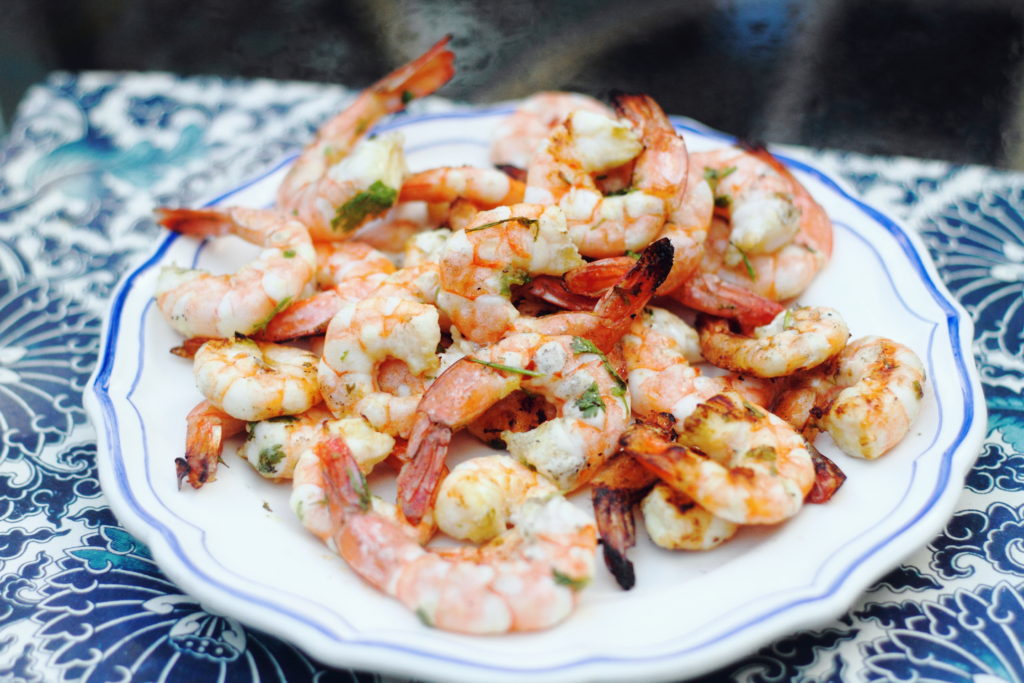 Spicy Grilled Potatoes
1 lb fingerling or small new potatoes
1/4 cup olive oil
1 tablespoon green chile powder
1 teaspoon garlic powder
1 teaspoon onion powder
salt and pepper
In a small tupperware container, combine potatoes with all ingredients, cover, and shake well.
Heat grill to medium-high. Place potatoes on direct heat and cook, covered, turning occasionally until browned and crispy on all sides and tender when pierced with a fork.