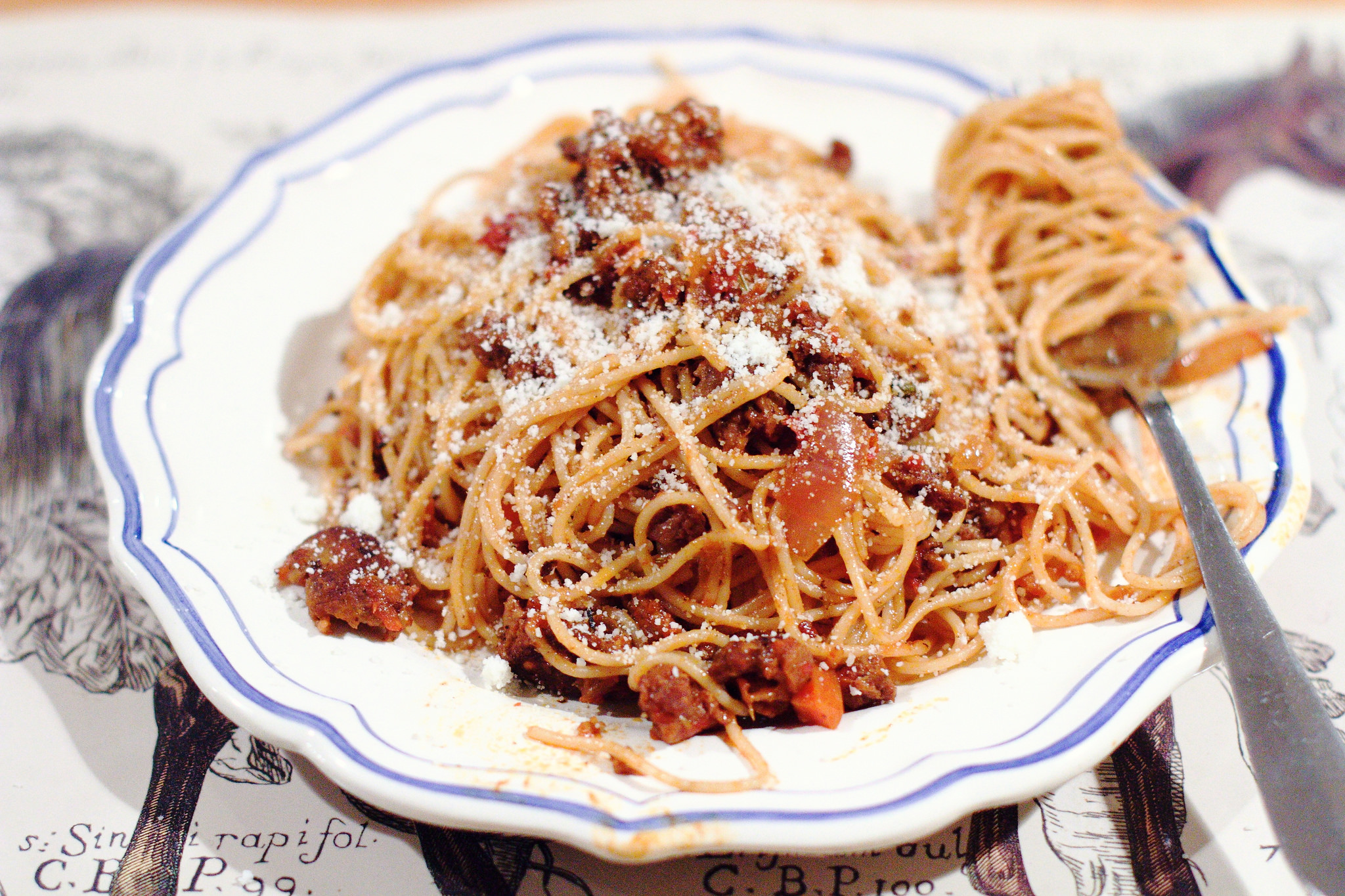 What do to when it's too snowy and windy to even contemplate venturing outside? Make pasta sauce, of course! Or at least that's what we did yesterday when presented with the rather liberating feeling of not needing to run errands or "be productive." B gave me life hero Mario Batali's Simple Italian Food for Christmas so we adapted a recipe from that to use some spicy Italian sausage we picked up before the storm. I loved the way this pasta turned out – rustic with a bit of heat – perfect for a cold evening like this one.
Spicy Sausage Ragu
12 oz spicy Italian sausage, removed from casings
1/4 cup extra virgin olive oil
1/2 medium Spanish onion, finely chopped
1/2 small carrot, finely chopped
1/4 teaspoon celery salt
1/2 teaspoon hot red pepper flakes
1 teaspoon chopped fresh rosemary
1 cup dry red wine
1 cup Mario Batali's basic tomato sauce (recipe follows)
salt and pepper
long noodle pasta of your choice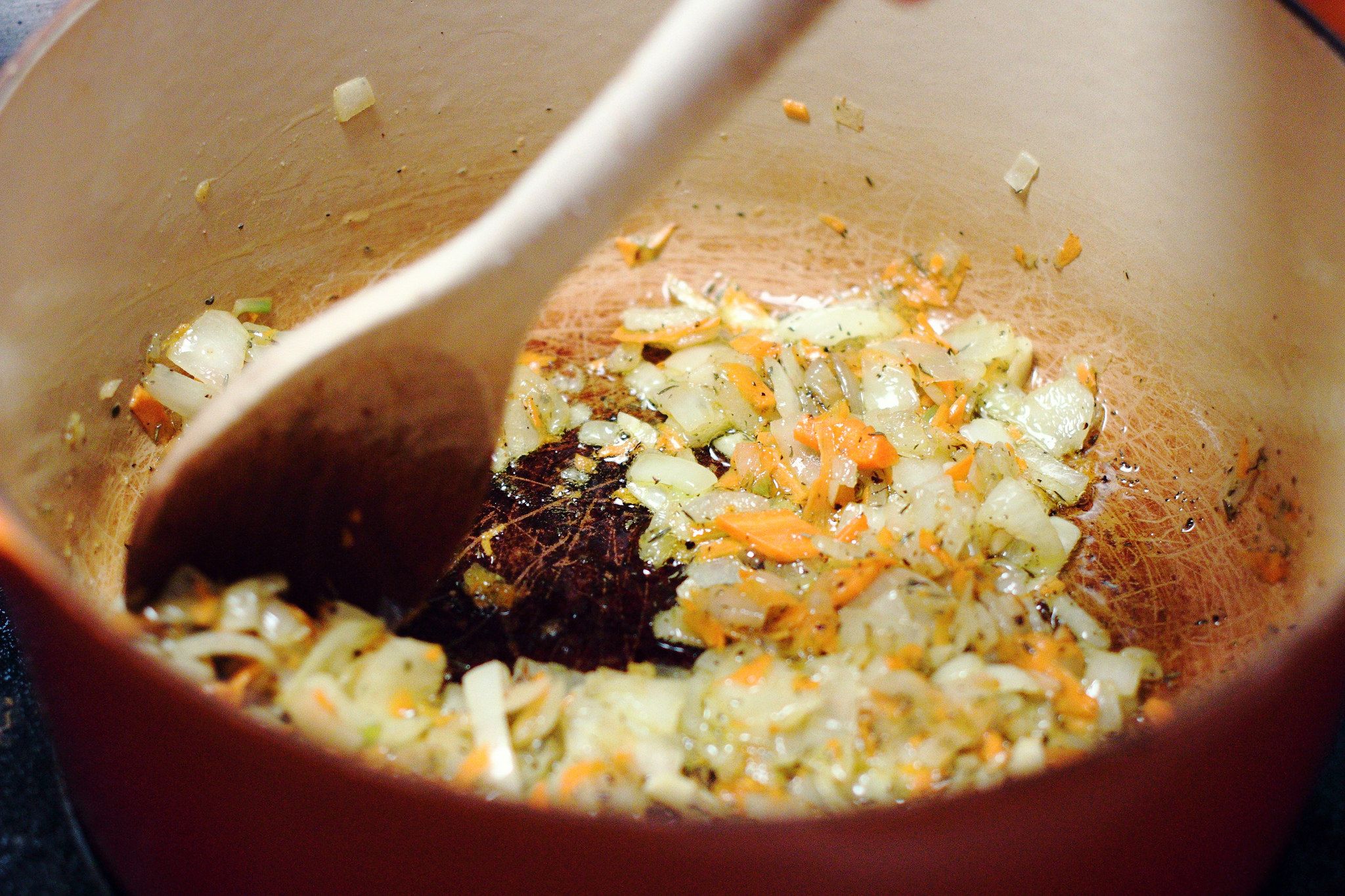 Heat a heavy 6-8 quart saucepan to medium high and cook the sausage, breaking up with a spatula, until cooked through. Remove from pan and set aside.
Reduce heat to medium. Add the olive oil and heat until smoking. Add the onion, and carrot and cook until softened and light brown (5-10 mins). Add the red pepper flakes, rosemary, wine, sausage, and tomato sauce and bring to a boil. Cook for 10-15 minutes until well combined and heated through. (*Note: if sauce looks like it's getting to dry, you can add a little bit more wine and tomato sauce.)
While sauce is cooking, boil pasta to al dente. Add to ragu and toss gently to coat. Sprinkle with good quality grated parmesan and enjoy!
recipe adapted from Mario Batali's Simple Italian Food
Mario Batali's Basic Tomato Sauce
1/4 cup extra-virgin olive oil
1 large onion, cut in 1/4 inch dice
4 garlic cloves, thinly sliced
3 tablespoons chopped fresh thyme leaves, or 1 tablespoon dried
1/2 medium carrot, finely shredded
2 28-ounce cans crushed tomatoes
Kosher salt to taste
In a 3-quart saucepans, heat the olive oil over medium heat, add the onion and garlic and cook until soft and light golden brown, 8-10 minutes. Add the thyme and carrot and cook 5 minutes more, until the carrot is quite soft. Add the tomatoes and juice and bring to a boil, stirring often.
Lower the heat and simmer for 30 minutes until as thick as hot cereal. Season with salt. This sauce holds 1 week in the refrigerator or up to 6 months in the freezer.
recipe via Simple Italian Food