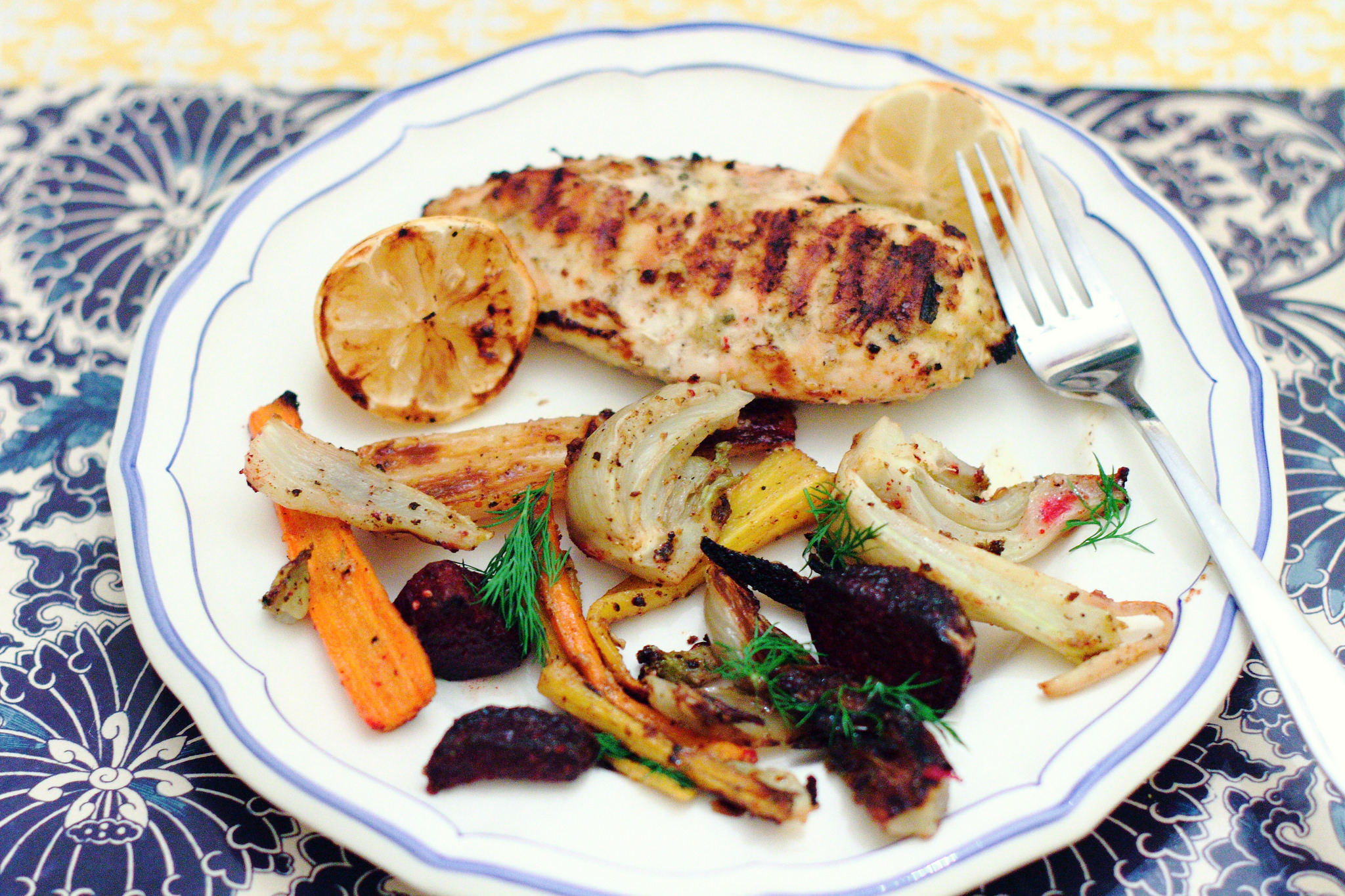 B and I have been trying to eat healthier lately and this is meal incorporates the flavors of fall without being too heavy. The lemon chicken brightens up the earthiness of the roasted root vegetables nicely.
Lemon Chicken
1/4 cup olive oil
2 lemons, juiced
2 lemons, halved (for grilling)
3-4 cloves of garlic, chopped
1 tablespoon fresh sage, chopped
1 tablespoon fresh rosemary, chopped
1 tablespoon Dijon mustard
salt
pepper
2 skinless chicken breasts (but you can use bone-in with skin on if you prefer)
Trader Joe's garlic salt (this comes in a grinder and a poultry seasoning would be comparable)
In sealable container, combine all ingredients except chicken breasts and garlic salt. Add chicken breasts, coat thoroughly, and allow to marinate for one to two hours.
Heat grill to medium-high. Place chicken breasts on grill and carefully drizzle some of the marinade on the chicken, watching for flame-ups. Season with garlic salt. Cook until well seared, flip, and season with garlic salt. Continue to cook until 165 degrees internal temperature or firm to the touch. Remove from grill and let rest for 5 minutes before cutting.
After you flip the chicken, place the lemon halves cut side down on the hot grill and sear until good grill marks develop. Remove from grill and serve with chicken.
Caramelized Vegetables with Dijon Butter
1 stick unsalted butter, at room temperature
3 tablespoons Dijon mustard
1 tablespoon coriander seeds, crushed in a mortar (or you can use ground coriander like we did)
salt
pepper
1 1/2 pounds carrots, peeled and halved lengthwise
3 fennel bulbs, cut into 1-inch-thick wedges
1 1/2 pounds beets, peeled and cut into 1-inch-thick wedges
2 tablespoons chopped dill
Preheat the oven to 425 degrees. In a bowl, mix 6 tablespoons of the butter with 2 tablespoons of the mustard and the coriander. Season with salt and pepper.
On a large rimmed baking sheet, combine the carrots and fennel. On another large rimmed baking sheet, arrange the beets. (Using two separate baking sheets will keep the beets from transferring color to the other vegetables.) Dollop the butter over the vegetables on each baking sheet and season with salt and pepper. Toss and rub to evenly coat. Roast for about 40 minutes, stirring occasionally and rotating the sheets halfway through, until the vegetables are tender and caramelized.
Meanwhile, in a small bowl, mix the remaining 2 tablespoons of butter and 1 tablespoon of mustard. Dollop the butter over the warm vegetables and toss to evenly coat. Transfer the vegetables to a serving platter and garnish with the dill.

recipe via Food & Wine