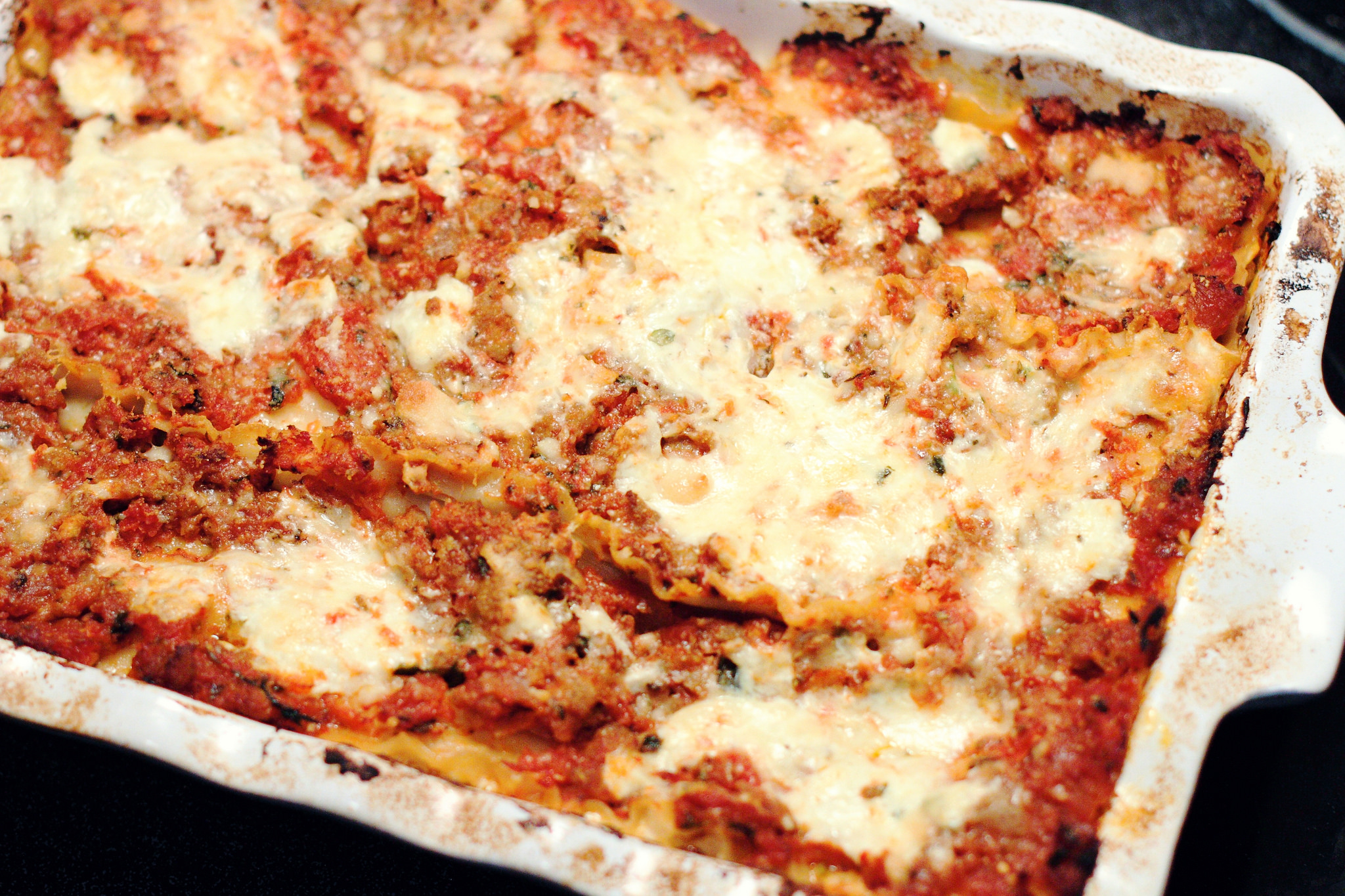 This recipe is one of my husband's favorite things. And it's a recipe that's taken a few years to reach (in my humble opinion) perfection. The sauce originated with some pretty epic meatball sliders one of my good friends made and evolved to include Italian sausage, which I think knocks boring old ground beef out of the water. The cheese mixture has also had it's fair share of tweaks along the way, but B insists this one is the best. I'd have to agree with him on that.
For the sauce…
1 package Italian sausage, removed from casings
2 tablespoons olive oil
1 cup chopped onion
6 garlic cloves, chopped
1/4 cup (packed) fresh basil leaves
1 1/2 teaspoons fennel seeds
1 28-ounce can chopped tomatoes
1 14.5-ounce can chopped tomatoes
Heat skillet to medium-high. Add sausage and cook through until slightly brown. Transfer to plate. Pour off drippings from skillet. Reduce heat to medium. Add olive oil to skillet. Add onion, garlic, and fennel seeds. Sauté until onion begins to brown, about 5 minutes. Add basil and all tomatoes with juices. Bring to boil, scraping up browned bits. Reduce heat to low, cover with lid slightly ajar, and simmer, stirring occasionally, about 30 minutes.
Puree sauce with hand mixer or in processor until almost smooth. Return to same skillet. Add sausage back in and cook another 5-10 minutes until heated through and combined. Set aside while you prepare the cheese mixture and noodles.
And the rest…
2 cups fresh ricotta
6 ounces grated provolone
6 ounces grated mozzarella
6 ounces grated asiago
6 ounces grated fontina
1 egg
1/4 cup milk
1 tablespoon finely chopped fresh basil
1 tablespoon chopped garlic
salt and pepper
grated parmesan cheese
1 package of lasagna noodles, cooked al dente
Heat oven to 350 degrees.
In a mixing bowl, combine the ricotta, provolone, mozzarella, asiago, fontina, egg, milk, basil and garlic. Mix well. Season with salt and pepper.
To assemble, spread a layer of the meat sauce on the bottom of a deep dish lasagna pan. Sprinkle grated parmesan over the sauce. Cover the cheese with a layer of the noodles. Spread a 1/4 of the cheese filling evenly over the noodles. Repeat the above process with the remaining ingredients, topping the lasagna with the remaining sauce, cheese mixture, and a sprinkle of parmesan. Place in the oven and bake until bubbly and golden, about 45 minutes to 1 hour. Remove from the oven and cool for 10 minutes before serving. Slice, serve, and enjoy!