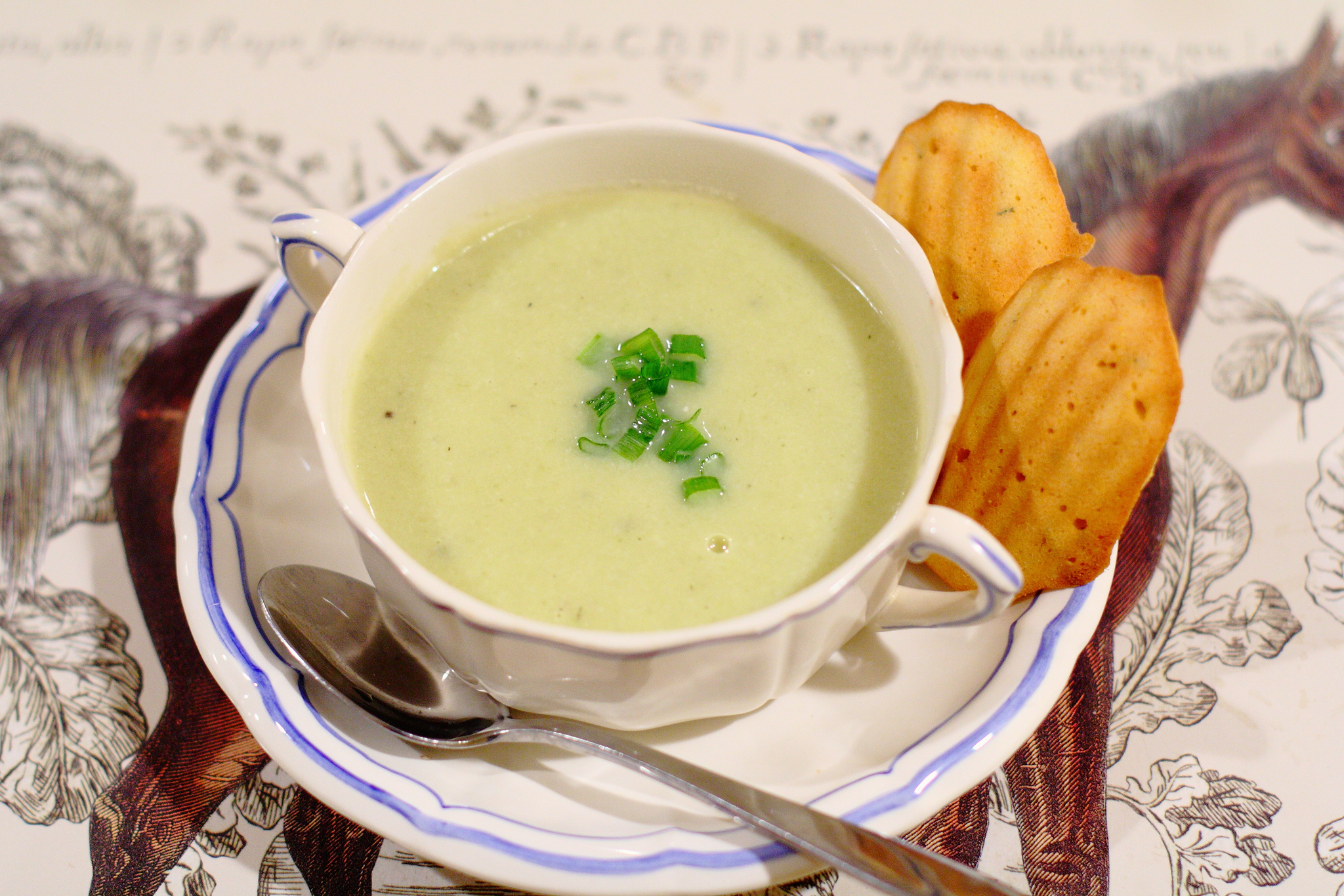 B and I made these two as part of a larger menu for a dinner party we had last night and they went so well together, we decided to make them again for just the two of us tonight.
Fennel, Leek, and Cauliflower Soup
2 tablespoon olive oil
2 tablespoons butter
2 leeks trimmed and sliced
1 large or 2 small bulbs of fennel, trimmed and sliced
2-3 large garlic cloves, crushed
1 small or 1/2 large cauliflower
4 cups chicken or vegetable stock
1 bay leaf
2-3 sprigs fresh thyme or 1 teaspoon dried thyme
sea salt and freshly ground white or black pepper
some fennel, dill, chives, or parsley leaves as a garnish
Heat the oil for a minute in a large saucepan, then add the butter. When the foaming dies down, add the leeks, fennel, and garlic. Stir and cover and cook over a low heat for 8-10 minutes. Meanwhile, remove the florets from the cauliflower. Add them to the pan, stir, and cook for another 3-4 minutes. Pour the stock over the vegetables, add the bay leaf and thyme and bring to the boil. Partially cover the pan and simmer for 15 minutes or until the cauliflower and fennel are soft. Remove from the heat and allow to cool slightly. Remove the bay leaf.
Puree the soup using an immersion blender or food processor. Reheat gently and adjust the seasoning with salt and pepper to taste. Garnish with fresh herbs and enjoy!
original recipe via Perfect Pairings
Rosemary and Roasted Garlic Cornbread Madeleines
Nonstick cooking spray
6 tablespoons unsalted butter, softened
1/2 cup sugar
1 egg
1 cup buttermilk
1-2 cloves roasted garlic*
1 cup plus 2 tablespoons yellow cornmeal
1 1/4 cups flour
1/2 teaspoon baking powder
1/8 teaspoon baking soda
1/2 teaspoon salt
1 tablespoon finely chopped rosemary
**To roast the garlic, simply toss the unpeeled cloves in olive oil, wrap in aluminum foil, and pop in a 350 degree oven for about 20-25 minutes. Peel and mash with a mortar or fork.
Preheat the oven to 350 degrees. Spray the madeleine molds with non-stick cooking spray (If you don't have madeleine molds, feel free to just use a muffin tin). In an electric mixer with the paddle attachment (or in a bowl with whisk), cream the butter and sugar together until light and fluffy. Add the egg, buttermilk, and roasted garlic and beat to combine.
In a separate mixing bowl, combine the cornmeal, flour, baking powder, baking soda, salt, and rosemary. With the mixer on low speed, slowly add the flour mixture and mix until the batter is smooth.
Fill the madeleine molds half full with batter. Bake for 8-10 minutes (for standard size madeleines, but adjust the cook time depending on the size of the molds). Remove the madeleines from the molds and cool on a wire rack.
original recipe via Patrick O'Connell's Refined American Cuisine