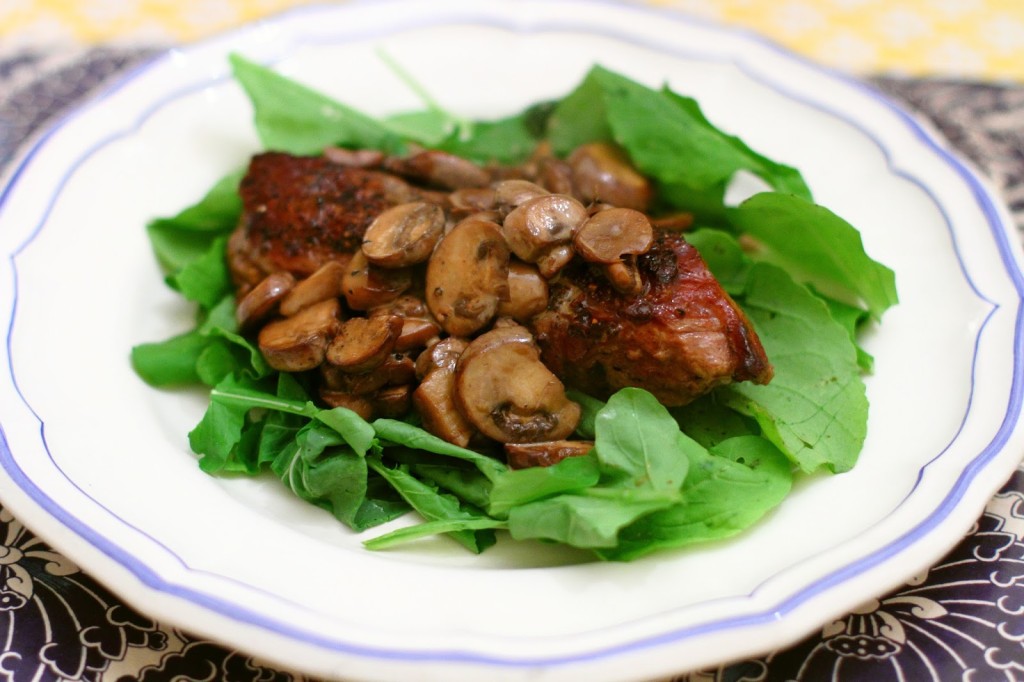 This recipe super easy and works equally well on a weeknight if you don't have a ton of time. It's also delicious – the pepperiness of the arugula creates a perfect balance with the steak and mushrooms. B and I enjoy this recipe so much, we make it at least once a month!
For this recipe you will need:
2 tablespoons olive oil
1 pound flank steak (we use tri-tip steaks, which we get from Trader Joe's)
kosher salt and black pepper
1 pound cremini or butter mushrooms, quartered (we used baby bellas and you can really use almost any variety of mushroom in this recipe)
1 tablespoon balsamic vinegar
1/4 cup heavy cream
2 bunches arugula, thick stems removed (about 6 cups)
Heat 1 tablespoon of the oil in a large skillet over medium-high heat. Season the steak with ½ teaspoon each salt and pepper. Cook steak to the desired doneness, 3 to 5 minutes per side for medium-rare. Let rest at least 5 minutes before slicing.
Add the remaining tablespoon oil, mushrooms, ½ teaspoon salt, and ¼ teaspoon pepper over medium-high heat. Cook, tossing occasionally, until tender and browned, 5 to 6 minutes. Stir in the vinegar. Remove from heat and stir in the cream.
Divide the arugula, steak, and mushrooms among plates and enjoy!

original recipe via Real Simple