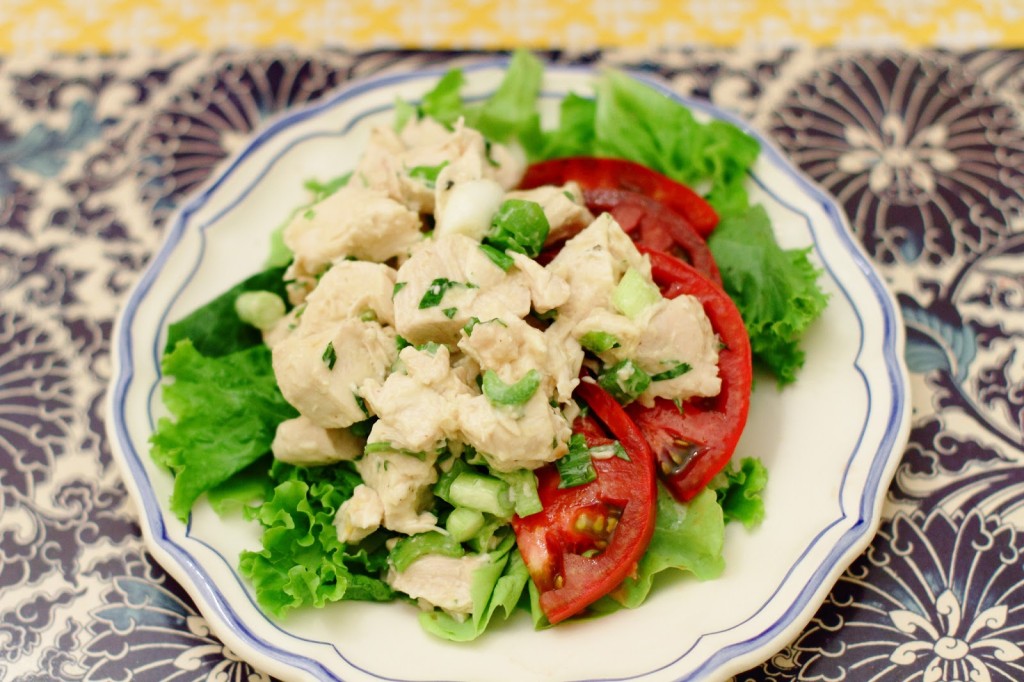 If you asked me 5 years ago if I liked chicken salad, I would have responded with a totally immature gaggy face. Not so today. I started to venture into the shallow end of the chicken salad pool when I lived in Paris and there was an amazing sandwich place that served a "poulet tikka" panini filled with a delicious curry chicken salad. But I don't think I started liking chicken salad in the classic sense until just a few years ago. Maybe my palate finally matured. Anyway, this year, I decided, would be the year I actually try to make it myself. This was my first successful attempt and it's really just because this is such a good recipe. It's very basic, which makes it easy to experiment with different herbs and spices – I might try adding a dash of hot sauce next time!
For this recipe, you will need:
4 cups diced poached chicken (see poached chicken recipe below)
2 stalks celery, cut into 1/4-inch dice
4 scallions, trimmed and thinly sliced or 1/4 cup sweet onion cut into 1/4-inch dice
1 1/2 teaspoons finely chopped fresh tarragon or fresh dill (I used basil instead of dill and it worked great!)
2 tablespoons finely chopped parsley
1 cup mayonnaise
2 teaspoons strained freshly squeezed lemon juice
1 teaspoon Dijon mustard
2 teaspoons kosher salt
Freshly ground black pepper
In a mixing bowl, toss together the chicken, celery, scallions and herbs. Set aside. In a small bowl, whisk together the mayonnaise, lemon juice, mustard, salt and pepper to taste. Add to the chicken and mix gently until combined (I didn't use all of the mayo sauce, but feel free to use as much or as little as you want). Refrigerate until ready to serve.
Poached Chicken Recipe
10 sprigs parsley
2 sprigs fresh thyme
1 small onion, halved
1 small carrot, halved
1 stalk celery, halved
3 pounds chicken breasts halves, on the bone and fat trimmed
5 to 6 cups chicken broth
Put the parsley, thyme, onion, carrot, celery, and chicken breasts in a medium saucepan. Cover with the broth, and bring just to a boil. Lower the heat to very low and cover. Poach the chicken for 20 minutes or until firm to the touch. Remove the pan from the heat, uncover, cool the chicken in the liquid for 30 minutes.
Transfer the chicken to a cutting board and reserve the liquid. Bone and skin the chicken and cut the meat into 1 inch cubes. Discard the bones and skin.
Strain the broth and store, covered, in the refrigerator for 3 days or freeze for later use. Remove any fat from the surface of the broth before using.
Enjoy! This salad goes really well with avocado and the great tomatoes you can find at the farmers' market right now!
original recipe via The Food Network