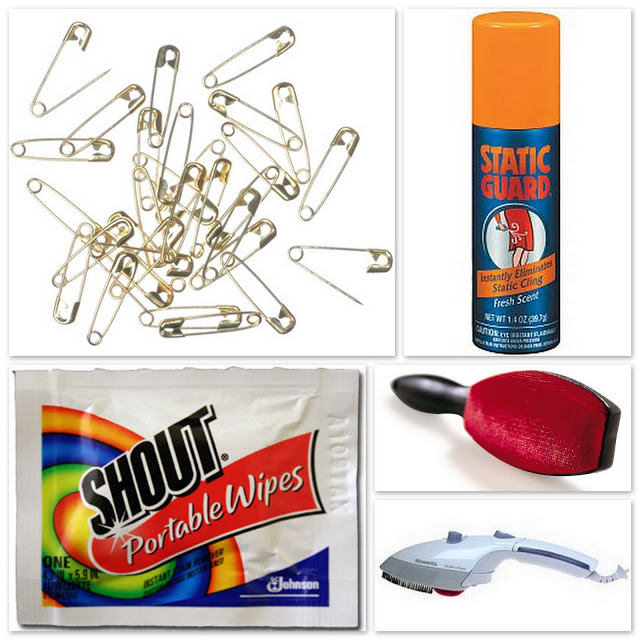 Currently packing for a friend's wedding on Long Island this weekend, so I thought I might share some of the more unglamorous essentials that I can't live without when I travel:
Safety pins – If you don't have a bag of at least 50 at your disposal at this moment, go out at buy a giant bag right now. Do it! The last thing you want to do when you're running late and suddenly discover the pivotal piece of the only nice outfit you packed is losing a button or a hook-and-eye closure, is struggle with a needle and thread: enter safety pin.
Static Guard – Equally effective on the obvious clingy fabric issue and not-so-obvious hair frizz. I don't usually use a product to control fly-aways, so this is nice to have when traveling to a different climate that might have an adverse effect on my hair (ex: arid places like New Mexico turn my head into a lightning ball).
Shout Wipes – I tend to spill on myself (a lot).
Lint brush – The old-fashioned red-faced ones, not the crappy masking tape rollers. Not only do they last forever and work wonders on the obvious lint removal, they are also the absolute best tool for removing deodorant from clothing (no water required!).
Travel steamer – Wrinkle releaser is all well and good for cotton, but likely to stain more delicate fabrics, and I have yet to get the "shower steam" method to work in a timely or effective manner. The steamer is key for traveling with silks and satins. I have this one and it's served me well (think I originally found it on Overstock). I'm sure there are nicer ones out there, so feel free to share any recommendations 🙂
What are your travel essentials?