It's icky outside and there are things I should do, but don't want to. I'd rather reminisce about my fabulous trip to New Orleans instead :-).
Let me start by stating the obvious: New Orleans is one of the greatest cities in the world for food, bars, and vintage shopping.
Day 1 in Nola:
Start out at
Daiquiri Bar
, a local fav, get beverages, and proceed directly to
Crabby Jack's
. There, eat the most amazing sandwich in the world: shrimp remoulade with fried green tomatoes (though everything else is amazing too). After that, go to
Audubon Zoo
, see the giraffes, awesome monkeys, and otters. Wander around
Magazine St.
, which has the best vintage stores. Try on sunglasses at Funky Monkey (see above) and drink Abita on the balcony at
Balcony Bar
. Share romantic dinner with B and K, over delicious wine, cheese and mussels with wine and garlic at
La Crepe Nanou
. Then head to
King Pin
for shuffleboard and video poker. Continue onto
Mayfair
. Watch B beat the crap out of a local guy, whom we tell that we are from Memphis and have never seen snow, in pool. K and E actually win a few games of video poker and quickly decide it will be an excellent get-rich-quick scheme. Rest of the group joins us at
Avenue Pub
, which has delicious cheese fries. K wins more $ in video poker.
Day 2 in Nola:
K and E go to
Slice
because they cannot wait for everyone else to eat. Are glad they did, because it is delicious and everyone else is forced to wait for over an hour at
Domilise's
for their po-boy's. It is worth it though, because they are amazing po-boys. Proceed to
Columns
for mint juleps and idle banter on the porch. Wander around Magazine St. again. Go to
Naaz
, which has fantastic affordable finds and
Sputnik Ranch
, which has amazing whimsical western duds (like John Wayne meets John Waters). Discover magical boutique from heaven, called
Sucre
. Eat the best French macarons outside of Paris and other treats. Dine at the very delicious
Mat & Naddies
. Eat phenomenal grilled oysters and shrimp and crawfish croquettes. Meet police officer/stripper guy, who wants to move to Miami to strip full-time. Go to
Dos Jefes
for great live music and pool. Continue onto French Quarter for further debauchery.
Day 3 in Nola:
Wake up and force ourselves to look presentable for
Commander's Palace
. Enjoy the delicious turtle soup and bread pudding souffle. Wander around the Garden District and look at the beautiful houses, then return to the hotel for siesta. Wander around Audubon Park and enjoy the scenery. Head to
Cooter Brown's
for much-needed sustenance (it had been
hours
since our last meal!). Later, go to
Port of Call
for delicious burgers and
Lafittes
for piano bar singing and beers.
Day 4 in Nola:
Wake up for breakfast (New Orleans Slammer to be exact) at
Slim Goodies
. Wander around Garden District and take pictures of houses (see below). Finish our glorious trip with barbecue shrimp sandwiches and oysters bienville at
Pascal's Manale
. Leave very happy campers.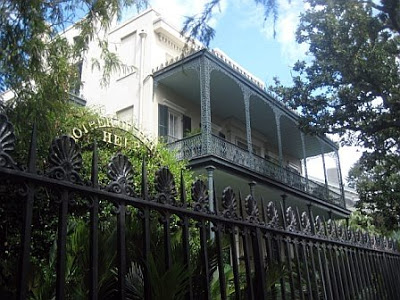 fin.