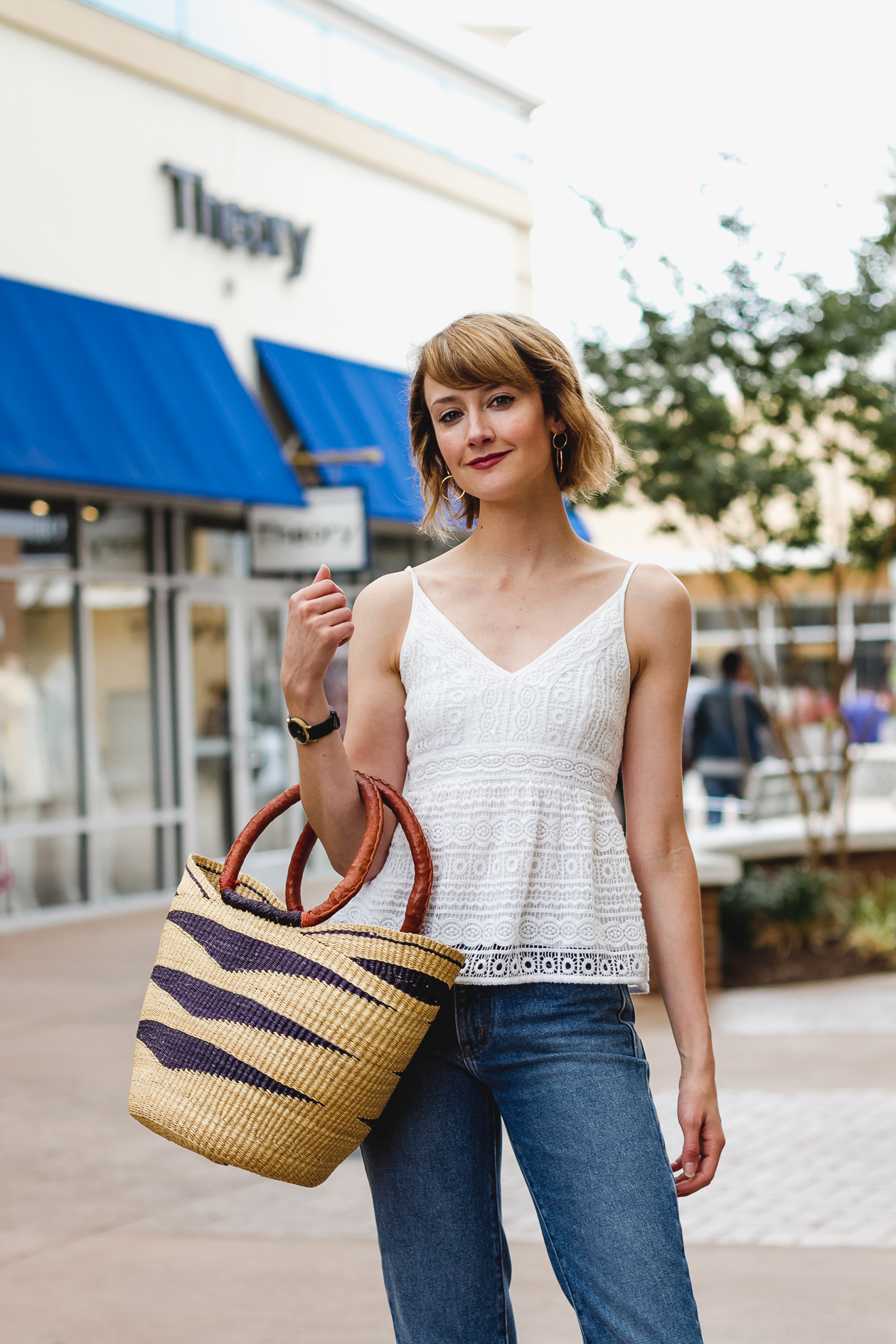 I'm no stranger to outlet shopping. When I was a girl, I would tag along with my mom and grandmother and oftentimes end up scoring most of that season's school wardrobe at the outlets. As I got older, we would shop for my special occasion dresses and it was so exciting to be able to pick not just one, but three pretty dresses that I could wear to dances in high school and college. But I hadn't done it very much in recent years, probably because the internet has turned me into such a slow and picky shopper. I hem and haw for days with a stunning array of "to buy" links sitting on my browser, only to have my browser crash and forget what I was looking for in the first place. Tanger Outlets and the Gaylord National Harbor totally schooled me on outlet shopping last weekend and, at the risk of sounding totally cheesy, brought back the thrill I remember from shopping with my mom and grandmother when I was a kid. Tanger challenged me and a few other DC area bloggers to save the most money possible in a time window of 2 hours using a $250 gift card. Much to my surprise, I made out like a bandit! If Barnette of DC Fashion Fool hadn't beaten me with his unreal savings at Hugo Boss and Theory, I would have won the challenge! Here's my key takeaways from this experience:
Tips for Shopping the Outlets
Have a plan. Make a list (or a least a mental one) of what you hope to find. There's always a possibility you'll stumble upon something fabulous you don't actually need, but targeting the shops that have what you're looking for will increase the likelihood you'll come home satisfied.
Mark the map. I'm terrible at shopping with a time limit, so I looked at the list of shops beforehand and marked the places I knew I wanted to go. This helped me streamline my shopping trip and avoid any FOMO.
Use the app. Tanger offers a helpful app for Apple and Android with all the latest sales and events. Tanger has outlets all over the country and you can set the app according to your current location. I found this especially handy when I was putting together my shopping "plan of attack" so I could target the places with special discounts. If you join TangerClub, you can use the app to track your shopping receipts and rack up points towards gift cards, too!
My Favorite Spots
Fila – This one was on my list from the beginning, but I had no idea the selection was going to be so good. I grabbed a cute sporty dress, branded t-shirt, and classic white sneakers that totally fit the '80s sneaker trend of the moment.
Michael Kors – I popped in here on a whim and boy am I glad I did! They were offering 70% off all handbags and they had so many cute options, I had a hard time picking just one.  I ended up getting a chic navy bucket bag pictured in my outfit below.
Kate Spade – I foolishly assumed the Kate Spade store would be all about handbags, but there was a great selection of jewelry and dresses, too. I picked up an adorable mini cactus necklace (also worn in my outfit below) and pinata earrings.
Le Creuset – Whenever I go outlet shopping, I make a beeline for the Le Creuset. Their cookware lasts forever (and the cool French aesthetic certainly doesn't hurt). Tanger has a great store with a large selection.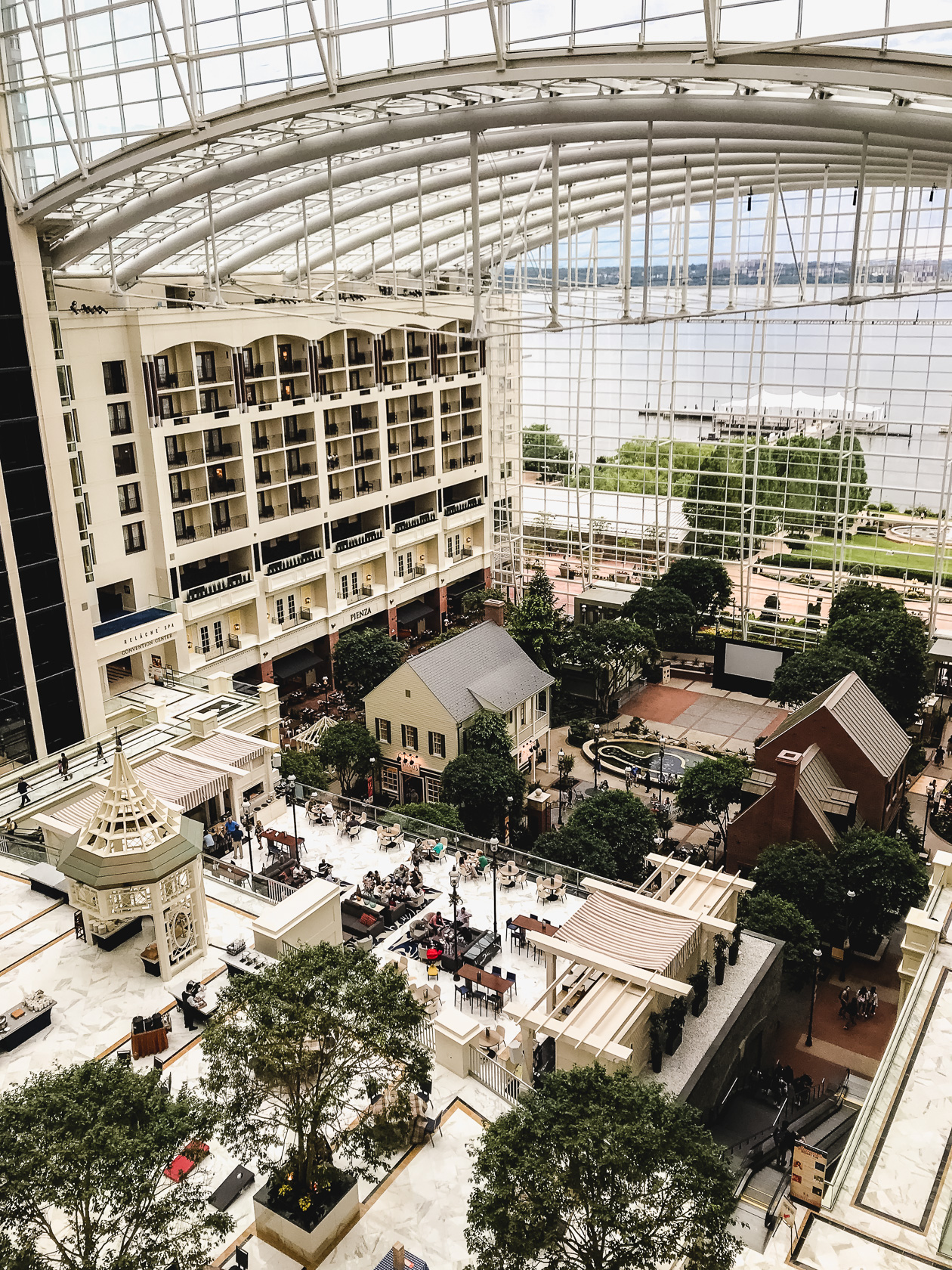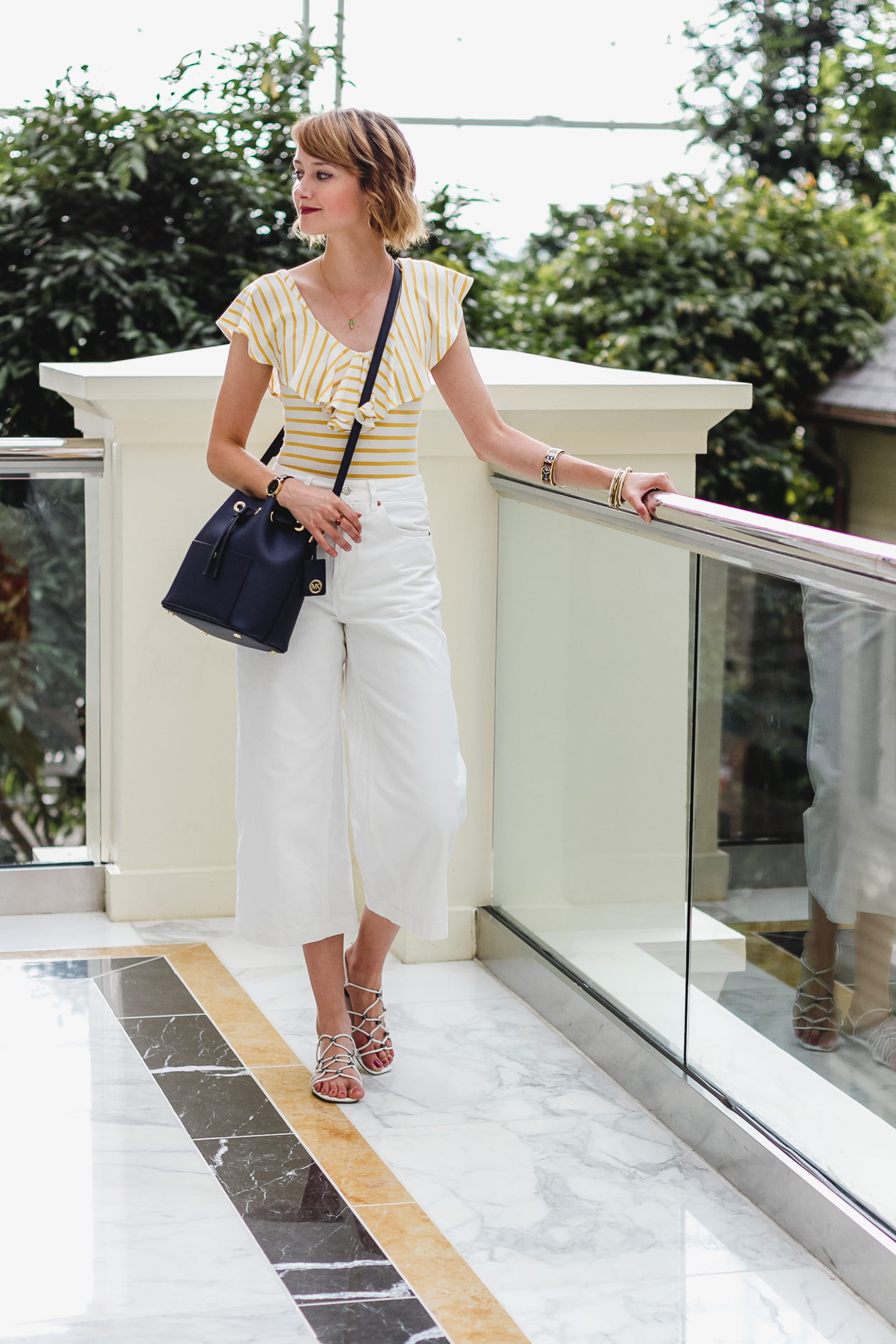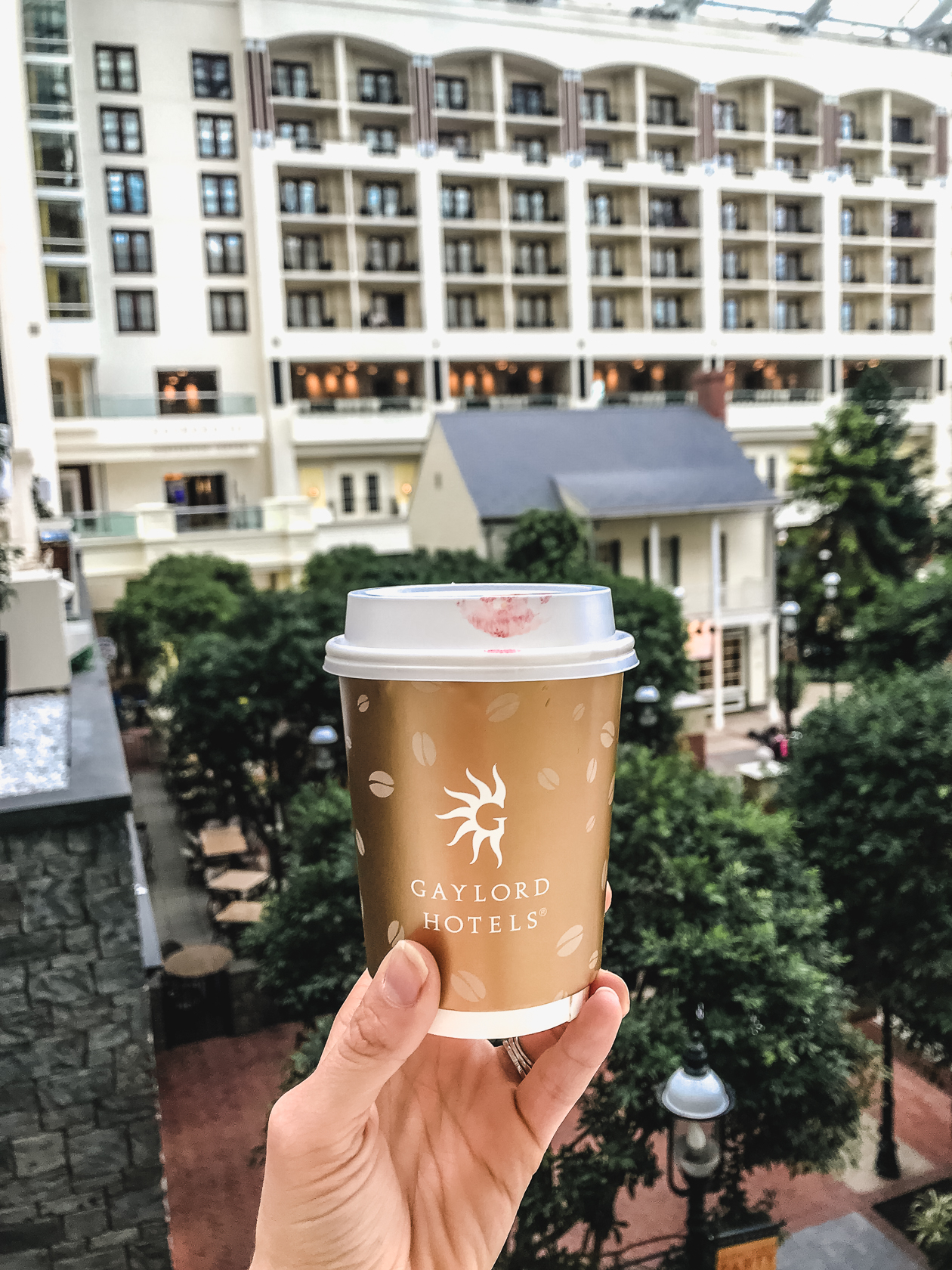 Post-shopping trip, I was treated to an overnight stay at the Gaylord National Resort and the opportunity to check out their newly-launched express spa services. Let me tell you, this place is like small village! I had a fantastic room with a balcony overlooking the atrium. Here's what to do and see when you stay here:
Family Activities
My biggest regret was that I didn't bring my son on this trip. The resort has lots of fun activities for kids, like summer movie nights in the atrium (they were showing Coco the night I was there), ghost tours, pool games scavenger hunts, a silent disco, and even a cool laser show that I could see from my hotel room balcony! There's also lots to do in the surrounding area. Obviously you know about aforementioned shopping, but you can also take a ride in the Capital Wheel, ride the water taxi, or take the complimentary shuttle to nearby MGM National Harbor to check out the casino or a show.
Spa Services
I was lucky enough to get a preview of the resort's new express spa services the day before they opened to the public. What a great idea! Those of us traveling for work or short trips rarely have time to take advantage of full-length spa services so Relâche Spa offers a menu of services ranging from 10-25 minutes, priced from $20-$65. I was so impressed by what a difference the facial made on my skin in half the time, it had me wondering why more spas don't offer this option. If you have more time, I highly recommend taking advantage of one of their full-length services, which offer access to their Riverview Relaxation Lounge, sauna, steam room, and whirl pool.
If you're planning a trip to DC or just a relaxing staycation, this place should be on your list!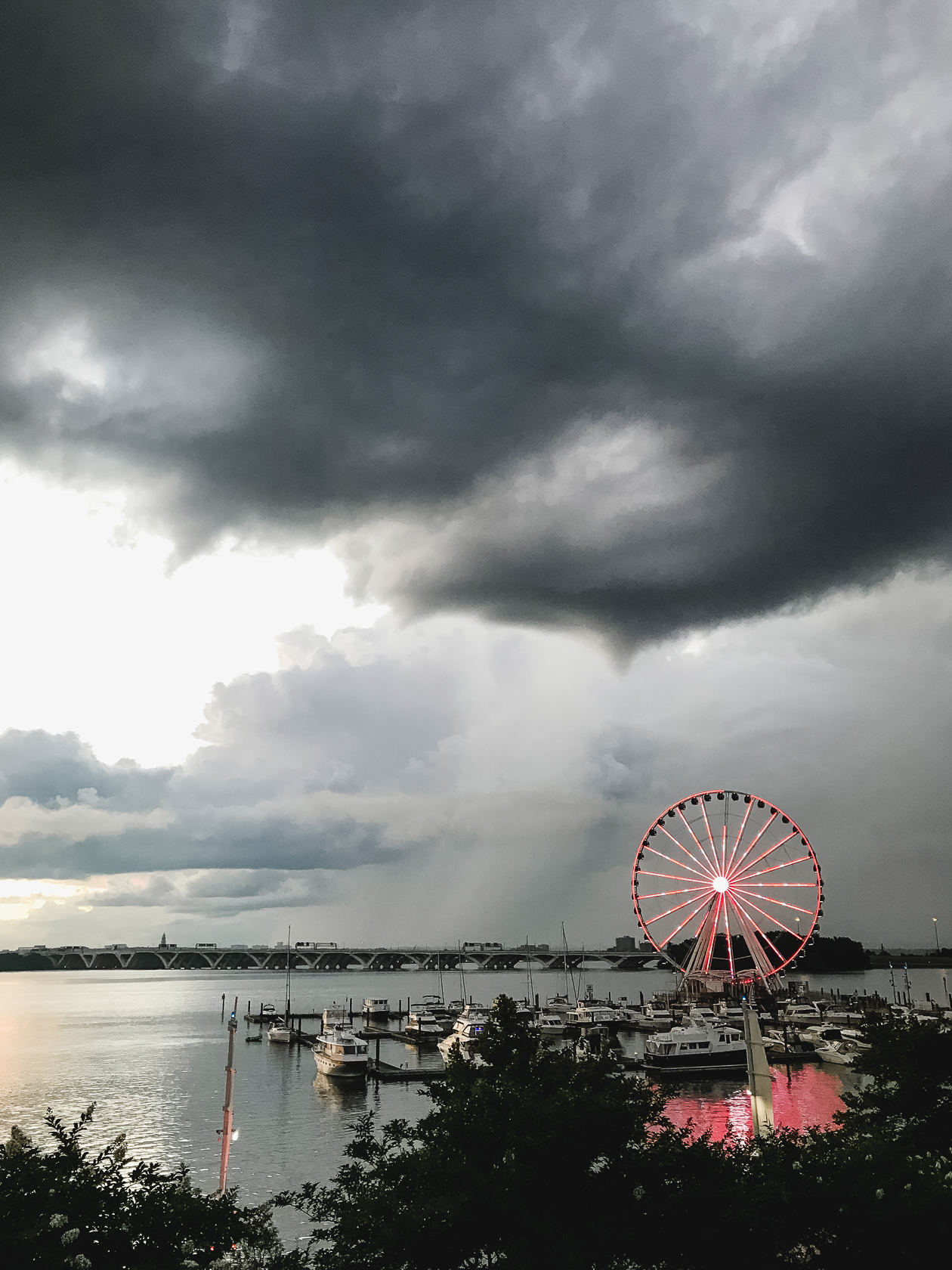 Thank you Tanger Outlets and Gaylord National Resort for partnering on this post!