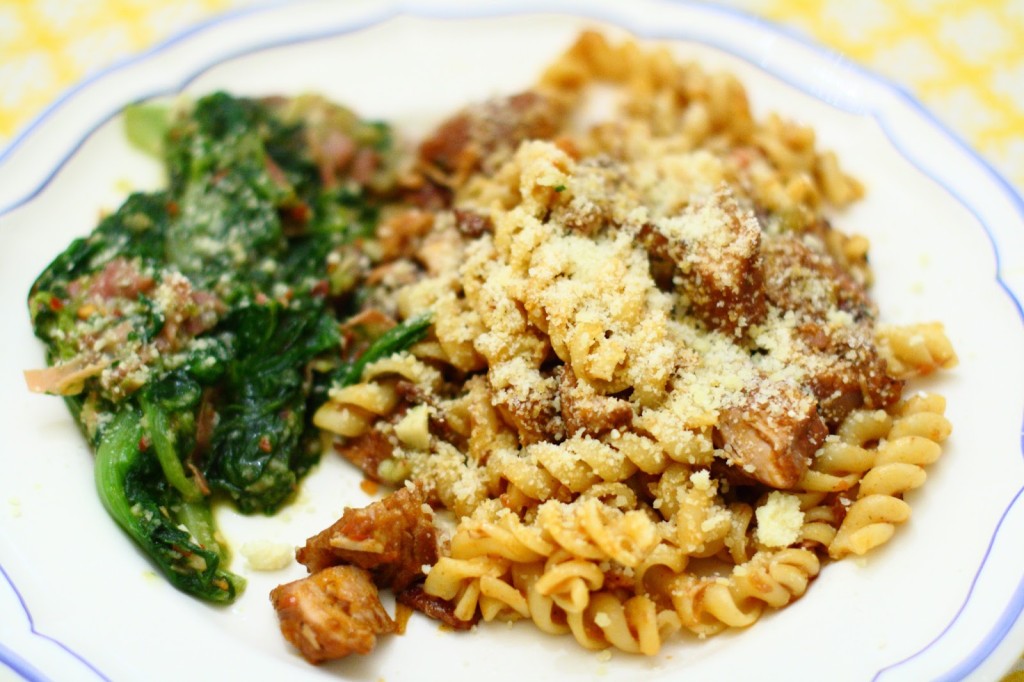 In slowly cooking my way through pinterest, I found this great pasta recipe that will now be entering my regular rotation. (Goes great with Utica Greens!)
For this recipe you will need:
2 tablespoons olive oil
1/2 pound pancetta, sliced 1/2 inch thick and cut into 1/2-inch dice
3 pounds trimmed boneless pork shoulder, cut into 1-inch chunks
Salt
Freshly ground pepper
3 sage leaves
2 thyme sprigs
1 rosemary sprig
1 small onion, cut into 1/2-inch dice
1 small carrot, cut into 1/2-inch dice
1 celery rib, cut into 1/2-inch dice
1 leek, white and light green part only, cut into 1/2-inch dice
4 garlic cloves, minced
2 cups dry red wine
2 cups chicken stock or low-sodium broth
One 14-ounce can tomato puree
1 pound dried strozzapreti or tubetti pasta (obv. I used rotini and that worked well, too)
Freshly grated pecorino cheese, for serving
In an enameled cast-iron casserole, heat the olive oil until shimmering. Add the pancetta and cook over moderate heat until the fat has rendered, about 6 minutes. Using a slotted spoon, transfer the pancetta to a medium bowl.
Season the pork with salt and pepper and add half of it to the casserole. Cook over moderately high heat until richly browned all over, about 5 minutes. Using the slotted spoon, transfer the pork to the bowl with the pancetta. Repeat with remaining pork.
Wrap the sage, thyme and rosemary in cheesecloth and tie with kitchen twine. (Editor's note: I didn't bother with the twine and cheesecloth and just finely chopped the herbs.) Add this bundle to the casserole along with the onion, carrot, celery, leek and garlic and cook, stirring, until the onion is translucent, about 2 minutes. Stir in the wine, scraping up any browned bits on the bottom of the casserole and bring to a boil. Return the pancetta and pork shoulder to the casserole and simmer over moderately low heat until liquid is almost fully evaporated, about 10 minutes. Add the stock and tomato puree and return to a boil. Cover and simmer the sauce over moderately low heat for 1 hour, until the meat is very tender.
Bring a large pot of salted water to a boil. Add the pasta and cook until al dente; drain. Skim the fat from the surface of the sauce and discard the herb bundle. Season the sauce with salt and pepper. Add the pasta and toss until well-coated. Transfer to shallow bowls and serve right away, passing grated pecorino at the table.